Serpentine Gallery
Frida Escobedo's Pavilion played host to Roksanda's spring 2019 runway show Monday morning. Designed as a closed courtyard with an angular façade, the Mexico City-native's space came complete with a cement latticed roof and a dark, textured breeze wall inspired by Mexican architecture. Paired with Serbian designer Roksanda Ilincic's architecturally-inspired collection, it made for a spectacle that felt as much like an art piece as it did a runway show.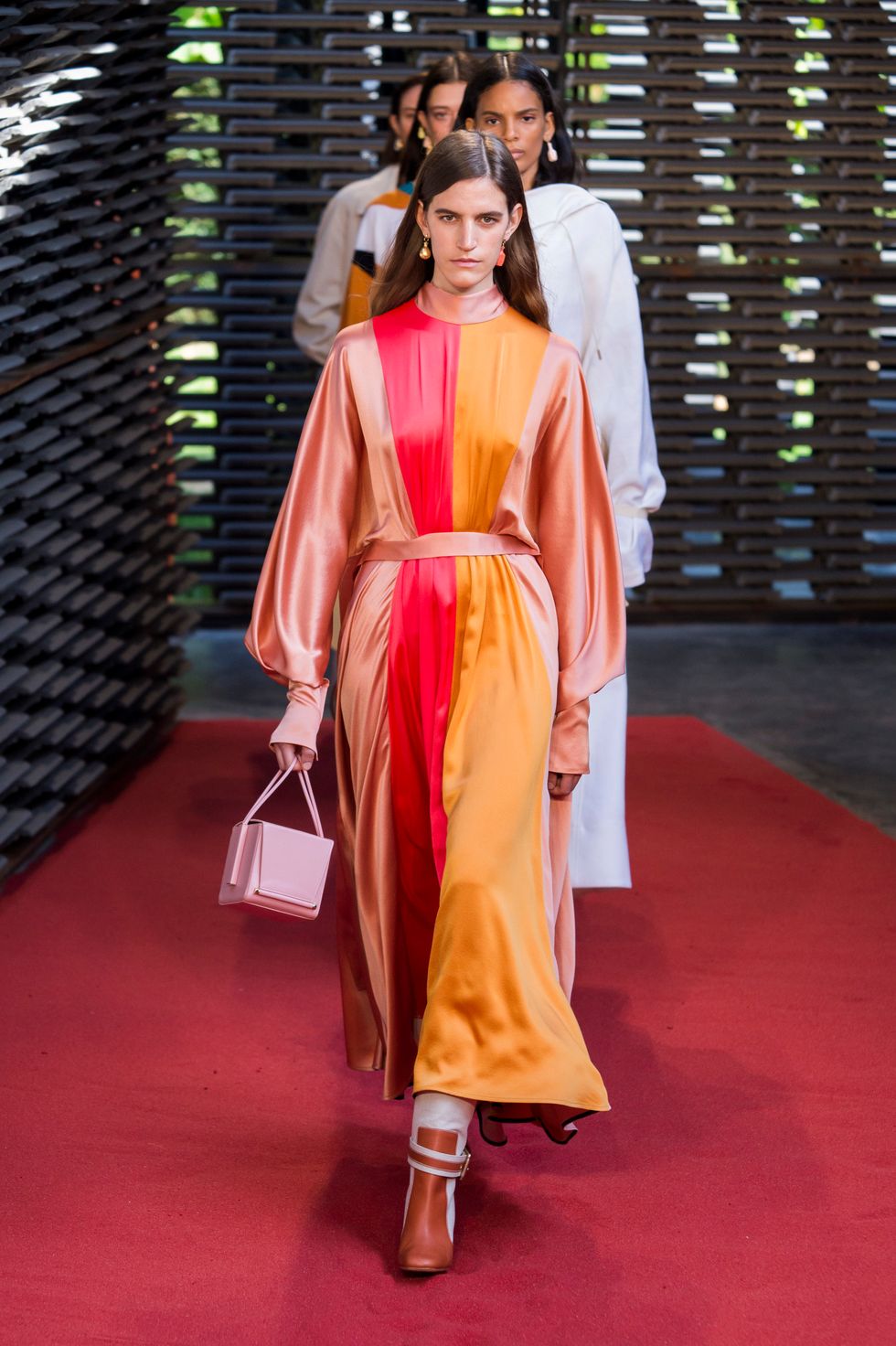 Orange Is Burning
Burnt orange is having a moment in London this season. After appearing on the runway of designers far and wide throughout the weekend, it became the centerpiece for Roksanda's art-inspired palette. Across the collection, the orange hue helped usher in a warm embrace of earth tones in everything from blistering reds and canary yellows to cool creams and dashes of baby blue.
Making Faces
As model after model strutted through the Serpentine, delicately drawn faces began to appear on garments. Beginning with midway through the collection on back-to-back dresses (in mint green and blood orange or white and rose varieties), line drawings of abstract faces brought a playful punch to the show, ending in a grand finale of five gauzy, layered dresses and skirts that sent linework in all shapes and zigzags across the catwalk.
The Bigger the Hoop
As bags continue to grow to bulbous sizes at London Fashion Week, it was nice to see that hoop handles weren't being left behind under Roksanda's watchful eye. Of course, there were plenty of oversized, literal baby-sized bags in the spring 2019 collection, but we fell for the hoops in an eclectic mix of materials that were seen out of the show's more petite purses.
Sign Up For The Morning PAPER