Being an independent musician isn't easy anywhere, but it's especially difficult to work within a shattered economy. That's something PRIMA — the Puerto Rico Independent Musicians and Artists Fund — is hoping to address next.
Founded by Raquel Berrios and Luis Alfredo Del Valle of the silky electronic pop outfit Buscabulla along with political folk powerhouse Ani Cordero, the initiative was launched to provide immediate financial relief to the island's music community in the wake of Hurricane Maria. And while that original mission continues, PRIMA is now officially going longterm, and with expanded goals.
"Things are little bit trickier because maybe the situations of artists have changed," Berrios says.
Several rounds of $500 emergency grants have been distributed to 45 different musicians and artists, Berrios confirms. Already, that's made a huge impact in so many of the storm's direct blows, like property damage and money struggles from loss of work; for musicians, that can extend to ruined gear and equipment, plus a significant drop in available gigs while venues and clubs were without electricity.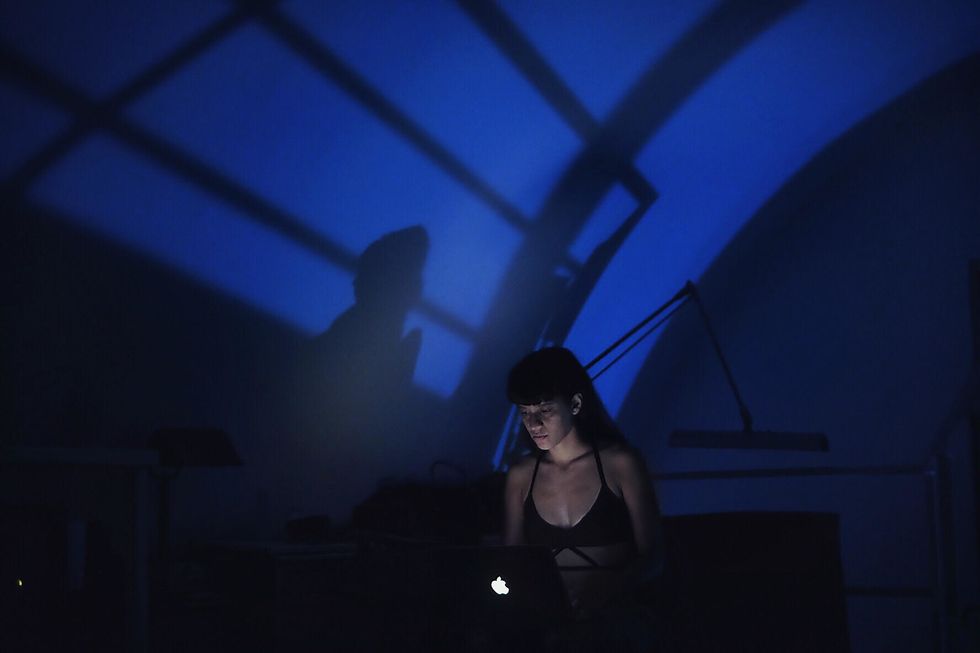 Self-portrait of SUPAKID, a local photographer and musician in La Emperatriz
Today, the island's recovery is still far from complete, even if progress in access to water and electricity is accurate (many believe it isn't). Unemployment is rising, the exodus has swelled, and what was already broken before the storm — its status as a U.S. colony coupled with alleged corruption within the island's government make for one catastrophic cocktail — further complicate its future.

But with input from the independent community itself, Berrios hopes PRIMA can make a at least improve conditions for musicians and artists in sustainable ways — and that's a big deal. In March, they'll host a town hall-style event on the island.
Related | Bairoa's Synth-Funk Solo Debut is an Offering to Puerto Rico
"We really want to have all the people that either applied to PRIMA and haven't gotten grants, or people that have gotten grants, or other people that we haven't been able to help," she says. "We want to hear what the story is now with musicians, what are their issues and what ways we can help."
Berrios and Del Valle are moving back to Puerto Rico in February; with their daughter, they'll be living on the west coast, where they'll begin work on a full-length follow-up to their breakthrough EP released early in 2017. Ani Cordero will be visiting in March too; she'll be recording on the island, as well.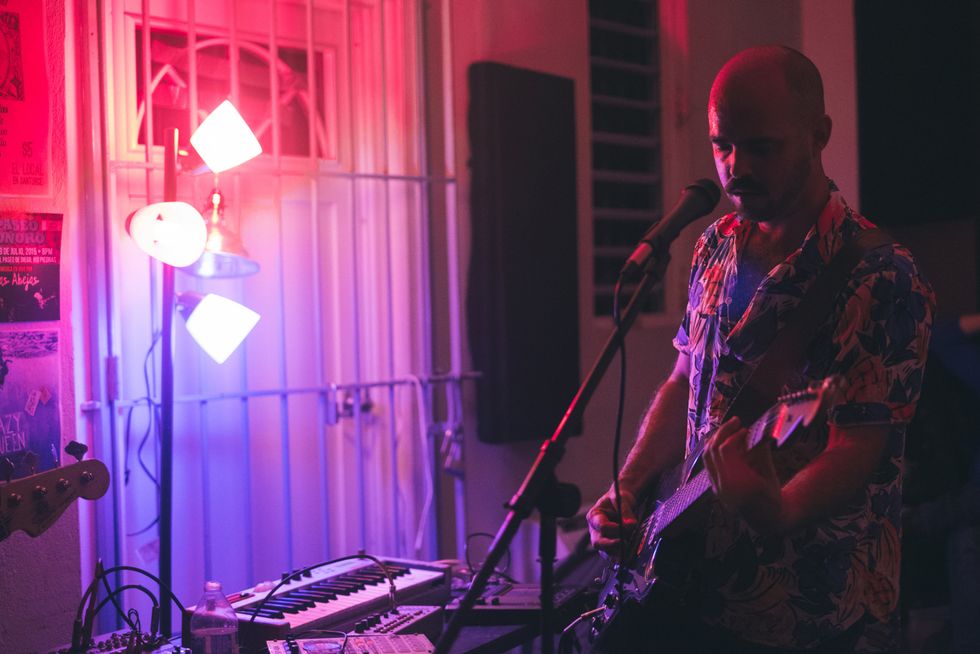 José Iván Lebrón of Moreira during rehearsal at La Colmena — his studio in Río Piedras

"It's good for us to kind of refine our mission now that the hurricane is a little farther away," Berrios says. "We want to identify other ways things are not great [for independent musicians and artists]. We want to hear now what's the second wave repercussions of everything that happened last year."

The continued support of direct donations, benefit shows organized in various cities, and sales of merch, like PRIMA logo totes and a Bandcamp comp featuring Puerto Rican music, as well as the recent extension of their relationship with Pregones, the long-standing Puerto Rican traveling theater that's graciously served as a no-charge fiscal sponsor from the start, is something Berrios (and Del Valle and Cordero, we can fairly assume) is grateful for. But finding additional sources of funding will be critical in amplifying PRIMA's reach.
"We're really trying to create an organization — or something [like it] — that people can be a part of. I was telling Ani, it's not like a union... but it could be a place for people. It would be interesting to see different musicians from different backgrounds, different styles, all organizing themselves as independent musicians in Puerto Rico, and then creating something that could eventually help everybody out," she says.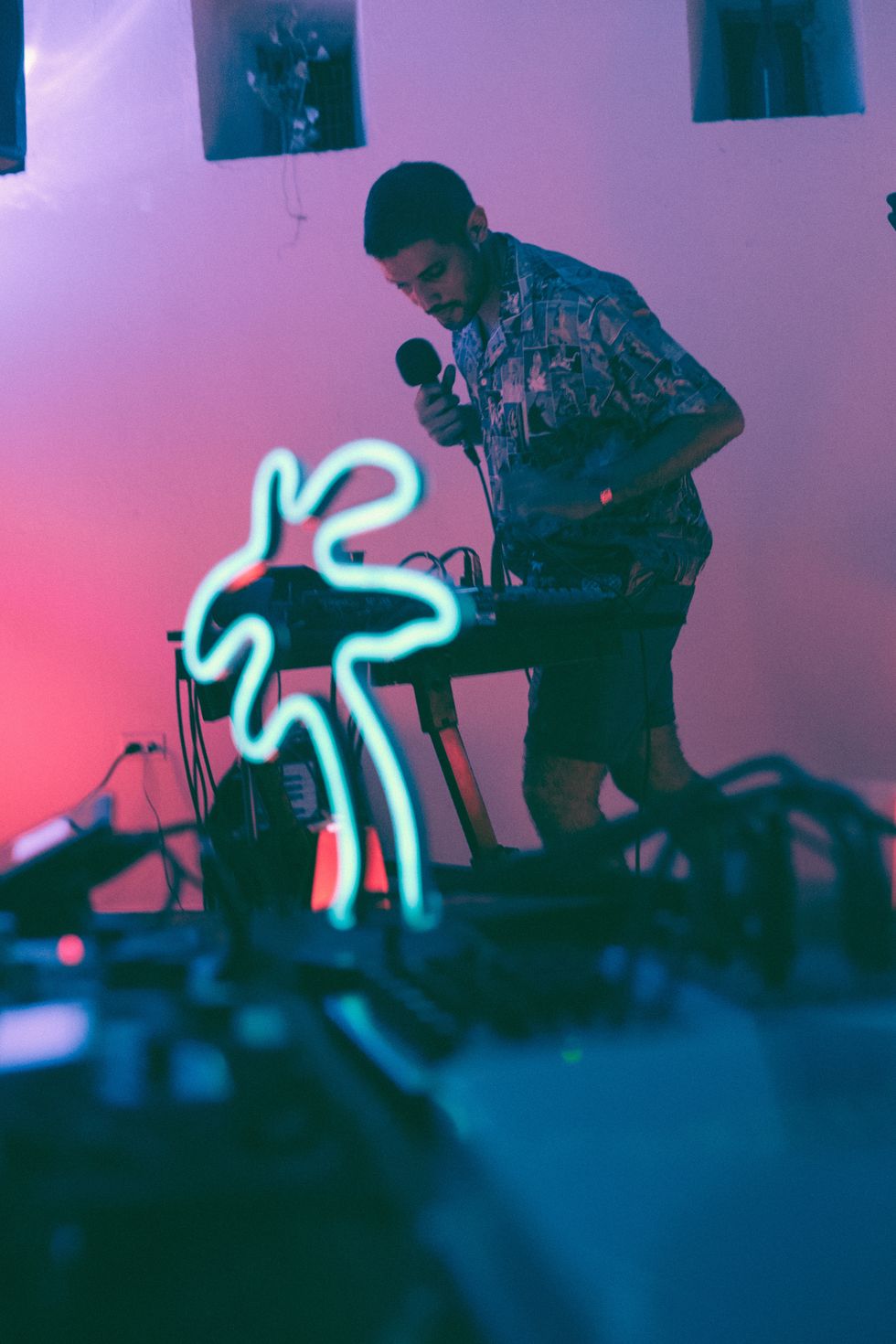 Jean Nada — in town from Portland — playing in Old San Juan
They also hope to help local acts gain more exposure — maybe through a series of festivals, where Buscabulla's reliably strong crowd and sponsorship draw would certainly be a plus, or by facilitating tours for Puerto Rican bands in other parts of the world.

For now, the grant process goes on. Viable solutions will come with time, and PRIMA will be a devoted pillar of support in realizing them. But the music community's future will be shaped by the needs of the members themselves: Musicians, artists, photographers, DJs, organizers, and everyone else that's kept the scene going all the while.
Buscabulla plays a benefit for PRIMA presented by Cult Citizen along with Bairoa and Prinze George on Wednesday, Jan. 31, at Elsewhere in Brooklyn. More info and tickets here.
Follow @PRIMAFund on Twitter to find out how donate, locate benefit shows, and learn more about the initiative.

Photography: SUPAKID