I am obsessed with Big Mouth, the Netflix show about the tortures of puberty, like having boners in class and stuff. There is a scene where one of the ugly little cartoons, Jessi, has a bat mitzvah, and her mother forces her to wear a "boxy-ass" dress. Jessi cries. But if Jessi had been at Paris Fashion Week and not an animated (literally and figuratively) version of Westchester, she would have fit right in! Because boxy tailoring is hip and happening. Especially with power shoulders!
The giant shoulder has taken over Paris this season. Venerable houses like Balenciaga (no stranger to boulder shoulders), Saint Laurent, and Givenchy have all embraced the linebacker look. Though they're all different — the Balenciaga models look chicly glum, the Saint Laurent girl is clearly a partier who likes The Strokes, and the Givenchy look stood out in classic Sloan Ranger herringbone — the immediate reference that comes to mind is the '80s classic 9 to 5, the 1980 film that set the tone for power dressing for the rest of the decade (though most of my jobs in media tend to operate on a 10-6 schedule, and under late capitalism, do we ever really stop working? Analysis!). Those 9 to 5 gals really loved a shoulder pad.
Large shoulders, though originally utilized by Elsa Schiaparelli in the 1920s, came to mainstream prominence during the 1940s, when actresses like Joan Crawford would sport them in films with what you might call "empowered" female characters, i.e. non-ingenues. During the 1980s, a large shoulder became a shorthand for feminism and women in the workplace, an instant signifier — along with wearing sneakers on a commute — for the modern working woman. Famous women from Grace Jones to Princess Diana all sported the style. They always make me think of this Inside Amy Schumer sketch, "'80s Ladies," in which women wonder whether they can have it all while using rotary phones and consuming ungodly amounts of cocaine.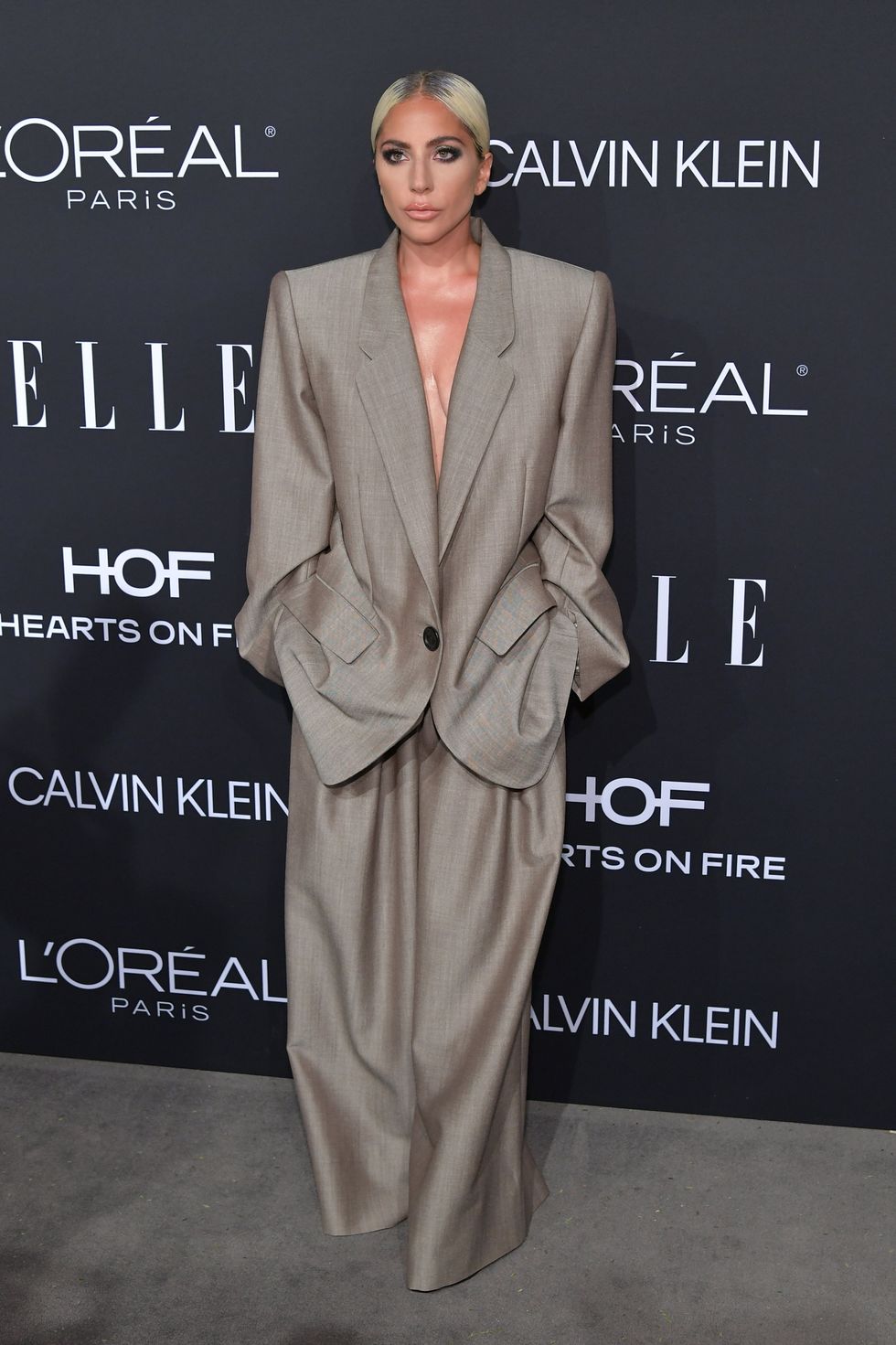 Lady Gaga in Marc Jacobs
In his spring 2019 collection, Marc Jacobs showed blowsily romantic suiting, zoot suit-esque styles paired with puffy organza flowers. Lady Gaga made a splash when she wore one to Elle's Women in Hollywood reception last October. Her deeply moving speech from the event, which dealt with her experiences as a woman in the entertainment industry and a sexual assault survivor, went viral. She selected the suit carefully. "In this suit, I felt like me today," she said. "In this suit, I felt the truth of who I am well up in my gut. And then wondering what I wanted to say tonight become very clear to me."
Runway photos courtesy of Imaxtree / Lady Gaga photo courtesy of Getty