Los Angeles-based producer and pop artist Party Nails has paired up with Austin-based queer pop icon Boy Sim to create a dance-pop single "Like U" in the eurohouse vein of Vengaboys, Cascada and Haddaway.
Co-written and co-produced by Party Nails and Boy Sim, "Like U" is reminiscent of '90s and early-2000s rave music, with bright synths, driving bass and high-octane hooks.
"I like to think of it as our homage to 'Girls Just Wanna Have Fun,' when Cyndi Lauper sings 'I wanna be the one to walk in the sun,'" Party Nails says playfully, adding, "It's meant to be danced to alone or with friends. We even thought about releasing it with a Surgeon General's warning: This music may cause severe dancing."
Read on for PAPER's conversation with Party Nails and Boy Sim about Elle Woods, Limited Too glitter body spray and why they're bringing back "fun music."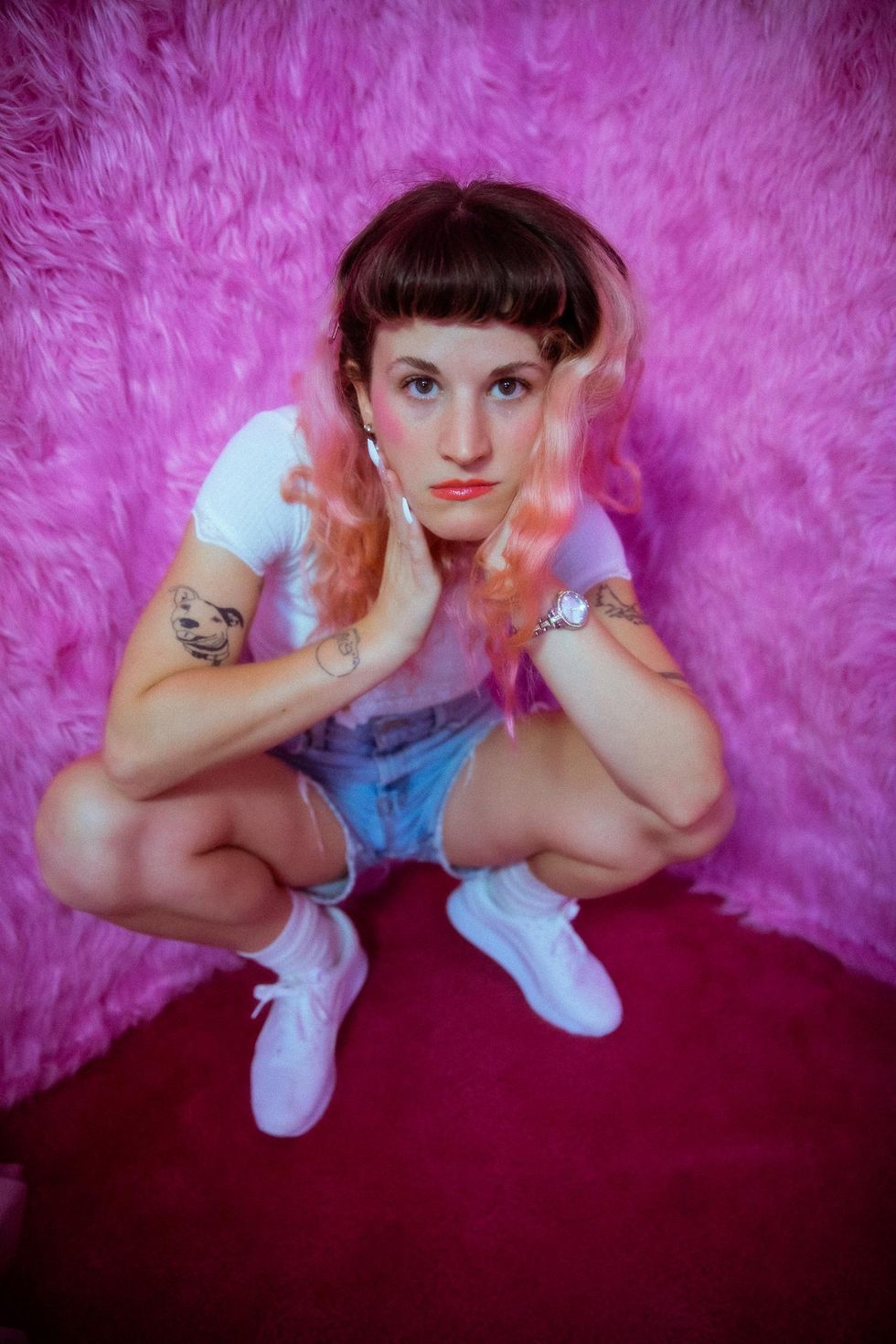 How did this collaboration materialize?
Party Nails: I had known of Boy Sim and loved him and his music before we met. I really hoped our paths would cross. Our mutual circles overlapped eventually and we set up a session while I was driving cross-country with my dog last summer.
Boy Sim: I had been working with Mike Grubbs here in Austin for a while, and he and Elana (Party Nails) had worked together before. She came through Austin and Mike thought it would be a great idea to get us in the studio together. He showed me her music and I loved it.
How does nightlife influence your sound, creative practices and this project?
BS: Nightlife has a huge impact on my production, songwriting and overall creativity because my entire adult life has been centered around working, performing and participating in showcases in queer nightlife spaces all around the country. I started DJing and clubbing a lot when I was 18, and I realized that I loved dressing up, performing and making people dance. All my best friends are drag queens, queer nightlife performers and queer artists. I've found a home in nightlife.
PN: For me, nightlife is emblematic of an epic quest for that perfect moment where a song comes on while you're on the dance floor and hits you in such a way that you almost shift into another realm. Even though it's sound, the song feels like a whole other physical space you can enter into. I think I'm always trying to catch that, create that, define that.
BS: Nightlife has become my go-to for inspiration. Sometimes, if I'm having writer's block, I'll just go out to my favorite clubs and venues and mentally dissect all of the songs playing. It can help me figure out what makes people dance and what makes people want to leave the dance floor for a drink or a restroom break. Before I started Boy Sim, I was making EDM.

What was the creative process of putting this track together?
PN: I played a few other songs that I was working on in the hopes that Boy Sim and our co-writer Michael Grubbs would catch a vibe, and they absolutely did. Grubbs was an endless fountain of lyric ideas while Boy Sim went in on the track. Every hour we'd kind of touch base with each other, veto a verse or pitch a new lyric, until suddenly we were done. Boy Sim sent a version over and once I heard it, I couldn't shake the idea that he should be on the track too. I asked him if he would want to be on it and he sent his verse right over.
BS: The original beat started out as this funny, bubbly, SOPHIE-inspired euro-pop beat, and we started thinking of melodies and lyrics to go along with it. I had smoked a bit before, so I was a bit giggly, and we just kind of all caught this giggly silly vibe. The whole time we were like, "Oh my god... it's so hilarious and it's so catchy." The amount of laughs we had while writing the song was definitely a big part of what drove the lyrics to just be so crazy and outlandish. It was the most fun I've had making music in a really long time, actually. Something about stepping back from all the serious and overly sophisticated, sort of melancholic music I was working on a lot at that time felt so freeing. I think bringing back "fun music" is very important right now. I miss Taio Cruz, Kesha, Rihanna's EDM phase, Gaga's ARTPOP. I miss LMFAO. Stuff like that. Happier times.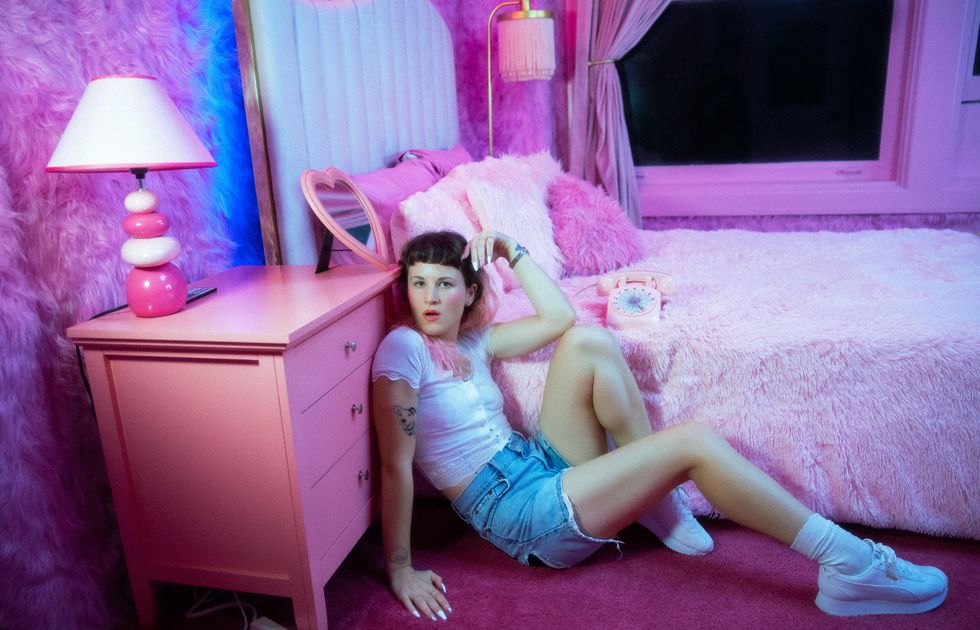 Where did you draw inspiration for this project?
PN: I'm always inspired by Robyn and her style of pop music, so I thought of her a lot while we were writing this. I also was very inspired by Charli XCX. She is so serious and yet so playful. Grubbs was riffing on this concept of "iconic," and that was a big inspiration — like, what if you thought of yourself as iconic? What kind of self-love and actualization would you possess, how would your relationships be? They would be supportive. Interdependent. Never smothering. But also this unhinged sort of Elle Woods vibe. Grubbs' lyric contributions nailed the Elle Woods vibe.
BS: Production-wise, I drew inspiration from a lot of the melodic pop-house revival stuff that's been really trendy in pop music lately. The '90s organ bass, the house drum groove, it's been taking over the radio again and I love it. "Show Me Love" by Robin S., "Waiting For Tonight" by Jennifer Lopez, "I Didn't Just Come Here To Dance" by Carly Rae Jepsen, Gaga's Chromatica, Dua Lipa's Future Nostalgia, Beyoncé's Renaissance. Pop-house is back and we wanted to put our own spin on it. My favorite movies are the ones about the '90s rave scene, so releasing a track like this feels very full-circle.
What is the mood board for "Like U?"
BS: When I listen to it, I kinda start to picture my sister's bedroom when we were little kids. It smells like Limited Too glitter body spray. Pink fuzzy mirrors, colorful beads everywhere, friendship bracelets, snap bands, the transparent pink and blue landline telephone. Bazooka bubble gum, nerf guns, laser tag, Spice World. It's also like if Disney channel's Zenon was an HBO Max show and the space station was a giant club orbiting the earth. That's what I imagine.
PN: Yes! Limited Too glitter body spray, yes! To me "Like U" looks like when you accidentally look immaculate because you're wearing clothes you love, and you're glowing from laughing and dancing with friends and they're glowing too. It's a bunch of sweaty besties giggling on the dance floor. It's when you're in the thick of it working hard at something you love and your partner is like, "You do you, because you're the best."
Check out Party Nails and Boy Sim's "Like U" below.
Photography by Ben Taylor