At a Nokia 5800 Launch in 2009, Paris Hilton interviewed Lady Gaga on-camera. Touching on what inspired her at the time, Gaga spoke about her obsession with fame culture (fresh off the release of her debut album The Fame), and acknowledged the irony of standing with "Mrs. Fame," referencing the iconic hotel heiress. "I always thought that 'Stars Are Blind' was one of the greatest records ever," Gaga continued. "Quite honestly, it's a great pop record." — a bold statement, and one boring critics would happily dispute, but Gaga wasn't wrong. "Stars Are Blind," the lead single off Hilton's music breakout Paris was a flawless debut, and positioned among a full album of unsung highlights.
In the year 2006, Hilton was at the height of celebrity stardom, navigating a celebrity-obsessed world where her paparazzi photos were printed inside every tabloid and splashed across every gossip blog. As a society, we loved to loathe her, but religiously scanned every image and watched every video of her being ushered from nightclub to black car, sunglasses shielding her face and blonde hair brighter than a camera flash. So when Hilton announced she'd be releasing a proper pop album, the public was skeptic, but they still watched her every move — just as Hilton likes.
Several years of work took place before Hilton would finally hone the hip-hop-inspired sound of Paris. She reportedly recorded six songs with Romeo Antonio, who'd previously worked with Jessica Simpson and Kelly Rowland; she collaborated with JC Chasez of NSYNC fame on a few demos; she battled with Haylie Duff over the rights to record "Screwed," which would eventually appear on Paris; Lil Jon pitched her tracks, including one aptly titled "That's Hot;" Rumors of Black Eyed Peas studio sessions swirled; Jane Wielding of The Go-Go's was even brought on board, saying Paris wanted a Blondie-meets-Go-Go's sound for her final LP.
When Hilton met with producer Scott Storch, however, the direction of Paris finally took shape. In Miami, the two laid down the framework for what would become album opener "Turn It Up," a sexy club banger that fused Storch's understanding of hard hip-hop beats with addictive pop hooks (He'd previously worked with everyone from 50 Cent to Christina Aguilera). "When I lose my clothes, you like that, don't cha?" Hilton coos in a near whisper. "Let's get exposed, cause you know you want to." She wasn't trying to prove anything or seriously shift her reputation. Instead, Paris would be an extension of Hilton's public persona, leaning into the sex appeal she'd become infamous for.
Hilton officially launched her music career in June 2006 with "Stars Are Blind," the first proper single off Paris. With its tropical reggae influence and smooth, mid-tempo speed, the production fluttered beneath Hilton's breathy vocals to create a shining summer standout. The breezy track was notably co-written and co-produced by Fernando Garibay, who went on to create some of Gaga's most career-defining work, including "Alejandro," "Born This Way" and "Edge of Glory." Peaking at number 18 on the Billboard Hot 100Billboard Hot 100, "Stars Are Blind" was the catalyst that took Hilton from pop icon to viable pop star — a jump supported by a flirty black-and-white music video that stayed rotating on MTV's TRL throughout the summer.

Sonically, "Stars Are Blind" was a one-off piece of Hilton's ambitious 11-track effort, which offered everything from the slow, synth-driven lull of "Heartbeat" to the soaring, guitar-drenched explosion of "Nothing In This World." The majority of her songs teetered a line between neon-lit pop and stylized rock, much like Gwen Stefani successfully did the same year with Love Angel Music Baby. This balance was achieved on songs like "Not Leaving Without You," and "Jealousy," a track rumored to be about Hilton's then arch-nemesis Nicole Richie. "Nobody wins when you're full of envy," she sang, giving fodder to the tabloid frenzy. The disco ball at Paris' core began turning with tracks like her Jonathan Rotem-produced "I Want You," featuring horns from Frankie Valli's 1978 classic "Grease." Hilton also covered Rod Stewart's "Do Ya Think I'm Sexy," which should've been held three decades for the socialite to premiere on her own (a genius match).

At the time, so many of Hilton's peers were using music as a vehicle for giving the world a rare, raw glimpse into their unseen psyche, from Ashlee Simpson's punky I Am Me to Lindsay Lohan's debut Speak. While they opened up about being "Beautifully Broken" or rejecting the "Rumors,"Paris was a playful dive into sex, celebrity and Hilton's towering position on the social hierarchy — everything about the LA icon we'd already become enamored with. When she tackles romance, it's not overwrought with draining emotion; when talks about boys "Fightin' Over Me," it's perfectly tongue-in-cheek. And while it's her voice on the track, Hilton doesn't let you get too close to Paris Hilton, the pop star. She never toured, gave limited interviews and fully embraced the untouchable superficiality of this side project.
Because music criticism was still relevant in 2006 (and plagued by angry white male gatekeepers), Hilton's debut album was victim to mindless misogyny. With the inevitable haters, which Hilton is all-too familiar with, there was still an overwhelming spread of well-deserved praise. Rolling Stone compared her to "pseudosleaze" pop provocateur Peaches, saying that Hilton "delivers the real thing." Billboard called Hilton's effort "an enjoyable pop romp," and Slant described the album as "pop-perfect." Paris, in many ways, became a mirror to Hilton's polarizing identity outside of music, splitting the public's opinion, luring in curious observers, fulfilling super fans and provoking furious naysayers all at once.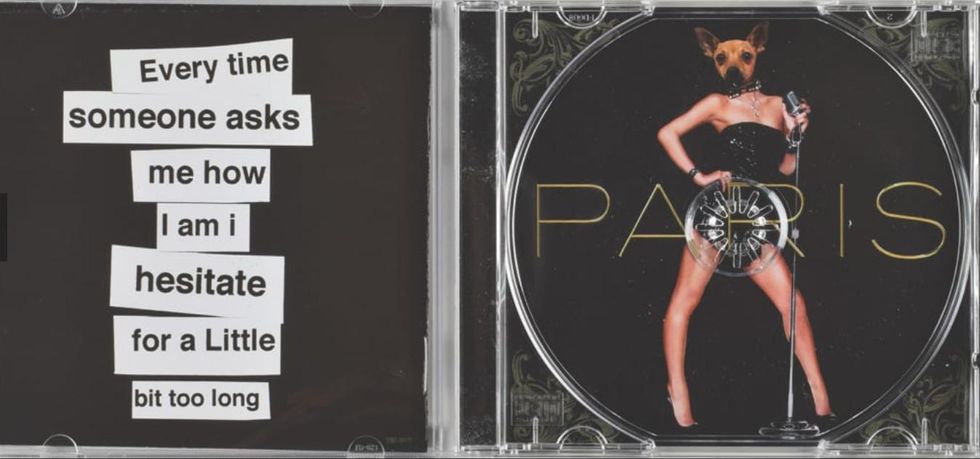 The project also inspired art. Banksy, the mysterious guerrilla artist, doctored 500 copies of Paris, and distributed them throughout 48 record shops in the UK. As someone whose work often tackled corporate greed and Western pop culture, Hilton's album was ripe for Banksy's critical commentary. He replaced the cover with a topless Hilton, and traded her head throughout the inside jacket with a chihuahua head in reference to the socialite's famous dogs. Songs were remixed with titles like "Why Am I Famous" and "What Am I For?" — and the most powerful statement, "Every CD you buy puts me even further out of your league," plastered on top of the "Stars Are Blind" lyrics. Although Banksy's sweeping overhaul was intended to slam Hilton, his contributions only added to the genius of Paris — a self-aware pop album from the princess of "famous for being famous."
By the end of Paris, it's crystal clear she's in full control of the album's greater message. "Don't care who's watching me, I do just what I want," Hilton whispers on the chorus of "Turn You On," her sultry speak-sing vocals surrounded by a bed of Storch's manufactured synths. "Turn you on, turn you out, give 'em something to write about." With production designed for nightclub euphoria, it's hard to deny Hilton's siren — and why should you? She closes the Paris highlight with a thesis statement for the LP, and perhaps her entire career: "Sorry I turned you on, take a cold shower when you get home." She's given you everything, and ultimately left you with nothing — a beacon of celebrity culture.
Listen to Paris by Paris Hilton, below, and her new single "I Need You," here.
Photo courtesy of Paris Hilton