Typically, you hear Cae Monāe before you see her: "Pussy, pussy, cunt," the Chicago artist and queer nightlife legend screams over the club's DJ set, letting that last word of her chant run long for extra emphasis. "Let me get that, that!" Then, you'll see her giant fan, waving wildly in the fog and snapping to the beat, before gently cooling down Monāe's face — her teeth covered in gold grills, as she smiles and greets guests throughout the space, occasionally introducing herself more simply to strangers as "Vagina."
This is PAPER's illustrious host for the night, in celebration of EXPO Chicago bringing global art to the Windy City for a weekend of programming. On Friday, April 14, we partnered up with Mortlach Whisky to throw a private party at Podlasie Club in Chicago's Avondale neighborhood, featuring DJ sets from local mainstays Miss Twink USA, Zolita, Ariel Zetina and Mister Wallace. (Apparently, there was a rumor that PAPER cover star Ice Spice would surprise perform, which added to the front door frenzy, although the night's lineup was more than strong enough to stand on its own.)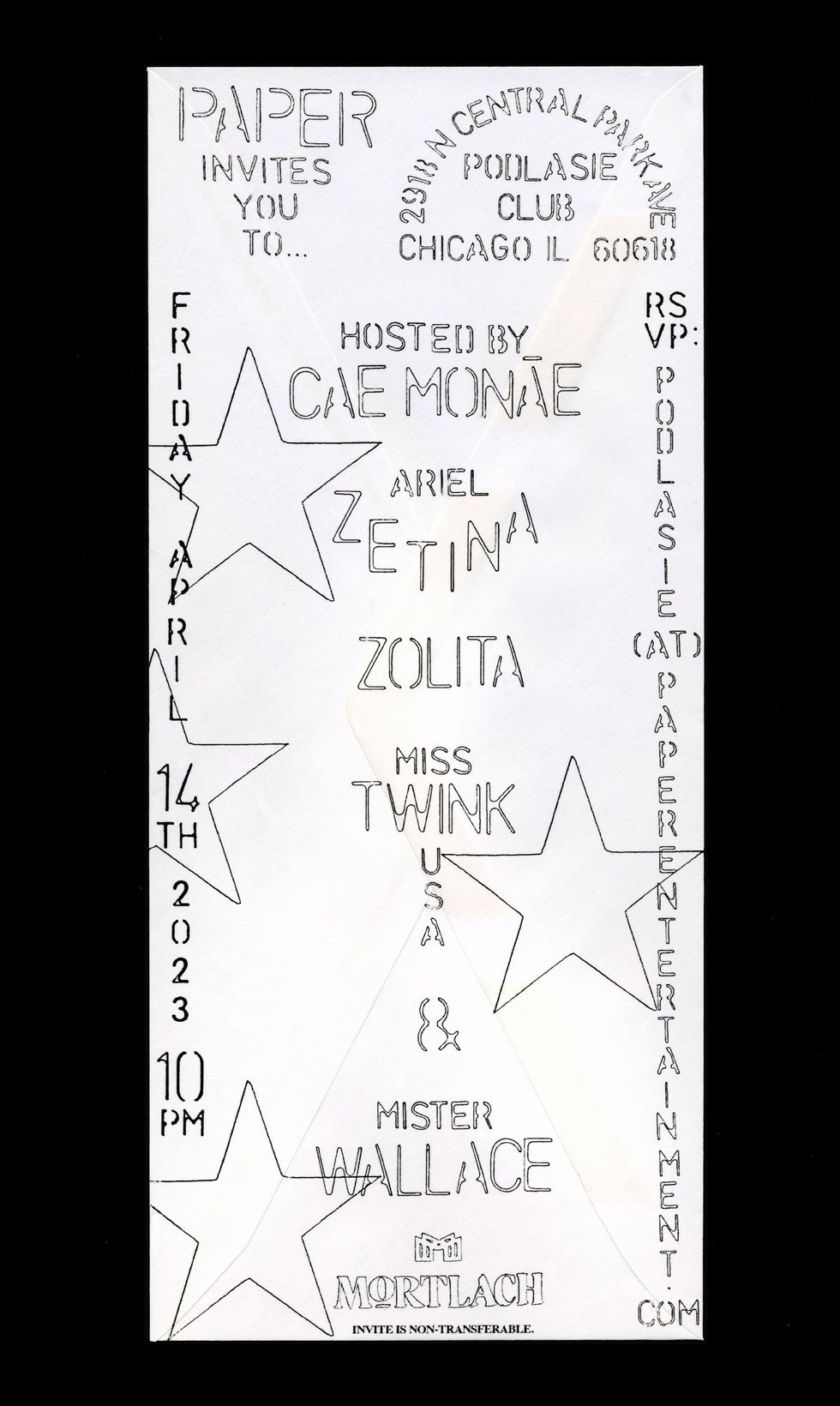 Flyer by Crystal Zapata
For years, Podlasie has been a small neighborhood dive bar, following its strong run in the '80s and '90s as one of the most popular Polish night clubs in the area. More recently, though, a group of young Chicago creatives entered the fold to revive Podlasie — also lovingly referred to as "The Pod" — for a new generation of late-night party people. "We had nobody, we closed at 8-9 PM," Co-Owner Violetta Konopka told Block Club Chicago in March 2022. "Then all of a sudden, we had 120 people 'til 3 in the morning."
PAPER's party added to the excitement, with an open bar of signature Mortlach cocktails: the Ginger Lodge, Highball and Mortlach Manhattan, all made using Mortlach's 12-year-aged scotch whisky. As a spirit-forward drink, the Mortlach Manhattan — with Angostura Bitters and Sweet Vermouth — especially helped light up the Podlasie dancefloor of Chicago cuties wearing looks, from Panterah's vinyl trench coat to Jpeg Papi's preppy polo with built-in shoulderpads.
During the last hour of the night, Mister Wallace (of Chicago's independent FUTUREHOOD label) queued up a remix to Ice Spice's "In Ha Mood," slyly acknowledging any circulating whispers. The room immediately went wild, moving and rapping along with the People's Princess. "Damn, she in ha mood..." Unlike so many New York or LA events, Chicago doesn't need a celebrity to make a party memorable — something that makes the Midwest such a rare, special spot.
See candid moments from PAPER's party with Mortlach Whisky for EXPO Chicago, below.
This article is a sponsored collaboration between PAPER and Mortlach Whisky.
We discourage irresponsible and/or underage drinking. Please drink responsibly.