Gen Z is taking over the runways and leading the charge is 19-year-old stunner, Meghan Roche. With Brooke Shields-level brows and Turlington-grade cheek bones, this fresh face is a throwback to the supers of yore which makes her steady rise all the more assured. After her jaw-dropping debut in Givenchy in 2015, designers and photographers still cant get enough of this sloe-eyed beauty. A favorite of the late Karl Lagerfeld and his successor at Chanel, Virginie Viard, Roche has just the right timeless look and charm to bring fashion into the next decade. — Christopher Barnard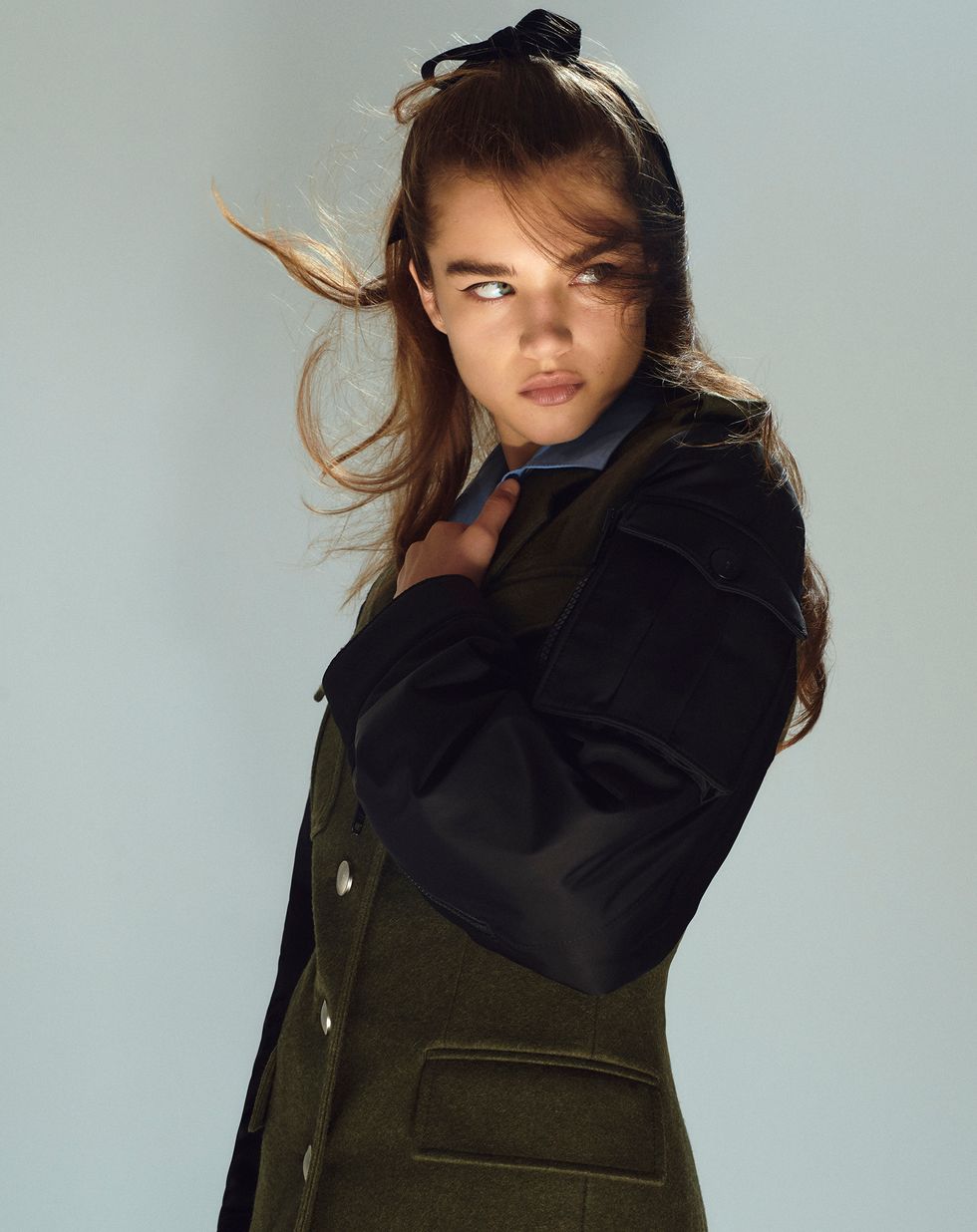 Full look: Prada
What's the biggest misconception about you?
I think a lot of people who don't know me find me intimidating at first. I've had so many experiences where I began talking to someone and by the end of the conversation they tell me, "Wow, I didn't realize you were so nice!" It's kind of funny how shocked people are after they meet me in person, they expect the worst but end up really appreciating my sincerity and the conversation we had. Even if it's the first time I meet someone, it's not surprising if they get an entire therapy session from me because I absolutely love helping people. Once I open up I connect with most people very easily, they feel like they can trust me and begin to confide in me which is something I really take a lot of pride in. I care about people and want everyone to feel welcome and comfortable.
What's something no one knows about you but you wish people did?
I wouldn't say that "no one" knows this about me but I want people to know how much I love my friends and how genuinely grateful I am for them. Without my close friends (you know who you are), I could never find the balance in my life that I need. Sometimes I become so overly focused and obsessed with my work that I forget to have fun and not be so hard on myself all of the time. My friends are who keep me sane and grounded, they don't even know it but they save me from being my own worst enemy.
What's your most disgusting habit?
Eating with my fingers! I just can't help it, I swear food tastes better that way.
What's the craziest thing you've done in 2019?
Probably moving out of my previous living situation in less than 24 hours, placing everything in storage, then living out of a single suitcase for 3 months followed by hopping around multiple furnished apartments in New York until I found my own all the while traveling around the world in between it all.
What's the most stressful thing about being you?
That my mind races a million miles a minute. I'm always thinking about "what's next," "what more can I do," "how can I do better?" Most nights I can't sleep because I'm thinking about the next day, organizing thoughts in my head and replaying my schedule over and over. I'm always thinking about all of the things I want to accomplish, whether it's in the following day or far future.
Do you Google yourself?
No, unless I'm searching for a specific photo I never Google myself. Growing up, my dad always told my sister and I "never read your press clippings." He would tell us this to avoid complacency and/or doubts. He was an athlete and throughout his career he learned that there's always something good people will say and there's always something bad so it's better to avoid it all and work hard in the silence. That's why, even though I had to quit sports, I will always consider myself an athlete because I will always have the mindset of one.
Where do you want to be when the world ends?
With my friends, family, and animals on a beach with unlimited tacos, dancing, and music.
What trend that you participated in do you never want to see again?
Plucking. My. Eyebrows. Let's just say I will never be doing that again. I thank God everyday that my babies grew back!
What's your biggest regret?
Currently my biggest regret is not taking a piece of the Funfetti cake I made at my friend's house last night home. Could really go for some of that right now..
What's your go-to karaoke song?
Anything Disney, ESPECIALLY Lion King!