The musicians behind Onyx Collective do not believe in limits. While the music is rooted in jazz, its members refuse to be tied down to any one genre, operating as freewheeling creators of art and music. They are young, they are stylish, they play for skaters, they collaborate with the likes of Dev Hynes and Princess Nokia, they are native New Yorkers who honor the city with song titles like "2 AM at Veselka" and "Eviction Notice" and "Battle of the Bowery." Onyx Collective is very cool. Distressingly cool!
The members of Onyx Collective are also very talented. They released their third album, Lower East Suite Part Three, this summer to enthusiastic praise. And last night they played a fantastic set at a party celebrating Woolrich's "American Soul" campaign, in which they star alongside Lauryn Hill. We caught up with founder and saxophonist Isaiah Barr and singer Julian Soto after their performance to talk about cashmere, Hill, and how novices can get into jazz.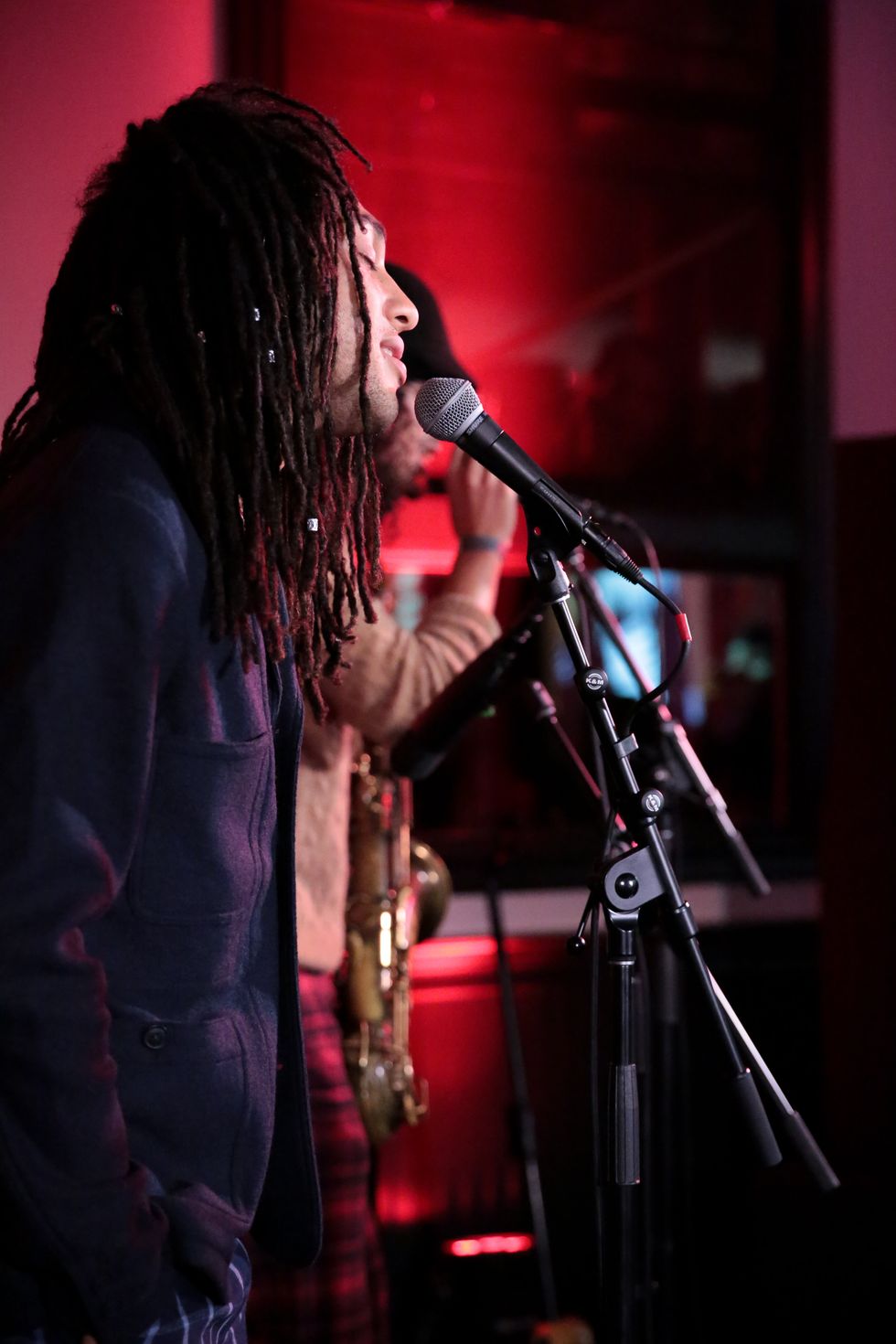 Julian Soto
When exactly you first start performing together as Onyx Collective?
Isaiah Barr: It kind of keeps building, that question. It keeps changing. There are people who are so integral to what Onyx Collective is who have only been playing original music with us for a year. But we first started in my uncle's crib in 2015. There's an old Know-Wave recording from New Years that's like, "Onyx Collective ready for 2015!" So I would say that's when the momentum behind the movement started to carry itself.
Is it fair to classify you as a jazz collective?
IB: No. We would classify ourselves as a forward-thinking music and art collective.
Julian Soto: We come from a place where jazz is played and appreciated –
IB: We have the utmost respect for it, and we also studied [jazz].
JS: It's a language spoken, but it's not the only one.
IB: It's too limiting to say we are a collective of any genre.
JS: It has its influences in jazz, but it's not jazz.
IB: It's our own thing that we've conjured up. And the beauty of it is that we all play with each other in other arrangements, and that music can be other styles. We keep it fluid, and strive for excellence.
And not defining yourself as strictly jazz opens you up to a wider audience.
IB: Sure. Without trying to. We're just being organic and natural and playing what we love.
JS: That's just what it is. We're opening it up.
This party consists of a wider audience. How does playing an event like this compare to a regular live show?
IB: We approach it in the same way. We try to make people have fun, and first and foremost we just treat every room like it's own thing. We try to play the room. We try to not walk in with a preconceived notion, we try to go in and address the vibe. Just being spontaneous.
And what did you think the vibe was tonight?
IB: The vibe was cool. It was a mixture of New Yorkers that I knew, people that I've never seen, and that's always a pleasure, to have a mix and blend of both.
Do you ever get annoyed at fashion things, where people have their phones out the whole time?
IB: I don't even see them.
JS: I didn't notice much of that tonight, either.
IB: I mean I saw a lot of people watching and filming us. If they want to throw it on the gram, kill two birds with one stone, Onyx Collective and Woolrich, same time, I'm not mad about it.
This was your first campaign all together, right? How was it?
IB: We've all done little things, but this is our first big group campaign. It was super easy, super smooth. It couldn't have been easier, down to today. It was a very enjoyable experience, minus the heat of these sweaters onstage. But once it gets cold out, you know I'm gonna be cozy in this cashmere.
And what was it like being in a campaign with Lauryn Hill?
IB: Well, we haven't met her yet [Laughs] so it's really just a figment of our imagination. But it's a complete honor, obviously.
JS: It's huge just walking around seeing her face and being like hey, we're a part of this too. We're young, we're coming up in the game, and it's a reminder, a strong reminder. But we ain't met her. I didn't realize until today. I mean of course I knew, but it hadn't registered.
You don't realize until you feel the buzz of people freaking out about her until you're some place where she's supposed to be. It's a beautiful thing. It's something we're very much apart of and came up under, and are hopefully going to continue the legacy of, of just making good music.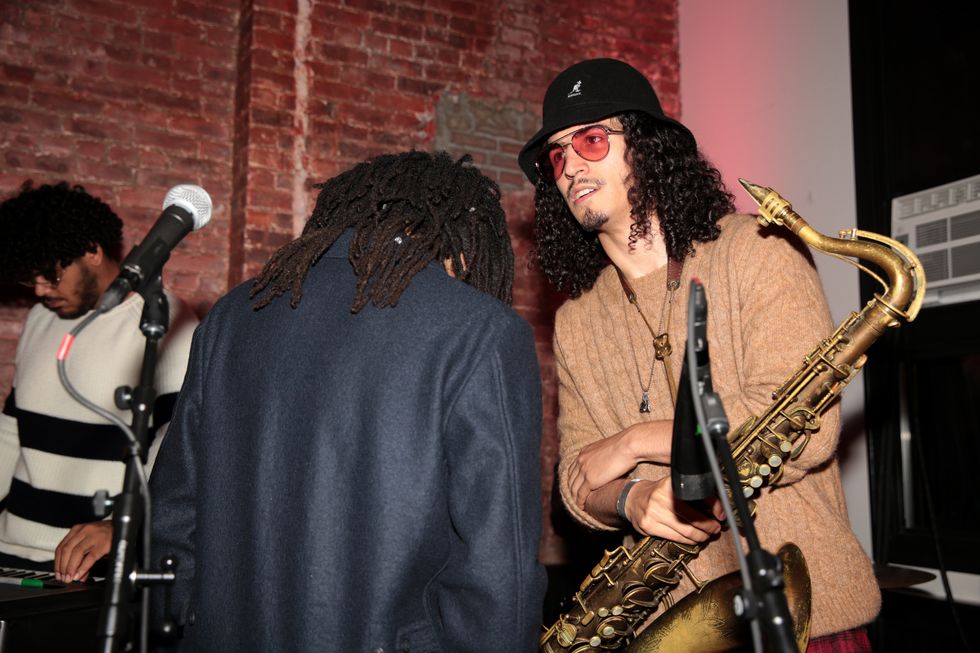 Julian Soto, Isaiah Barr
Well, you do very good music.
IB: And merch. See the dollar bill merch? We print our own legal tender now. It started on a shirt, but now we're printing our own legal tender. [Laughs]
Oh, you're not entering the cryptocurrency space?
JS: Onyxcoin is next.
So I know you're not technically jazz, but –
IB: We are. We're not technically just jazz.
JS: Not limited to jazz.
Ok, so as a group not limited to jazz, but still jazz, what would you say to someone like me, who knows nothing about jazz? What's a good way to start listening?
IB: Start with whatever that really makes you feel good.
IB: 89.9 if you want to get trippy! Turn it on in the nighttime and you'll hear some really weird jazz that we're influenced by. I mean, the genre is over a hundred years old, and the spirit is even older than that, so it's endless. There's new stuff to find that I'm still finding every day. I found a record today in my collection that I had never heard before [a record by Keith Jarrett with Paul Motian and Charlie Haden], and it was incredible. It's a very free genre.
JS: A language.
IB: So start anywhere! Start with now, with all these people attached to this growing jazz community, and then work your way backwards. Or, do it the other way.
Photo courtesy of Woolrich, additional images via BFA
Sign Up For The Morning PAPER