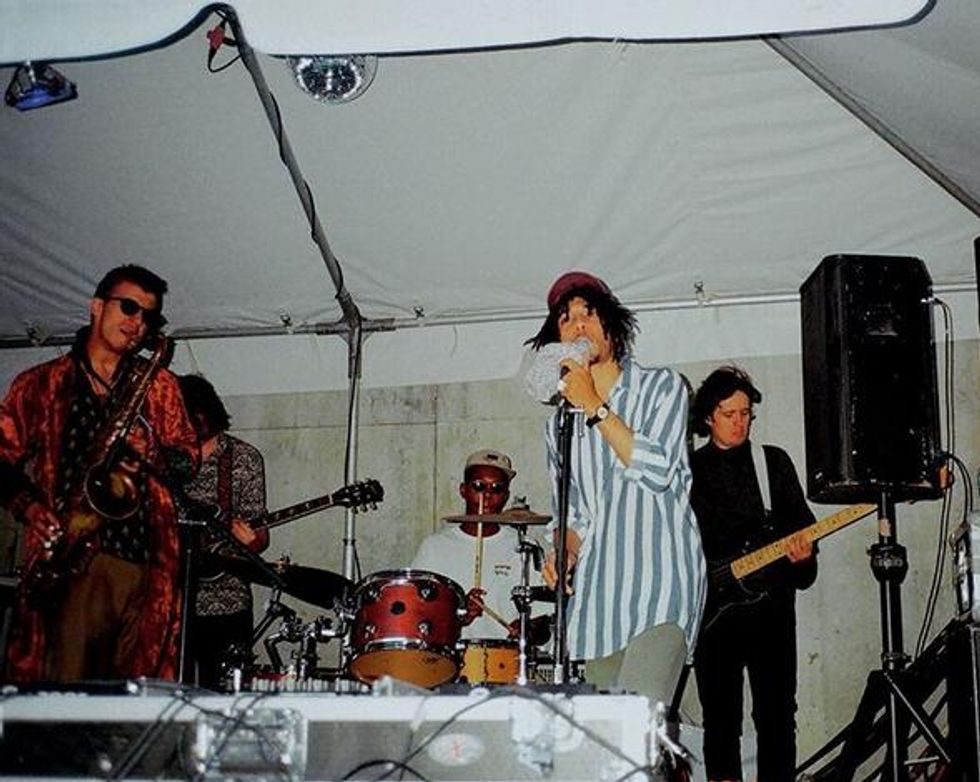 The Onyx Collective. Isiah Barr (far left). Photo by Sam Piland / Pictures Worth a Trillion Words

On an otherwise quiet Thursday night in Manhattan this past August, a small crowd formed in Chinatown at Magic, a barbershop by day and gallery by night. Inside, the space was filled up mostly with skaters and artists in their early 20s drinking 40oz beers, rolling blunts, and passing around a bottle of Hennessy. The event for the night was an art show, featuring mixed media artists Gogy Esparza, Adam Zhu, Sean Powers, all regulars at Magic, but the attention quickly shifted to the front of the room for what was ostensibly the main event: Onyx Collective. Four guys playing what was effectively classical jazz music, with a little bebop in the mix, to the type of artistic, downtown crowd that hasn't been associated with jazz since the '60s. It was a surreal experience but, it turns out, not a rare one.
Though the collective's bio says the group made their official debut in January 2014 it was at a concert for hip-hop acts Ratking and Princess Nokia at Williamsburg's McCarren Park that they started to really get attention. Onyx founding members Isaiah Barr and Austin Williamson, a saxophonist and drummer, respectively, were there to perform with Princess Nokia but ended up stepping in when the sound suddenly cut out during Ratking's set. Without hesitation Williamson laid down a beat and Barr added some sax flair, and the show emphatically went on. The collective, which features a cast of rotating characters but centers around Barr, Williamson and Josh Benitez, have since become associated with Ratking and their crowd, even earning a guest spot on their fan-favorite track "Snow Beach" off the lauded debut So It Goes, as well as on tracks off of the Ratking mixtape 700 Fill. But other than that and a few session streams on the cult-favorite internet radio channel Know Wave, it's hard to find any Onyx Collective music online.
"I always loved the Ratking/Letter Racer movement -- you know, the born-and-raised New York kids who kind of just make shit happen ," says Know Wave founder and gallerist Aaron Bondaroff. Bondaroff, a native New Yorker, has had a hand in discovering, guiding, and showcasing some of the most exciting young talents in the city, including Ratking. "For me when I first read about [Onyx] just hanging around the jazz clubs in the West Village, waiting until late night so they could get on -- old school." There's no doubt that Bondaroff was instrumental in bringing Onyx to a wider audience. "I told Isaiah to start [his] own show and introduce what's going on with jazz and youth culture to a new station. I had a storefront and I was like 'do whatever you guys want.'" What they wanted was to offer their version of jazz, whatever they wanted it to be that week. Thanks to Bondaroff and Know Wave, recordings from those sessions will be out on vinyl in a few months, once again offering a chance for the Onyx fan base to grow.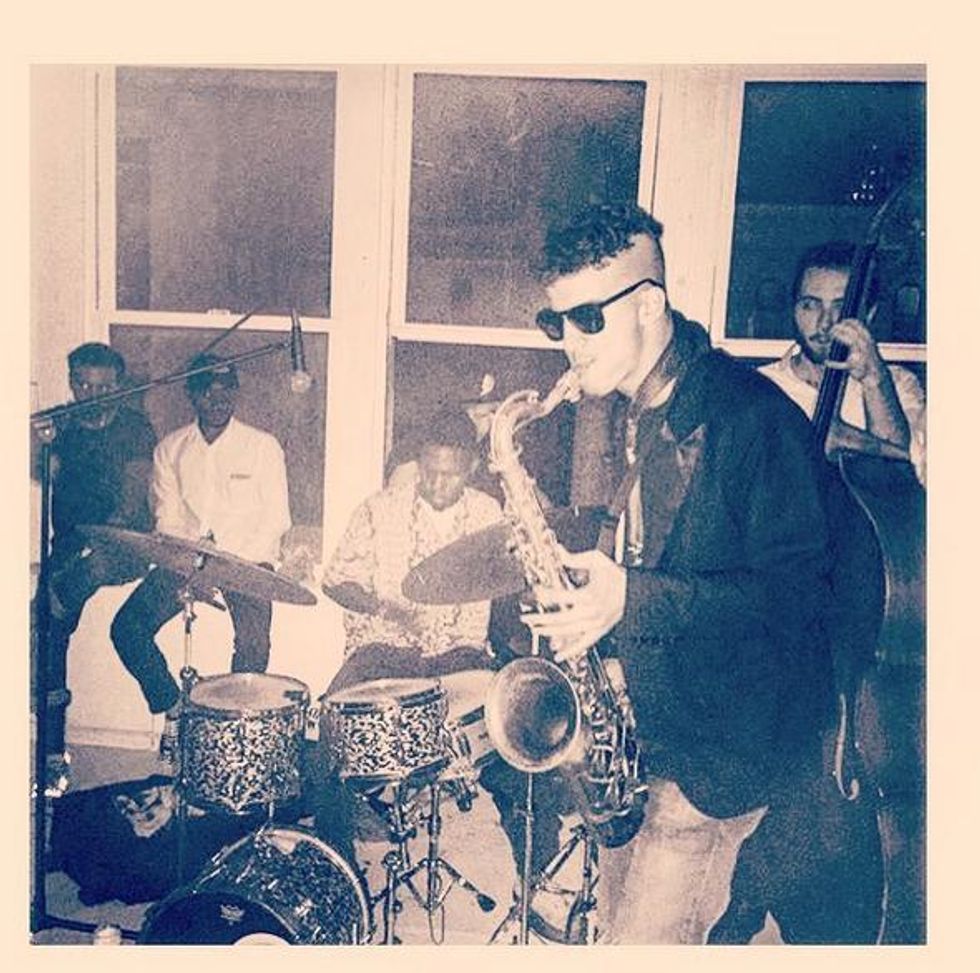 To them, however, the live experience is paramount, and jazz intrinsically hits on a trend that's happening across all forms of music. "The whole idea of seeing DJs and going out can get redundant after a while, kind of forced to be in this party mode" says Bondaroff. With access to an endless supply of music at your fingertips, the energy that live music brings carries much more weight. And a band like Onyx can truly take advantage of that, because each show, like most jazz shows, is never quite the same as the last one.
"Onyx Collective did a great job of putting themselves out there in New York by playing different venues and with different artists," says Wiki, the lead vocalist in Ratking. "It became an event, when they played. One night they would be playing with Salomon Faye [a burgeoning NYC rapper] and the next night with Dev Hynes."
"It's backwards: They're going to the original format where you get more recognized by your live show," Bondaroff explains about Onyx's unorthodox rise. "Most people stay in their basement, they find that track and they digitally put it out in the world, and they get famous for that or recognized for that. And there are people [who] expect that, but they're kind of doing it the old fashioned way. 'We play to the people, the people start learning what we do, they start learning our grooves, and they demand it at the live shows' so it's kind of interesting. These guys don't have a physical thing that exists; people know that if you go to an Onyx Collective show you're going to have a good time, or see something you haven't seen yet in music."
Though this jazz revival feels new to many in the hip-hop and skater communities, Barr has been involved ever since he picked up a sax at age 8. By the time he was in high school, he had started forming bands, and through his teacher and The Jazz Passengers leader Roy Nathanson, got his first real gig backing Debbie Harry at the Hard Rock Café. His instructors proved to be pivotal in shaping his sound, which is rooted in the classics. "I think the role of the jazz musician always, is to know the history and learn it and study it and never really master it so it's kind of an endless role," Barr proclaims. Onyx began playing at traditional jazz spots like Zinc Bar, Why Not Jazz Club, and Fat Cat, which they still occasionally play, but Something Jazz Club on 52nd Street first helped Barr workshop his compositions. Soon after, he met Bondaroff and Onyx began to take off.
"You know if you do your homework on New York City culture you understand what has come before us, that's important," Bondaroff adds. Jazz has been slowly creeping back into mainstream music, with artists at the very least acknowledging its influence. "I think it's kind of more of a '90s revival thing," Barr starts, "and guys are trying to bring back in all genres of music the live element, because there's a lot of stuff that's been recycled now and there's guys like Kendrick Lamar bringing in instrumentalists, kind of bringing some flavor to the album." He's referring to Lamar's To Pimp A Butterfly, which was drenched in mid-century influences and which effectively propelled saxophonist Kamasi Washington's solo jazz album The Epic into the spotlight. But there's always been a market for jazz; who exactly makes up that market is what's changing.
"Skaters, hip-hop heads, there are people who've never heard a jazz record coming to my shows," Barr says. While Onyx plays cool kid venues like Happy Ending, the Boom Boom Room, and Baby's All Right, the gallery and loft scene have resonated the most with their fans. Borne out of passion and the necessity to create, with a style that goes against the grain of current trends in youth culture, it's no surprise that early adopter artist-types have taken to Onyx Collective. At the Magic party, some people bobbed their heads to Austin's drum beat, a couple of people danced, or attempted to dance like it was a rock show, and many just stood there transfixed by the instrumentalists, trying to grab hold of their unpredictability. "I think music today is less separated by genre," Wiki says. "It's more about like-minded individuals. These days, people are more open-minded about the different types of music they listen to so if they're exposed to new jazz coming out they would be drawn to it, and appreciate the similarities they share to other genres popular today."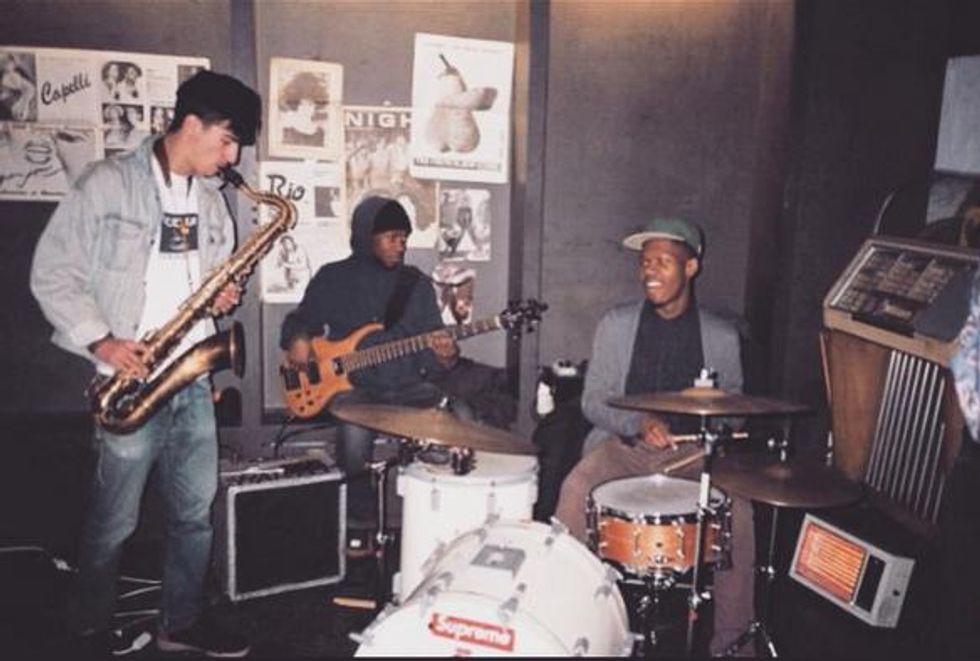 Maybe it was the weed smoke (the room essentially became one giant hotbox), but looking at peoples' eyes, it was clear that they were taken by what they were seeing. "It's kind of interesting because it's very punk to play that kind of music, kind of provoking your audience because the audience doesn't know what to do with it, but they also know they're witnessing something that's special, so they're like what do we do? We just kind of pretend that we like it? Or like try to dance to it…" reasons Bondaroff about the crowds' response.
"I feel like something modern is only something that makes you feel like you're conscious of your consciousness," Barr says of why he thinks the collective's music is finding appeal among these creative kids. "This is something I've been thinking about, if you can see a painting and say wow, that makes me feel like I'm walking in a rainy day, that's modern because it's making me feel alive and present. I'm actually here, looking at this painting, I'm actually here looking at this art. That's the thing about jazz music."
But despite this sudden interest in jazz, it's still on the fringe although Onyx Collective seems poised to turn it into something more. As Barr points out, jazz has "always been about survival, who tells the best story." In a lot of ways, jazz is not so unlike contemporary youth culture, particularly the culture that revolves around the Internet and social media. It borrows from the past but ignores any rules and, in so doing, creates something entirely new each time. And having already found fans in these small -- but influential -- creative circles, it seems like the Collective's fan base will only get bigger. At the same time, though, it'll be interesting to see if their focus on analog buzz (i.e live shows over Soundcloud MP3s) will be enough to sustain the kind of growth that'll propel the collective outside the downtown New York microcosm they're in and, in so doing, increase jazz's popularity for more young people than those who live on the LES or North Brooklyn. For his part, Bondaroff is skeptical about a jazz resurgence ("Are people interested in jazz though? You feel it? You see it? I don't know"). But Onyx Collective isn't interested in all that -- for Barr and his fellow members, it's always been, and will continue to be, about the art. "I'm really always content, and I know Austin [Williamson] and Josh [Benitez] would say the same thing. We're always just content playing jazz. No matter what, playing in a jazz club for two people or a hundred, we're always going to be content."
All photos via Instagram

Related Articles Around the Web