Newly-elected congressional representative, Alexandria Ocasio-Cortez, first made headlines back during New York's primaries where she upset her incumbent opponent by campaigning on a progressive platform, generating momentum that carried her through the midterm elections. Calling for universal healthcare, free college, and a Green New Deal, Ocasio-Cortez has Republicans terrified and they've been gunning for her since she arrived on Capitol Hill.
Having already spoken about not being able to afford DC rent until her congressional salary kicks in, conservatives honed on Ocasio-Cortez's working class background as their apparent target for scrutiny. Trying to poke non-existent holes in her story, they have even tried to claim that she wasn't actually from the Bronx.
But conservatives stooped to a new low today when pundit Eddie Scarry tweeted out a photo of Ocasio-Cortez, with a comment criticizing her coat and jacket. Blatantly patronizing and sexist, Scarry insinuates that Ocasio-Cortez is actually secretly rich and serves to undercut her credibility. Many quickly jumped on Scarry for posting a picture of Ocasio-Cortez that was taken without her knowledge or consent. Even fellow conservative pundits urged him to take down the post.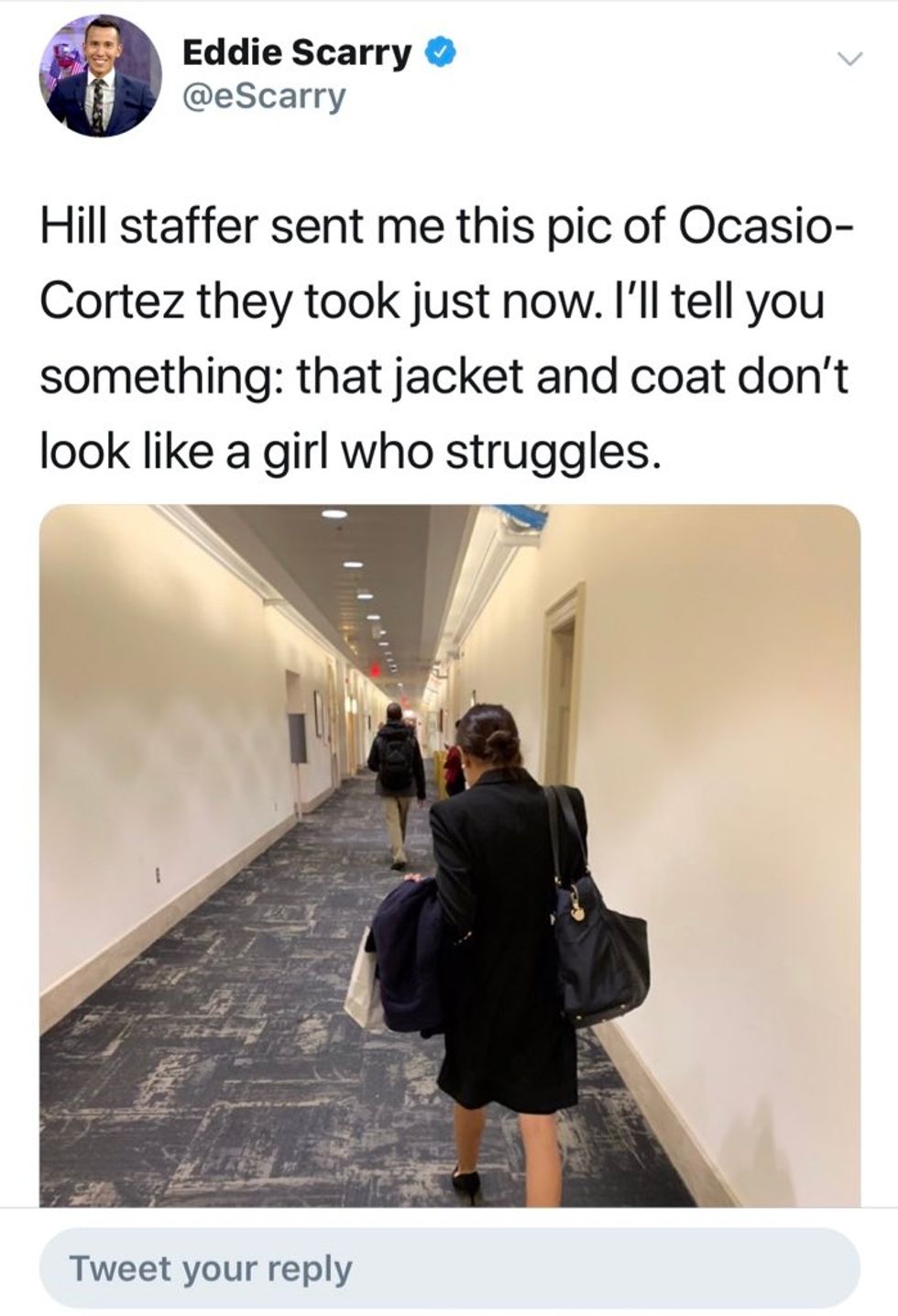 Ocasio-Cortez was quick to clap back pointing out that even if she wore a sack to Congress, they would still laugh at her. The subtext of Scarry's comment being that poor people are supposed to look poor and that in turn only rich people are entitled to have clothes that look good.
Backfiring spectacularly, Scarry immediately got ratio'd out of existence with thousands of replies flooding in to call out his transparently malicious behavior. Scarry has since deleted the tweet but not before Twitter did what it does best and turned it into a new meme.
"Hill staffer sent me this pic of Ocasio-Cortez they took just now. I'll tell you something: that jacket and coat don't look like a girl who struggles." pic.twitter.com/7lgbN7AZM0

— Santa Claus, CEO (@SantaInc) November 15, 2018
Image via Getty