Since Nicopanda's launch, Nicola Formichetti has always built the brand's visual language on a fusion of multiple references. Its backbone is east meets west (inspired by Formichetti's personal upbringing), but this season saw a different kind of cultural collision: Seattle grunge meets East Coast hip-hop. As a mix of Nirvana and Lil' Kim played, Nicopanda Fall '18 delivered punk plaids, playful '90s-inspired layering, slogan hoodies and tees, and a collaboration with famed music label Tommy Boy. We caught up with Formichetti after the energetic production to learn more.
Nicopanda is constantly evolving. What is the brand's point of view, right now?
Nicola Formichetti: I love to have fun with Nicopanda, and always represent the voice of our crew. Nicopanda is a democratic brand – accessible to all and available to all. We don't judge or measure, we just want to have fun — and for [our] Fall '18 runway, we definitely had fun.
What was this season's inspiration?
90's music, Seattle grunge and East Coast hip-hop. I mean, Nirvana and Lil' Kim [are] epic icons of music and fashion. I wanted to inject this magnetic energy into the collection. It's not just about the clothes, it's the mood and the music — oversized tees and hoodies with layers of leggings, socks, and beanies and then micro minis bejeweled in Nicopanda trinkets. Every detail speaks to these icons.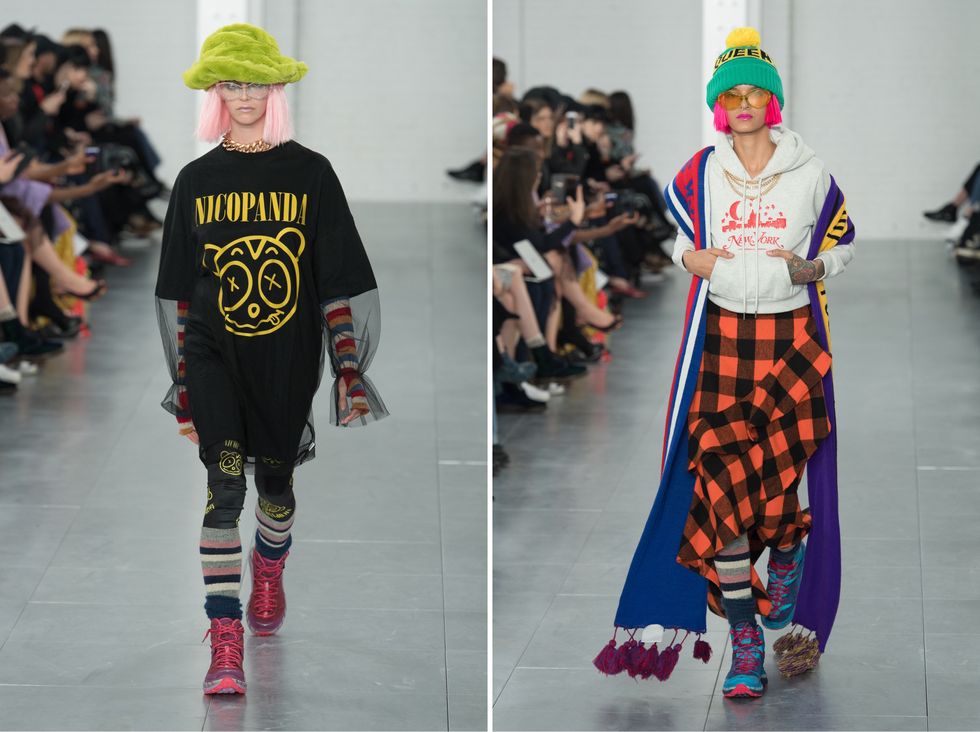 You collaborated with Tommy Boy Records, the legendary NYC hip-hop label. Why join forces?

We wanted to take the '90s influence once step further by partnering with a legendary hip-hop/electronic record label. Tommy Boy is credited with launching the careers of notable artists like Afrika Bambaataa, House of Pain, De La Soul, Naughty By Nature, and RuPaul.
Related | The World According to RuPaul
Nicopanda always wants to celebrate greatness in style and music. Tommy Boy really pioneered an amazing era of music, so let's celebrate this. We worked closely with the Tommy Boy to develop the collaboration pieces: an oversized bomber jacket, multi-color kick-skirt coat, kilt sports suits, and an oversized tees. The check print we developed is incredible — the Nicopanda motif is subtly hidden in the print.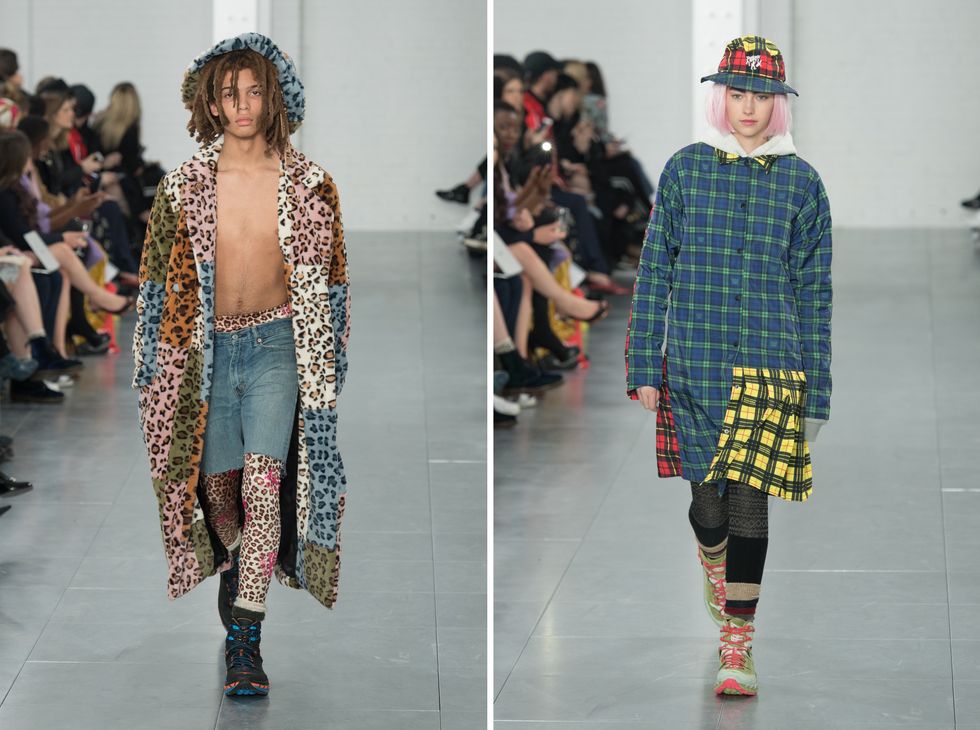 Is there a look you're particularly excited about this season?

This is a hard one. I loved everything — our prints, knits, textures, styling — all really great. If I had to pick one thing, I love the pink faux fur outfit on Aquaria. So glam.
Now that you've officially left Diesel, what are you working on?
I'm working on some exciting secret projects. Also, there are a lot of cool things happening with Nicopanda. I am so proud, it's my baby. Stay tuned.
Go backstage at Nicopanda's Fall '18 LFW show, below.
Photography: Kohl Murdock