The first thing you need to know about Australian musician Mani Blü is that their two biggest inspirations are Andy Warhol and David Bowie — and they aren't shy about it either. Part of a new generation of rising pop artists drawing inspiration from the electrified sounds of the 2000s, Bowie and Warhol's influence is all over Blü's work, from their androgynous '80s-inspired visuals to the borderline theatrical flourishes they use to embellish their songs. With only a couple of singles under their belt, Blü has made it clear out the gate that they know who they are and what they stand for.
If you're looking for an opportunity to get on board, their newest single "Round & Round" is the perfect chance. Featuring production from seasoned bubblegum bass veterans Wave Racer and Fresh Hex, the track is filled to the brim with dazzling bright and glossy synths that straddle the line between Max Martin and SOPHIE. Blü manages to channel the strength and charm of an entire boy band into their vocals with plenty of earworm-y hooks and fun "woahs" to go around.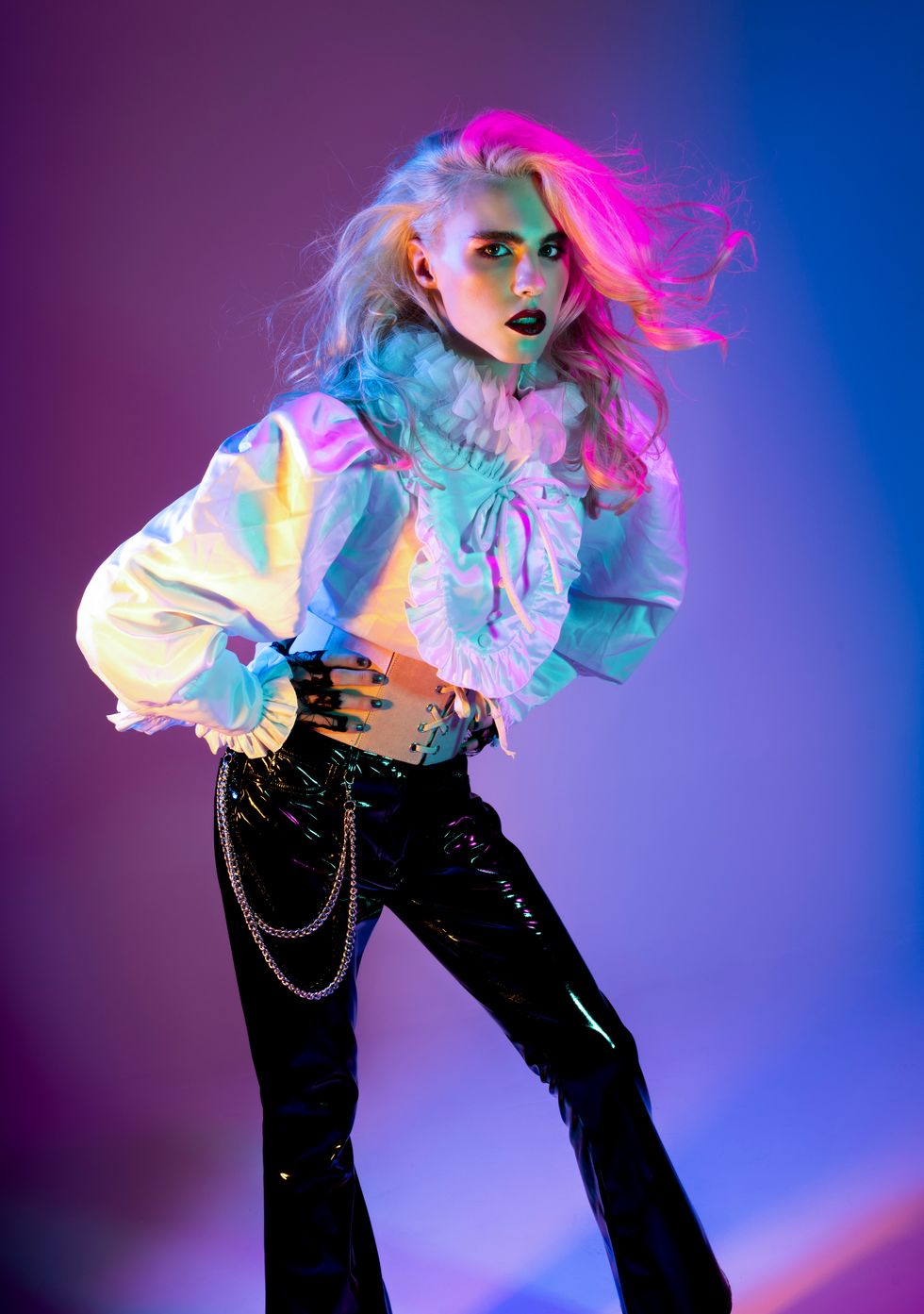 It's a song you can almost picture a band like Big Time Rush, or even early One Direction, performing a tightly choreographed number to. "I wanted 'Round & Round' to sound like if 2008 pop music was being made now, or in the near distant future — a lot of high energy and sizzly synths," Blü says. "I believe that taking something old and making it new again with a twist will always be the future, and that's what I like to do all the time. Whether that's through art, music or fashion, I really like to push my own boundaries and redefine myself."
Like any good pop song worth its salt, Blu understands that "Round & Round" has a message that is both personal and universal. "It's about feeling stuck in a cycle, whatever that may be, and showing the negative side of not being able to let go of someone, holding onto them or old ideas, and living in your own kind of alternate reality," Blü says. "It's also a pop song to get a little bit drunk and dance to. That's what I want people to mostly get from it."
Listen to the PAPER premiere of "Round & Round," below, and follow Mani Blü on Instagram and Twitter for all the latest.
Photos courtesy of Mani Blü