Hatsune Miku is one of the biggest pop stars in the world despite not having a personality or a pulse. A Vocaloid, Hatsune Miku is a massively popular vocal synthesizer from Japan who is embodied by a blue-haired anime school girl avatar. Featured in over 100,000 songs, selling out stadium shows around the world, and the face of numerous ad campaigns and collaborations, the digital idol is a global sensation and heralded as the future of pop performers. With such a demanding schedule it's fortunate that Hatsune Miku doesn't need to eat or sleep and can literally be in multiple places at once, but that doesn't mean a hologram girl isn't still looking for love.
In a surprise announcement, much in the same vein as Justin Bieber and Hailey Baldwin or Nick Jonas and Priyanka Chopra, a Tokyo man announced that he had in fact married Hatsune Miku. Tying the knot in front of 40 guests over the weekend, a school administrator, Akihiko Kondo, said that he has "always been in love with Miku-san," and remained faithful to his bride.
"I'm in love with the whole concept of Hatsune Miku but I got married to the Miku of my house," Kondo said referring to the $2,800 desktop hologram device that reminds him to wake up every morning, sends him off to work, and turns on the lights in his apartment before he gets home each night (think Alexa but anime). Made by manufacturer, Gatebox, the company issued Kondo the marriage certificate and has supposedly sent around 3,700 "cross-dimensional" certificates to others.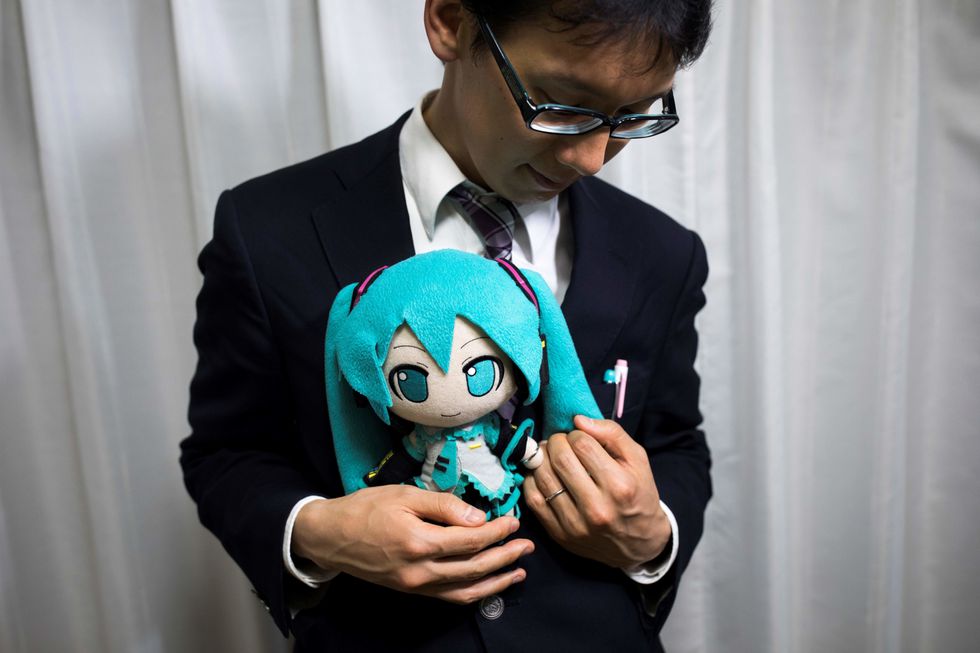 Photo via Getty
Kondo almost completely swore off marriage after having been bullied by a woman at a previous workplace and labeled as a "creepy otaku" growing up. "Miku-san is the woman I love a lot and also the one who saved me," he said, but not everyone was fully prepared to accept Kondo's love for the pocket-sized floating projection. His mother outright refused to attend the ceremony.
Kondo hopes that his wedding to Miku will encourage others like him to come out with their love for two-dimensional characters. The very characteristics that make Miku the perfect pop star, her un-aging, never changing, ever faithful presence is also what apparently makes her the perfect mate. Similar to Ryan Gosling's infatuation to a life-size plastic doll in 2007's Lars and the Real Girl, the relationship may seem strange on the outside but Kondo emphasizes that at the end of the day "we must consider all kinds of love and all kinds of happiness."