Now that you are here, the latest composition from a capella musician and singer-songwriter Madison McFerrin deserves your undivided attention. "Insane," is a labor of love that started as a storyboard on McFerrin's iPad, and became dreamy, women-led production: directed by childhood friend Jasia Kaulbach, makeup by Jade Garcia, photography direction by Leyna Rowan, and "all the way down to the sista who help us find the turf at the Home Depot in Bed-Stuy," she tells PAPER.
Related | 100 Women Revolutionizing Pop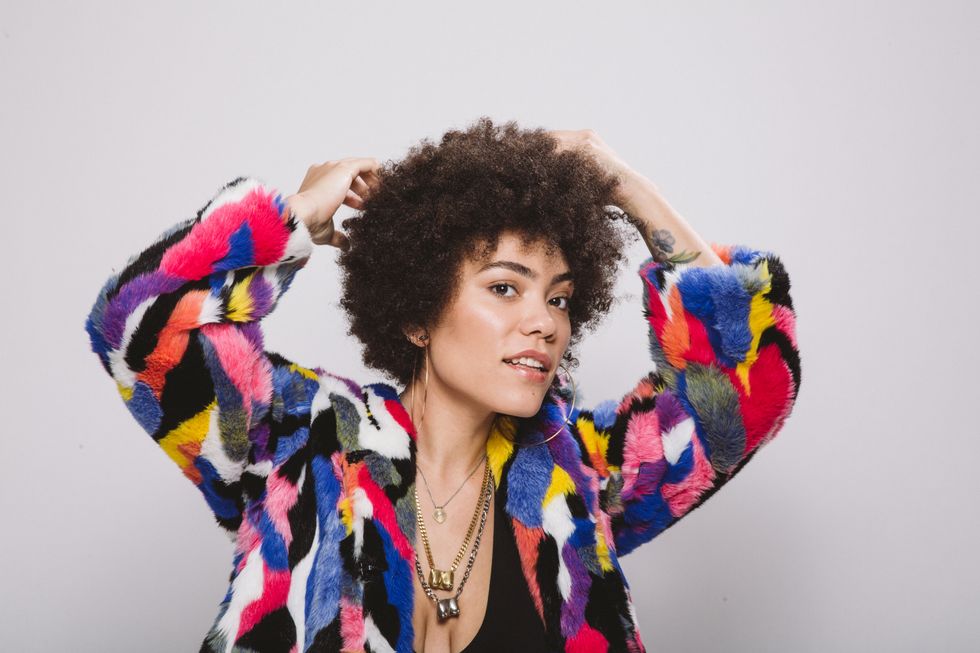 McFerrin wanted to marry the song's sensual "you belong in my bed" lyrics with a fitting visual treatment, lyrics that she says were dreamed up in bed while trapped in a snowstorm. She also looked to Georgia O'Keeffe's naturalist floral paintings for inspiration, as well as Alpha Channeling's drawings. "Both of them convey sex in a way that just focuses on the beauty of it, and we wanted to draw from that," McFerrin explains. "Even Rihanna and Beyonce's recent Vogue covers highlight the simplicity and beauty of flowers; they can be sexy subtly. There are also a couple of shots that are inspired by the artist Michele Bisaillon, who plays with mirrors in her photography. The mirrors in the video added a nice departure from the rest of the shots, but still had a dreamlike quality to it." The video is definitely sexy, but is a masterclass in subtlety.
If you are here for the visuals and the gorgeously hypnotic song, stay for the message: "Even though 'Insane' is a song about sex, I didn't want the video to be overly sexualized," McFerrin says. "I'm interested in engaging with youth, and wanted to give the complete opposite message that porn gives about sex, which is pretty much exclusively from a male gaze and often downright violent towards women. Sex is beautiful, it's sensual, and as a woman, it's a totally normal thing to want and fantasize about, and it can all be done really tastefully." It's a word! Check out the video to "Insane," below.
Photography: Karston "Skinny" Tannis