Over the phone, Mackenzie Ziegler is immediately charming, upbeat, and self-aware as she talks at lengths about how much she loves making crafts, hanging out with her sister Maddie , and acting with some of her best friends on, Total Eclipse , a show sh e also executive produces. She so casually talks about juggling countless different projects that it's easy to forget she's only 13 years old. The former Dance Moms star is not only acting in a new show, but has also written a book which comes out May 8th, and is working on singing and writing original music.
Her show for teen-focused digital studio Brat captures the minutiae of high school life — the class projects, struggles for popularity, and ubiquity of social media — through the dreamy, otherworldly perspective of Cassie, a teenage girl played by Mackenzie. The series shows how it is equally exhausting and rewarding to build and maintain friendships, and how sometimes you need to create fantasy worlds to escape the anxieties of daily life.
Related | Maddie Ziegler's Sparkly Beauty Shoot
Mackenzie's book, Kenzie's Rules for Life , is an amalgamation of life advice, quizzes, and crafting guides. The rising star says she wanted to write it so that she could help other kids her age learn how to be positive based on her own experiences growing up in the spotlight.
PAPER chatted with Mackenzie about making a show for YouTube, the importance of working with female musicians and songwriters on her upcoming musical projects, and the appeal of DIY slime.
You were an executive producer for the show Total Eclipse . What was that role like?
It was so fun because I've never filmed a YouTube show, and it was definitely something different. I love playing Cassie because she's different from everything I've ever played. Usually I play a popular girl or something like that, but I got to play a really shy and kind of awkward [character].
Did you relate to your character at all or was it a totally new experience?
I definitely do relate to her in some ways with social media and friends and obviously just people hating on you. I think Cassie gave a really good message and I'm really excited for the whole season to come out. Hopefully there will be a season two.
What was the day-to-day on set like?
The first time we filmed our trailer all together, I met the other [actors] in hair and makeup and we were best friends from day one. I knew two of the girls — they're some of my best friends. We all became best friends, and I wouldn't have wanted any other cast. I feel like we were all really scared that we wouldn't become as close as we are now, but it's really nice because we hang out even when we're not on set.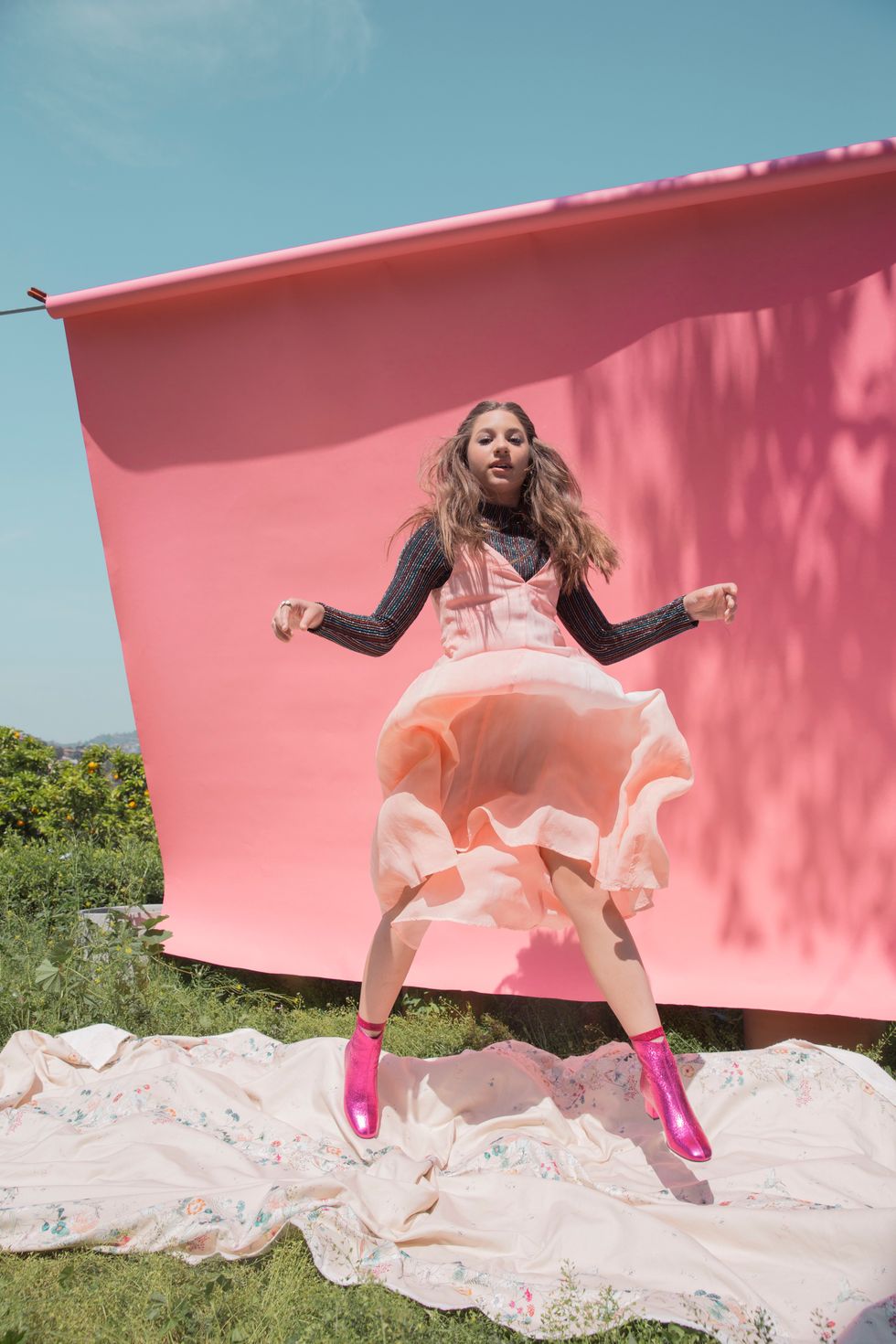 Top by Zara, Dress by Corey Lynn Calter, Boots by Topshop
Do you feel like that chemistry worked its way into the show?

Oh yeah, it definitely helped that we were friends because a lot the times they had to say mean things to me because obviously they were bullying me, and it was actually good because we wouldn't take it to heart because we were really close. It was super fun filming with them.
What was it like making a show for YouTube? What was YouTube like as a platform?
I feel like everyone's watching YouTube and Netflix now. I would love to have my own TV show, but I feel like YouTube and Netflix are the places where all the kids go, and I really like it because I can promote it in a way where I tell people the episode is up and they just go and watch it.
Do you feel like you're making the show for a teen audience specifically?
I think it could go for kids who are younger than us too, who look up to us. There's a lot about bullying in the show and how to handle it. I feel like also, there are older kids in it because obviously there are older characters in our show. It can be a variation of ages from younger to older, which I think is really cool that it can be a bigger audience.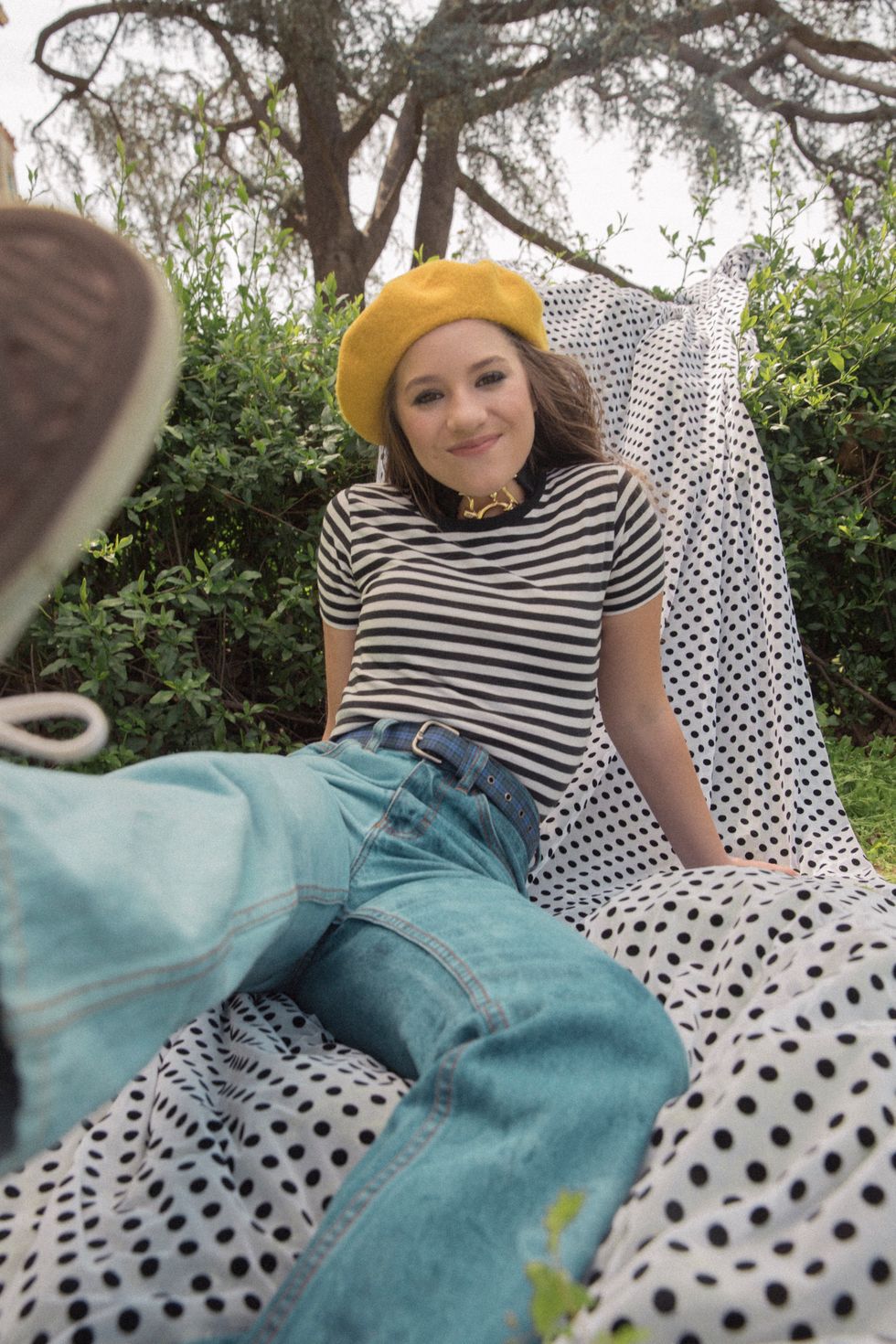 Beret by Topshop, Choker by Madame Baloge, T-Shirt by Zara, Jean by KSlam, Belt by A.P.C., Sneakers by Converse
There's a lot about teen girlhood in the show. Did you think about how you were going to do an accurate depiction of female friendships?
We definitely wanted to make it positive with friendships, but also we wanted to show some reality in it. Friends don't always get along. Sometimes you fight. I feel like you can always make up though. I really liked it because we all got to put our own input into the show. If we didn't want to say [a line a certain way] we could say it in our own words. Sometimes on other shows they don't let you do that, they want you to repeat the lines word by word.
"I want to show everyone how you can be positive."
You also wrote a book, Kenzie's Rules For Life. How did you decide to start writing that?
My sister wrote a book and I really wanted to do it because a lot of girls had been asking me questions so it's cool I got to answer them in the book. I love interacting with fans and showing them what I do on a daily basis. I want to show everyone how you can be positive because a lot of kids ask, "How are you so happy and positive?" I really wanted to give them advice on that. There's a lot of bullying in school and on social media.
I thought it was so cute and cool that you provide a recipe for lemon slime. Where did the idea for that come from?
I love making DIYs. Every time my friends come over, we make slime or we go to the store and get crafts. We like to make our own things. My friend Ruby and I put our own twist on a DIY [recipe] for slime and made it our own. It turned out really well. We were really proud of it. We're really obsessed with slime.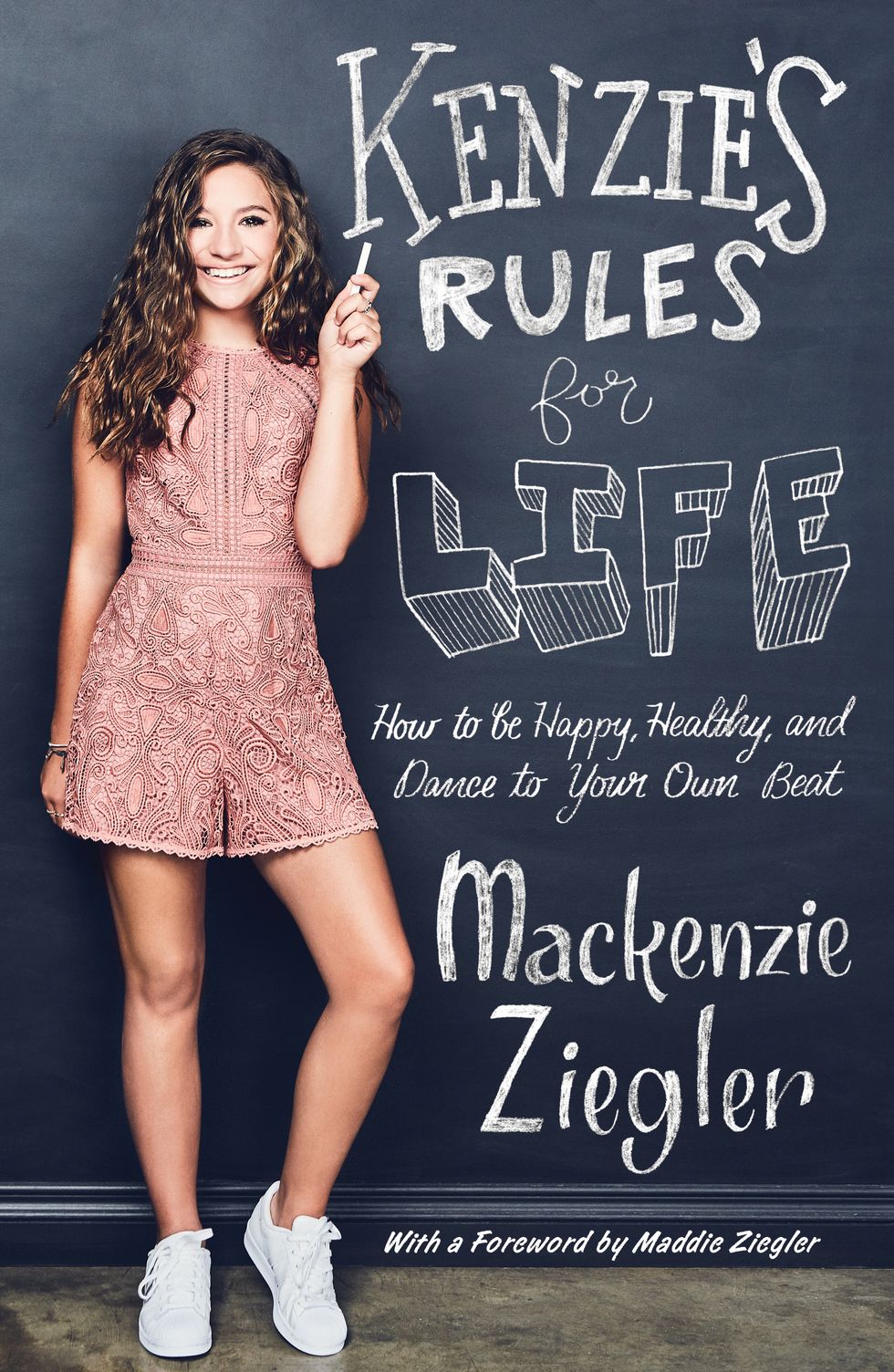 Do a lot of people you know really like slime? Is it a trend?
Oh yeah, it's definitely an ongoing trend. I don't think it will ever go away. We're all obsessed with it. Every time my friends come over we have to go to the store. My mom gets really mad because sometimes I get slime on my carpet or my bed or something. It's really fun to make.
You have a couple DIY recipes and instructions in the book. Can you tell me more about why you like DIY and how you got into it?
I have always loved making crafts. When it's someone's birthday, I always love making them cards, not just going to buy one. I feel like it's more fun than just buying things. You definitely have to get more things to make the one DIY that you want, but it's more fun and I've always been really creative. It's a lot more stuff to do with your friends. Often when my friends come over now, we just go on our phones, so I'm always like, "Nope! Let's do a DIY." I always watch YouTube videos on them and try to recreate them. I really love them.
What's your favorite DIY that you've done recently?
I just ironed on a bunch of [patches] onto a jean jacket. They're like flowers. I made a really cool jacket. Everyone asks me where I got it and I'm "Well, I got it at Topshop, but I made it my own," and they're like, "Ah! You've got to make me one!" That's why I love fashion as well, because I can personalize it.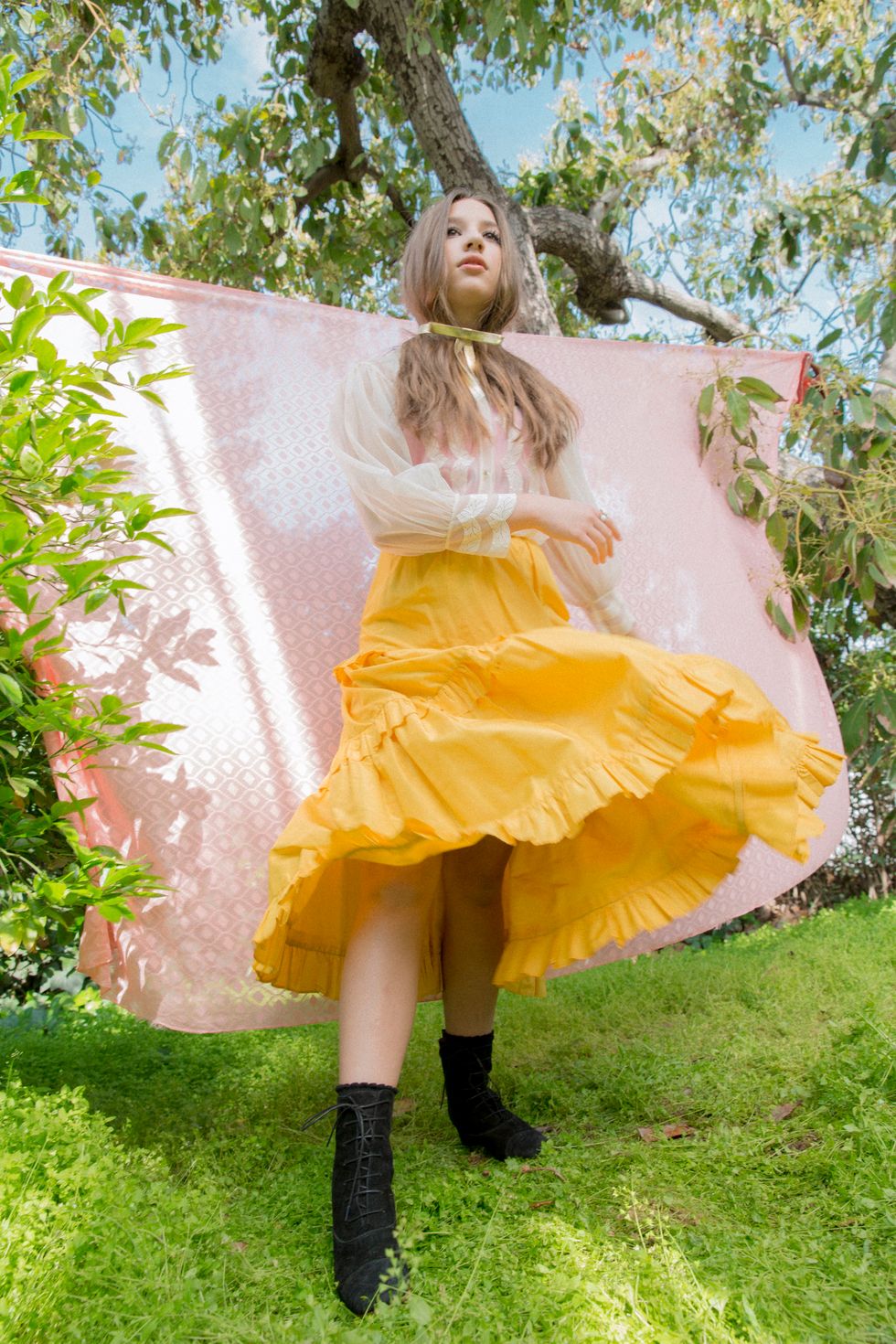 Skirt by YSL, Boots by Far, Blouse by Vintage
What was your editing process for the book like?
I had a ghostwriter on the book. She would call me or come to my house for like four hours, and we would just talk about my life and she would just ask me questions and I would answer them and we would put it into the book in my own words. When I couldn't be on the phone or with her, she would write something that I told her about my life or she would ask me questions and then she would call me and ask if it was okay and I would put it into my own words. Then she sent the whole book over to me and I went through it and crossed some things out and put some things in. I really loved the process because obviously I'm 13 and it's hard to write my own book. I think it's awesome that I got someone to help me. I'd rather do it that way than be really stressed out. I really liked how it turned out and I'm excited for it to come out.
What are your favorite parts of the book?
I love the whole thing, but I think my favorite part is all of the pictures of me and my friends because a lot of my friends are from Pittsburgh and I obviously am in LA now, and I miss them a lot, so I love going through the book and looking at the pictures. Another one is of my sister and all the thanks to people because they all mean a lot to me.
Has your sister Maddie read the book?
She did. She said she really liked it.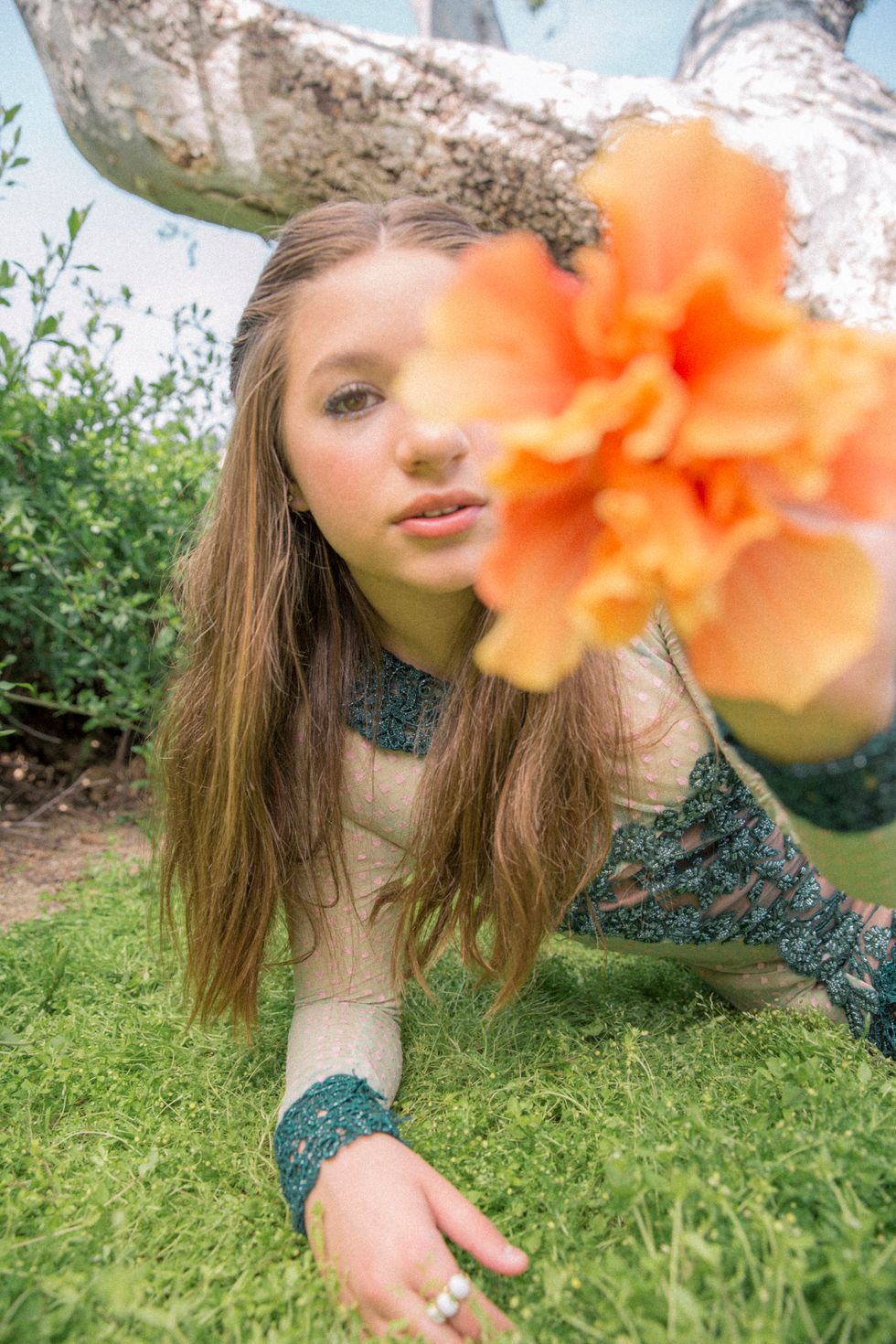 Dress by Lethicia Bronstein
Does she influence you?
She's obviously a dancer and an actress, but she loves painting and drawing. She's very artistic. Her paintings are all over our walls and they look like you could get them from the store. They're really amazing. She's so creative and I really like that about her because we're totally different. I like to make crafts and make messes, but she likes to paint and to go to art galleries.
What has the rest of your family said about the book and the show?
They really love the show. Every time it comes out, we sit at my TV and watch it. My sister really likes it, which I think is awesome, because she's a really good actress. I feel intimidated when she watches my show because I'm like, "Ah she's so good!" But I've obviously learned from her and she's learned from me. She definitely gives me a lot of advice and helps me with scripts and stuff, which I really like.
Can you tell me about your interest in singing?
I started voice lessons when I was 6, and I didn't really think that I would be singing as a main priority. I just wanted to take lessons. I finally wanted to do more with it, so I came out with my first album when I was 9. I've been doing a lot of music now and I've been writing my own music, which I think is so fun because I can express myself through my words. I'm going on tour with Johnny Orlando , and we're coming out with a new music video soon. It's going to be really hyped up and everyone's going to love it because they ship us in a way, which is cool.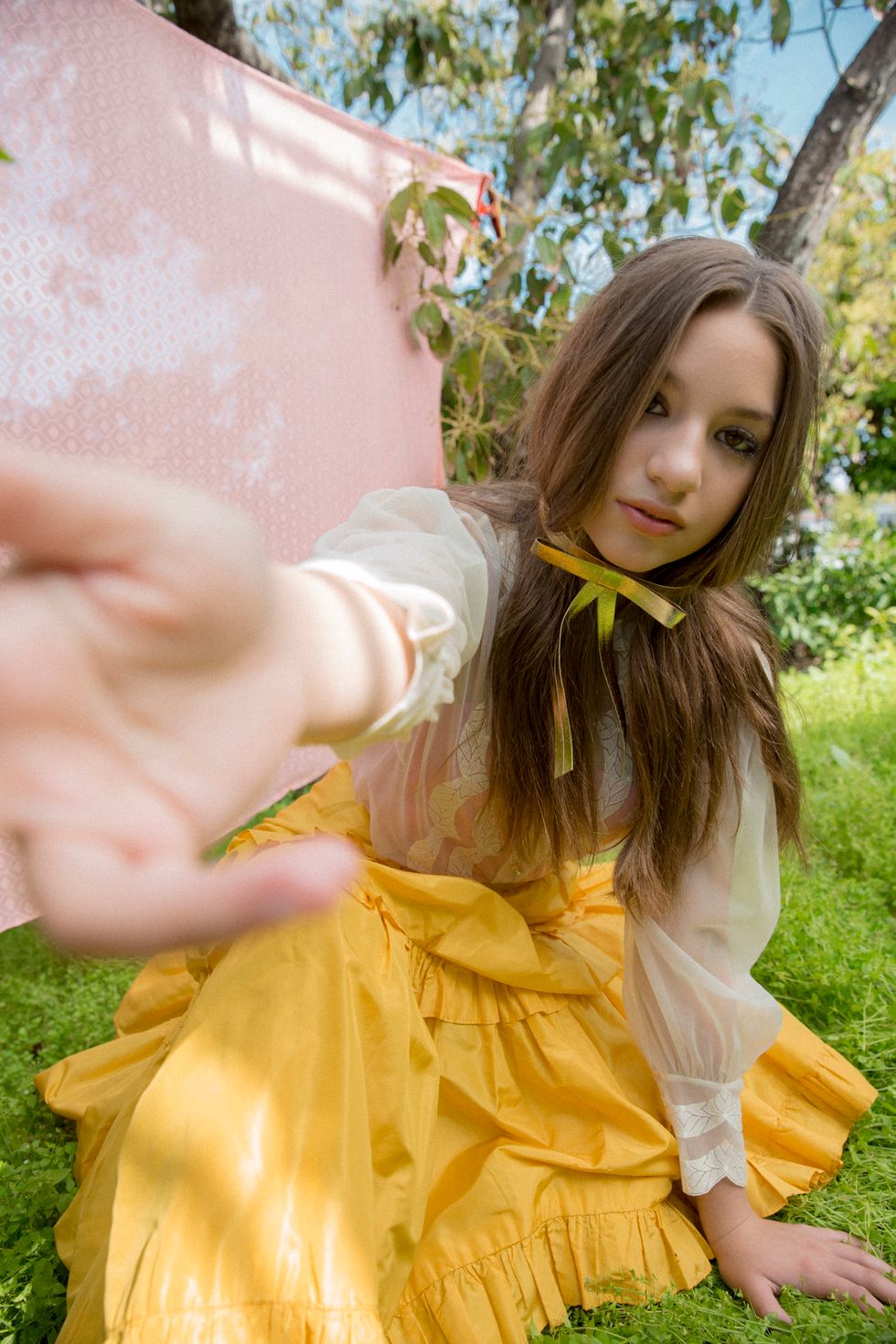 Skirt by YSL, Boots by Far, Blouse by Vintage
Can you tell me more about the kinds of songs you write and what motivates you when you're writing a song?
I have notes in my phone and there's this one note that's just a bunch of words and lyrics and random things that I'm feeling that I want to put into a song. Obviously I'm 13, so I don't know what love is, but I wrote a kind of love song about a boy that's kind of sad because I like him but he doesn't like me back. It's more just a crush. A lot of girls can relate to that I think, so I wanted to write something about that. I also wrote a song that's coming out soon about saying I don't care about what haters think and what people are saying because I'm just going to be me. I feel like a lot of my music is really positive but then I also talk about a boy and am like, "I'm over you!"
Related | Meet Billie Eilish, 15-year-old Pop Star in the Making
Does it feel cathartic to write that?
Yeah, definitely. I write with a few other people because I feel like it's more fun having more people in the room. I write with two girls who are in their 20s, so it's really nice because I've written with some people who are older guys, and it's hard for them to relate to me, because obviously I'm 13 and they're older and they don't know how teenagers are.
You did a cover of a Billie Eilish song. What do you like about her music? Why did you choose to cover her?
Billie is a really big inspiration to me because she started when she was around my age, and she's so amazing. I went to her concert and she sounds exactly like she does on her recordings, which a lot of artists don't. She's so amazing and so inspirational because she's so positive and supportive.