After Queen Elizabeth II's funeral proceedings upended London Fashion Week last year, where many shows were rescheduled and parties were canceled, this season's edition was back to business with a jam-packed schedule featuring exciting new names and important mega-brands alike. Below, a roundup of the biggest moments that stood out.
Ripped skirts, ruptured seams, six pack abs, tattered tees, knocked-over eyeglasses: Natasha Zinko looked to comic books this season, particularly the Hulk and She-Hulk characters of the classic Marvel franchise. Her woman — corporate, clean-cut, professional — belies a monster within, which the Ukranian designer says is in all of us. Green skin-tight tops and corsets peek out from baggy denim, furry coats and structured suits, giving a sinister new meaning to power dressing.
Dimitra Petsa was positioned in the middle of the runway on top of a rock narrating the show while dancing languidly and pouring wine on herself. The Greek designer was inspired by female archetypes in mythology, particularly the story and growth of Persephone. Her signature wet-look illusion dresses were rendered in dark silk fabrics and she also introduced bridal this season. Other new techniques include custom leather corsets made out of mushrooms and food waste.
Gemma Collins' Surprise Front Row Cameo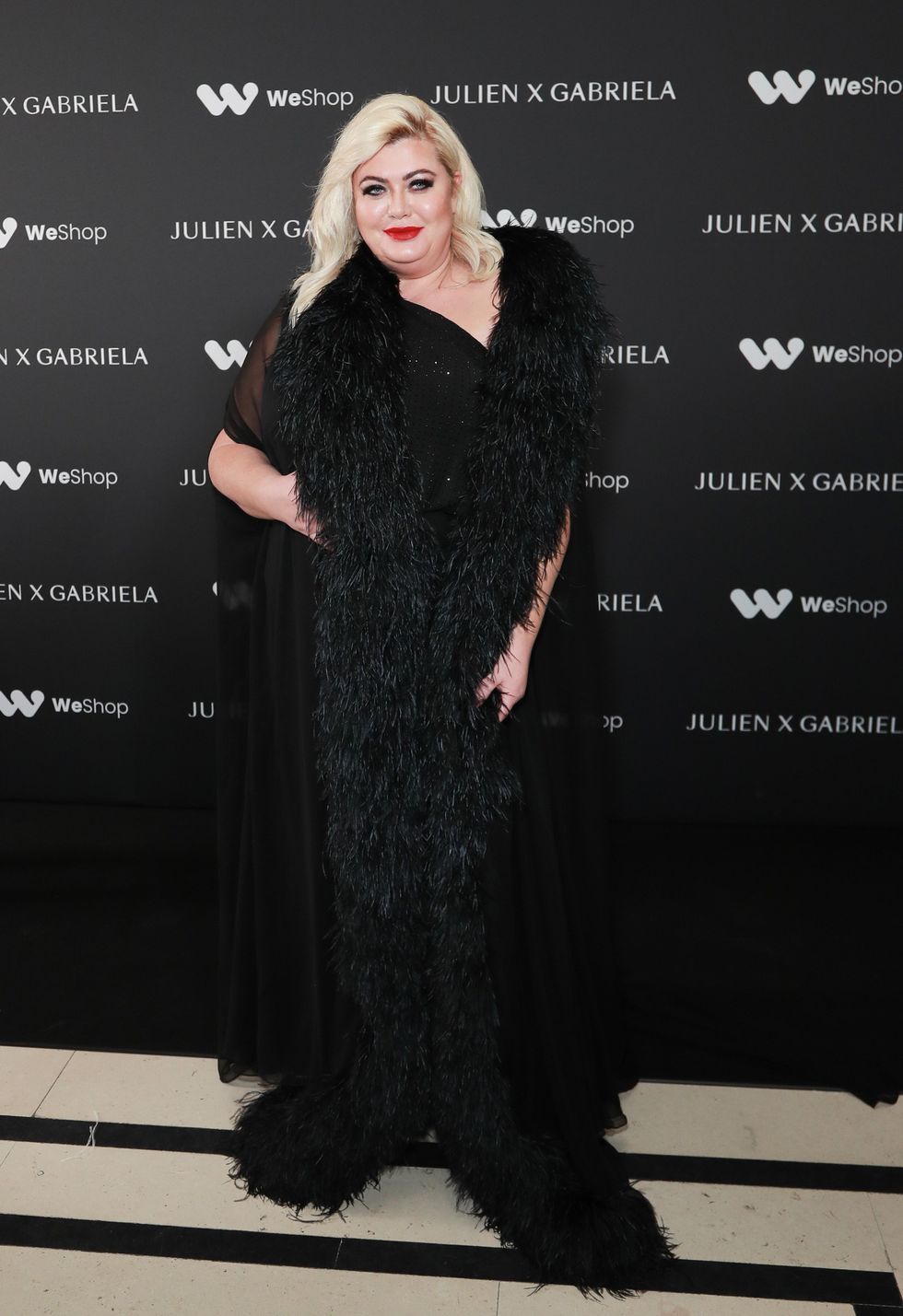 Photo via Getty
At Julien Macdonald's show, his first in nearly three years, Essex royalty and reality TV star Gemma Collins had everyone at Freemasons' Hall freaking out when she arrived and took her seat. The Big Brother UK alum is a big fan of Macdonald and was in the crowd to support the former Givenchy head designer, known for his ultra-expensive party dresses and couture sequins and feathers. The audience was filled with the designer's clients and features confetti and fog machines.
Burberry's Big Debut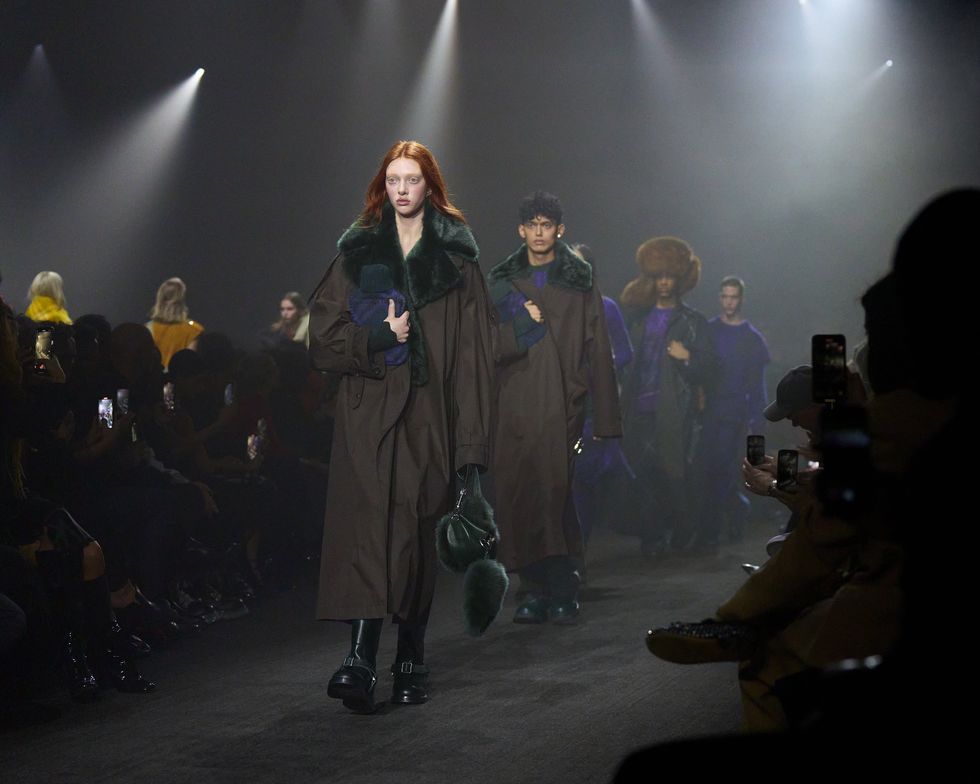 Courtesy of Burberry
Burberry's high-stakes, big-pressure show under Daniel Lee began with guests being served vegan hot chocolates under a tent at Kennington Park complete with blankets and hot water bottle covers on top of each seat. The cozy, protective air continued into the collection, which channeled the brand's outdoors-y heritage with roomy car coats, trapper hats in faux fur, duck prints and Wellington boots. The colorful plaid section was definitely the standout.
After playing it safe in New York, attending just one show (Michael Kors) in a classic red coat, the reality star turned up the heat in London starting with Harris Reed and experimented with more avant-garde silhouettes at Richard Quinn and Dilara Findikoglu. She also hit up the party circuit attending the ES x Perfect Magazine and Netflix's BAFTAs afterparty events. (Her daughter Amelia Gray Hamlin was also in London to celebrate her Perfect cover.)
JW Anderson Revisits His Greatest Hits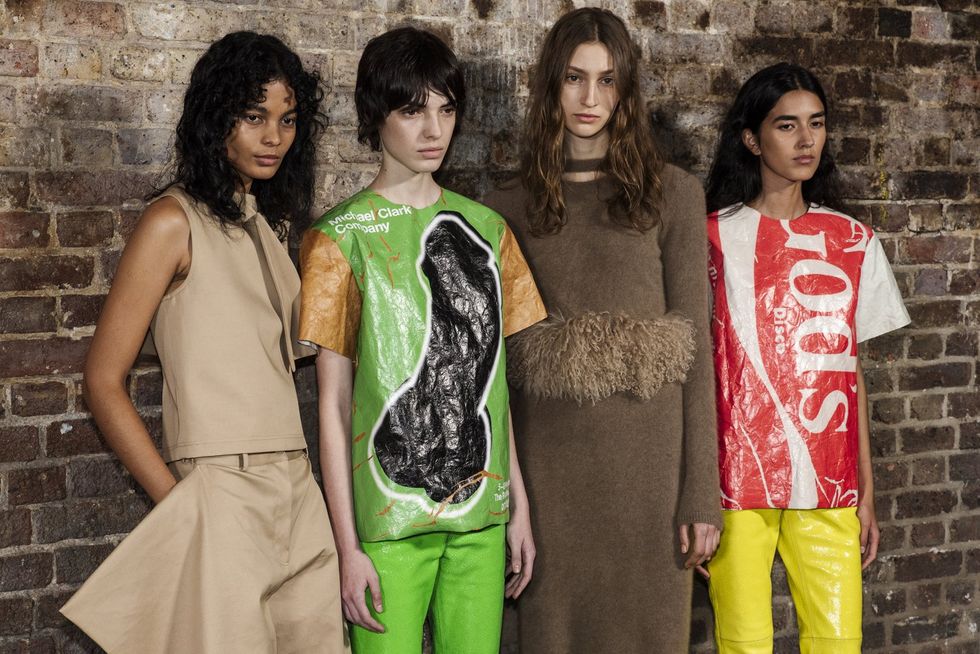 Courtesy of JW Anderson
Not one to look back often, Jonathan Anderson delved into his 15-year archive for his latest collection and remixed imagery and memorabilia (including a large penis motif that was erected onstage) from the Scottish dancer and choreographer Michael Clark. "At its core this is a collection about fandom," Anderson said. Fandom is a funny thing: completely personal, frequently irrational, often embarrassing. As I looked back through my own archive for this show, resurrecting elements from each collection of the last fifteen years, Michael let me rifle through his. It helped me pinpoint my own obsessions."
Mowalola's Life vs. Tech Exploration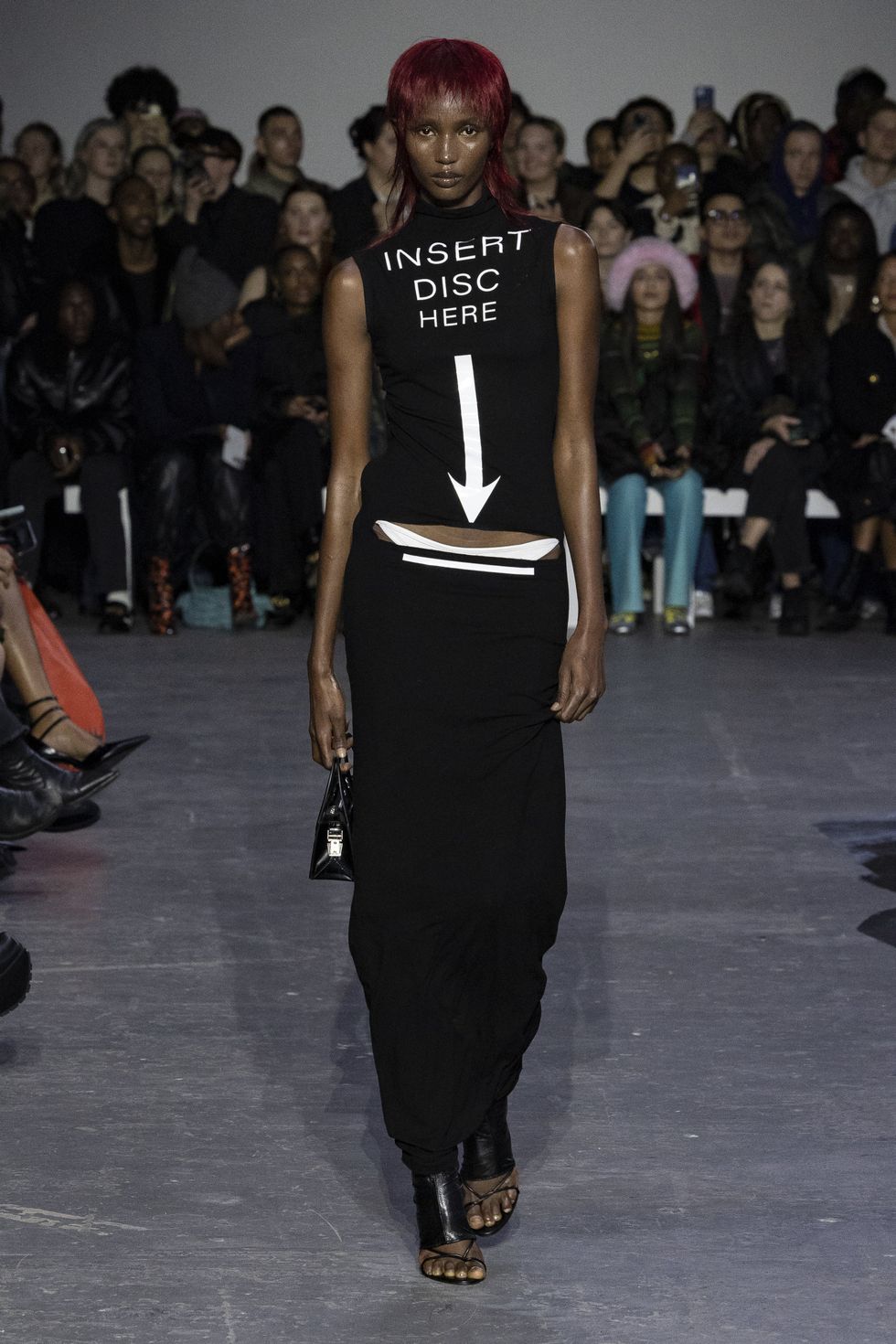 Courtesy of Mowalola
After debuting her first solo show during the men's shows in Paris last June (following a three-year runway hiatus from her last group show with Fashion East), the Nigerian designer Mowalola Ogunlesi returned to London with a 10pm show in Marylebone that showcased her knack for high-energy and provocative pieces, including reworked corporate parody logos and New York sports teams emblems on baseball caps, jersey tees and leather bags. An "Insert Disc Here" top with an arrow pointed suggestively at the model's crotch referenced the collection's theme of conflict between people and technology.
FKA Twigs, Justin and Hailey Bieber, J Balvin, Serena Williams, Pharrell and about 10,000 people who signed up for free tickets attended Moncler's "Art of Genius" presentation which included a performance from Alicia Keys and activations with Mercedes-Benz, Adidas, Palm Angels, Rick Owens and more.
"In London we showed a vision that further expanded our universe of fashion collaboration to a platform of co-creation across different industries," said Moncler CEO Remo Ruffini. "We have seen the coming together of diverse sectors expressing themselves and creating a language that defines a new way to experience the brand: music, design, art, entertainment, sport and fashion have brought their unique codes and their energy together shaping memorable moments for our communities."