"I'm sure this record will be a commercial disaster," says Lily Allen with surprising confidence. It's not the kind of statement an artist typically makes when promoting a new project, and definitely not one you'd expect from a star like Allen. But she's no stranger to this business, and knows exactly what she's saying. While many of her contemporaries are perfectly protected, Allen has always delivered the antithesis, with her brute honesty and overly generous transparency. Her new album, No Shame, doesn't compete with the sunny smash "Smile," or timely political anthem "Fuck You," and Allen already knows. But it also doesn't necessarily need to. Now four albums into her career, the 33-year-old Brit no longer depends on the massive success of every release. She can take risks, she can sing about whatever she wants, and she can somehow twist the death wish "commercial disaster" into an alluring position of power.
Allen is recovering this morning from a long night out in New York, following her sold-out show at Brooklyn's Music Hall of Williamsburg to drum up buzz for No Shame. This was her first performance in the city since stopping by Terminal 5 in 2014 to support Sheezus, Allen's third studio album and one she'd later come to resent. "On the last record, I felt like a bit of an imposter," Allen says, admitting that Terminal 5 marked the beginning of a downward spiral that ended in divorcing her ex-husband Sam Cooper. "I hadn't figured out how to balance being a mom and a musician, and I really struggled with that [on tour]. It was also being away from my kids physically and being in that tour environment, mixed with the alcohol and the hangovers and waking up on a bus in the middle of Wisconsin having missed five FaceTimes from my kids. That's where the alcohol came in. At first, I needed a drink to get on stage, and then I needed a drink to get to sleep."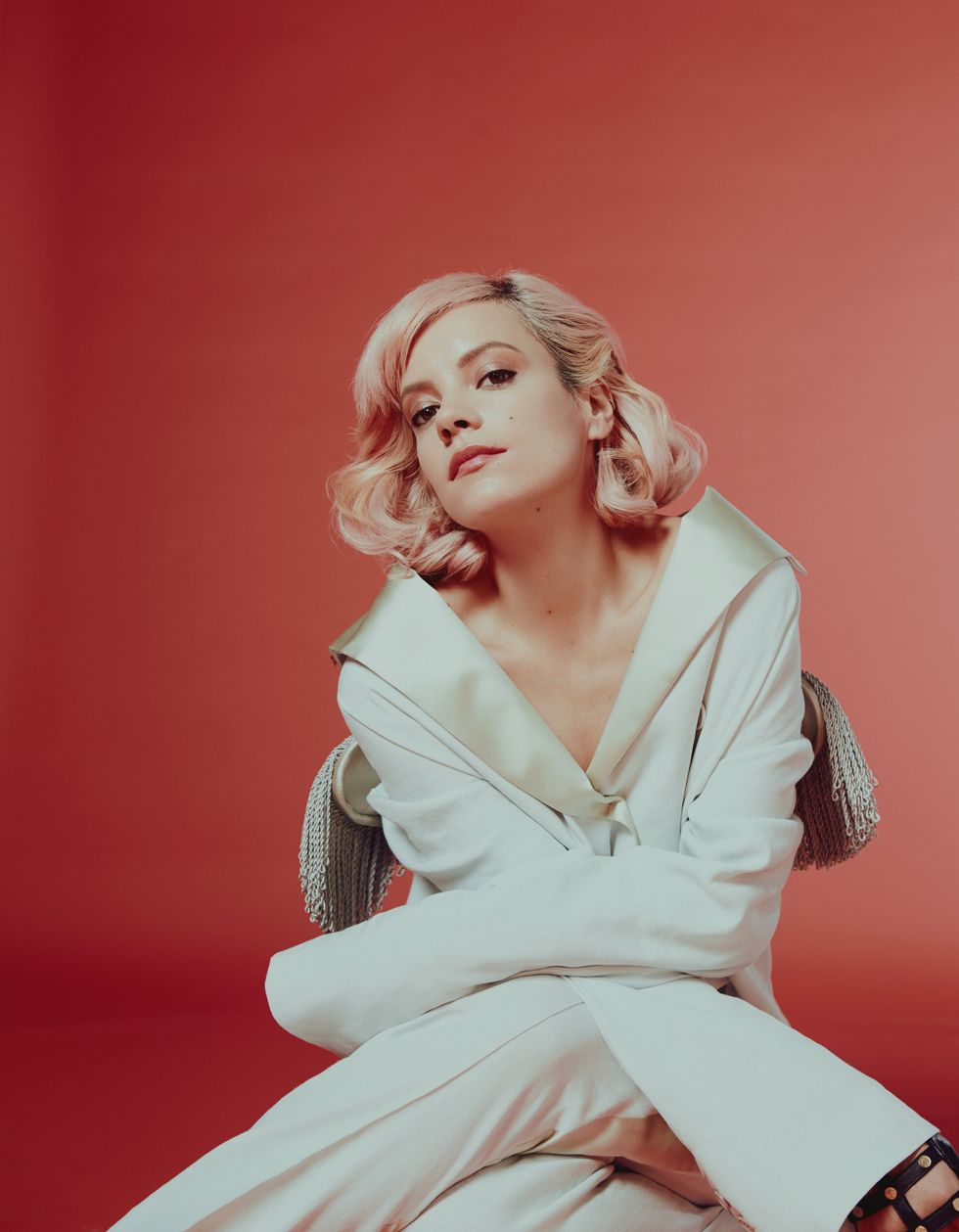 Suit by Nina Ricci, Gloves by Chanel
Which is why Allen's Brooklyn set list skipped Sheezus entirely, focusing instead on the new, deeply personal material of No Shame. "I was really depressed, and getting up and singing songs [off Sheezus] every night... I didn't not like them, but I was triggered by them," Allen says. "I don't think I'm an alcoholic or an addict, I just think I self-medicate. And when I'm in a bad place, I tend to patch it up with substances or alcohol. If I'm in a good place, then I don't really." Though Allen says she's more or less moved past the dark days of Sheezus, the singer is openly working through a hangover when we meet at the Bowery Hotel — a reminder that the road to recovery is not without slip-ups, as Allen doesn't even attempt to feign perfection with me for the sake of public perception. She's moving slowly, but she speaks with intent.
No Shame began 3 years ago in Los Angeles, when Allen wrote "Family Man" in the thick of her downfall. "I think it's quite telling that 'Family Man' is the first one," she says, reflecting on the tell-all piano ballad. "It's not always easy/ Being a family man/ Baby, don't leave me/ I'm just doing what I can to get by." In the track, Allen says she needs time away from Cooper, calling herself wild, ruthless, tired and selfish, among other self-deprecating labels. "You're better off without me," she concludes. Allen says it wasn't a conscious decision to be this walls-down with her lyrics on No Shame. "I'm a performer, that's what I do," she says. "I tell people shit and I over-share. I just happen to be in an emotional place on this album."
The transparency continues throughout No Shame, but is perhaps most unapologetic on "Apples," where Allen blames herself for the way things ended with Cooper above a sparse acoustic guitar. "I had to do it, baby/ We were both depressed/ Towards the end we were not even having sex/ I felt like I was only good for writing the checks." Allen intimately traces her journey with Cooper, beginning when things were great at her old flat staying "in bed all day having sex and smoking fags," and ending with a comparison to the way her parents' relationship folded. "Now I'm exactly where I didn't want to be/ I'm just like my mummy and my daddy/ I guess the apple doesn't fall far from the tree."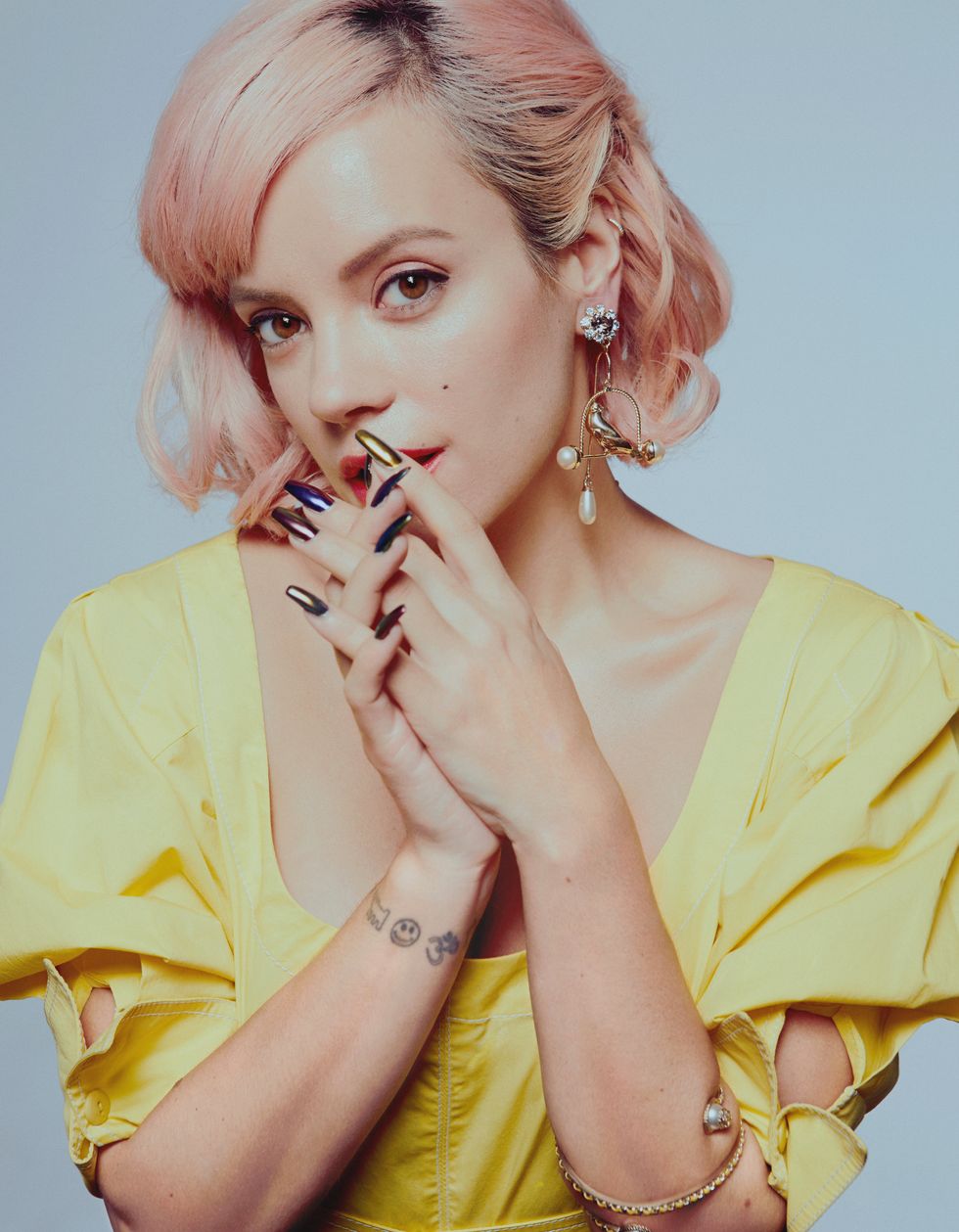 Dress by Prabal Gurung, Bracelet by Chanel, Earring by Erdem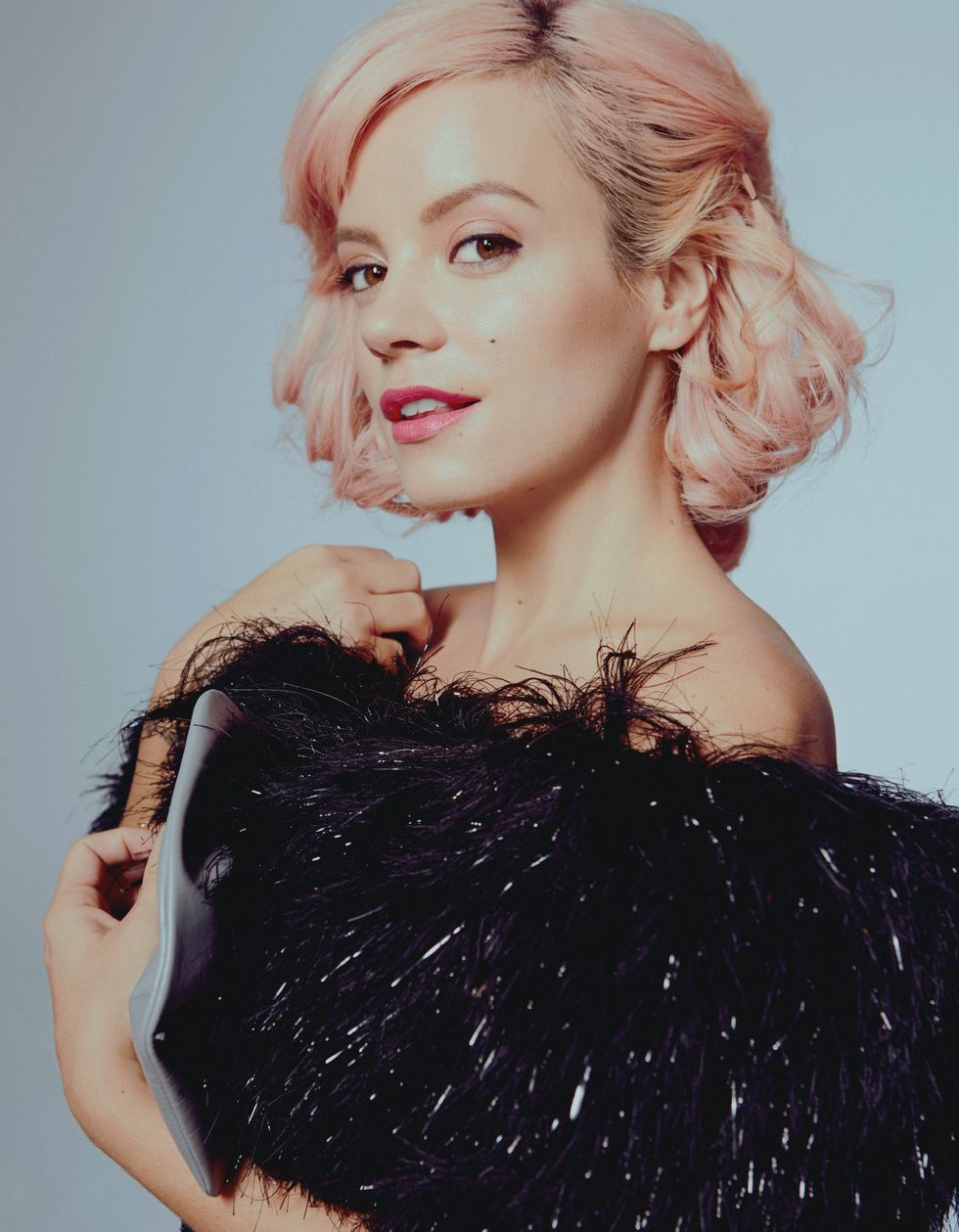 Dress by Marc Jacobs
These bittersweet lyrics, which include a familiar cliché —the apple — to soften Allen's harrowing narrative is what makes her such a successful songwriter. Her melodies are sweet and childlike, as if they're pulled from a classic nursery rhyme, and her words tell the full truth without ever feeling weighed down. "In a way I think I'm like that in real life," Allen says. "I always punctuate really sad things with a joke. I find it quite difficult to communicate my feelings, so that's why I do it in song. People probably wouldn't associate me with the term 'people pleaser,' but I am. I really don't like sharing my emotions in real life. I'm just not good at it."
"I find it quite difficult to communicate my feelings, so that's why I do it in song."
Allen's wit and underlying cynicism have carried her from the very beginning, consistently finding a balance between her soft, gentle vocals, sunny instrumentals and razor sharp narratives. You could falsely call it juxtaposition, but for Allen this all happens simultaneously — it's only natural. On "Smile," her huge Myspace breakout, Allen sings about an ex-boyfriend calling her up for "a little whine and a moan" because he's feeling alone — a hilarious reaction to romance unraveling. "The Fear," released off Allen's second studio album, gave the same comedic critique to British wealth and celebrity culture. "I want loads of clothes and fuckloads of diamonds/ I heard people die while they are trying to find them."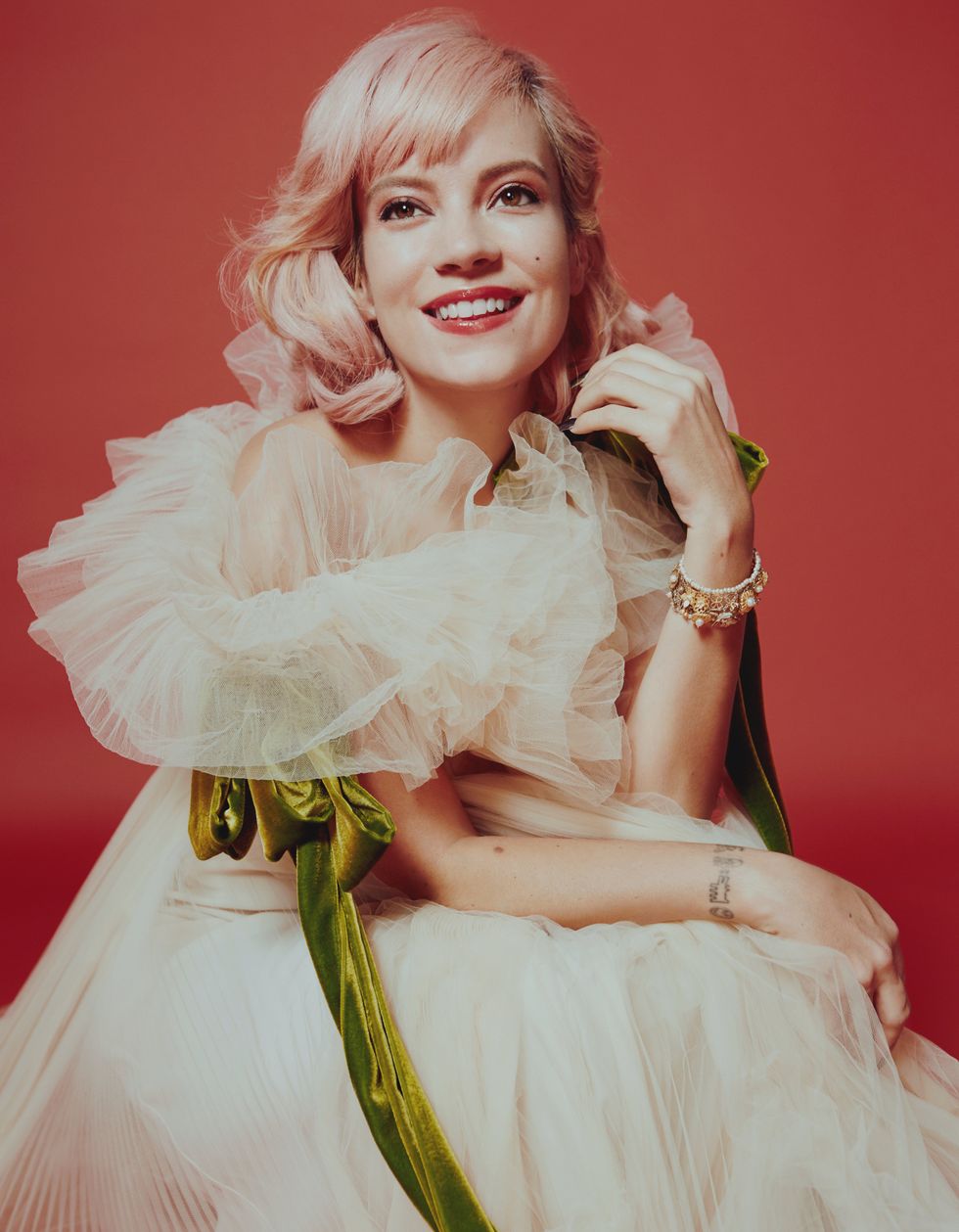 Dress by Valentino, Bracelet by Chanel
Where there were clearly defined singles like these on Allen's previous projects, No Shame was written holistically with conscious disregard to the traditional album cycle. The Giggs-assisted "Trigger Bang" and addictive slow-burning jam "Higher" led the project, but Allen says she has no control over this rollout and would have preferred to deliver this entire album at once. "I didn't write No Shame with singles in mind," she says. "Most people write albums with five strong hits in mind for radio, but I purposefully didn't write that kind of record. For me that's very formulaic, radio pop. Some of my favorite albums are from people who aren't necessarily radio artists, like Solange. That's what I set out to do, and also what I'm contracted to do." Allen pauses and looks at me with sly, mischievous eyes. "I'm contracted to deliver albums, not singles, so that's what I did," she laughs.
It's not that Allen doesn't know what will be a commercial success — she's done it many times before — it's just that she's choosing not to be bothered with that benchmark at this point in her life. The singer references female peers in pop, and how they're all collaborating with top producers to secure competitive positions on the charts. "That's what people do, because that's what sells," Allen says, citing the late Avicii as a model for today's pop market — manufactured with euphoric choruses and monstrous drops. "That's what gets you on the radio, because people want to listen to it on their way home from work, and I'm not just in that moment."
Related | Avicii: The Genre-Bending Superstar
This outlook is, in many ways, a response to the loud, flashiness of Sheezus, where Allen felt pressured to somehow outdo the sweeping performance of 2006's Alright, Still, and 2009's It's Not Me, It's You. In that moment, this meant larger-than-life synth-pop production courtesy of hitmaker Greg Kurstin, and lyrics that made bigger statements than ever before through autotune ("Forget your balls, and grow a pair of tits/ It's hard out here for a bitch.") But bigger isn't always better, and Sheezus ultimately left Allen drowning in a world that felt inauthentic. "I lost a lot of weight, and was wearing the wigs and the makeup and had all this production on tour," she says. "I kind of felt like Alice in Wonderland. I absolutely don't ever want to feel like that again. When we were trying to figure out what to call this new album, I suggested Sheezus to pretend like the last one didn't happen." She laughs, but there's definite sincerity behind her proposal.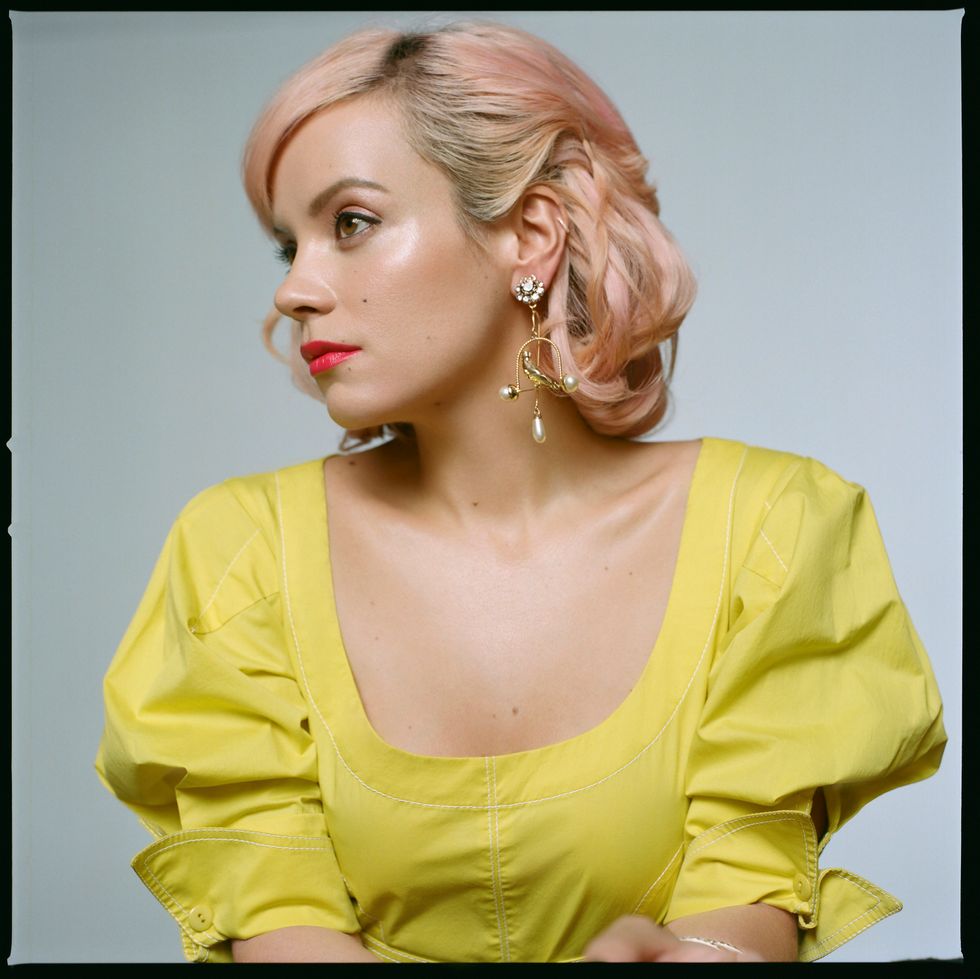 Dress by Prabal Gurung, Bracelet by Chanel, Earring by Erdem
Allen's self-awareness comes with years of experience. She reminds me that she first entered the music industry at age 19, when she wrote all those clever, tongue-in-cheek lyrics about being cat-called, clubbing on a Friday night and walking around sunny London town. The early tracks were all playful, innocent and have stood the test of time, but they don't even touch the profound maturity of No Shame. Today, the singer has shifted gears to focus on her two daughters, and admittedly separates Lily Allen, the performer, from Lily Allen, the mother. "I don't really think there are overlaps," she says, splitting custody evenly with Cooper — one week on, one week off.
This allows her to successfully maintain both lives without blurring the two, but it doesn't come without the inevitable guilt of being absent. On "Three," Allen sings from the perspective of her daughter while she's away on tour. "Please don't go/ Stay here with me/ It's not my fault/ I'm only three." This is also part of why No Shame is more paired down than previous efforts. "I don't really have time to be a full on pop star," Allen says. "It's fucking hard work and I'm a mom. I want to be there for my kids, so I can't put the hours in like Dua Lipa... although I would make lots of money and be able to provide more nannies for my kids. That would be great, but they want their mum."
No Shame also marks a shift in Allen's understanding of love, following 5 years of marriage to Cooper. "What You Waiting For?" outlines her feelings immediately after their break-up, and the way single life lacked longevity. "First I felt liberated by it, but solitude is overrated," Allen sings above breezy, island production on the track. "How'd it make you feel if I said I still love you/ If I could go back, select all press undo." Having wrestled with her regrets through this album, Allen takes full responsibility for her actions. "I wouldn't have gotten married if I didn't think we would be together forever," Allen says, adding that she learned about the importance of communication through marriage.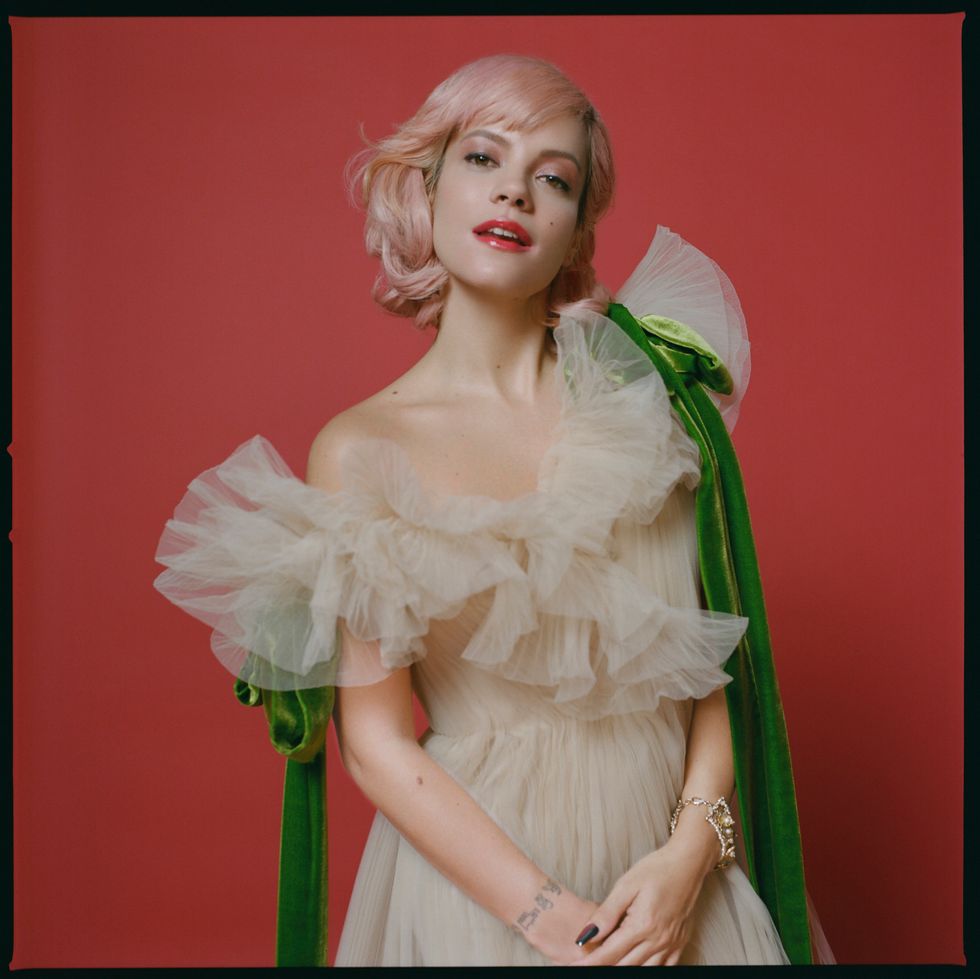 Dress by Valentino, Bracelet by Chanel
"I definitely would walk out the door on tour and disconnect with my whole family life, and that just went to the extreme. Drinking, drugs and promiscuity became my coping method. I wish I'd been more open with [Cooper] about my anxieties, but life is a journey." Allen's "Lost My Mind" music video visualizes her tumultuous relationship, showing her pacing the floors, walls and ceiling, fighting with her boyfriend and ending up alone, drenched in pouring rain. "Maybe I've lost my mind," she wonders, when in fact her ability to reflect, rationalize and react to emotions is perhaps the healthiest approach to trauma possible.

"I wouldn't have gotten married if I didn't think we would be together forever."
So if Sheezus was Allen's identity crisis, No Shame feels like her raw declaration of self — and a declaration only for those who care enough to hear (packaged without any technicolor wigs or twerking asses that beg for attention). Underlining her "commercial disaster" remark, Allen says she "purposefully hasn't gone into No Shame wanting magazine covers or doing a long lead into the album like I've done in the past. If that stuff comes, I want it to come because the music is really good and warrants it, not just because I'm a star. If it comes, it comes, and if it doesn't it's because the music's not good enough."
Still, mainstream success doesn't equate to value, and in an age when mental health is at the forefront of culture, Allen's public display of depression, love lost and rocky motherhood is more vital than ever. If pop music relies on relatability, what's more relatable than disaster?
Photographer: Shxpir
Stylist: Ella Cepeda
Hair: Yuhi Kim at BRIDGE
Makeup: Angie Parker (at The Wall Group)
Stylist Assistant: Chiara di Carcaci
Video: Symone Ridgell
Location: Dune Studios