Following suit in the avalanche of major brands putting their money where their mouth is when it comes to social issues — and eschewing their all-American optics — Levi Strauss & Co. has announced a million-dollar-budget campaign to help fight gun violence in America.
On Tuesday, the denim giant revealed the details their new initiative in a Fortune op-ed authored by the Levi's CEO Chip Bergh.
"As president and CEO of a values-driven company that's known the world over as a pioneer of the American West and one of the great symbols of American freedom, I take the responsibility of speaking up on the important issues of our day very seriously" wrote Bergh. "We can't take on every issue. But as business leaders with power in the public and political arenas, we simply cannot stand by silently when it comes to the issues that threaten the very fabric of the communities where we live and work. While taking a stand can be unpopular with some, doing nothing is no longer an option."
The three-tiered campaign goes like this: First, Levi's has earmarked more than $1 million dollars as the Safer Tomorrow Fund, which, over the next four years, will provide grants to "fuel the work of nonprofits and youth activists who are working to end gun violence in America."
Second, with hopes of fostering support for the gun control movement in the business world, Levi's has formed a "coalition of business leaders" called the Everytown Business Leaders for Gun Safety, in partnership with non-profit Everytown for Gun Safety and execs like Michael Bloomberg, "who believe... that business has a critical role to play in and a moral obligation to do something about the gun violence epidemic in this country."
Finally, turning to their own business practices, Levi's has doubled their "usual employee donation match to organizations aligned with Safer Tomorrow Fund" and is offering 60 hours a year of paid volunteer time to employees, expanding their definition of of volunteering to include political activism.
In response to raised eyebrows of what a denim company is doing, running headfirst into the gun control debate, Bergh argues that corporations have a role to play in politics: "You may wonder why a company that doesn't manufacture or sell guns is wading into this issue, but for us, it's simple. Americans shouldn't have to live in fear of gun violence. It's an issue that affects all of us — all generations and all walks of life."
The CEO previously authored an open letter in 2016 on Levi's weapon policy, asking that gun owners not bring firearms into stores or facilities (even in open-carry states), prompted by a customer who accidentally shot himself in a store with his own weapon. In this week's piece, Bergh recounts the threats to his life and business that the brand received after the letter.
Levi's has already received backlash from the NRA, which tweeted their response this morning, accusing Levi's of furthering "Everytown's mission... to destroy the 2A and disarm law-abiding citizens."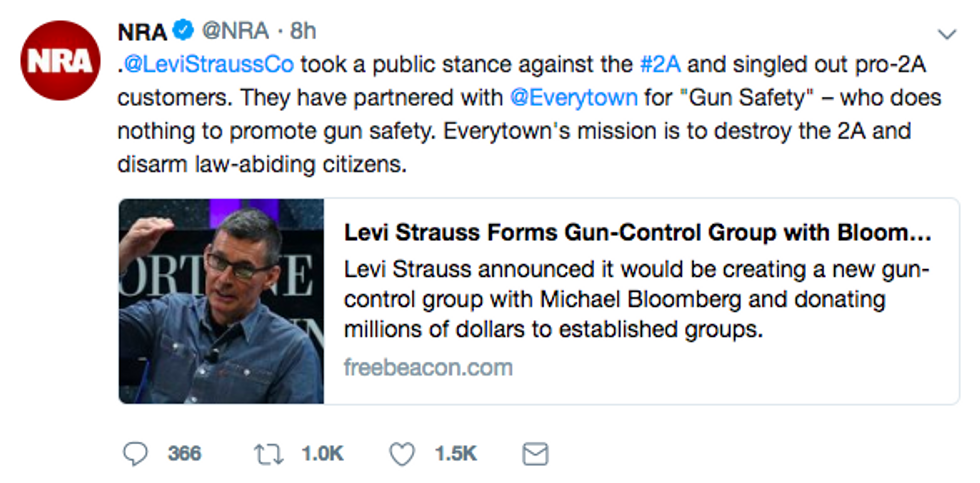 Regardless of your stance on corporate activism, Levi's — which, as Bergh puts it "is a company that's known as a pioneer of the American West and one of the great symbols of American freedom" — is due for a full-on hailstorm from their significant conservative customer-base.
The brand's willingness to piss off paying customers and relatively wholistic approach to the issue (starting on the inside of the company) makes a strong case for the integrity of the brand's engagement with issue. These clues are important, as consumers try to navigate the thread-bare line between performative marketing ultimately driven by the bottom-line, and genuine commitment to change.
Image via BFA

Sign Up For The Morning PAPER