Queero Kristen Stewart is here to deliver the complex representations of female sexuality that Hollywood has denied women since the dawn of film (instead, providing us with ample portraits of blushing virgins, sex-crazy femme fatales and asexual women over the age of 35).
In her new cover interview with French magazine, Mastermind, the Twilight damsel-turned queer heartthrob got real about her frustrations with the ways that women's sexuality and desires are erased and reduced on-screen.
"Right now, I'm so aware of the fact that we've watched, cinematically, men and their way into their bodies and do physical things that feel fundamental to this male perspective," she explains. "In every coming-of-age story we see about a young girl, even if it's the truest, most sincere thing, what's lacking is the physical honesty of actual female experience and the way we discover our bodies. It's, like, we're scared of using certain words"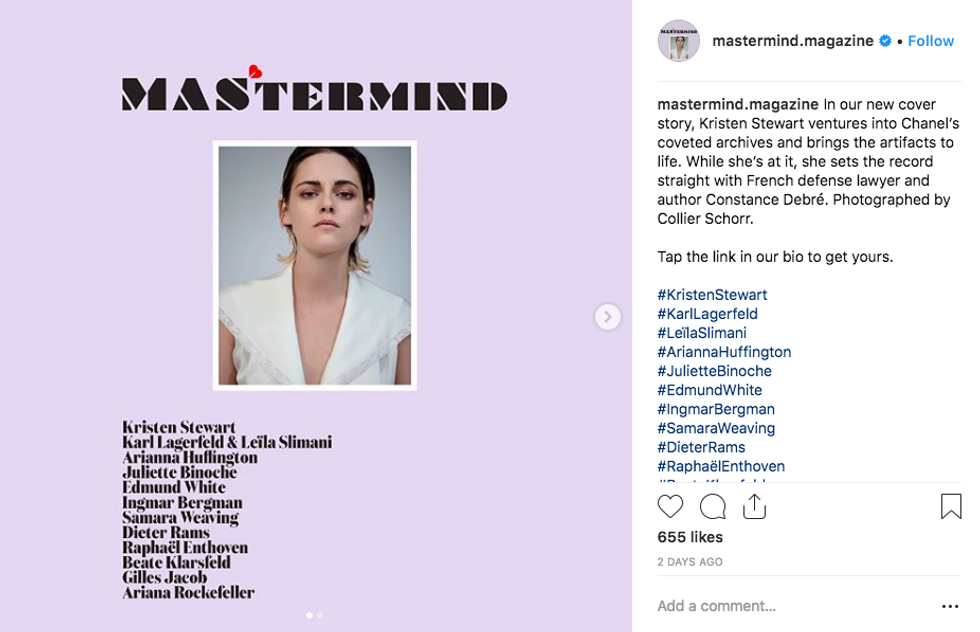 She revealed that she's currently writing a new NSFW film which will candidly explore female sexuality in all its complexity and intensity — using all those "certain words."
"My favorite line in this movie I'm currently writing is, 'I thought about Sienna Torres and her shoving her hand into my wide-open c— about as wide as a mouth saying m—-f—-,' " she recalled. "That's not something people would be comfortable hearing, up until right now, but I think it's the perfect time. There's nothing dirty about it, but I'm definitely going to be vulgar, and I'm definitely going to be completely unabashedly open about the fact that we're entirely sexual beings."
As for her own sexuality, the 26-year-old, who revealed last year on SNL that she is "like, so gay," and is currently obsessed with her girlfriend, model Stella Maxwell, she prefers to eschew our culture's rigidly category-focused understanding of sexuality and leave things open-ended.
"Yeah, ambiguity is my favorite thing ever. In terms of sexuality? For sure. And also in making films, if you perfectly answer every question, you don't allow people to have their own experience and really indulge in thought. I feel the same way about how we f—k each other. You don't want to know everything all the time."
Sadly, K-Stews full Mastermind interview isn't available in full online, but can be purchased here or here.