Keira Knightley wants to change the sanitized, sexist ways we talk about and imagine childbirth. In a new essay titled "The Weaker Sex" included in a new collection, Feminists Don't Wear Pink (And Other Lies) curated by Scarlett Curtis, she described the graphic realities of the birth of her three-year-old daughter Edie, arguing that our society's discomfort with the realities of birth and motherhood is all about the male gaze.
It begins (via Refinery29), addressed to Edie: "My vagina split. You came out with your eyes open. Arms up in the air. Screaming. They put you on to me, covered in blood, vernix, your head misshapen from the birth canal. Pulsating, gasping, screaming."
"I remember the shit, the vomit, the blood, the stitches. I remember my battleground." She wrote, emphasizing the atomic strength of mothers and the female body: "Your battleground and life pulsating. Surviving. And I am the weaker sex? You are?"
Knightley's daughter was born a the day before Kate Middleton gave birth to Princess Charlotte, contrasting her own experience with the the sanitized, male-gaze oriented dainty media spectacle.
While Middleton emerged from the delivery room after just seven hours, TV-ready, manicured, perfumed in a pretty dress and heels, Knightley recalled how her own "brown lace-up brogues" were "crusted and sticky" with amniotic fluid by the end of the birth; how when she received her first visitors, she "wore a hospital gown with paper pants on" as "blood [soaked] through the sanitary pad wedged between [her legs], and exposed "herself to the men in the room blood running down [her] thighs, arse, cellulite."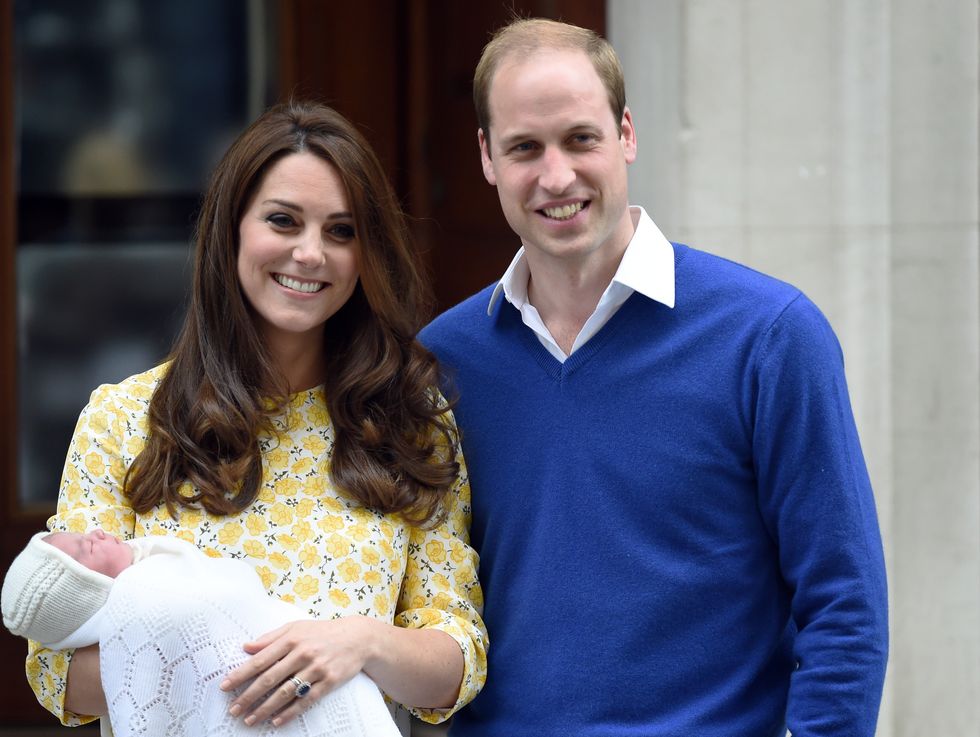 The Duke And Duchess Of Cambridge Depart The Lindo Wing With Their Daughter
"My breast is out in front of them all and I don't care," she writes. "Your life is my life. You need me. I'm there. F--k them all with their eyes watching, their embarrassed faces at my animalistic semi-nudity. Is this soft motherhood?"
She didn't berate Kate, but rather raged on her behalf at the pressure that both she and the Duchess of Cambridge face as high-profile mothers.
"We stand and watch the TV screen. She [Middleton] was out of hospital seven hours later with her face made up and high heels on. The face the world wants to see," she wrote. "Hide. Hide our pain, our bodies splitting, our breasts leaking, our hormones raging. Look beautiful. Look stylish, don't show your battleground, Kate. Seven hours after your fight with life and death, seven hours after your body breaks open, and bloody, screaming life comes out. Don't show. Don't tell. Stand there with your girl and be shot by a pack of male photographers."
Knightley indicated a belief in the beauty of birth that has nothing to do with women's appearances, as she described her first time breastfeeding her daughter:
"You latched on to my breast immediately, hungrily, I remember the pain. The mouth clenched tight around my nipple, light sucking on and sucking out.
Knightley also linked the sexist pressures and standards she faced during her pregnancy and birth, to those she's battled her entire career:
"Be pretty. Stand there. Tell me what it is to be a woman. Be nice, be supportive, be pretty but not too pretty, be thin but not too thin, be sexy but not too sexy. Be successful but not too successful. Wear these clothes, look this way, buy this stuff... I work with men and they worry that I don't like them. It makes them mad, it makes them sad, it makes them shout and scream. I like them. But I don't want to flirt and mother them... I don't want to flirt with you because I don't want to fuck you, and I don't want to mother you because I am not your mother."
Knightley's essay joins contributions from artists and activists including Emma Watson, Saoirse Ronan, Adwoa Aboah, Jameela Jamil and Whitney Wolfe Herd. Feminists Don't Wear Pink (And Other Lies) is out now, buy it here.
Photos via Getty