We're living in the golden age of fandom, where social media has allowed stans to interact with their idols on a daily basis. Whether you're a barb, lamb, belieber, or registered bardi gang member, you're probably @-ing somebody. On Stan Stories, we meet the world's most dedicated followers and delve deep into their obsessions.

How far would you go for your fave? Would you fly 10,000 miles? Would you cut class, tell your boss to eat it, and spend your entire allowance on bus fares and breakfast sandwiches to huddle with your BFF in 35 degree weather for three days and nights? If the answer is no, you're not a true Harry Styles stan.
Styles — whose face sets millions of hearts aflutter with a mere FaceTime appearance — pulled double duty over the weekend, hosting and starring as the musical guest on Saturday Night Live. And the only way to get a ticket (after the online lottery closed) was to line up on the street from Wednesday night onwards. Even as freezing weather set in, plenty of people were game to sleep on icy concrete in midtown, with no actual guarantee they'd get entry to the show. It was like a giant Harry-themed slumber party, featuring piles of blankets and pillows emblazoned with Styles' face.
When PAPER arrived at 30 Rock on Friday night, just hours before standby tickets were due to be handed out at 7AM, his biggest stans were preparing for the final push. Their devotion and industrious spirit were immediately inspiring. We met people from all over the country — some had flown from as far as Australia — and were handed business cards that read "Thank you for supporting H! Stay warm. #HarryonSNL."
Below, just some of the passionate people we met in line.
Kama, Briane, Grace and Maddy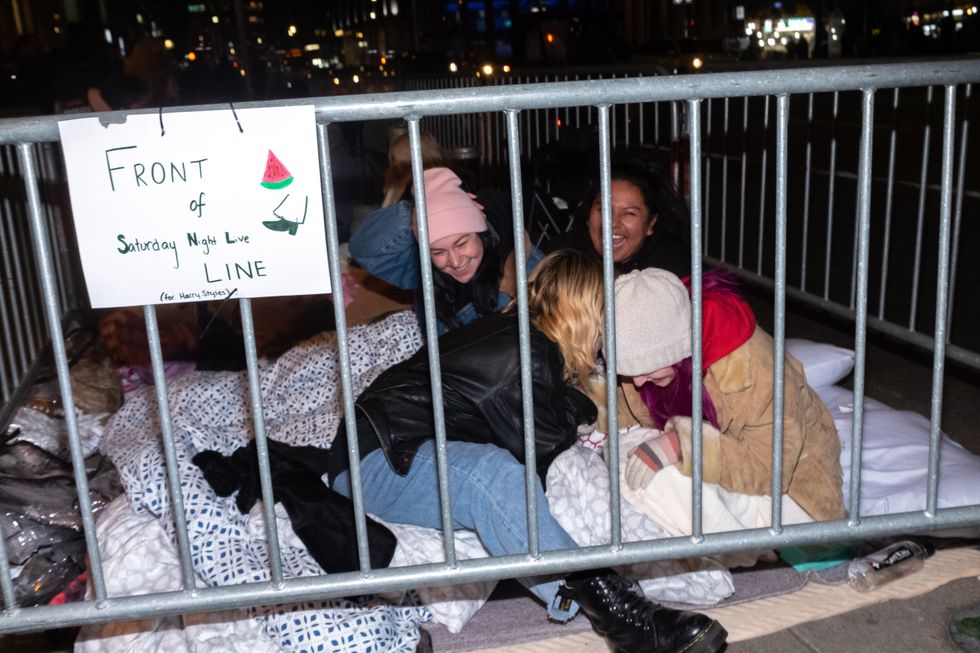 So you're first in line! That's such a massive feat. How did you do it?
Kama: I don't even know! We came here Tuesday, and saw that there was no one here, and we were like, "We're gonna go." Nothing was here!
They put these barricades around you?
Maddy: We went to Kmart and bought this blanket, and then we were like, we should leave and come back in the morning! No one's here. But then people started showing up so we just stayed!
Kama: It was the coldest night on Tuesday.
Grace: It's only gotten warmer since then. We only had one blanket on Tuesday.
Maddy: We were like, okay, we're learning. And I'm not from here, so I didn't have anything. So we just bought a bunch of shit.
Maddy: I'm from LA. I came to see my friend and Harry just made this this week, so I was like okay, I'll be there! Perfect!
Grace: I'm from Baltimore.
What do you love most about Harry?
Kama: I feel like so many people have been asking us that question, like "What does he mean to you?" At this point it's so hard to answer, because I've been so involved in this scene since I was 12 years old. I'm 19 now. My first concert was One Direction, my mom flew me out to Las Vegas to see them. So I've just been doing this for years. It's just a part of what I do now.
Maddy: I didn't know any of them [points to others around her], until him. My best friends are through him. He brought us together. He brought me the best people in my life.
That's beautiful! Is there anything else you want to say?
Kama: I feel like a clown, I'm gonna be honest.
Kama: I'm old. I haven't done this since… the last time I did this for him.
But you're here, that's awesome!
Maddy: We're excited, we love Harry. [To Kama] I'm just happy you brought me along.
Kama: Aw, that's so cute. We literally just met!
Maddy: Yeah, we had a mutual friend… and she was like, "Do you wanna camp?" So now we're like, the same person.
Kama: Yeah, we're out here like that.
You're going to be friends forever!
Kate and Erica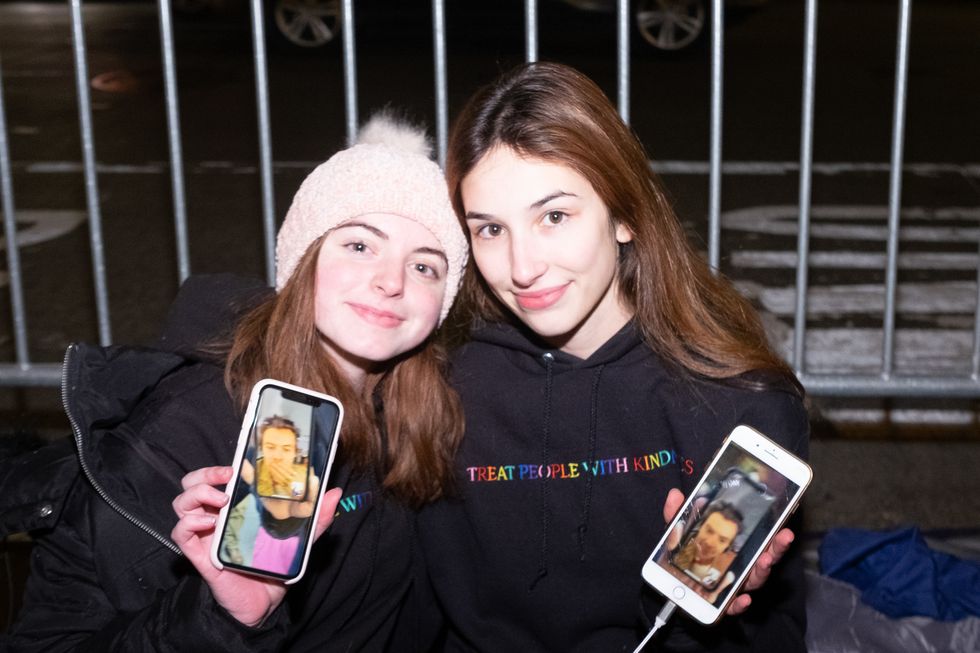 So how long have you been waiting?
Kate: Since Wednesday at 12PM.
Kate: But everyone's really nice, we're all talking to each other, and we all love Harry, so it's like we're all in it together!
I heard you got to FaceTime with Harry?
Kate: Yeah, that was wild! And unexpected!
Kate: His friend Ben Winston came to the line, and he was talking to us and asking us how we were, and we said we were nervous. Then he walked away and came back and went down the line with Harry on FaceTime, and Harry was waving and thanking us for waiting in line and blowing kisses!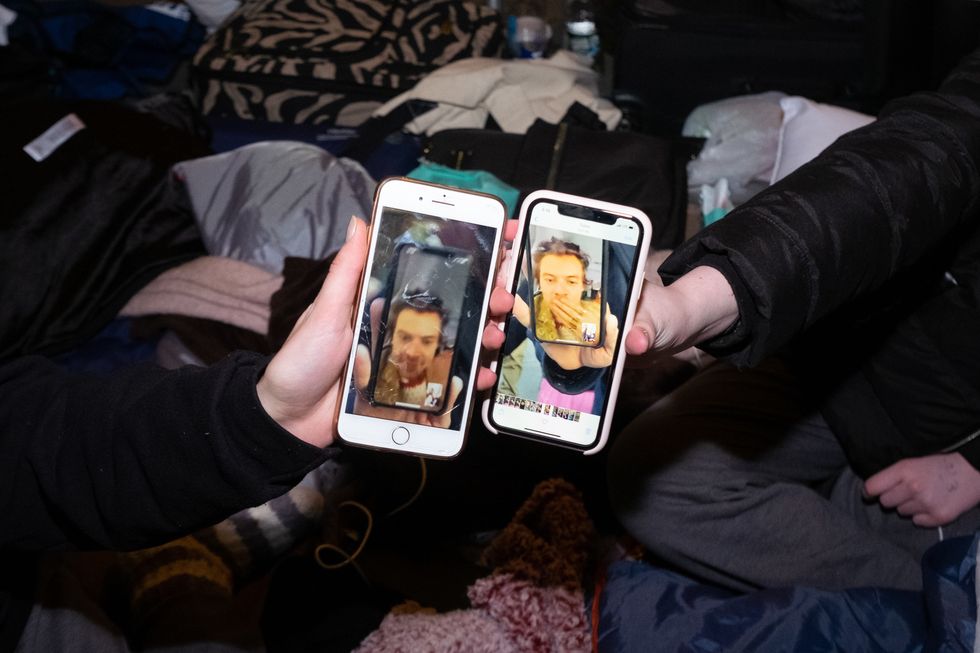 Oh my god, he's the best!
Kate: I know, it was so sweet!
Erica: He's the sweetest person ever!
Are there any particular kinds of sketches you're hoping to see on SNL?
Kate: We really wanna see him perform, because he has an album coming out, and that'll be the first time any of us have seen him perform the new songs live. So we're really looking forward to that and hoping we get in to see it!
I really hope you do too! Is there anything else you want to say?
Kate: We love you, Harry!
Nadine and Sophie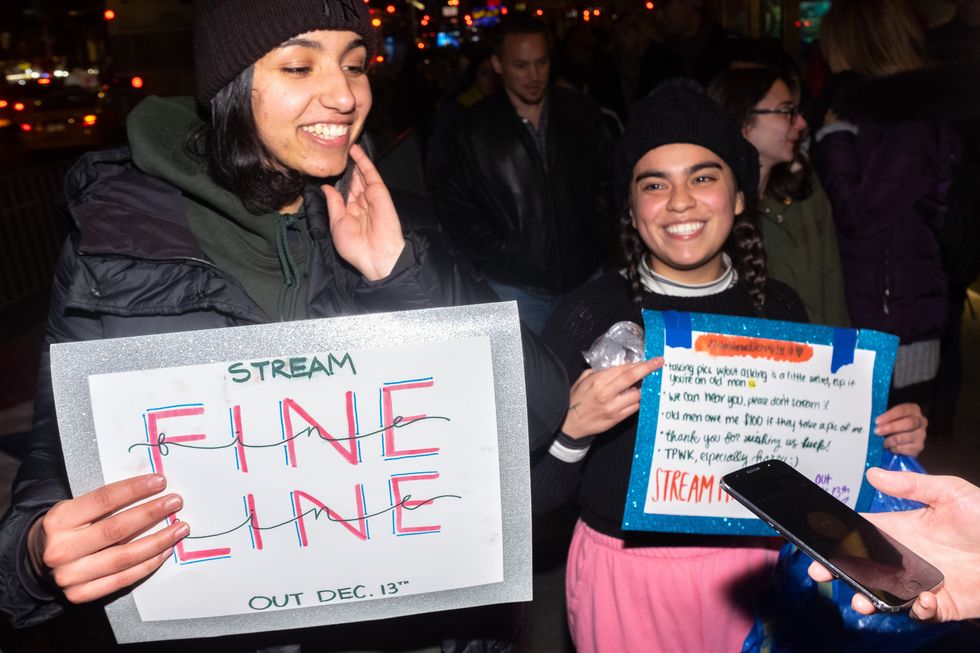 So you're in line right now...
Nadine: Yeah, we're in line for Harry Styles, some of you guys might not know him but he was in One Direction…
Sophie: I've loved Harry for like a whole decade, I'm 20 now.
Nadine: Okay, I'm going to say something that might be controversial on PAPER Mag, but Harry carried that band, and Zayn.
Sophie: They really did! Period.
Nadine: And honestly, it doesn't take anyone with a brain. It's kind of common knowledge.
How long have you been waiting here?
Nadine: We've been waiting since Wednesday morning. It's been a fun ride!
Awesome! And you made signs?
Nadine: Yes! Stream "Fine Line"!
Sophie: There were drunk men that came up to us last night.
Nadine: I was sleeping at like 3AM and this guy came up to me and he was like 'I'm coming to kill you right now,' and I was like "What?!"
Oh my god! But you've had security looking after you, right?
Nadine: Yeah, security circles the whole thing.
Sophie: Security's my king.
Nadine: But yeah, stream "Fine Line," December 13. You know what to do!
Yes! What is this other sign for?
Sophie: We put it here so people passing by the barricade will know what we're here for.
Awesome. Have you done this before?
Nadine: No! This is honestly my first time but it's been so fun! I love being around Harry fans! I feel so cozy. And I've made so many friends who like Harry.
Nadine: I love Harry. Harry, if you're listening, you're probably not, but I love you!
Nadine: Y'all should put Harry on the cover of PAPER Magazine! I'd buy it!
What's your favorite thing about Harry?
Nadine: I love his face, his personality, how he's not afraid to be himself. He's just so inspiring! He's breaking all the gender norms.
Yes! I love that about him.
Nadine: The suspenders! The frills! Oh my god. What are they called, pussy bows? Those are made for him.
Aisha and Kristina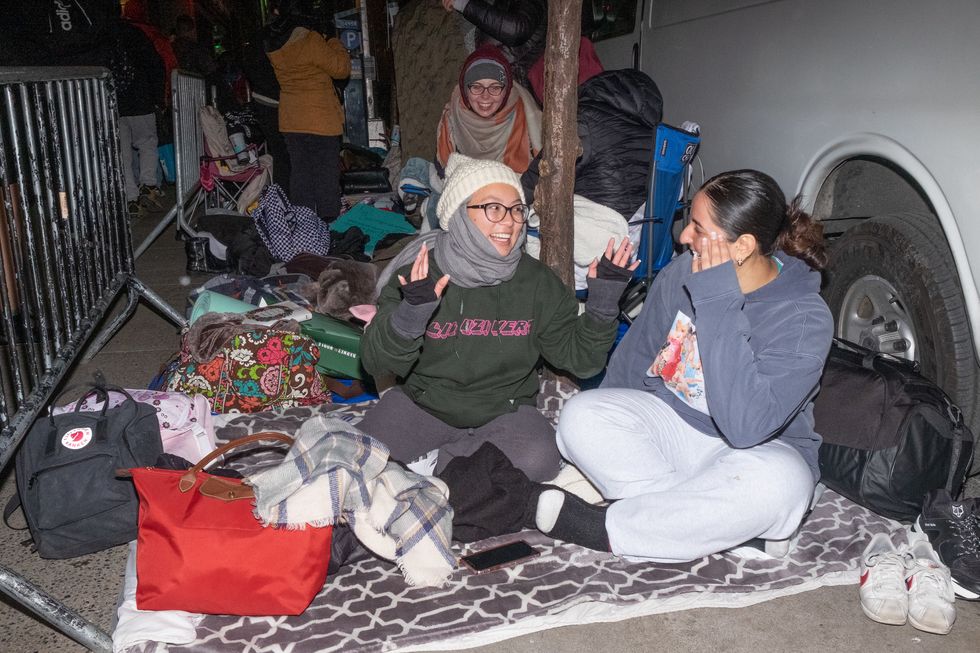 Aisha: Oh thank you! This is my Harry pillow. We got here Wednesday night, from Maryland, Baltimore. It was a three-hour drive.
Aisha: It's been hard! We were definitely stressed on the way over here, because we thought there were gonna be a lot of people before us.
Kristina: Yeah, we were checking Twitter to see what everyone was saying.
Aisha: We also called out of work for like, three days. And school, I missed a quiz…
Kristina: We just thought, since we're in our twenties now, when he does it again, we're gonna be way too old for this. And we're in our prime now. Also the memories we're making…
Aisha: We've definitely bonded! We actually got a tattoo just for Harry, like, two weeks ago.
Kristina: Yeah, so that kind of motivated us to be like, "Let's just do it! We're gonna regret it if we don't!"
Aisha: This was definitely spontaneous though.
Kristina: But we still made sure we packed everything. We have medicine. And we did our nails today in the line, while we were waiting. We're making the best of it!
Is this the first time you've done something like this?
Aisha: First time ever, that's why we were both so freaked out, because we were like, what do you even expect?
Kristina: The weather has definitely made it harder.
Aisha: The first night was okay, but the second night was a little rough. The ground is really cold, so it hurts our backs. But we're definitely pushing through because we want to be here so bad!
Kristina: We're grateful in the end.
Aisha: Grateful for no matter what happens, like if we get in or if we don't, we're just happy that we got to experience this together. Not to be corny! We've definitely got a lot closer too.
Kristina: Thanks, Harry Styles!
Aisha: Honestly, shout out to you! You really did that!
He brings people together!
Kristina: There are so many nice people in line.
I feel like only really nice people love Harry.
Aisha: Oh, for sure. It's all he preaches about!
Kristina: Treat people with kindness.
Are you looking forward to any particular songs or sketches?
Kristina: He's performing a new song, and people are saying that it'll be "Watermelon Sugar." If he does do it I'd be so happy! Because we'd be some of the first people to get to listen to it. Just that experience together… sorry, I'm getting so excited thinking about it! It comes in waves. We were so anxious! We were like, is this even worth it? And then we were like oh, it's so worth it!
Aisha: Yeah, there are moments where our morale is really high, but then it goes low, because we're very worried about not getting in.
Kristina: But we try to balance it out. It's an experience!
Aisha: We're trying to be as positive as possible. No matter what happens, we're still going to be happy.
Katie, Maggie and Kelsey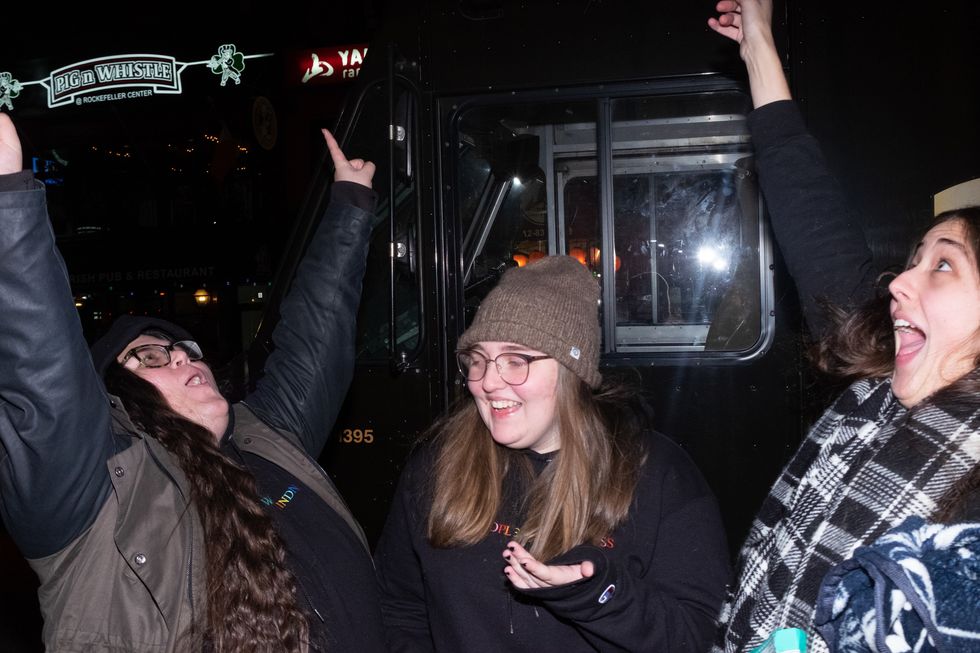 So you all came to New York especially for this?
Maggie: Yeah, Harry tweeted about this, and then an hour later we booked a flight out here. I was like, "Do you wanna go?" she was like, wait, are you serious? I was like "Yeah, I found flights." We were at work… It was insane.
Wow! So you're like, sorry work! Bye!
Maggie: I was like, I'm requesting days off right now. [laughs] Yeah, I told my boss that I was visiting my grandpa, oops! Don't tell my dad! Haha! He'll never read this, I'm sure.
Amazing! When did you get here?
Maggie: We flew in from Ohio on Wednesday.
I heard you've survived only on Welch's fruit snacks?
Maggie: [Laughs] Well, we ordered Dominos to the line the first night. Since then it's really been Starbucks coffee and breakfast sandwiches. Eatin' cheap, eatin' bad!
And SNL are giving you snacks too, right?
Maggie: Oh yeah! We got Mario Lopez pizza.
Katie: And they brought us Dunkin' Donuts and coffee.
So they're taking care of you! That's good. Have you done this before?
Maggie: No, this is like the craziest plan we've ever come up with for Harry. We've traveled for him before, we went from Ohio to Texas to see him, and stayed out all night for that, but this is like, next level crazy for us. But it's been so worth it!
Everyone's saying that! I mean, obviously we hope you get in, but regardless, it seems like it's been an amazing experience!
Maggie: Oh yeah! We've made friends with everyone down this section of the block. It's been awesome. Everyone will check on you, get you food, coffee, whatever. You meet people walking in the street. We have girls coming back later from a Broadway show who were like, "We'll bring you coffee when we get back!" It's crazy. They did not know us! A lot of people have been really supportive. It's awesome.
Kelsey: Yeah, this is not my first rodeo for him. I drove to Nashville, nine hours, and saw him there. Took the train to Chicago, slept outside for that show. Took a flight to LA and saw his last two shows and camped for the last one and slept on LA streets. So yeah, this is not my first time giving him all of my time, my money, my love, everything. And I'm sure it will continue for his tour coming up!
Awesome! What are you most looking forward to about the show?
Maggie: I mean, apparently he's playing his new single! And this is the first time we'll hear "Lights Up" live, because he hasn't done it yet! So if we get in, and if we get to hear the new single before it even drops… I'm like, shaking. I'm so nervous and excited, I don't even know what to do. because we're gonna be in a studio audience!
Kelsey: They're gonna pan the camera to me and I'm gonna be like "UGH!"
Maggie: Everyone's just bawling their eyes out.
Kelsey: I'm looking forward to his humor, because he's a situational comedian, and I think he's one of the funniest people I've ever heard, and I love his humor. It just goes over everyone's head. There are so many jokes that get missed, I'm like, c'mon people! He's hilarious!
Yeah! Do you want to go to the live show or the dress rehearsal?
Kelsey: I'll probably choose whatever has the lowest numbers to up my chances, but I'd love to go to dress so I could see dress and watch live, on TV, and be able to see both! But I will do whatever I can to be able to make it.
Yeah, I mean you're here! You're doing it!
Kelsey: We've been sleeping on the street! Better do all I can to get in there!
Abby, Michelle and Sid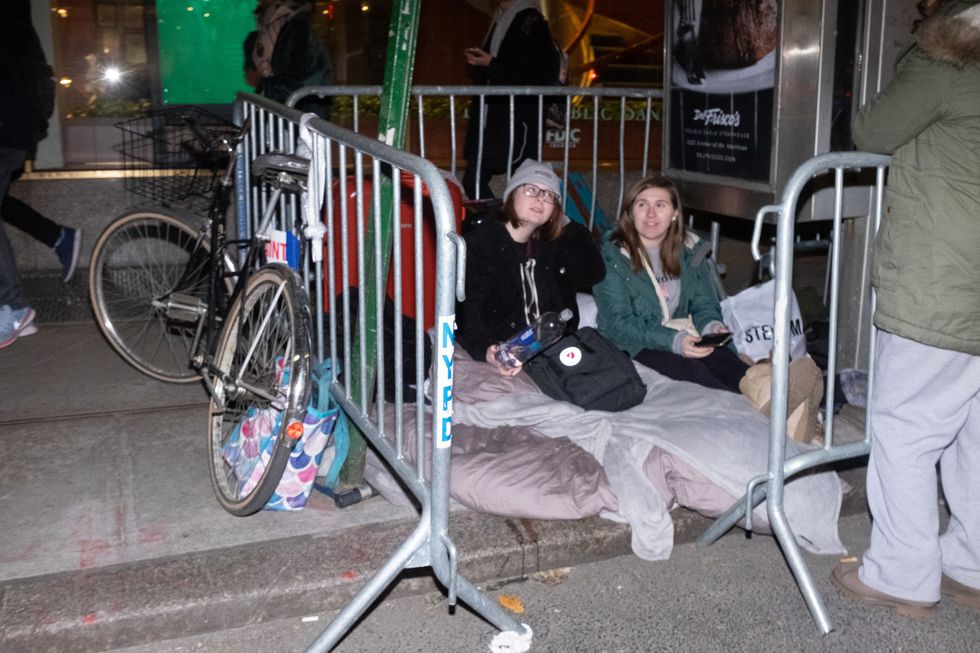 Do you live in New York or did you travel to get here?
Abby: We all live here and go to school here now, but we all come from out of state. I'm from Florida.
Michelle: I'm from Maryland.
Awesome! So how are you doing?
Abby: We're almost there. We've been here since Wednesday, so 12 hours isn't that much longer compared to what we've already done!
You're so dedicated! We love to see it.
What do you love most about him?
Abby: I've grown up watching him with One Direction, so just seeing him grow as an artist, and he's such a genuine person. I love everything about him!
Sid: He just seems like such a genuine, caring, accepting person. We need more people like him in society. So I'm stanning those kinds of people.
Is there anything you're particularly hoping to see?
Abby: I'm hoping to see the new single that's rumored to be coming out tomorrow. And to lay eyes on that beautiful man in person.
Have you seen him before?
Michelle: I've never seen him before, so I hope I do!
Are any of you guys active online, in fan groups or anything?
Abby: I used to be, a lot, during the One Direction days. But now I'm not particularly. I just check Twitter a lot, for the HarryonSNL hashtag. I check that every day.
Sid: I'm not on any social media, actually! So, not really active on the internet.
Oh, nice! You're probably very healthy and happy then!
Sid: [Laughs] I love it! I recommend that everyone try it!
Abby: I literally don't know how you do it. I have to keep track of my boys online! All five of them!
Ashlyn, Laura and Andrea​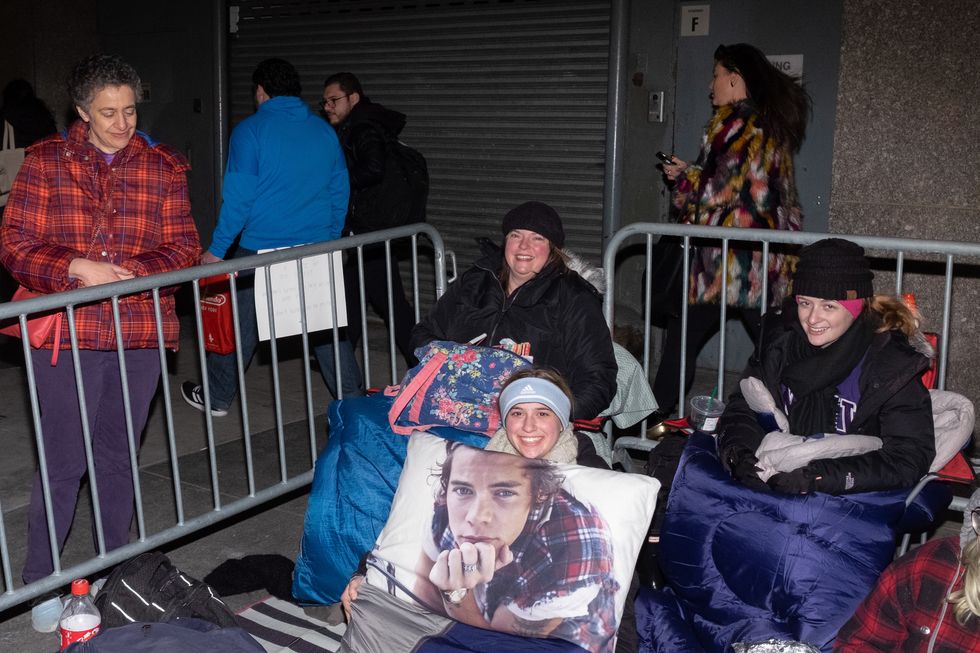 Ashlyn: Really cold, but…
Laura: We're makin' it, you know?
It is cold! I started losing feeling in my hands and I've only been here an hour!
Andrea: We came prepared, though.
Laura: Yeah, it's been… all right. We've got our Harry pillow. That's all we need! [Hugs pillow]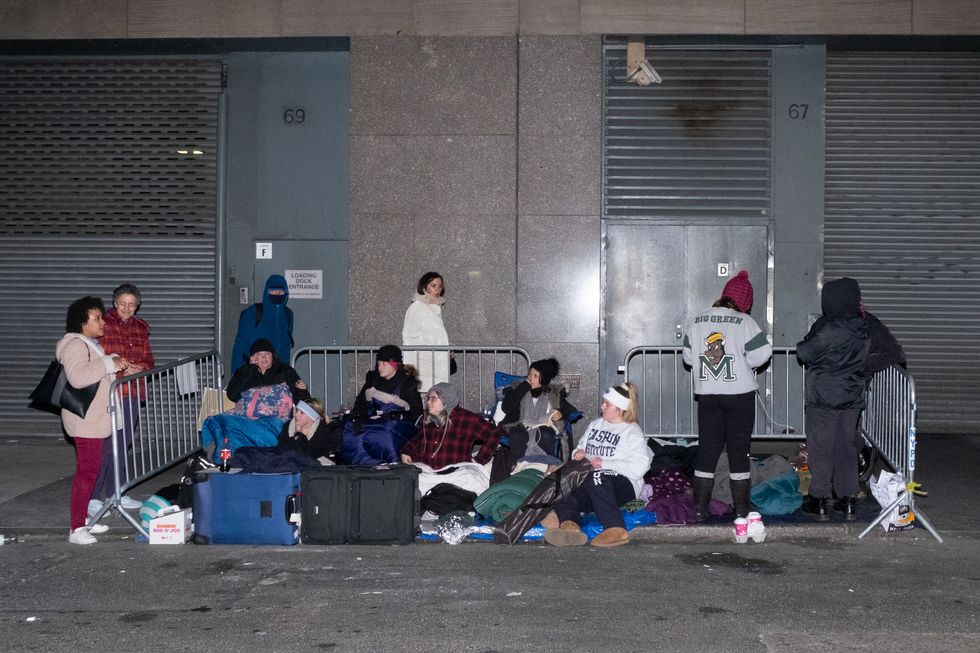 That is perfect! I feel like it needs a matching blanket.
Andrea: She does have a matching blanket! [Laughs]
Andrea: We didn't know what kind of environment it would be!
Ashlyn: We're from Louisiana.
Laura: I go to NYU, so kinda local!
Ashlyn: We both flew in on Wednesday! [Motions to Andrea]
How long have you have been fans of Harry?
Andrea: It's been like nine years.
Andrea: Since the very beginning. X-Factor.
Laura: I am a real one! [Laughs]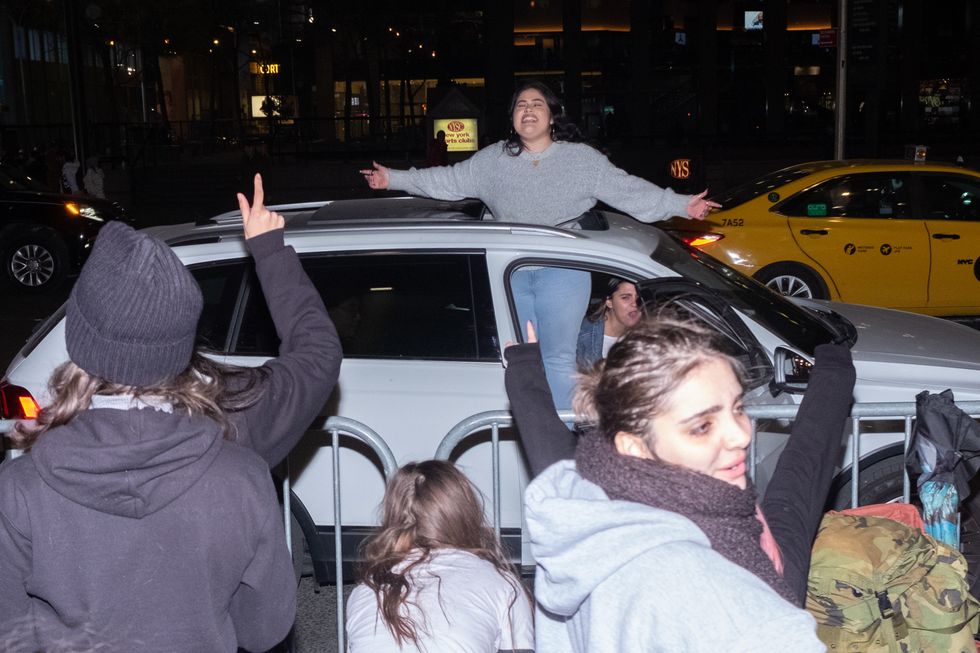 [A car drives past blaring Harry's recent single "Lights Up" and people in the car are singing along at the top of their lungs. Those in line wave and cheer.]
It's a good vibe here! Everyone's so friendly.
Laura: It's been great so far!
Andrea: We've got a little home right here, with this barricade. We've had a little trouble with the trucks coming in here [motions to driveway next to her] at all hours of the night, but other than that it's been good!
Ashlyn: It's a little hard to sleep.
I can't even imagine. I'm sure Harry's going to be touched by your dedication!
Laura: He better be! [Laughs]
Maybe he'll come out and say hi to you guys?
Ashlyn: He might get mobbed…
Laura: We're behind bars! We're behind these barricades! SNL prison. [Laughs]
Lexi and Samantha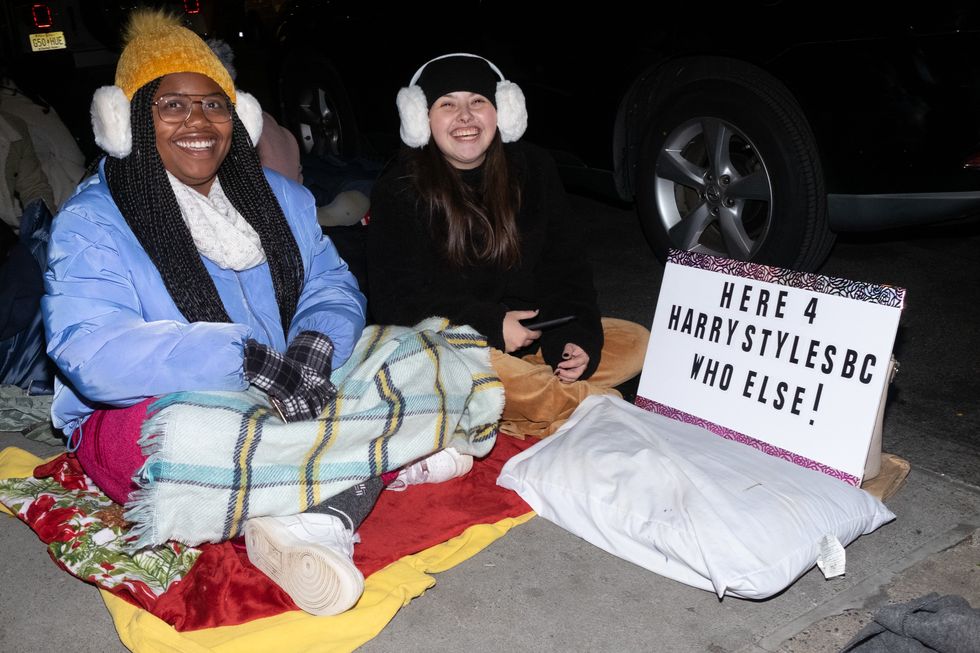 How long have you been here?
Samantha: We got here two hours ago. But there are some people who have been here since Wednesday!
Have you lined up like this before?
Lexi: I did for Louis Tomlinson two years ago, on the Today show. So I'm kind of used to it! I'm prepared for tonight.
Samantha: This is my first time, and I'm scared I actually might freeze.
You've just got to keep moving!
Samantha: Yeah, I'll be doing jumping jacks in the middle of the night. [laughs]
Lexi: Are you kidding? [Laughs] Hopefully we get in! Because if not I might cry.
Well his tour's coming up, so you can always try and see him then!
Samantha: Tickets are released on Monday!
Lexi: We are breaking our bank accounts for Harry Styles, love that!
People are really investing in him! Buying blankets for this line, flying in from Florida…
Samantha: I heard someone came from Australia!
Lexi: Yeah it's crazy. But it's exciting though! I love it.
Lexi: No, we actually came from Maryland! We took the bus here. A four-hour bus ride. [laughs] I had class this morning… And I would have come sooner had I not had work! And then I was like, you know what? I'm going. I'm going to New York!