There are a number of symbols that instantly recall Gucci: the double G logo, the green and red stripe, the horsebit detail in their shoes. And now, for the first time, the Florence-based house is introducing a new print that combines two of their most recognizable patterns into one.
Created as a special collection for the holiday season, Gucci Creative Director Alessandro Michele took the brand's classic GG Supreme canvas and fused it with the historic flora pattern. The new print is featured in everything from ready-to-wear to shoes and accessories, including handbags, luggage, and a new jewelry case. A wool jacquard cardigan and a chunky ankle boot are some of the standouts.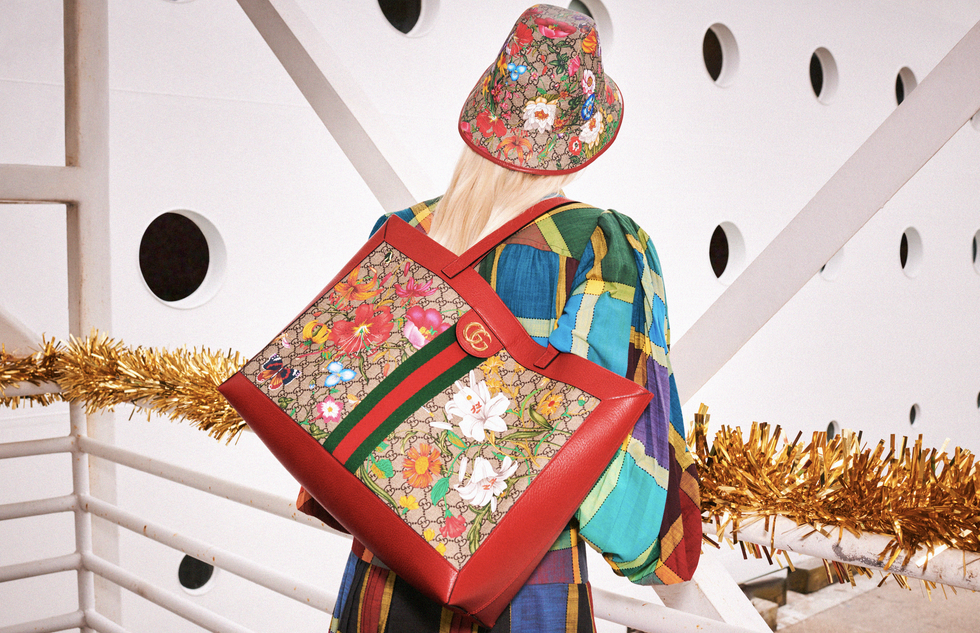 The flora print is iconic for several reasons. It was specifically developed for Grace Kelly as a gift in the '60s by founder Guccio Gucci's son, who commissioned the Italian illustrator Vittorio Accornero to design the print on a silk scarf. The resulting flowers, plants, and insects have endured as a pattern to this very day, with Michele incorporating them on his runway shows and on commercial pieces.
But it's never been combined with the classic interlocking monogram canvas, and so this new print acts as a modern take on two of the brand's distinct, archival patterns. (The pieces with the new GG material are all trimmed with red, yellow or white leather details.)
Accompanying the new products is a new Gucci campaign for the gift-giving holiday season, which takes place on a beach vacation and aboard a cruise ship. Shot by photographer Harmony Korine, the images depict a sunny winter break with models sporting the collection of gift-giving items including the aforementioned prints and luggage that recalls the time when people traveled by sea.