You'd need a whole new vocabulary to describe music made by Gloo, the collective moniker of UK producers Iglooghost, Kai Whiston, and BABii. Fast, frenetic, and densely packed with a whole universe's worth of sounds, their collaborative album, XYZ, defies conventional description. It's a bowl of Lucky Charms with Monster Energy poured in rather than milk. It's the shattered shards of a crystal palace raining down through a forest of neon trees. It's a river of lava flowing through the city in Tron: Legacy. It's a hologram floating above a bubbling witch's brew. It's all the sounds ever made or yet to be compressed into 30 minutes, cut up, glued back together, and dusted with glitter. It's XYZ.
But where words fail, the Gloo team makes up for it in a rich visual language of their own design. Drawing on the various aesthetics they've all honed in their respective solo projects, the mashup of art styles for XYZ's slew of different covers actually serves as the best analogy for the album's sonic collision and stylistic fusions. As a trio, they fold in elements of grime, synth-pop, bass, and many other genres that seem to actively defy definition into nine discreet sonic odysseys. The album is so densely packed with strange and intricate moments flying by so fast that it feels like your brain is racing just to keep up.
As longtime friends and collaborators, it's been easy to see the direct and indirect influence Igloo, Whiston, and BABii have had on each other's work. With Gloo though, their creativity has finally been pooled into one place spilling over beyond the confines of their music. The Gloo name itself serves as a creative catchall for the group's various endeavors as Whiston explained last fall: "If Iglooghost decides he wants to build and sell furniture, he'll do it under Gloo. If I wanna sponsor a wrestling tournament, I'll do it under Gloo."
In that sense, XYZ is just part of a larger collective vision that is far-reaching and all-encompassing — a sonic manifesto for a world through the eyes of Gloo. PAPER caught up with Iglooghost, Kai Whiston, and BABii to learn a little more about what makes Gloo tick.
How did you initially meet?
Kai Whiston: Iglooghost and I grew up in the same town. I didn't really know him and used to talk shit about his faux-FlyLo beats behind his back. Eventually sent him some demos and we got along from then.
IGLOOGHOST: YEAH KAI USED TO PLAY STARCRAFT OR SOMETHING WITH MY LITTLE BROTHER. SOMETIMES I'D COME BACK FROM THE PUB WITH MY FRIENDS AND POP INTO THEIR LAN PARTY AND TAKE THE PISS OUT OF THEM. THEN KAI GOT BETTER AT MAKING MUSIC THAN ME AND IT ALL GOT OUT OF HAND. I PLAYED A ROGUE GIG AT A STRANGE SEASIDE TOWN WITH BABii AND I THOUGHT SHE WAS A CLEVER WEIRDO WHO SOUNDED LIKE A SCREAMING LITTLE OWL - AND SHE SHOWED ME AN ENCYCLOPEDIA FULL OF FICTIONAL CELLS.
BABii: YEP ME AND iiGLOOGHOST PLAYED A SHOW TOGETHER iiIN MY HOMETOWN AND ii COULDNT STOP TALKiiN TO HiiM, ii WAS SAYiiN SO MANY THiiNGS BECAUSE ii REALiiSED WE LiiKED LOADS OF THE SAME THiiNGS. A FEW DAYS AFTER MEETiiN HiiM, ii GAVE HiiM LOADS OF VOCAL STEMS TO PLAY WiiTH AND ii ENDED UP SiiNGiiNG ON MOST OF STEEL MOGU / CLEAR TAMEii. ME AND KAii MET AT A FESTiiVAL AND WE ALL WENT TO AN ARCADE AND WON SiiLLY STiiCKY PRiiZES THAT WE CAUSED CHAOS WiiV ALL DAY.
You have collaborated or helped each other with your respective albums in some capacity. What made you want to put out a collaborative project?
IG: THE THREE OF US ALL HAVE POSSIBLY TOO MANY IDEAS ANYWAY WHEN IT COMES TO OUR INDIVIDUAL MUSIC… SO WE THOUGHT IT WOULD BE FUNNY TO LOCK OURSELVES IN A GARAGE & MAKE A 30 MINUTE ALBUM WITH EIGHTY THOUSAND AND NINETY FIVE HUNDRED NOISES. IT DOESN'T ACTUALLY SOUND THAT BAD.

BB: iiT WAS A FUN EXPERiiMENT TOO, TO SEE WHAT HAPPENS WHEN YOU PUT EVERYTHiiNG WE DO iiNTO A BiiG CAULDRON, WiiTH NO RULES AND TO SEE WHAT HAPPENS.
Listening through the project I can tell sometimes what's a BABii part vs. a Kai part vs. an Igloo part, but other times it's not as easy. How did you approach blending all of your different styles?
KW: I don't think any of us have any agenda to put a part of ourselves in the record.
XYZ
is pretty freeing in the sense that it doesn't have to fall into the timelines of any of our shit, it can feel like a debut again. I think it's developed into this gross homogenous language that wouldn't exist otherwise. Maybe I had an influence on keeping things straightforward and banger-intensive.

BB: WE DiiD TRY AND KEEP AN EVEN AMOUNT OF iiNPUT FROM EACH OF US, BUT THAT KiiNDA WENT OUT OF THE WiiNDOW BECAUSE ULTiiMATELY WE JUST WANTED TO WHAT WAS BEST FOR THE SONGS, AND TO JUST MAKE THE BEST FiiNGS WE COULD.
What was the most fun part of the album process?
KW: Waiting until the other two go to bed so I can have a wank in their guest room.
IG: WHEN WE STARTED 'LUX 2' I GOT A PEA FRITTER LITERALLY THE SIZE OF A SMALL COCONUT. A PEA FRITTER IS A DEEP FRIED MASS OF MUSHED UP PEAS.

BB: ii LiiKED ALL OF iiT, CAUSE ii GOT TO HANGOUT AND MAKE THiiNGS WiiTH MY FAVOURiiTE BOiiS.
What was the most challenging?
KW: We all work on different DAWs which made things a fucking nightmare. I'm the only one clever enough to use Ableton. We had to waste a lot of juicy idea time exporting stems onto a hard drive. In an ideal world, the other two dickheads would just be neat, obedient VST plugins that live in my arsenal.
IG: FIGURING OUT THE VISUAL LANGUAGE OF THE PROJECT WAS KIND OF TRICKY. I ONLY EVER REALLY WORK WITH CHARACTER-BASED ARTWORK… STUFF WITH EYES AND HEADS AND SHIT. SOMEHOW WE ENDED UP MAKING 9 COVERS OF DIFFERENT BEYBLADE ESQUE SPINNING WEAPONS AND IT'S LOVELY.
BB: ii THiiNK DESPiiTE ALL THAT, iiT WAS A PRETTY PAINLESS AND BLiiSSFUL PROCESS. EVERYTHING WORKED AND SLOTTED TOGETHER iiN A REALLY SATiiSFYiiNG WAY.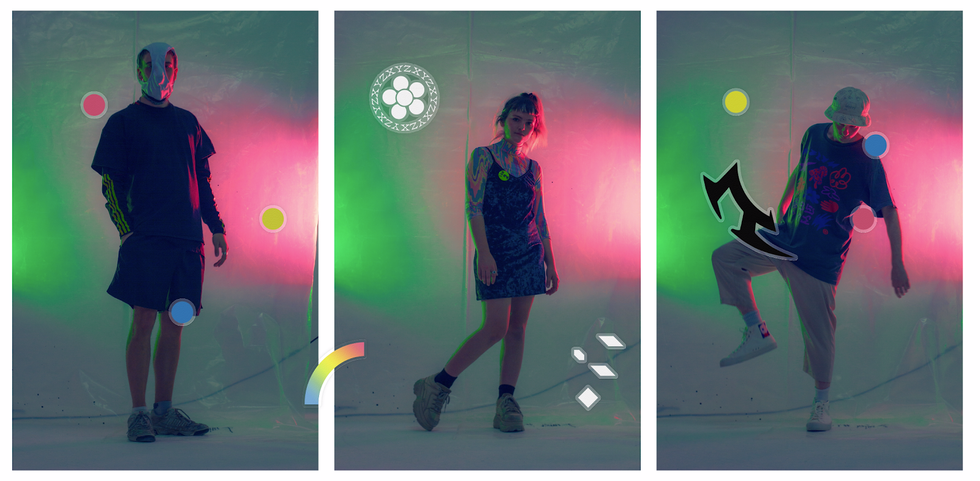 What makes up Gloo's DNA?
IG: BLADES, BIG BOOMS, COOL SNARES, LOUD NOISES, CORNER SHOP FOOD.

BB: ii DUNNO BUT iiTS iiN YOUR ROOM
What do you all get up to when you aren't making music?
KW: Chest press x4, Incline press x4, Military Press x4, Arnies or shoulder press x4, Cable flies x4, Close grip chest press.
IG: SOUNDS VERY SINCERE BUT PROBABLY JUST BEING REALLY ANNOYED I'M NOT MAKING MUSIC. I REALLY, REALLY, REALLY LIKE DOING IT.

BB: MAKiiN SOMETHiiNG ELSE THAT'S NOT MUSiiC OR TRYiiN TO GET ALL MY CHORES DONE AS QUiiCKLY AS POSSiiBLE SO ii CAN MAKE STUFF
Studio snacks?
KW: Hummus and crisps, cans of coke. Cuppa.
IG: 3x BAGS OF CRISPS, CUCUMBERS, LAPSANG SOUCHONG, OLIVES w/ GARLIC CLOVES.

BB: 10x BAGS OF CRiiSPS, TiiNNED SPAGHETTii, COCA COLA, LOADS OF EARL GRAY TEA.
If you all were thrown into a futuristic battle dome, what weapons/armor would you fashion? Who would win?
KW: An impenetrable suit constructed of insecure snarky Briton humour. My weapon being the big man upstairs JC.
IG: I'M GOOD AT LEAPING AND KICKING. I WOULD TIE CHAINS AND SCYTHES ON ROPES TO MY LOWER BODY AND LEAP AROUND, SLASHING EVERYONE NEARBY LIKE A BEAUTIFUL BALLET.

BB: iiGLOO AS iiF, YOU'RE WELL CLUMSY AND NOT VERY GRACEFUL. HAHA. ii WOULD PROBABLY JUST TRY AND PASSiiFY THE SiiTUATiiON AND MAKE FRiiENDS WiiTH EVERYONE AND iiF THAT DOESN'T WORK, YOU'RE ALL iiN BiiG TROUBLE CAUSE ii AM DECEPTiiVELY FEiiSTY.
You all have put on interactive gachupon-style club nights, and voiced plans for a perfume. What crazy shit lies on the horizon for Gloo?
IG: WE HAVE A TON OF BIG ASS CRATES OF REALLY COOL NEW STUFF WE'RE GOING TO UNVEIL SOON. IT'S OUR BEST PHYSICAL GLOO STUFF YET.

BB: YEAH YEAH YEAH! iiTS SO EXCiiTiiNG!