A dark, twisted remix of "Milkshake" fills a warehouse space in Miami's Wynwood District, shaking the speakers and setting the crowd ablaze as Kelis repeats "La la la la la" like a devilish spell. A queer couple wearing matching latex tops make out to the sound of early aughts debauchery, as DJ Gami jumps wildly onstage — her hot pink hair dripping wet — and chants feverishly into the mic: "Where my gays at? Where my girls at?" New York-based DJ Maya Monès is right by her side, hyping up Gami as the queen of Miami nightlife — the one who made tonight's party a reality, and she certainly is.
We were at Swetboxx, an early October event created by Gami with support from Red Bull Music Presents, that aimed to bring a diverse lineup of LGBTQ DJs, hosts and performers to South Florida for one night only. As a whole, Miami nightlife is dominated by cis straight clubs, and even its gay spaces fail to open doors for a wider, more inclusive range of queer guests and talent. Which is why Gami, with support from her collective Internet Friends, was inspired to develop a party that disrupted the city's norm.
New York rapper Quay Dash, whose SOPHIE-produced bop "Queen Of This Shit" recently closed out Versace at Milan Fashion Week, was the night's headliner. Discwoman, Papi Juice, Ariel Zetina, NAR, and more DJed in-between live performances, filling the humid, blue-lit warehouse with sounds that reflected a global scope of music beyond Miami. People drank lots of Red Bull, which meant they sweat their asses off until sunrise, and comedian Eric Andre was strangely among the crowd, much to manyqueens' delight.
PAPER caught up with Gami — DJ, curator and all-around creative force — to reflect on making Swetboxx happen, and the way she's transforming Miami nightlife into a #NoBroZone with trans, femme energy.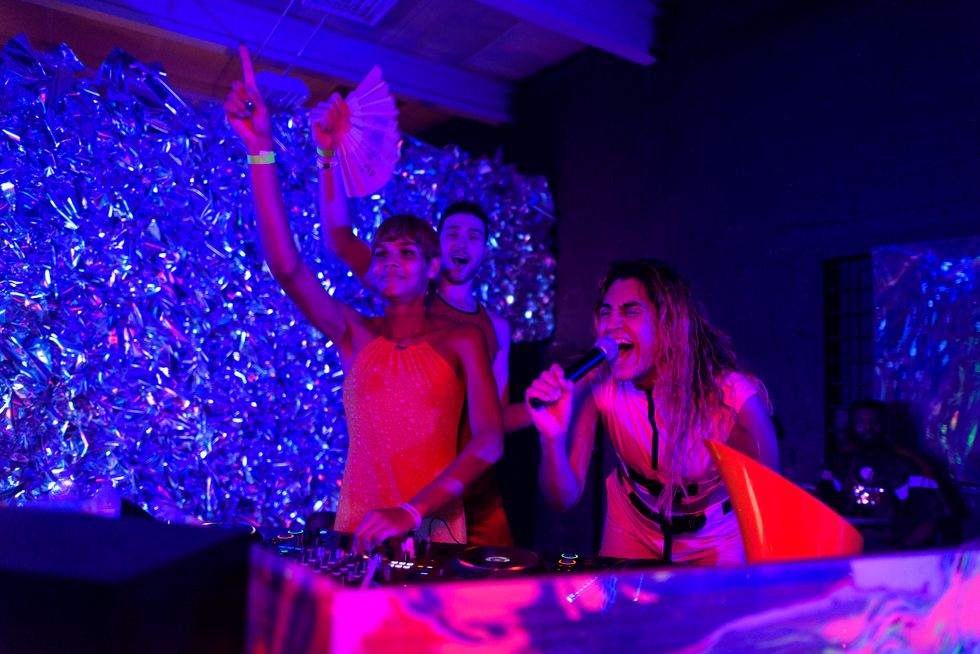 How would you describe the existing LGBTQ scene in Miami?
I think it's growing. I also think it's very cis male/white dominated. Resources as a trans women are limited. I've been denied space by my own community. I'm hoping we eventually have more trans public figures in Miami.
In what ways do you think you're disrupting the norm in Miami with the work you do?
Taking space, being outspoken as a trans woman of color, creating worlds, bringing a variety of sound, performance and art.
Where are you from, and how did you start getting involved with nightlife and music?

I've always been artistic and have an eye for creative direction. [I was] born in Miami and raised in Colombia. When I was in Colombia a lot of my ideas as a teenager were considered "faggotry" [or] "vulgar." Once I moved back to Florida and went to art school I was very embraced. I quit college because it wasn't nurturing at the moment, attended a few "underground" events and wasn't satisfied.
I started to DJ on my laptop and acquired a residency at a warehouse in Miami, and started to program monthly parties and booking artists from all over the web. I met some amazing artists in Miami who have been so supportive and inspiring. I have now moved on to CDJS, and have really found my sound and selection. I'm really excited to keep growing in my craft and start producing soon.
"I want more femmes on the decks and on the mics."
You're the programming director for Internet Friends. What's the story behind this collective, and what effect do you hope it has on Miami's queer culture?
It started out as a dream. I used to throw events independently, and felt like hence there were so many people involved in producing and creating with me and Miami's lack of trans/queer collectives, it was crucial to take space and create a collective centered around booking more femme and trans artists.
The name comes from us meeting so many people over the Internet, and then eventually becoming friends. It's so wild hitting someone up on Soundcloud that you really admire, and next thing you know we are in Miami having a good time.
I hope to keep bringing content for the younger generations to see and be exposed to. My ideal purpose is to make Miami a more femme/queer-centered city — #NoBroZone. I want more femmes on the decks and on the mics.
What was the planning process like for Swetboxx?
It was really fun, I still can't believe it happened. I was getting hints of it and was told to brainstorm around February 2018. I was really interested in booking something Miami isn't used to — no EDM, no techno, no house — and giving other artists from other genres an opportunity to sweat in Miami. This was curated with a lot of love and showcasing the full spectrum of the community.
During Swetboxx, you wore a custom look by Nivero. Are they Miami-based?
Nivero is my baby! We collaborated last year on a film Nivero 54, and a collection Waterproof during Art Basel. Nivero is one of the few Miami-based fashion brands that cater to the queer community. I'm so proud of them and so grateful they have been dressing me for my last couple of gigs.
What do you think differentiates Miami's queer scene from other major cities?
Miami is the city of the sun. We are so vibrant and eclectic. We have so much Latin flavor. I think Miami is such a beautiful blank canvas, it makes everything so exciting.
Why do you think it's important to support queer talent in nightlife?
For the future generations. A lot of elements from nightlife have come from queer people, and it has been taken from us. Now we are reclaiming our spaces and our art. Nightlife is our medium and our canvas.
See photos from Miami's Swetboxx with Red Bull Music Academy, below.
Photos courtesy of Red Bull Music Presents
Sign Up for the Morning PAPER
Music
Story by Justin Moran / Photography by Joaquin Castillo / Makeup by Alex Levy / Hair by Sergio Estrada / Styling by Carma Flores