"When we started, we didn't really know where this was going to take us," Kris Aaron says of his and boyfriend/collaborator Andrew Walker's line of ceramics. "But because we were being so overtly sexual and really sex positive and really queer, we thought we needed a name that was really balls out and kind of in your face." The winning moniker? Pansy Ass Ceramics, a growing business that got its start in 2015 by jazzing up antique china and vintage tchotchkes with everything from bound naked men to simple questions like "Horny?" Now the Toronto-based pair have started creating their own pieces from scratch and in the process, have carved out a unique niche in the art and interior design space.

"Pansy is something that I've always sort of liked because growing up we were called that," Walker says, elaborating on the brand's name. "As a child, it was upsetting because I was scared of myself but as an adult, I really appreciate the word. I like the idea of being associated with flowers and these beautiful things so it's sort of taking the word and re-appropriating it."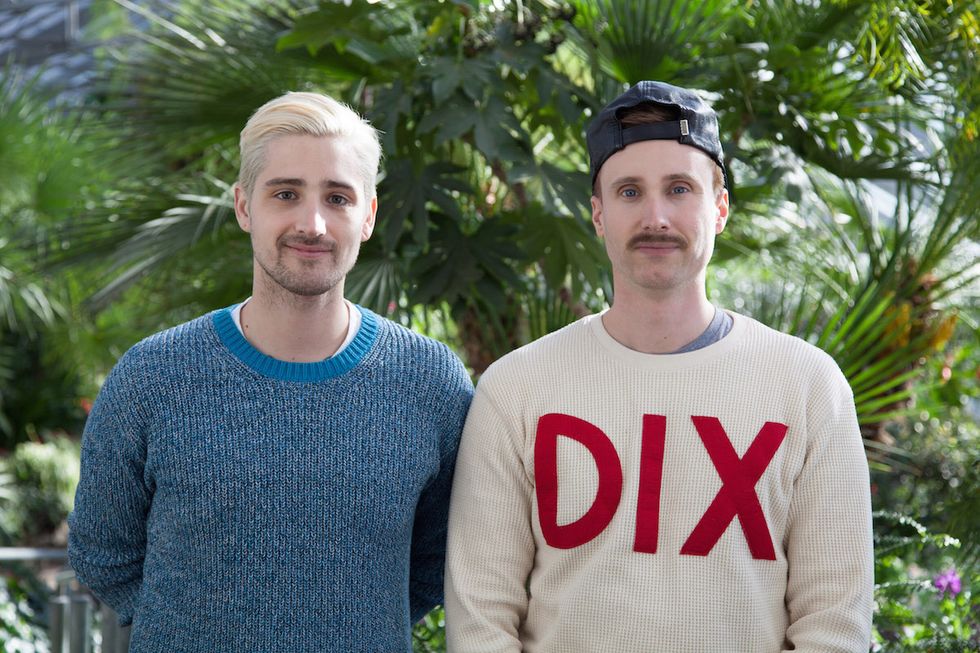 Andrew Walker and Kris Aaron
The duo first started painting antique ceramics they'd pick up at flea markets for fun but after their collection expanded to 20 pieces, they started sharing their work on Instagram. After some encouragement from friends and followers, they decided to try their hands at selling the pieces, signing up for Boozar: Gladstone's Night Market in July 2015, a monthly art fair for artists and crafters in Toronto. At the time they boasted pieces like a "Cock Monster" saucer, a "Yass Kween" plate with Queen Elizabeth on it as well as a series of "Kiss, Suck, Rim" tea cups." "We almost sold out at the fair," Walker says. The pair expanded into a series of bondage-themed works and, later, a few pieces inspired by RuPaul's Drag Race, which caught the attention of the drag community and were featured at Art Gaysel, a group show during Art Basel 2015.
Click through to see more Pansy Ass Ceramics - NSFW

"Three years ago, this was never a direction we saw ourselves going in," Walker says. That direction has also seen their work appear in exhibitions like the Queer Biennial II: Art and Action Through the Generations in Los Angeles, The Male Gazein Vancouver and their first solo show, Pansy Ass Ceramics: GAG at Toronto's Dais Gallery. But appropriating and updating the work of others was only sufficient for so long, and last summer, the entrepreneurial pair started taking ceramic-making classes. Now their pieces employ slipcasting with porcelain clay and are painted and often detailed with 22 karat gold luster.
"Our passion now is to make our own little tchotchkes that sort of play with those notions of ornamentation and identity building that we were doing in the past but with more original work," Aaron says. These new, original ceramics include the brand's "Butt Plugs & Rockets," "Bound Hands" and "Bound Feet" vases. They've also collaborated on a line with Tom of Finland and this spring the brand has launched an enema shaped vase as well as 'Total Top' pins and 'Bondage Boy' sweatshirts.
While the duo's pins and apparel allow them to reach a wider audience, the pair hopes to keep the art as a central component of the business. "The ceramics are the most important to us and we want to keep doing that and perfecting what we do and get to the point that we produce enough that it's more affordable," Walker says. "I see us showing bigger pieces and more installation type artwork instead of just selling a product," Aaron continues, explaining that these installations will likely be composed of many smaller ceramic pieces. However, Pansy Ass Ceramics may grow and evolve, expect the same tongue-in-cheek, proudly queer spirit to remain in all their works.
You can purchase your own piece from Pansy Ass Ceramics HERE.

All photos courtesy of Pansy Ass Ceramics