In case you haven't heard, Ezra Miller is the only person on the red carpet. His genderless, couture cosplay for the red carpet roll-out of Fantastic Beasts: The Crimes of Grindelwald has been shaking us to our core, as he serves exquisite, peerless look after look. He and his cheekbones, which are never not screaming, sent chills over Paris' premiere carpet, where he appeared in a head-to-toe black puffer, which had the Internet guessing everyone from Darth Vader to a dementor as his style inspo.
His blitzkrieg rolled on in London this week. He appeared to pay homage to Hedwig the owl (RIP queen), David Bowie, and a marshmallow — somehow coming out on the other side looking like a majestic glam rock bird king, and not a cotton ball someone used to wipe off silver nail polish. He pulled it off with the combination of immaculately tailored white trousers, white heeled cowboy boots and a fluffy feathered top, paired with a shimmering faceful of glitter and his Liza Minnelli locks in frosted spiky tips.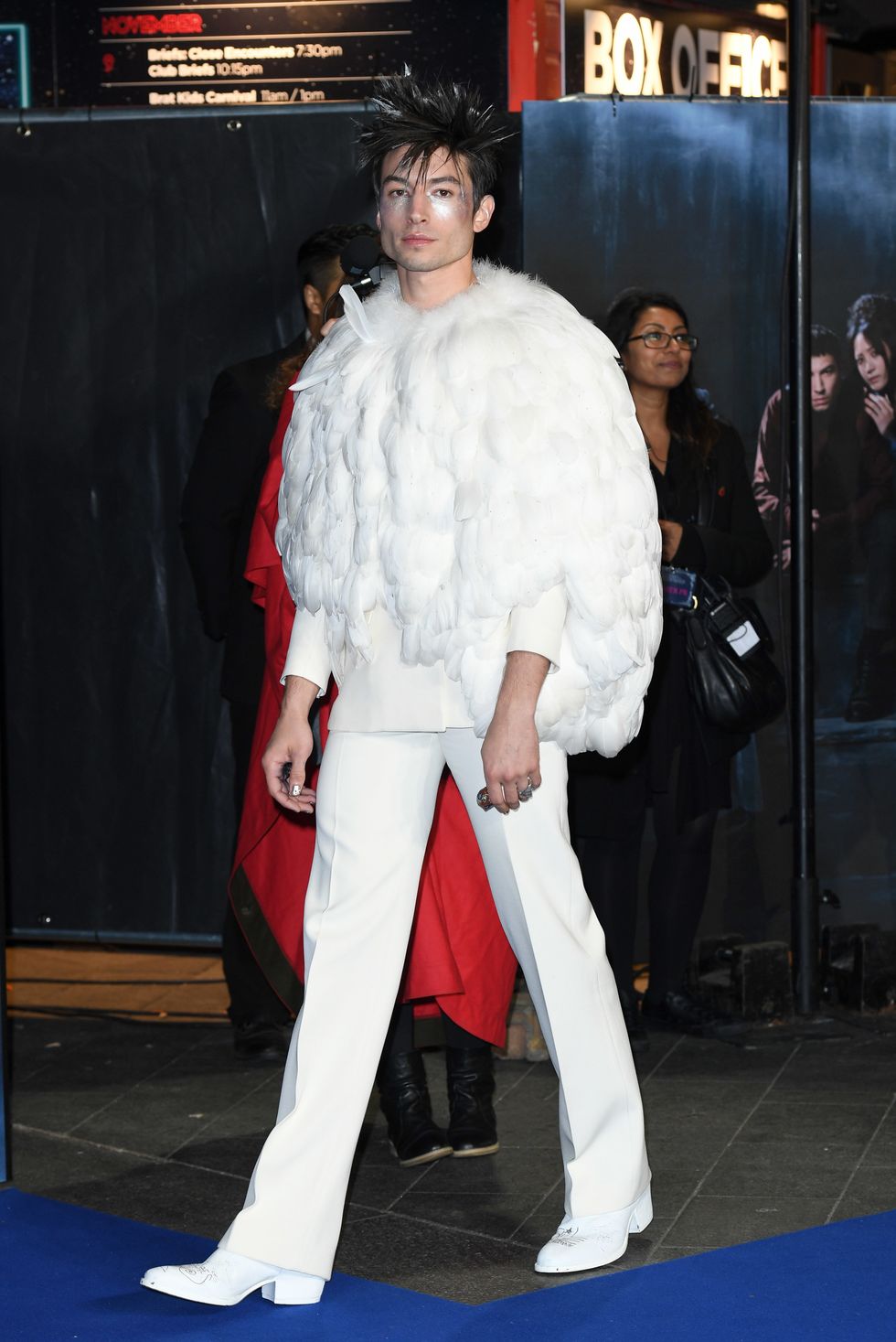 He (and his incredible stylist Jason Rembert, shout out) also added a subtle owl ring, and nerded out, penning "Avada Kedavra" (the Harry Potter curse of death) across his hands, like an angle of death.
It's chic as hell, but what really has us so obsessed with Miller is not only the actor's painless lack of regard for gender norms, but also how he's redefining cool: inventively merging fantasy with fashion, unafraid to take a risk.
Behold, but be careful not to look the angel of death in the eyes: