HBD Escada
In celebration of its 40th anniversary, Escada, which was founded by designers Margaretha and Wolfgang Ley in 1970s Germany, hopped the pond. It was the brand's first New York runway show, and also served as something of a comeback. Recently installed creative director Niall Sloan is imbuing the label with new energy, and we are here for it!
Daily Front Row
Attendees included Kate Bosworth, Amber Valletta, Nikki Reed, Skai Jackson, Elaine Welteroth, Olivia Palermo, Leandra Medine, and Angela Sarafyan (aka Clementine on "Westworld"). All wore Escada, though Bosworth, Valletta, Jackson, Welteroth, Palermo, and Sarafyan debuted items from the spring 2019 collection.
Bosworth donned a polka dot ruffled cocktail dress, Valletta wore a white double-breasted blazer dress, Jackson was in a graphic pink and green sequined skirt, Welteroth a white linen suit, Palermo a black skirt with heart clasp, and Sarafyan wore a floral wrap dress. Reed's husband, actor Ian Somerhalder, came along for the ride. Supermodel Joan Smalls walked the show.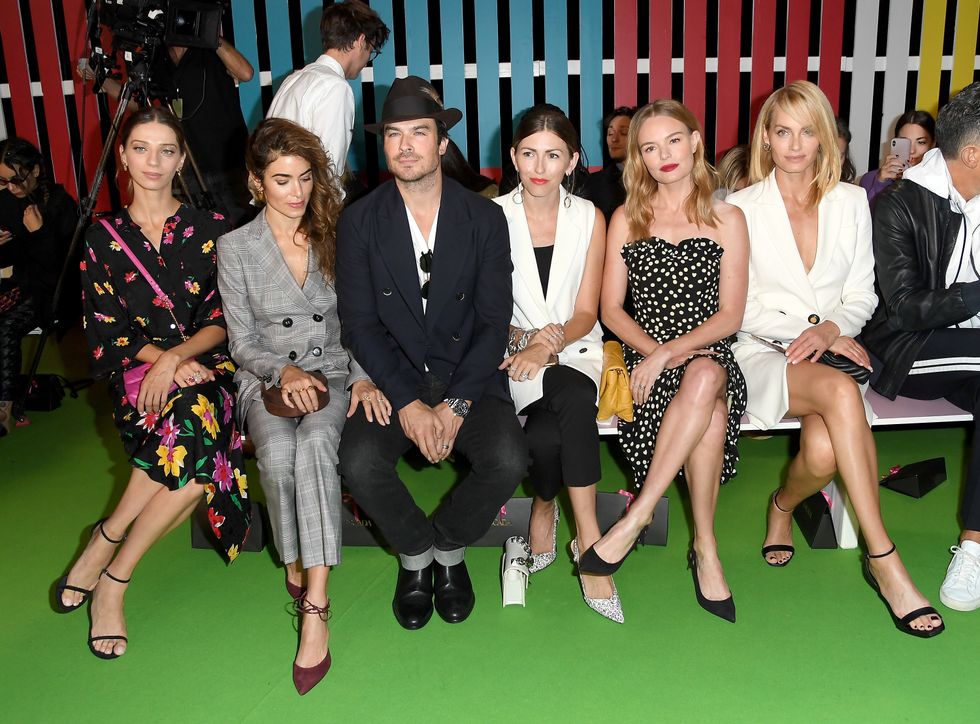 Angela Sarafyan, Nikki Reed, Ian Somerhalder, Kate Bosworth, Amber Valletta
'80s Ladies
Escada tends to be associated with styles of the 1980s. But for spring 2019, Sloan referenced the vault while modernizing the clothes. They were relaxed, easier than the buttoned-up aesthetic the label is known for, while still maintaining an essential Reagan-era DNA: shoulders were big, suits were powerful.
Wild Horses
Show notes stated that Sloan was inspired by the tale (and mane) of the label's founding. The Leys named Escada after a particularly spirited racehorse, and so the spring 2019 show took on a distinctly horse girl-style theme. The set was designed to look like a racetrack, and even incorporated a grass runway.
Photos via Imaxtree / Front row image via Getty