In observation of All Hallows Eve, PAPER has asked 6 New York-based designers to sketch costumes that embody their aesthetic. Paying tribute to beloved paintings, referencing characters from favorite movies, and reinventing Halloween archetypes like ghosts and vampires, the group treats us to fantasy looks that range from sinister to sweet. See each designer's sketch, below.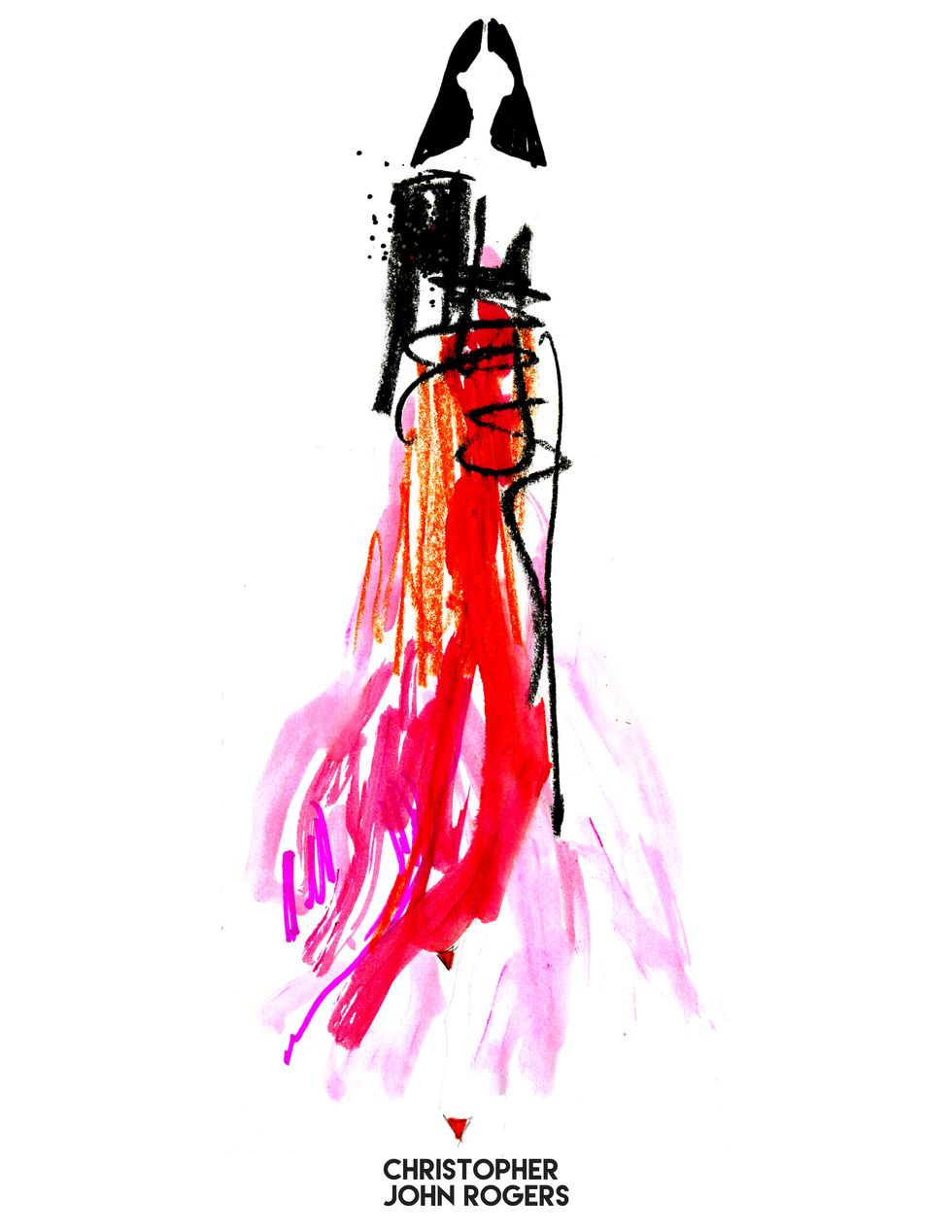 Christopher John Rogers — Esmeralda from The Hunchback of Notre-Dame
In Victor Hugo's gothic novel The Hunchback of Notre-Dame, Quasimodo is instructed by the evil Archdeacon Claude Follo to kidnap Esmeralda to satiate his aberrant lust for her. In Christopher John Rogers's high-glamour take on the French-Roma character, she's gutted and set ablaze by the Hunchback in a fit of rage."But you know she didn't die — she crystallized," he muses. "And now she's a glamazon-bitch ready for the runway."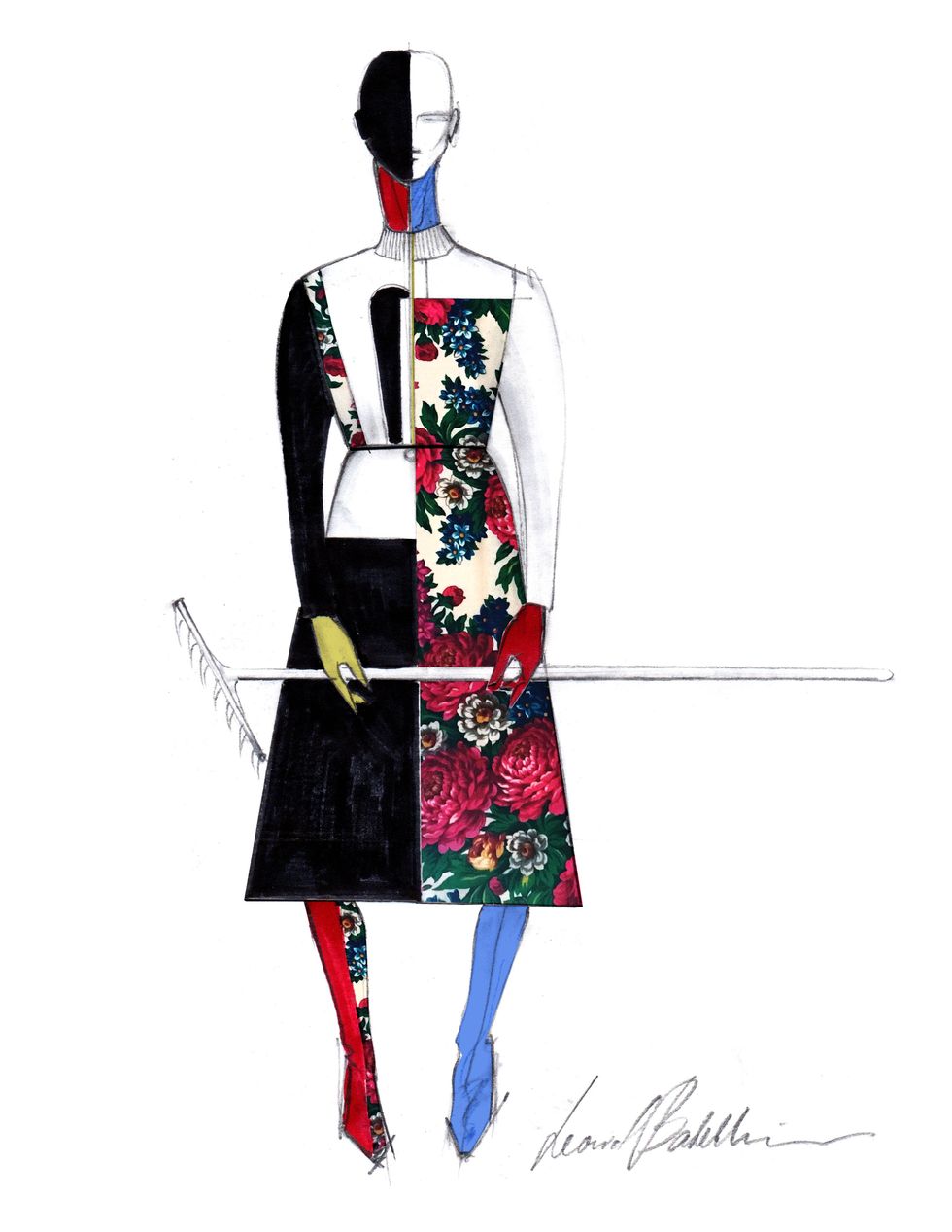 Occhii by Leonid Batekhin—Woman with Rake by Kazimir Malevich
Moscow-born designer Leonid Batekhin turns industrial waste scarves from Russian factories into malleable unisex pieces for his label Occhii (named after the Russian word for eyes). Works by the late Neo-Supremacist artist Kazimir Malevich inspired the designer's debut collection and resurface for Halloween. Here, Batekhin reinterprets the avant-gardist's vibrant 1932 painting Woman with Rake by working in the kerchiefs of his home country.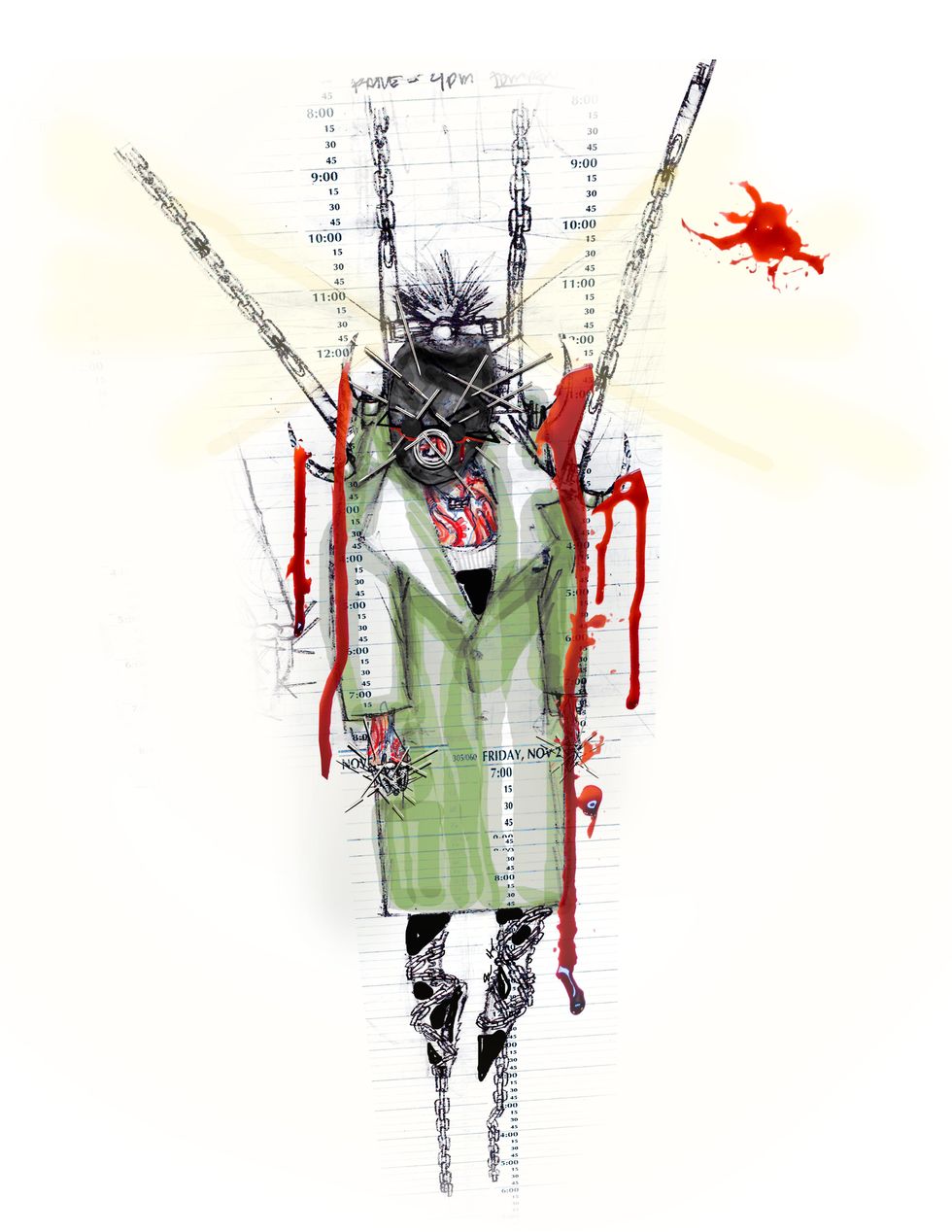 Chris Habana — Pinhead Meets Baron Vladimir Harkonen
A hybrid of his favorite sci-fi and horror characters — Pinhead from the 1987 film Hellraiser and Baron Vladimir Harkonnen, the portly antagonist in Frank Herbert's 1965 novel Dune— Chris Habana's flashlight-topped, prickly illustration is more than a fantasy costume. "I'm actually going to have a similar look to this tomorrow night," he says on Halloween Eve, admitting that he sketched the look in his planner. "I used the assignment to test out how my outfit is going to look."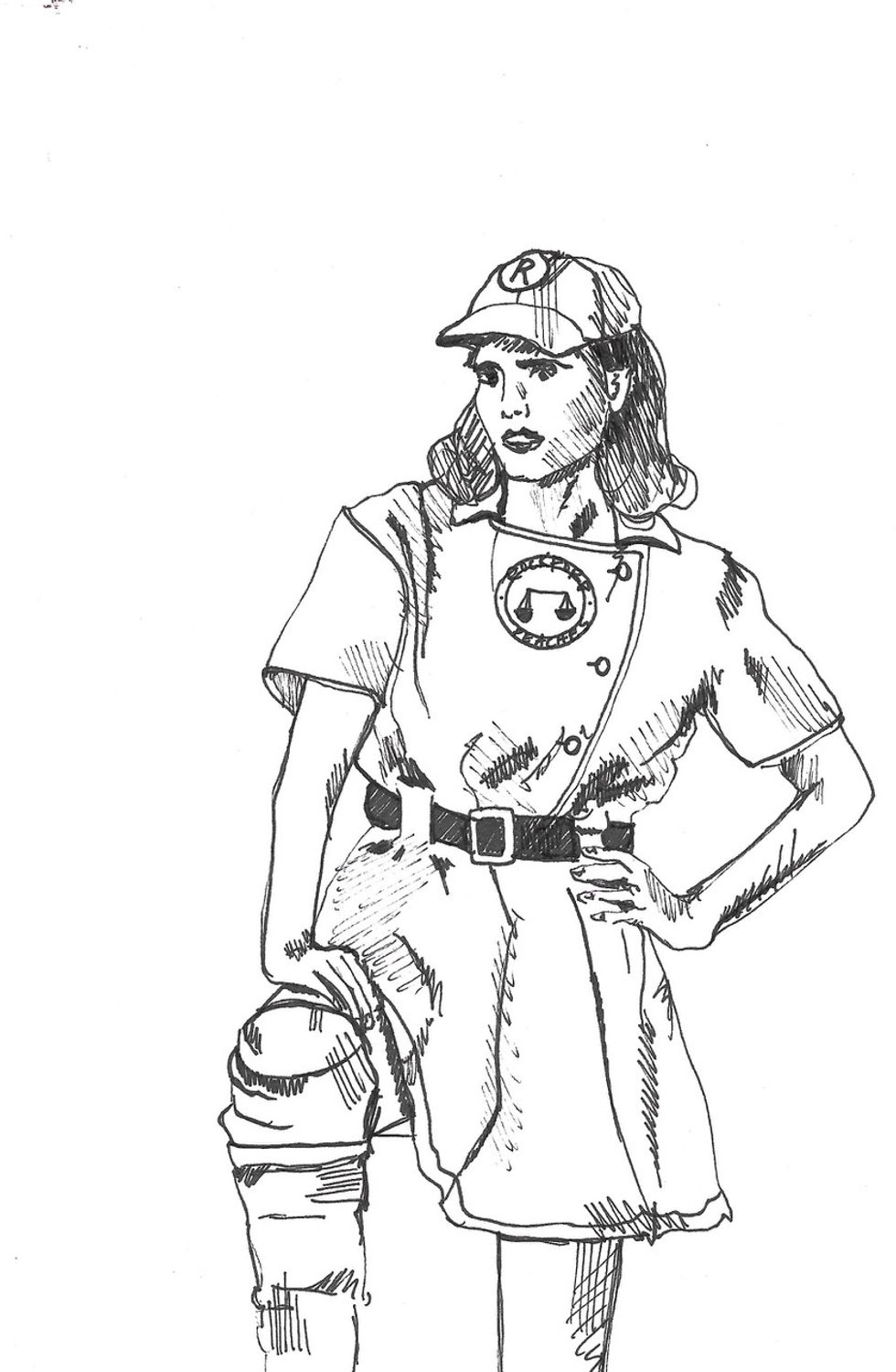 Lorod by Lauren Rodriguez — Dottie Hinson from A League of Their Own (1992)
Lauren Rodriguez, the designer behind womenswear label Lorod often looks to historic American garments for inspiration. Her costume pays homage to the intrepid Dotti Hinson from A League of Their Own(1992). "The film is set during World War II when men were off fighting at war and women in the Mid-West were given the opportunity to play baseball in their own league," Rodriguez explains. "I always loved the wardrobe in the film and this period of women's sportswear is a point of reference in our upcoming pre-fall 2019 collection."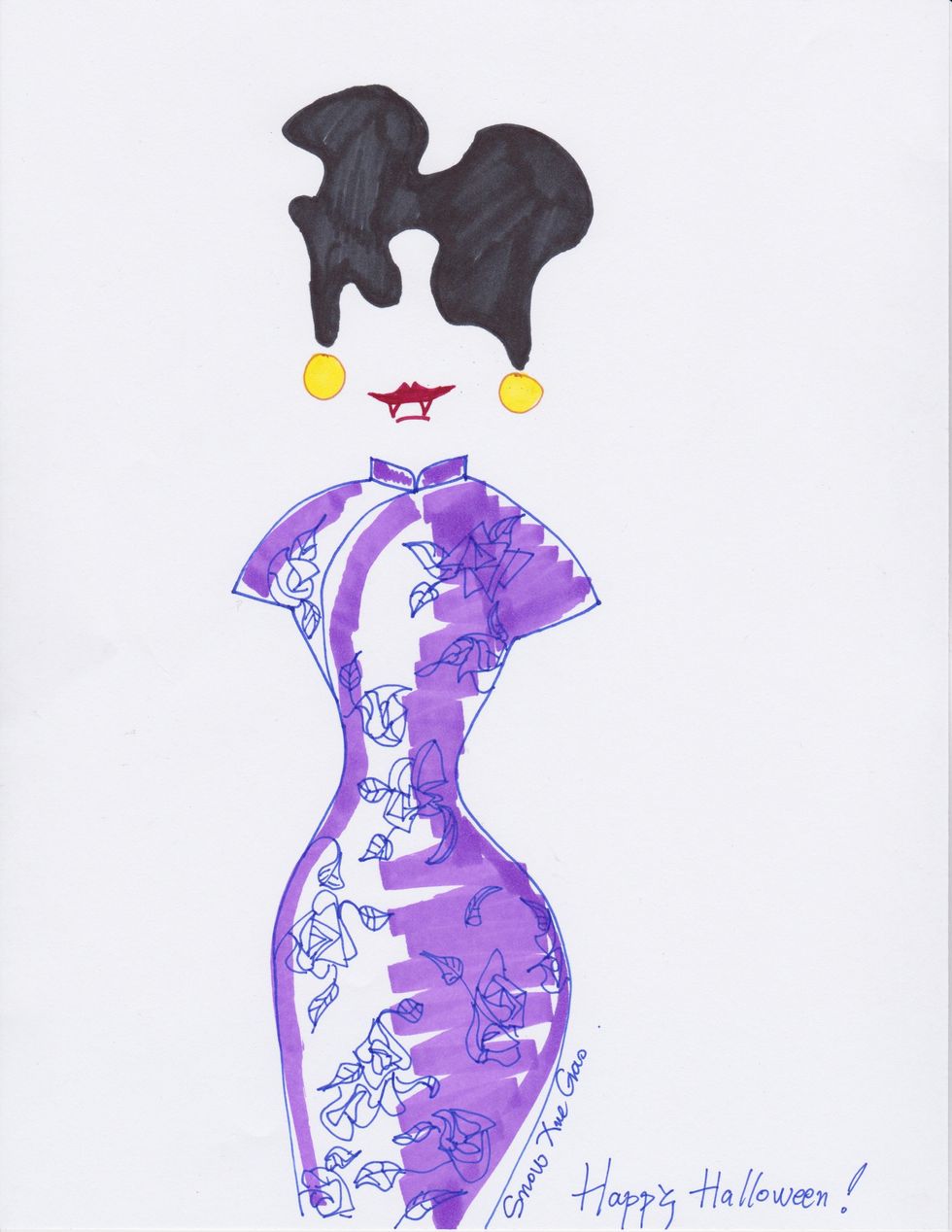 Snow Xue Gao — Su Li-zhen fromIn The Mood For Love (2000)
Hong Kong in the 1960s is Snow Xue Gao's happy place. The period's qipao dresses and costume jewelry appear in the Beijing-native's namesake collection in a fresh way each season. Paying homage Wong Kar-wai's film In The Mood For Love (2000) — a romantic tale about a journalist and a secretary who fall in love after their respective spouses have an affair together — Gao gives the protagonist Su Li-zhen vampire fangs that would send her cheating husband running for the hills.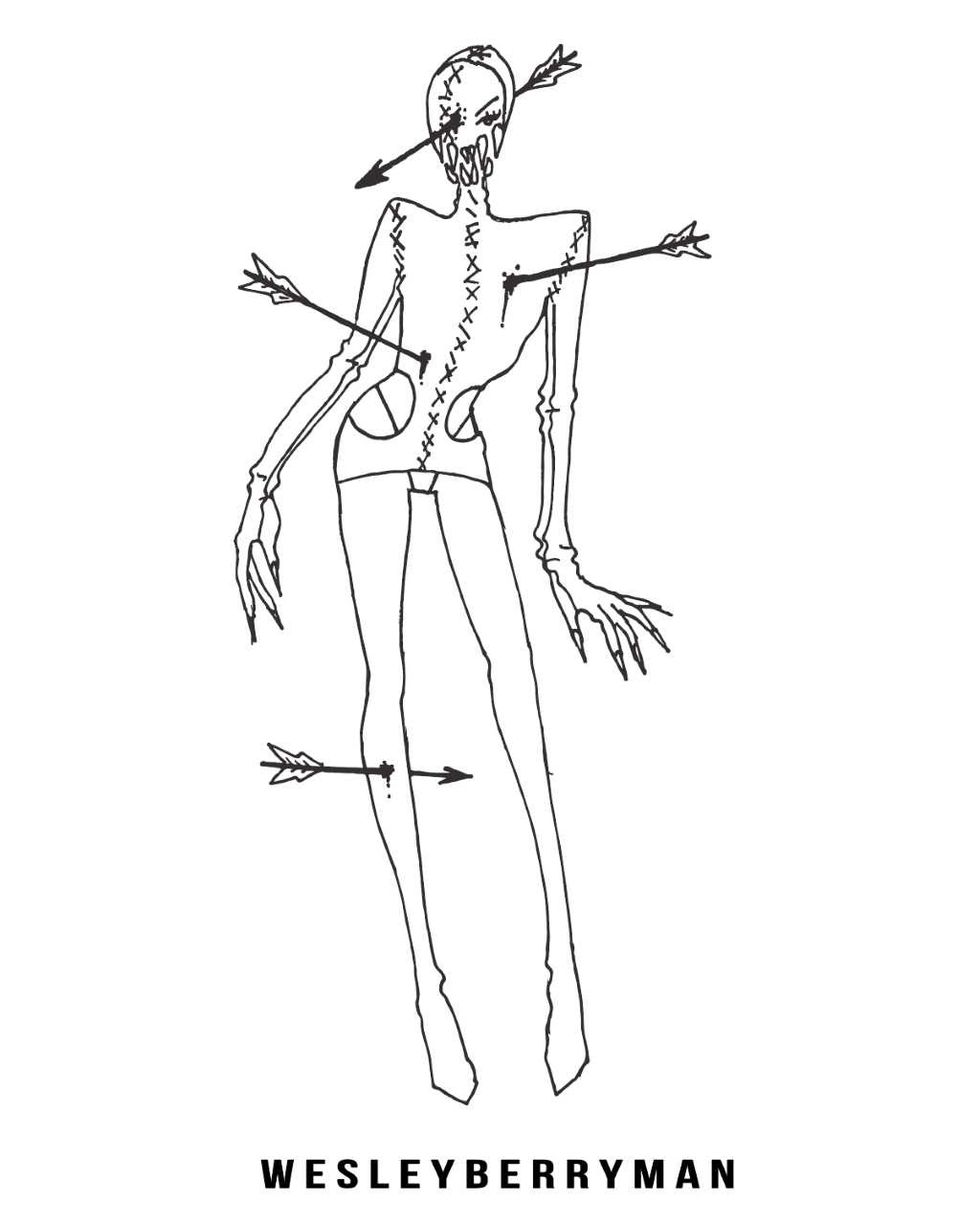 Wesley Berryman —Martyr Hooker Ghost
Wesley Berryman, the soi-disant emo kid turned designer from Tennessee, has created bewitching custom ensembles for Beyoncé's On The Run II Tour wardrobe, an FKA Twigs performance, and Bella Hadid's cover shoot for the 2016 Winter Issue of PAPER. He's brought the same noir magic to his Saint Sebastian-esque Halloween costume. "She's a ghost of the call girl she once was," he says of his Biblical martyr bound to walk the earth for rest of eternity. "She still has time for a fresh manicure before devouring the souls of those who condemn her."
Sketches Courtesy of Designers