When asked to describe the ethos of his namesake jewelry line, NYC-based designer Chris Habana says, "anything but 'easy.'"
"We like challenging the norm, we like making people think and having them be intrigued by things," he says about the boundary-pushing, fetish-indebted line, which features everything from nipple pasties to rings made to resemble a hand jerking off a penis. "Moving thoughts to other realms, people might not have necessarily thought about before."
Case and point: For the brand's Spring 2020 collection, Habana and the folks over at camming site, CAM4, decided to put together a month-long pop-up modeled after a high-end sex shop in the Lower East Side. Hawking collections from Habana, CAM4, as well as friends à la Zana Bayne and Walter Van Beirendonck, the store also touts interactive features, such as a selfie-ready bed. Additionally, Habana hosted a kick-off party as a part of the store's weekly party series, which also featured activations such as a mock glory hole filled with giveaway prizes, a stage with a saddle, and a presentation of the new collection modeled by Amanda Lepore, Uglyworldwide, and François Sagat.
And though the party should've been a celebratory event, Habana recalls the damper put upon the opening thanks to the numerous roadblocks he and CAM4 experienced to even get to that point. Though they purposefully designed the store to be an "accessible" experience — i.e. "sexy, but not sexual" — from the get-go, Habana had trouble securing a venue for the shop.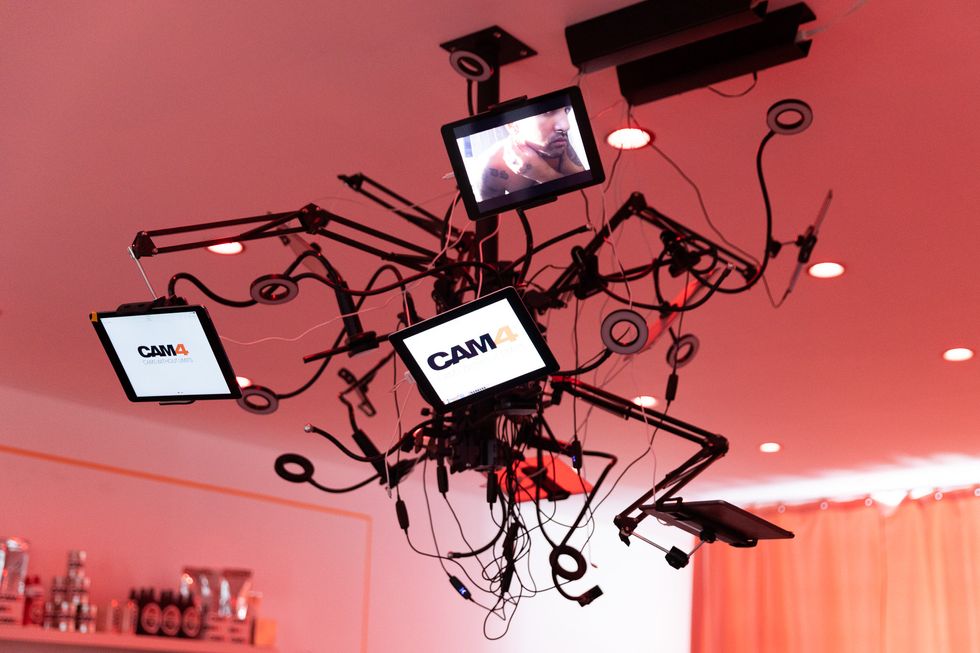 "I realized people are really not receptive to any kind of content like this. They don't want to even hear about the nuances for some sort of activation in their space," he says. "There were a lot of hard no's."
Eventually, they managed to secure the space at 151 Ludlow, though the store has also been fielding "a lot of complaints from neighbors" since the opening — something that still mystifies Habana to an extent.
"Literally, when you walk in, it's accessories and clothing. Yes, there's a bed in the window, but from a child's perspective, it's literally just a bed," Habana explains, before mentioning that people have begun stickering the windows with slogans like, "Children Live On This Block."
"We were very cognizant of making something [that passerbys] wouldn't be offended by, but we've had people telling us that the sex store around the corner covers their windows... but they only carry sex toys," he continues. "We're, for the most part, an accessory store. There may be sexual components to it but, at the end of the day, we're a retail shop."
"I feel like the world is getting so closed off these days and no one wants to talk about it."
That said, Habana was heartened by an instance in which a mother came in to complain and "after finally looking around, she was like, 'Oh, you're right,'" he says. "She came around to it."
After all, for Habana, the main goal of this partnership with CAM4 has always been about "starting a conversation, not ending them or closing them."
"I feel like the world is getting so closed off these days and no one wants to talk about it," he says. "Even for that child to talk to their mom, if they're of age to talk about sex and that kind of stuff, please talk about that. Don't demonize or stigmatize it."
Unfortunately, what's become evident to Habana in the midst of this process is that his desire for dialogue isn't something shared by most others. Most discouraging has been the fact that the official @chrishabana Instagram was taken down the day before they debuted the shop.
And while the Instagram has been flagged before, Habana says that they've always "complied with everything." However, about a month ago, he says things began to "feel a little more pointed," as posts he had done several years ago began to get flagged, even if they adhered to the platform's strict no-nudity policy — "they were just deemed too sexual."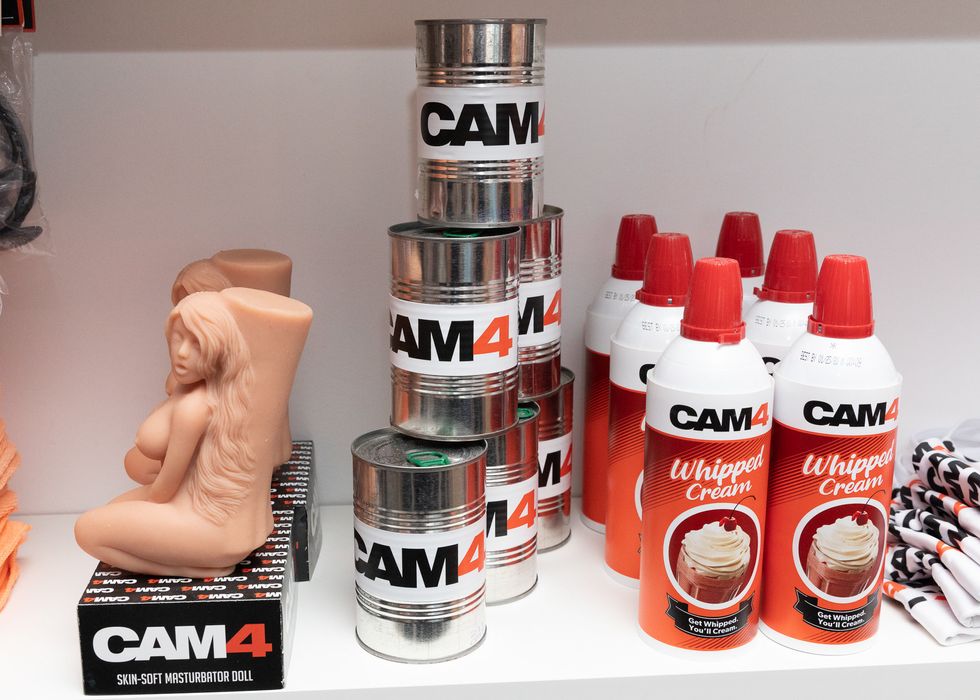 And while Habana says the reporting died down for a while, a few days before the presentation itself, they began posting stories about CAM4's involvement and teasing the opening — at which point, the Instagram was "completely deleted," despite the fact that they consciously complied with all the platform's guidelines.
"I think things are starting to change," Habana says, alluding to what feels like an indiscriminate ban on anything sex-related. "It feels like that benchmark [of their no nudity policy] is now gone. Instagram is now just looking at people they may deem a 'little too sexual,' and completely taking them down."
CAM4's head of Brand Partnership & Business Development, Larry West, also has qualms about Instagram's handling of the entire situation. In addition to mentioning CAM4's own removal from Instagram a month prior to the store opening (despite a strict adherence to the no nudity policy), he also brings up the blurred screens the platform regularly applies to potentially "sensitive content" — wondering why anything porn or sex-related "aren't even given the option to create censorship screens."
"There's this judgment that the adult industry or anything sexualized is dirty and needs to be removed immediately."
"There's this judgment that the adult industry or anything sexualized is dirty and needs to be removed immediately," West says. "Whereas, you have content of animals being tortured or people being decapitated, but people owning their sexual identity are being completely removed? It's super unfair."
Added to the fact that it seems as if "certain adult performers can definitely put out more adult content, but never get removed," and Habana has grown increasingly frustrated with the situation.
"I'm not sure if it has to do with reach or follower count, but it feels very much like, 'You can't do this,'" he says. "But, at the heart of it all, we are a jewelry brand. We're definitely on the edgy side, but we make and sell jewelry."
Unfortunately, the only solution right now is for Habana to put his work-related content on his personal page and the Instagram for his secondary @myenemyjewelry line, especially since they've discovered that "we can't even sign up again under the Chris Habana name at all."
Not only that, but Habana also questions the timing of this deactivation, pointing toward this incident as "indicative of how conservative the world is becoming," especially in the post-FOSTA/SESTA political climate.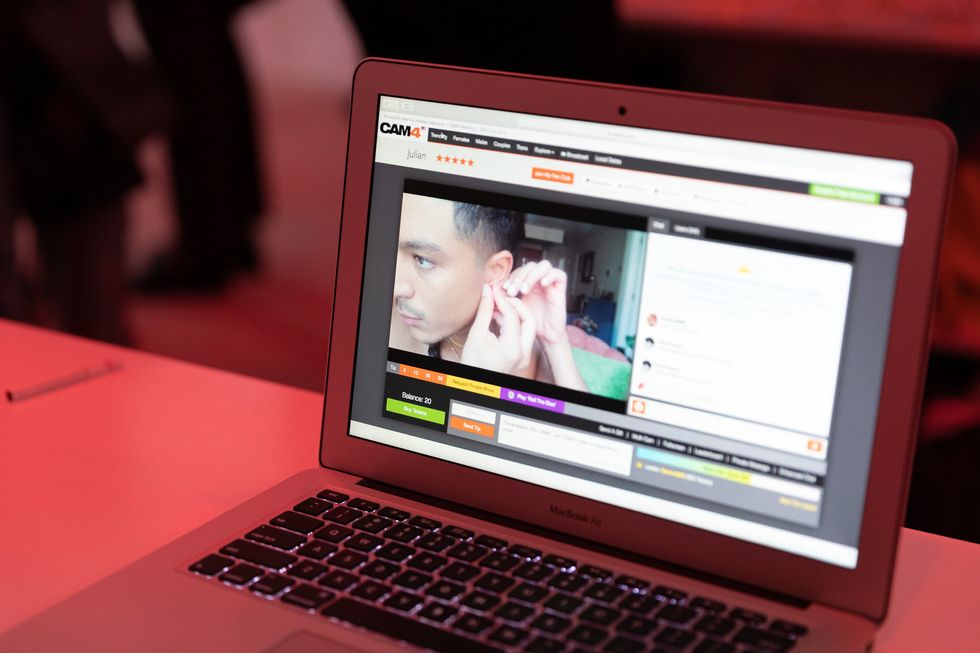 After all, this isn't the first time Habana has collaborated with the popular camming site. Earlier this year, he linked up with CAM4 and dating app HUD for another NYFW presentation dubbed "Send Nudes," which featured a Ryan Schaefer-constructed sex toy sculpture, an in-house dungeon, and a live flogging show — to much acclaim. So what exactly changed?
Well, it's still unclear, as Habana says no amount of appeal will get Instagram to engage in any kind of discussion. And, unfortunately, Instagram isn't the only company to have taken what appears to be a hard-line stance against the brand.
According to Habana, in the wake of the shop's opening, his business bank account was cancelled. And despite going to the executive offices, he "still doesn't know the exact reason why this happened."
The only definitive thing he has learned through independent research is that "banks are not encouraged to give any sort of reason," and there is a certain set of criteria for having an account cancelled. The first two reasons — if the account only deals in Bitcoin or cash transactions — are both things the brand does not do, which means their account was likely cancelled for the third reason, aka the bank has deemed the business "unsavory."
It's an issue that's long-plagued sex workers, but to Habana, the fact that his jewelry brand is also being shut out in this manner indicates the reverberating impact of FOSTA/SESTA.
"All these other industries are getting so fearful that the government may come down on them and may get rid of anything that may be considered sexual."
"All these other industries are getting so fearful that the government may come down on them and may get rid of anything that may be considered sexual," he explains. "Even people who give sex advice are considered soliciters right now, and that, to me, is really upsetting because that's for someone's wellbeing."
And though he still hasn't heard anything from his former bank, Habana says he's had to push that issue to the side and just "keep plugging along [with the store opening], because that's the only thing we can really do right now."
That said, both Habana and CAM4 are determined not to let these roadblocks completely hinder their presentation. As West says, it's just highlighted how much education is still needed. Especially, when it comes to the stigma surrounding the CAM4 platform which, at its core, is more about facilitating connections between fans and performers.
It's up to us, the people who want culture to move and progress, to stop all this regression."
"CAM4 has never been about straight porn, it's about letting [performers] form connections with other ppl and decide what they want to do with their own bodies... given a safe space," he explains. "It's about the idea of creating your own brand, creating things your viewers like... a focus on the freedom of expression. Taking control of body and doing the things you want to do."
As for Habana and his brand, while these challenges have been detrimental to his business, he's still determined to keep "championing for people on fringe" and those "who are willing to help the culture progress."
"It's up to us to start this conversation. It's up to us, the people who want culture to move and progress, to stop all this regression," Habana pauses for a moment, collecting his thoughts. "Now, it's up to us to fight to keep where we are safe. And, hopefully, we can move forward in the future."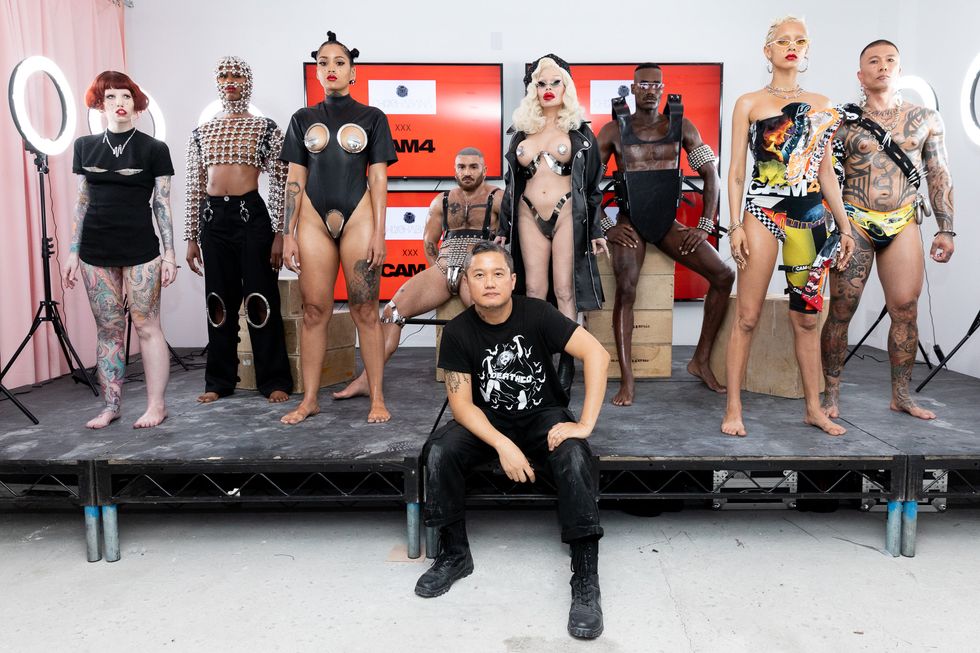 Welcome to "Sex with Sandra," a column by Sandra Song about the ever-changing face of sexuality. Whether it be spotlight features on sex work activists, deep dives into hyper-niche fetishes, or overviews on current legislation and policy, "Sex with Sandra" is dedicated to examining some of the biggest sex-related discussions happening on the Internet right now.