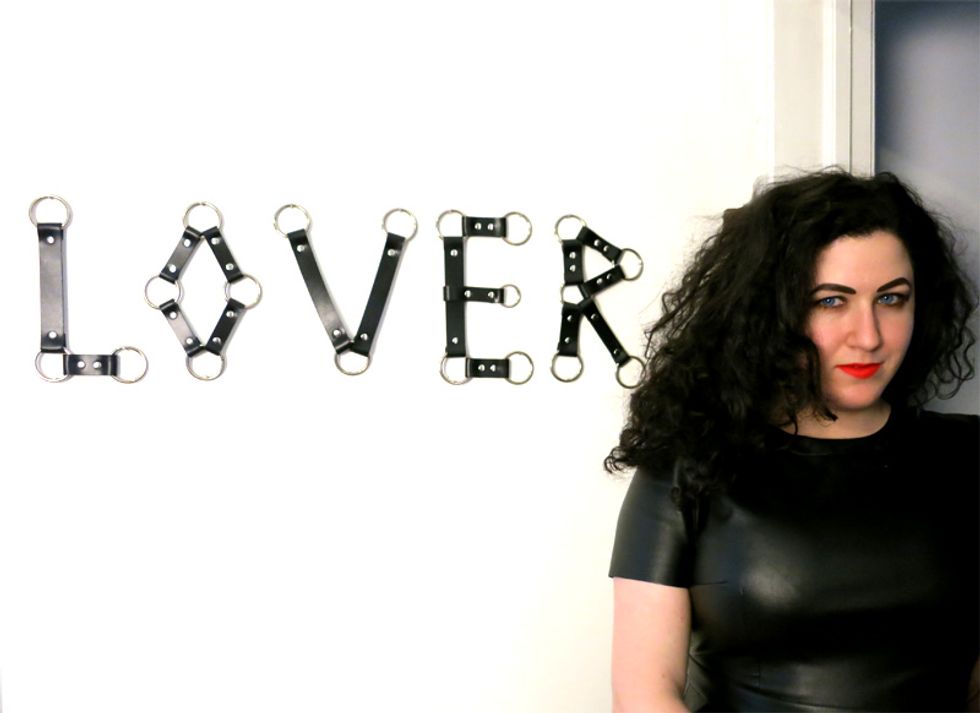 In our new series, Ladies Who Lunch, cook, co-founder of catering company bigLITTLE Get Together, Paper Beautiful Person and Marc Jacobs' personal chef, Lauren Gerrie, will be whipping up lunch -- and conversation -- with some of our favorite New York City gals.
I love leather as much as the next girl, but when I first saw the work of designer (and
Paper Beautiful Person
)
Zana Bayne
, my mind was blown with how sexy yet restrained her pieces were. Born in Seattle, Zana's family moved to Marin County when she was a pre-teen before eventually settling in San Francisco proper when the designer was in her teens. Not one for high school, Bayne began taking classes at UC Berkley and at 16 took the high school proficiency test in order to graduate early. After some time in the arts she moved to Berlin for four months with an eventual goal to live in NYC. When she arrived in the Big Apple she started out in retail while continuing to make the harnesses she had first designed in San Fran to supplement her income (and which she sold on
garbagedress.com
, her original blog). With rapidly increasing interest from customers, she launched an etsy store, which has evolved into a slick, e-commerce site that shows off her expanding collection of harnesses, handbags, and even men's accessories.
We sat down together in the Brooklyn apartment Zana shares with her boyfriend, photographer Todd Pendu, and whipped each other with fetish toys... just kidding! (But wouldn't that be fun!) We talked about fashion, travel and nostalgia food.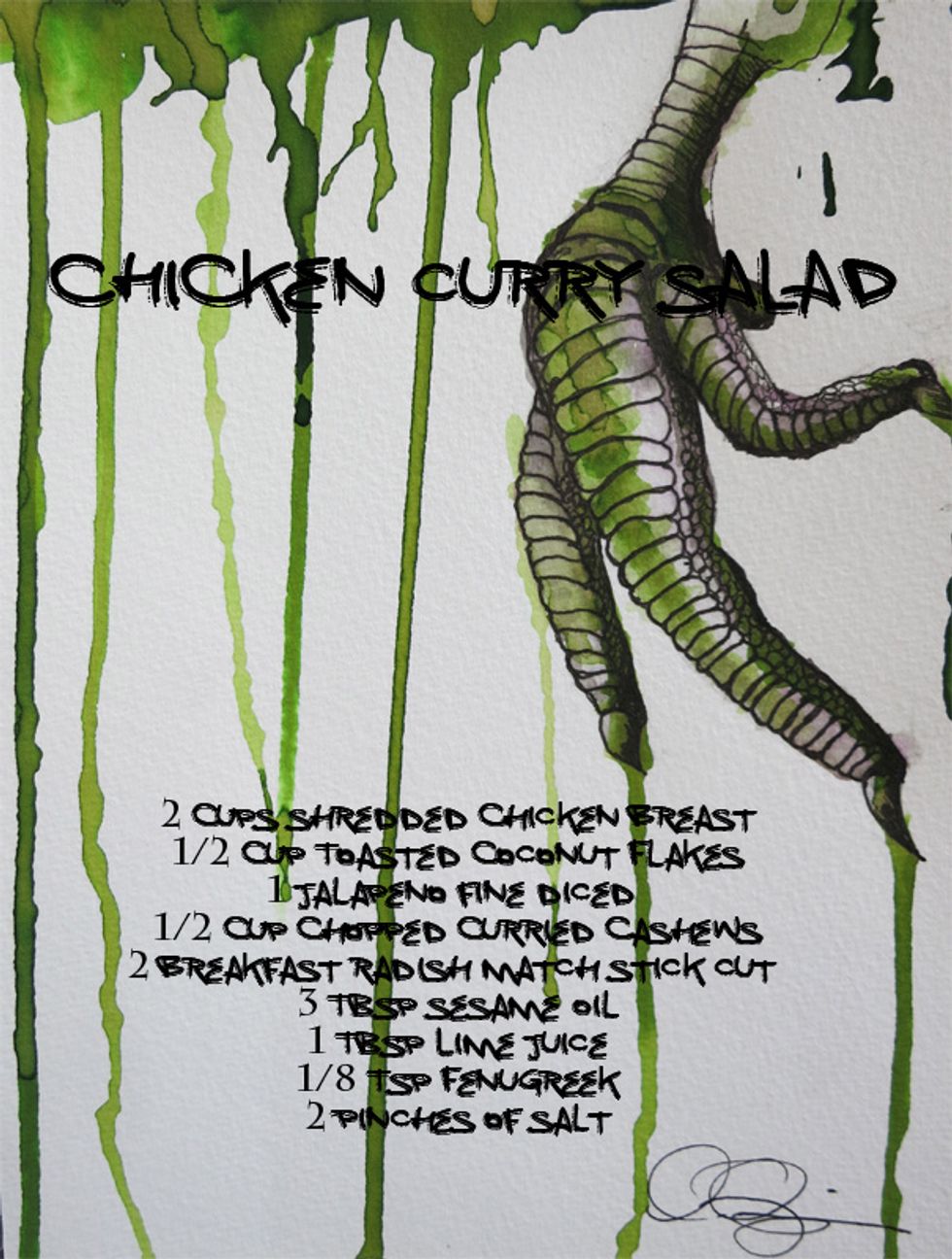 MENU
*
Chicken Curry Salad with Cashews and Radish
*
*Not Picture: Pea and Mint Puree with Pho Broth

When I think of leather and harnesses it seems so stiff, but your work is so sensual and delicate.
Traditional bondage harnesses are meant to keep you from moving, but my work encourages movement. My pieces always promote that. I design for myself in mind, but I like to imagine other women and how they would wear things.
A lot of celebrities are fans of your work. What have been some of your most surreal celebrity moments?
When Marina Abramovic wore one of my pieces for
V
Magazine -- that was a serious art school freak out. Also when I met Rei Kawakubo, founder of Comme des Garçons. She came to visit my studio with her team and ended up buying herself pieces, which was so flattering. Like next level. Then to round it off, BEYONCE! We got to watch the show stage side, which was magical. I also made Lady Gaga full body harnesses for her and her nine dancers for her show, which was cool.
Home and food -- what do they mean for you?
My mom is probably going to kill me because she is such a good cook, but as far as being a little kid [and remembering food], there is this salad dressing by Newman's Own [I'd have] on a simple green salad. It's this flavor that's so specific. I never had ranch and I don't like it, so the vinegar dressing is my childhood. I was such a picky eater as a kid. I would wipe the sauce off of pizza. Also Jewish holiday food is very nostalgic. Christmas we would always have lasagna -- I could just eat ricotta out of the container, it's so good.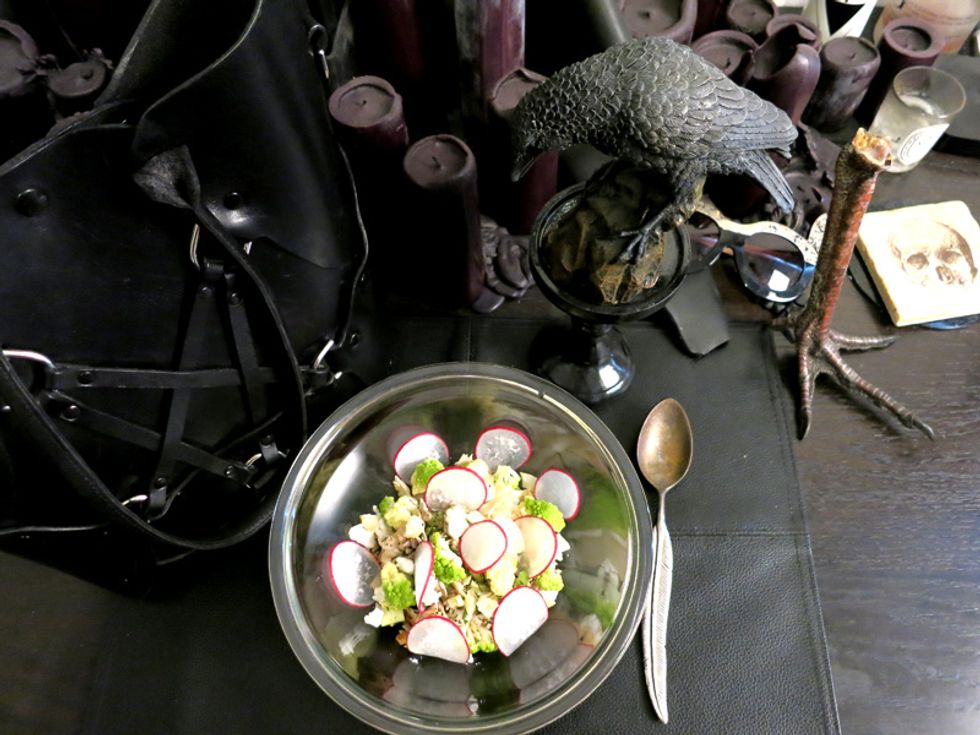 Lunch!
So what is you favorite thing that your mom makes if she is such a great cook?
Interesting bruschettas. She always uses great farmers' market ingredients. When I go back to SF I like getting tacos in the Mission or ice cream from
Swensen
's. Oh, and triple chocolate -- I am a sugar person.
What's your favorite sweet thing?
Can't go wrong with plain old Hershey's kisses or super fudge chunk ice cream by Ben and Jerry's. I work right near Dean and DeLuca and I try to avoid their pastry section but they have a banana cupcake with whipped nutella frosting [that I love].
If you could go anywhere on vacation, where would you go?
St. Bart's or the Amalfi Coast. Or a car trip from Monaco up the coast of Italy. I don't know how to drive so Todd, who is a great driver, will man the wheel.  Mediterranean flavors are my favorite so I know the food will be amazing
Favorite NYC restaurants?
I love
Fatty Crab
and
Barrio Chino
.
Favorite condiments?
College me would say ketchup because as a kid I never had it so when I was in college I put it on everything! I don't do mustard or mayonnaise.
What are your food nightmares?
Avocados, sandwich tomatoes, and mustard!
If you could learn how to make any food or dish, what would it be?
ANYTHING. But to be specific, I think I should learn how to prepare fish properly. Also how to present food -- I can't even put crackers and cheese on a plate nicely.
If you could have lunch with any other woman, who would it be?
My best friend. She's pregnant in London right now and it would just be good to have lunch with her.
Last question: what is the biggest misconception about you?
I think a lot of people see leather and they think of it as niche or S&M. I'm all about finding a way for people to integrate my work into their lives. I love all sorts of people and I have humor about what I do.