Following the release of her ninth studio album Utopia, Björk performed a late night DJ set at Mana Wynwood to kickstart Art Basel Miami Beach. The music was naturally the evening's centerpiece (with cuts of Junglepussy's "Bling Bling," and a sped-up version of Whitney Houston's "How Will I Know"), but like with all Björk appearances, her fashion made for a visceral, multi-sensory experience.
She wore a pink iridescent dress, created custom by KAIMIN, whose Instagram bio labels the rising designer as a "Slut From The Future." Björk's stage outfit was intended to represent the "magical metamorphosis of a butterfly emerging from chrysalis," which echoes Utopia's blissful undercurrents and larger message of romantic rebirth. Paired with a matching medusa headpiece by James Merry, the singer's Art Basel look was aptly otherworldly.
We caught up with KAIMIN to learn more about creating Björk's bespoke piece, below.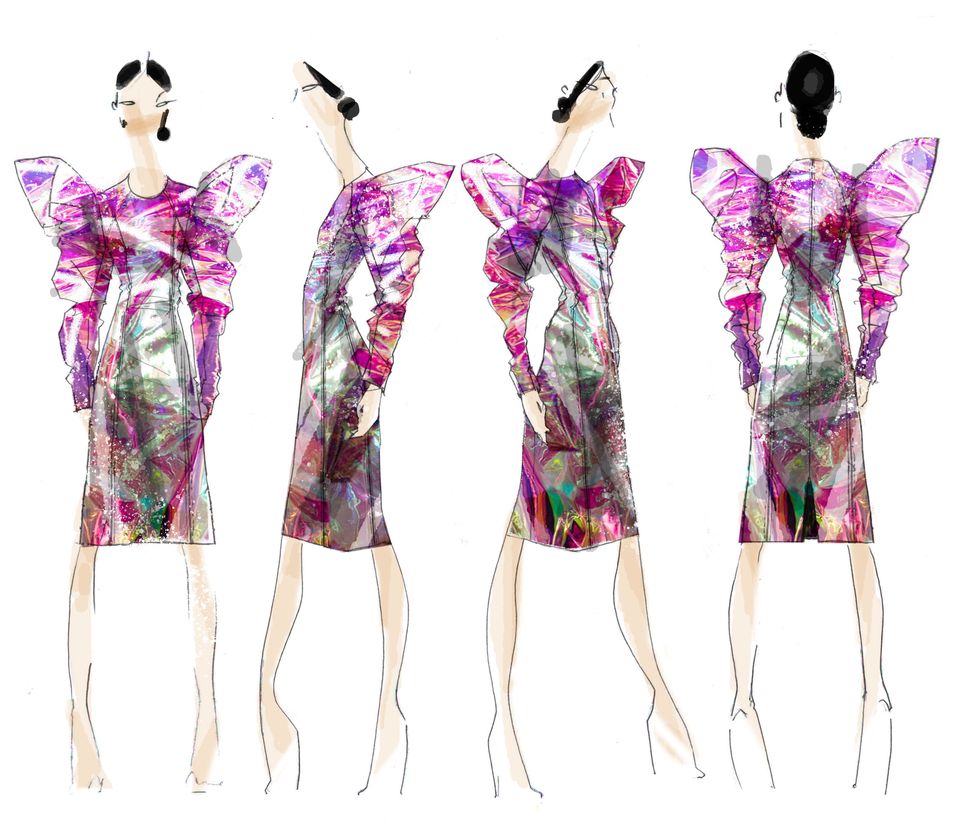 Illustration Courtesy of KAIMIN
How do you think KAIMIN aligns with Björk's aesthetic?

Björk has always been a massive inspiration for me and her work is vastly responsible for where I am today creatively. I find it a bit difficult to speak comparatively about one's idol, so I can't really comment on how our aesthetics may align — in my mind, she will forever be many levels above everyone else, as a true inventor. Björk has a multitude of talents and facets, and I've always admired her ability to draw from different areas to push creative boundaries. I have an unconventional clothing designer background and aim to widely explore with my collection, so maybe in that regard we're aligned. Honestly, I've never even dreamed of working with Björk and the fact that she's found something attractive in my designs is a life-long honor for me.
What was the process for creating this look?
Björk wore my collection for a recent performance, so I think she already had a good idea of what she wanted in this garment, which made the creation process fairly streamlined. She shared with me the key aspects: shapes, color, materials. She specifically liked the signature KAIMIN structured shoulder from my existing collection, so I tried to incorporate that element into her vision. I created several design sketches for her approval, from which came the finished product.
What elements of Björk's identity did you want to celebrate, and how did you want to elevate her?
Working on this and several of Björk's other garments, I was thinking about everything she is and represents as an artist. From my perspective, her work has no boundaries — she easily traverses genres and mediums. This plasticity has always inspired me to really enjoy the creative process, while trying to go further. I simply wanted to give my best with the design that Björk had envisaged and if my garment helped better materialize her vision for this project, it would make me quite happy.
You work with a lot of unconventional materials — is this integral to KAIMIN?
I work with a lot of innovative materials and the iridescent fabric is just one of them, although it tends to stand out quite a bit – that's intentional. The KAIMIN brand is thoroughly intertwined with digital communication and the virtual realm; we laud and lean heavily on technology in general. I think iridescent materials help advance this futuristic aesthetic. Also my designs are heavily inspired by architecture, so the slightly more rigid materials help create interesting structured shapes that, coupled with the shimmering colors, can look very different depending on the angle. This futuristic, punkish, and playful shape-shifting distills the KAIMIN essence pretty well.
What is KAIMIN's core DNA?
Technology has given people unprecedented ability to communicate who they are, opening up new and alternative frontiers. Fashion has now moved beyond just garments with an emphasis on the actual persona and the platform. My own artistic background is fairly unconventional for a clothing designer so I may be biased, but I think having a varied perspective is highly desirable. In that vein, I experiment and try to harmonize unlikely parings of colors, textures, shapes, and concepts. To harness today's multisensory overload, I believe self-confidence is paramount. It's ageless, genderless and all-encompassing. It's such an alluring human trait and really draws you in. If one is sufficiently self-aware and doesn't take things too seriously, wearing even the most extravagant of KAIMIN pieces will further empower and enliven them, and that's what I really wish to bring to my fans.