If the red carpet is a competition (it is), Broadway legend and Pose star Billy Porter seems to be the victor. At the Oscars on Sunday night, Porter, there to host pre-show coverage for ABC, had the most popular look of the night: a velvet tuxedo-gown hybrid by Christian Siriano. It was just so very glamorous! Everybody loved it!
The dress was a custom job, something that normally takes months of planning. But as Porter's stylist Sam Ratelle told PAPER, the look came together in just over a week. Apparently Porter got the call from ABC during New York Fashion Week, and he and Ratelle used the shows for research. They loved looks from Palomo Spain and Tom Ford, but once they saw Siriano's work, they both knew he was the one.
"We went to Christian's after party and told him this was happening, and we asked him if he wanted to be a part of it," Ratelle said. "Christian was like, 'absofreakinglutely,' and immediately got on board to do something custom."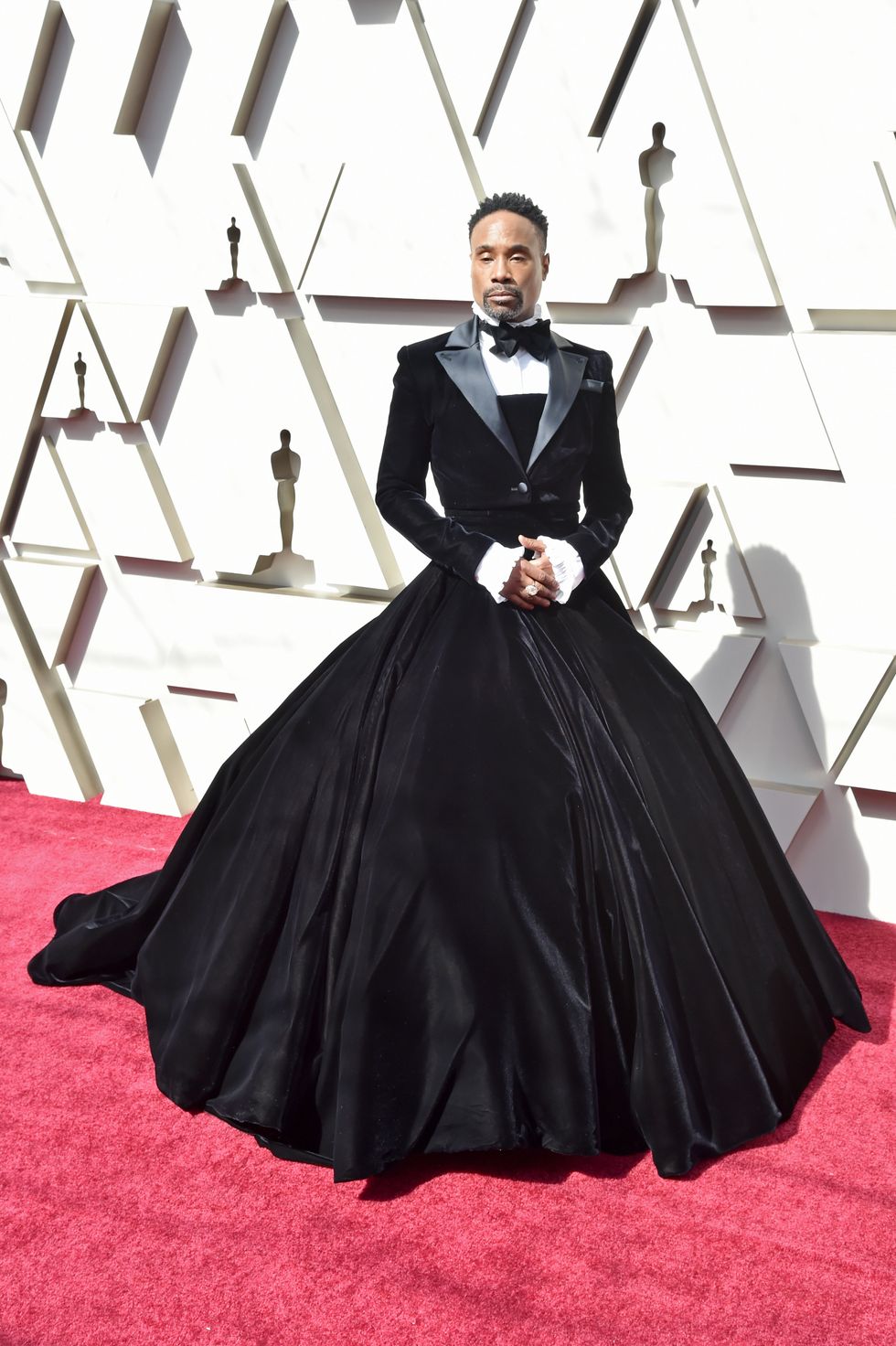 "We were certainly interested in playing with this aspect of masculine vs. feminine," Ratelle said. "What is gender? What does it mean? What is masculinity? What is femininity? And Christian thought it would be really chic to do this tuxedo look on the top and ballgown on the bottom."
After meeting with a "very open" Siriano on Valentine's Day, the design team got to work, using Ratelle's assistant as a fit model after Porter had to leave for Los Angeles. There was a small crisis when they learned the gown couldn't physically fit on the platform where Porter would be conducting interviews; a second outfit, with a full skirt changed for palazzo pants and accessories inspired by the late Karl Lagerfeld, was quickly constructed for the broadcast. Ratelle and the team at Siriano put in 18-hour days to get it all done.
But of course the evening dress stole the show. "We really wanted to play up this aspect of having a Black man in a ball gown at the Oscars," said Ratelle. "I don't really think that's ever been done before."
There was an immediate viral response. Porter was instantly crowned the best-dressed of the night, fitting for someone who, according to Ratelle, always wants to be a "living piece of art." He cited Renoir's "Madame Georges Charpentier and her Children" as inspiration, though the Internet quickly latched on to the idea that Porter, whose show chronicles the '80s ballroom scene, was paying tribute to ball legend Hector Xtravaganza.
"To be honest, we didn't know at first [about the similar look]," Ratelle clarified. "But we are so honored by that. Any time we could pay our respects to Hector, it's an honor."
"The fact that we finally get to celebrate somebody like Billy Porter getting to be who he is after so many years of being squashed and having his spirit stunted and his visibility stunted, is just so beautiful," he added. "To get to watch him flourish and finally be himself, it's just the most beautiful thing I've seen."
Ultimately, "we're all kind of gagged," said Ratelle. "We knew it was going to be a ripple effect, but this like an earthquake."
Red carpet photos courtesy of Getty / Pre-show photos by Santiago Felipe
Sign Up For The Morning PAPER