When Cher dropped the Jake Wilson-helmed video to her latest Abba cover, "SOS," we were gagging to see a bevy of guest stars in the all-women cast video, including Rumer Willis, Trace Lysette, Destiny Anderson, and last but definitely not least: Australian pop star Betty Who.
And of course, while we would've killed to see an undoubtedly bewigged and luminous Cher sharing screen time alongside the other women, ironically, the video embodies greater poignancy without her. That said however, Cher's larger-than-life presence is still greatly felt: the song's pathos of companionship without borders resonates with her earth-shaking vocal on top of it, but the video hones in on that message by casting a group of women who show up to support, and ultimately save each other during times of need. In an era of post #MeToo reckoning, messages of strength and solidarity among women are perhaps more needed and more important now than ever.
PAPER caught up with Betty Who to discuss the "SOS" video's themes, her relationship to character acting, and more.
How on Earth did it come about for you to be in this video? It was such a fun surprise when you appeared on the screen.
I know, so wild, right? Such an honor. Basically Jake Wilson who directed the video, directed my last music video, which was one of my favorite videos that I have ever done — for my song "Taste." Jake and I had just worked together over the summer and he texted me, "I can't believe I'm saying this, but I'm directing a Cher music video." I was actually supposed to be out of town but I flew in for this. I took the earliest flight I could at like 6 AM or something, from whatever show that I had the night before to get home, all so I could be in a Cher music video. When I showed up, Jake honestly didn't tell me anything about what it was going to be like, except that he had a bunch of ladies doing it and that I would be super psyched — I got there and spent the whole day hanging out with these incredible girls. We spent the entire evening ordering sushi and just blabbed. That was probably the best part about all of it, that us girls were just able to hang out and get to know each other.
Was Cher actually there on set?
No, I've never met Cher — so sad. I hope we cross paths one day soon, that would be amazing. This might bring us one step closer! Anyway, I think she was in talks about doing a cameo in the video as well and I think we just had so much content that we had gotten that day of all the girls and that ended up being so powerful. I think Jake's whole purpose for it was the "SOS" isn't from a loved one, but rather, it's about friendship and just feeling isolated as a human being and all of us girls being from LA, we can all relate to that feeling of isolation, but that's in any major city. I used to live in New York and I felt the same way. I think it's about the main girl who is the one reaching out and is too afraid to ask for help, and all of these women are trying to help her but can't help her until she comes in and says OK, I really need help. That's why I love the end of the video so much.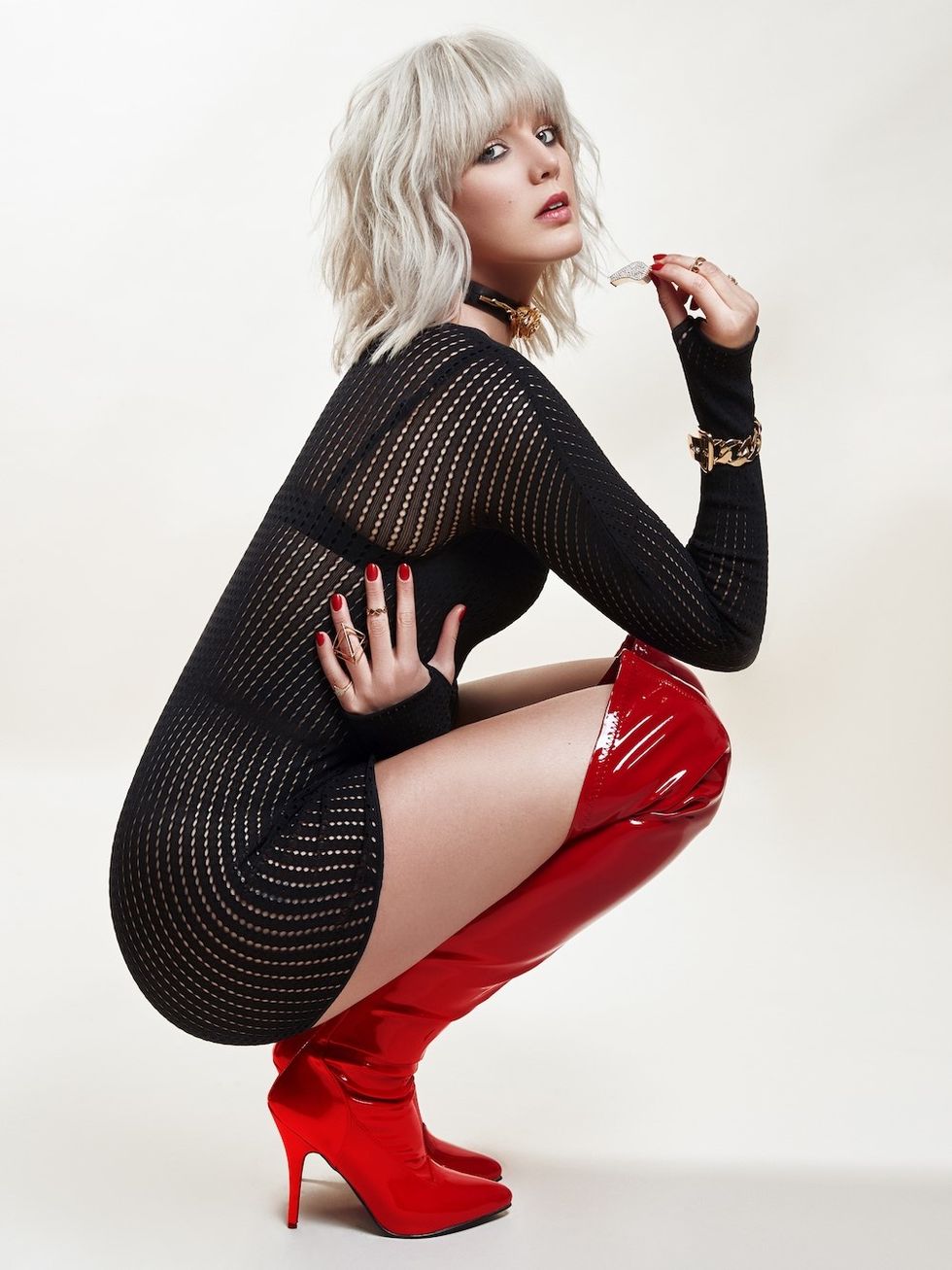 I love what you just said about how the video isn't about sending out an SOS to men or someone to save women.
Or even a partner! I think that has been one of the hardest parts in my adulthood — being able to ask for help and knowing that there is another human being on the other end of your telephone who is not just going to text you and be like, "Cool, let me know later." Like, no if you need help, if you need someone to reach out to and take care of you and be there for you — we all need those people. But sometimes, it's difficult to ask for help, and I really relate to that feeling. In one scene, one of the girls comes around the corner and sees all these girls hanging out together, and feels intimidated and runs away, and I think she's kind of playing peek-a-boo a lot of the time with the others in the video until she sees all of us together at the end and is finally ready to ask for the help she needs.
How do you feel about Dancing Queen, Cher's upcoming album of Abba covers?
Honestly, there probably couldn't be anything gayer in the world — I can't tell you how excited I am about it. It's like she read all our minds and is giving everyone exactly what they want. And of course I also think she could do no wrong. I really love her and she's such a style icon and part of what I love about her is that she's been doing her for so long, like she doesn't care. She's like, "Oh, I'm going to cover Abba," and everyone else just has to go with it, because she's Cher.
Can you tell me anything else you're working on these days? I loved your recent EP.
Thank you! Well, I am currently working on my album, so you will hopefully be hearing that sometime next year.
Is there anything you can say about who you might be working with? Or who you want to work with?
On the album itself, I made it almost entirely with one person and his name is Peter Thomas [who has become my main collaborator]. On my second album [The Valley], I worked with a bunch of people and wrote all of these songs and did a bunch of extra work to do what I wanted to do, and then came back around to making the album and now I just want to meet somewhere in the middle. I have a handful of writers and producers who have become my personal people to me. One of the most important things to me while making music is to make it with people that I love, who really get me. This stuff is really personal to me, and I know that I can be really fun to work with or really difficult to work with. I am very specific about what I want, I really want to entrust my work with people that I think really can see what I see for myself, and that's only a handful of people. Pretty Sister, Peter Thomas and I are executive producing this album together. The three of us are heading out to a house in the next month or two, were going to rent a house and spend 10 days locked away from the outside world and really dive into making a record.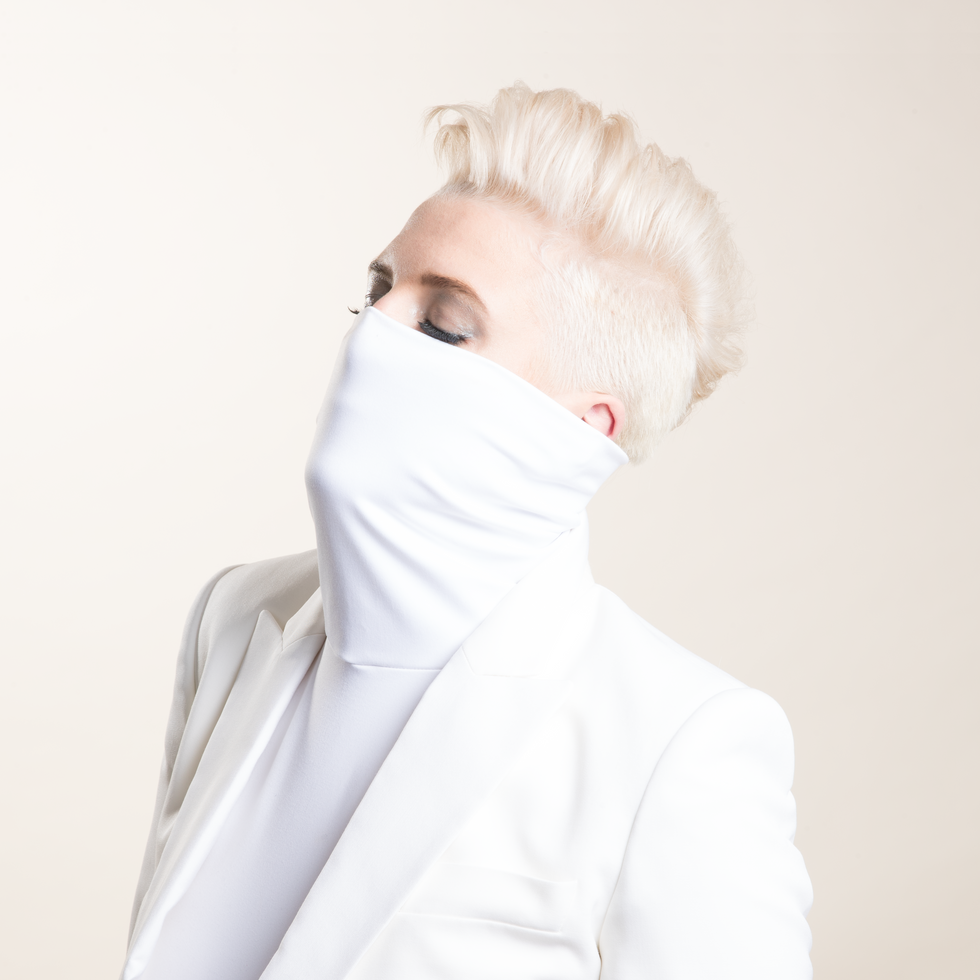 You've been doing a lot of character acting lately in videos. Is that a new thing or something you're kind of playing with as an artist?
Honestly, I grew up watching video artists. One of my favorite people who I think have made the best videos is Katy Perry, she was an alien in "E.T.," and has transformed herself a million times for her visuals. I also pull a lot of inspiration from Britney Spears. In the "Toxic" video, she played all of these different sides. I think when you're an artist and you get into pop music, one of the things I looked forward to most of my life was being able to play those different characters. I think it's so fun to be someone else. In my mind, difference between being an actor and a singer is when you're an actor you play someone else for a living, and when you're a singer, you are showing yourself in your most pure and rawest form. So, for this story [in "SOS"], there were still parts of me and different aspects of my personality coming through. I love the character I played in the "Taste" video and the "Tension" video [with Pretty Sister]. In "Tension," the second that I became a "him," when we were shooting I was like, Wow, have I been lying to myself my whole life? Is this actually my true identity?Should I invest in face tattoos? Another fun thing about playing different characters is that I have such an identity crisis every time. It's also incredibly empowering.
Do you ever feel scared to play anything?
I am very comfortable in front of the camera, and I throw myself into the scene 100%. The thing that I get scared of is when I don't have the people that I think really know me, and know how to make me look good. Someone who really does that well for me is my choreographer, Khasan Brailsford; he is like the number one person — he's been a professional dancer since forever. He will literally sit and watch the monitor every time we do a video and will fly in from wherever he is in the world. He's on the P!nk tour right now, but he will fly out for even like a day and will be glued to the monitor, and will be like, "Arch your back!" Sometimes you think you look hot on set, but you need someone to tell you if your back's not arched, you know?
Stream Betty Who's Betty, Pt. 1, below.
Photography: Zak Cassar