In 2010, The New York Times published an article that would predict the biggest change in contemporary fashion history. They were right. Eight years later, the paradigm has shifted.
For New York Fashion Week Fall '18, participants were greeted with a sea of new Asian — not just Asian American — talent coming from all over the world. Unlike past seasons where having Asian designers seemed more like pandering than genuine interest stemming from buyers and editors, this season could easily be the starting point of a fashion revolution within the U.S market.
Below are a couple of the NYFW shows that blew us away: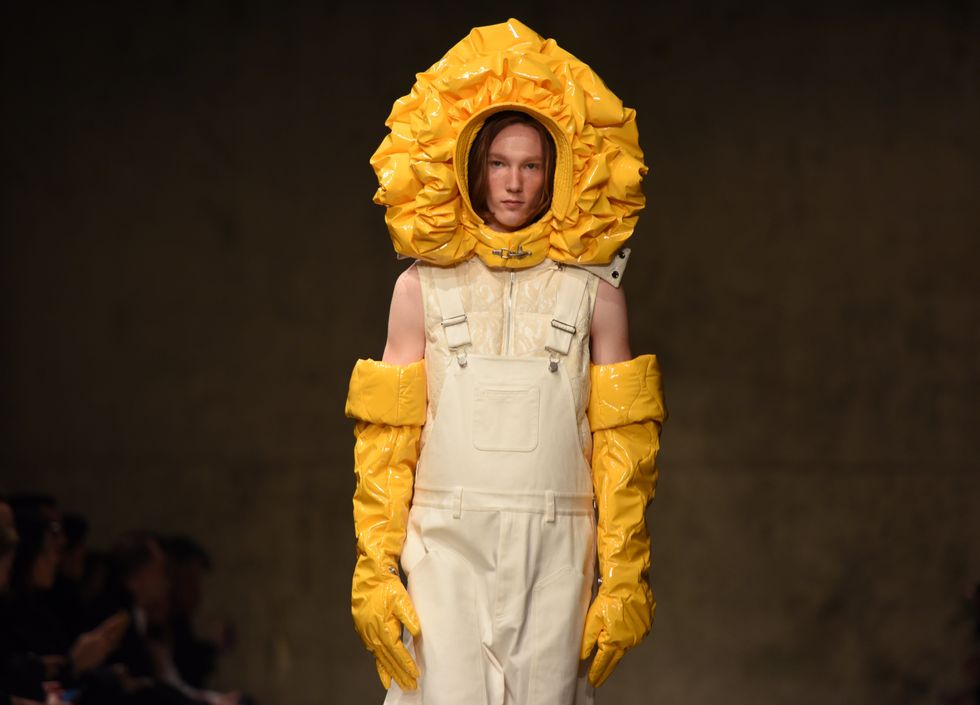 Chen Peng at New York Fashion Week's China Day
1. China Day, an industry first, was organized in conjunction by Alibaba luxury e-com platform Tmall and Shanghai-based brand management company Suntchi, and featured Chinese designers/brands Li-Ning, Clot, Peacebird, and Chen Peng. Clot founder Edison Chen commented on the future of Chinese design on an international field by telling Racked:
"A lot of people look at China and they're like, 'We have money, we have money, we have money. How are we going to make that money?'" He said. "But actually, we have a lot of people, which means we have a lot of creativity."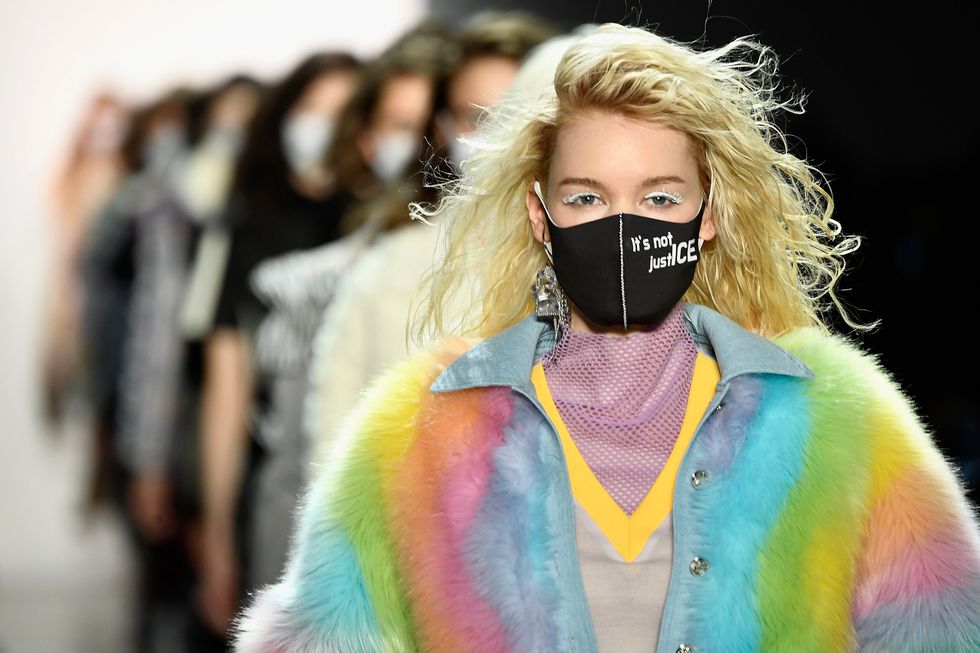 Concept Korea
2. Concept Korea, organized by the Ministry of Culture, Sports and Tourism of the Republic of Korea and the Korea Creative Content Agency, showcased two womenswear designers: LIE and GREEDILOUS. When asked for a quote about their stance on Korean designers, Bridget of Factory PR replied:

"The fashion industry has taken notice of the growing South Korean infatuation that is emerging from Seoul. The city, now a permanent fixture in the industry, is responsible for influencing some of the most infectious trends and inspiring the biggest names in fashion."
Related | Feng Chen Wang Finds 'The Way Home' For Fall '18
3. Feng Chen Wang, China native, showcased workwear-inspired pieces to a sea of buyers, editors, and influencers. Already sold in retailers like H. Loranzo, there's no question that Feng has the cool factor. When asked about her take on being a Chinese designer, she quoted:
"I think it doesn't matter about your nationality," Chen Wang says. "It's more [about] who you are, where you want to go, how far you want to reach in the future. So for me it doesn't matter about if I'm Chinese or if I'm not, I'm still always who I am. That's the most important."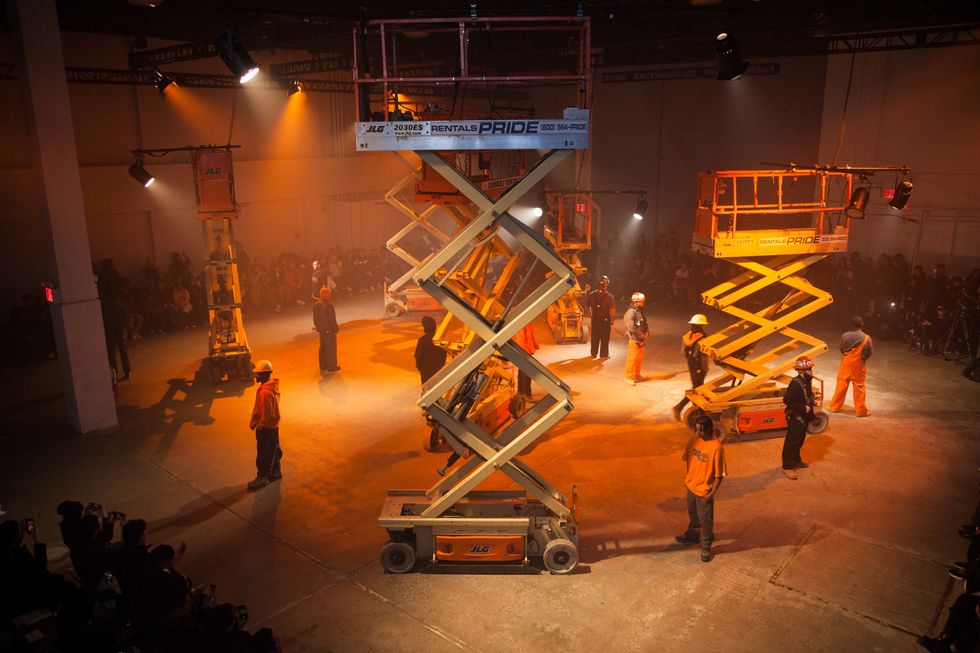 N. Hoolywood
4. N.Hoolywood, founded by Daisuke Obana, also showcased workwear-inspired pieces in collaboration with Timberland Pro, Ayame, Converse Addict, Lee New Balance and Yoshida & Co., LTD. Stemming from the words "Hollywood," "Hooligan," and "North," N.Hoolywood sets itself apart with impeachable tailored menswear with a touch on vintage aesthetics, while always paying homage to its streetwear roots. Oversized overalls paired with ribbed hoodie sweaters marched down with tracksuits that vaguely referenced the jumpsuits of construction uniforms. With a color palette of neutrals paired with pops of color (i.e. orange, red, and bright blue), the collection brought experimental silhouettes to quintessential American work lifestyles.
"Workwear in Japan is very popular, so I don't feel special designing [workwear]," Obana replied when asked about how he felt showcasing Japanese design in New York City. "After this show, I plan on going to Asia (Hong Kong, Beijing) and doing some pop-ups at the workwear showcase."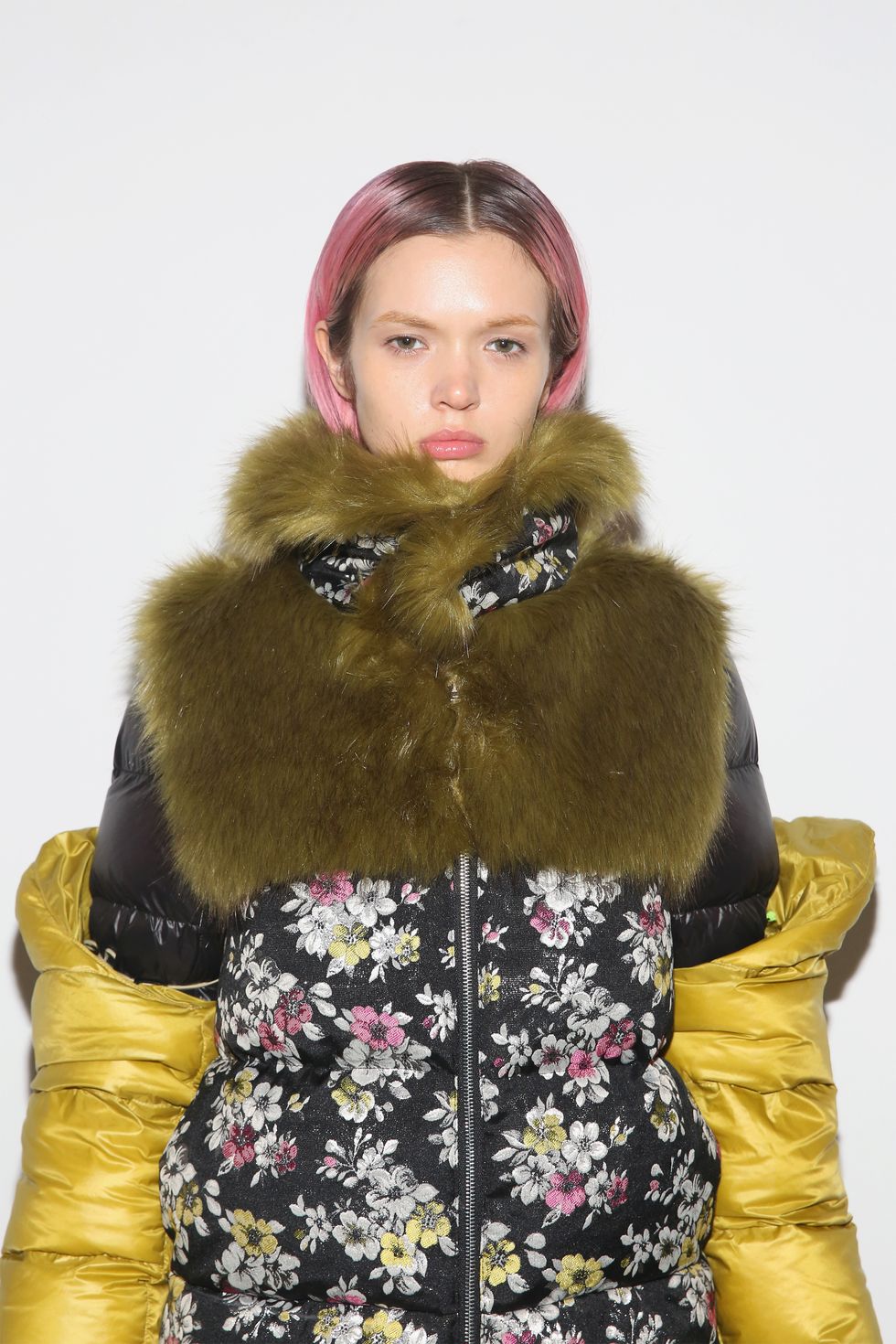 Kim Shui
5. Kim Shui, a New York and Rome-based designer, showcased extreme sportswear influence in her designs for her Fall '18 collection this NYFW. Not only does she have great designs, but the fact that her pieces are available at Urban Outfitters doesn't hurt either.
Related | Blurring Cultural Identities With Snow Xue Gao
6. Snow Xue Gao, Parsons alumni, and soon-to-be New York fashion staple, also wowed audiences with her collection of Western suiting-meets-Chinese aesthetics collection.
—
Not only New York Fashion Week — the American market in general is incorporating overseas brands from the PRC, South Korea, and Japan at a unprecedented scale.
Streetwear loyalists now consider Japanese brands like Visvim and UNDERCOVER as closet staples (Made evident by the constant coverage on Hypebeast), and luxury boutiques like Mr. Porter, SSENSE, and H.Lorenzo are stockists to some of Asia's hottest new designers. Dover Street Market, founded by Rei Kawakubo, ranked best store in the world by Complex in 2013, also holds a huge monopoly in the global luxury industry.
Clearly 2018 is the year Asian designers decided to jump into the U.S market full force.
But, what happened in these past eight years that allowed for a notoriously xenophobic industry to suddenly welcome Asians, specifically Chinese designers into the industry as contributors, and not just a shoppers? One might argue that it's simply because of Asia's ability to spend. According to internationally renowned consulting firm McKinsey:
"By 2025, we forecast the value of the global luxury-goods market to climb to RMB 2.7 trillion, with RMB 1.0 trillion being added over the next nine years. As they have in the past, Chinese consumers will account for a majority of this growth, and by 2025 will account for 44 percent of the total global market.
Wealthy Chinese will represent a major force behind this increase in luxury spending. By 2025, 7.6 million Chinese households will represent RMB 1 trillion in global luxury sales, an amount that is double that of 2016, and equivalent to the size in 2016 of the French, Italian, Japanese, UK, and US markets combined."
And the article also commented on Chinese consumer's spending power:
"Wealthy Chinese consumers are heavy spenders, spending on average RMB 71,000 annually on luxury goods; 38 percent of them spend more than RMB 100,000 annually. This number has been increasing by more than 5 percent a year since 2010. In addition to increasing their spending, they have become much more impulsive in the way they shop for luxury goods: one in two of their purchases are decided within a single day."
Another argument would be New York Fashion Week is only including Chinese and Asian designers to appease the new luxury demographic — again too simplified. It has to do, first of all, with the acceptance of Asian American designers in the early 2000s.
Whether it was Jason Wu achieving international success through dressing Michelle Obama, or Alexander Wang scoring incredible levels of "cool" through collaboration with stars like Azealia Banks, one thing became certain: it was cool to be Asian American at the turn of the millennium. No longer is it an anomaly to see last names like "Tam" or "Wu" pop-up on guest lists or press releases. Eva Chen, head of Instagram's fashion partnerships, is now a regular at the front rows, Alexander Wang is an editor darling, and practically everybody remembers when 3.1 Phillip Lim bags were like crack.
It all started when Michelle Obama stepped out in an ethereal eggshell-white gown by a then-obscure designer, Jason Wu, for the 2009 Inaugural Ball. A Taiwanese Parsons School of Design alumni, Wu's career would single handedly be created by the Obamas. For the entire span of Michelle Obama's position as First Lady of America, Wu remained a personal favorite both in and out of the public eye. Stockists all over America agree too — Wu's designs are now quintessentially "American." But let's not just look at classically beautiful design.
Related | Alexander Wang Shouts Out Corporate Babes With His Banana Clips
Streetwear, which is tied to the hip-hop industry (valued at an annual growth of $10 billion), is a staple for virtually every teen and young adult. That's where made his mark: launching his label in 2005, and supported by Anna Wintour, Wang transformed the aesthetics of "cool" through pieces like his Rocco bag and cut-out boots practically overnight. But more than just good design, Wang utilized the power of celebrity influence way before the careers of Kylie Jenner or Gigi Hadid. Rihanna, Azealia Banks, and Kim Kardashian were just a few of his muses that catapulted his influence. Who could forget the series of T by Alexander Wang 2012 campaigns featuring Azealia Banks and Die Antwoord? How about when Wang made a cameo in Madonna's 2015 single "Bitch I'm Madonna" — An Asian American man at a party Hollywood-insider's party.
Things have come a long way from how Asian Americans were initially portrayed in media (Every prostitute reference since Full Metal Jacket, Bobby Lee on MadTV, William Hung). Either we were showcased as the socially awkward nerds who were all destined to be doctors, or we were walking jokes for the rest of America to laugh at.
This is made evident in shows like Family Guy having caricatures (which are all voiced by white actors) like Asian Reporter Trisha Takanawa, Apu from The Simpsons, and the anti-thesis of sexual desirability: Han Lee from 2 Broke Girls. Bobby Lee himself launched an entire career out of selling self-deprecating jokes featuring socially awkward characters whose best accomplishments were setting racial politics back by 20 years.
—
Out of all this cultural baggage, how in the world could we be "cool"? It seemed impossible — but, what exactly constitutes "cool" in America?
Fashion, just like many other industries birthed out of youth culture and aesthetics, relies on the profitability of popularity, desirability, and influence: all encompassed by "cool." It's what Abercrombie & Fitch banked on during the early 2000's, and what Western media mocked Asian Americans for lacking. To be "cool" is to encompass an attitude, visual appearance, lifestyle, behavior, and various other nuanced observations.
Dick Pountain and David Robbins wrote in their book Cool Rules that it was an attitude typically attributed to the underdogs of society — those whom carried an anti-authoritarian air. Fashion-wise, to be cool meant going against conformity in the '50s. Then from the '60s onward, anarchy entered the mainstream; being "cool" could be manufactured and packaged by corporations looking to appease teenagers with newfound spending power.
Calvin Klein's "heroin chic" advertisements during the '90s are a key example: Super thin models with soulless stares slouched against white backdrops were plastered in every magazine and billboard throughout the world. Kate Moss and various other models were placed under intense scrutiny and criticism, but nobody cared. The brand, which is still relevant in 2018, cemented itself as "cool."
Related | Top 6 Looks From Calvin Klein's Americana NYFW Show
But "cool" is always changing. In the early 2000s, it was wearing all denim to the Billboard Awards like Britney and Justin. In 2011, it was dancing to "Party Rock Anthem" by LMFAO, Skrillex, and going to TAO wearing Herve Leger bandaid dresses styled with Wang bags. Now, it's spending 20 minutes organizing your brunch on a white marble table, dying your hair pastel pink, and wearing oversized parkas with sleeves that reach your knee caps.
Across this slow evolution of "cool," Asian Americans became part of the influence — not just on Instagram, but on a larger scale. And with that, being Asian American slowly became the new-normal. But this doesn't just reflect entertainment and fashion, this reflects on where Asian Americans fall in the zeitgeist. We are no longer the historical enemy — we've officially become American, and therefore, "cool."
Over the next few years, we will no-doubt begin to see more fresh talent emerge from overseas. The question is, how will Asian American designers who have clearly benefitted from trailblazing career opportunities for their fellow communities feel when designers that physically look like them, but differ in cultural upbringings, begin to compete in the same social climate?
When we're all American, regardless of heritage, the conversation around diversity is easy. But how will the conversation turn, when the factor of nationality comes into play? While I don't think the industry will see extreme notions of nationalism come to play, I do question how two visually-similar racial groups will fare in a battleground where Asian Americans and International Asians are still lumped into the same category.
And while time will only tell where the fate of Asian designers will fall in America, one thing is certain: At least in the fashion industry, being Asian American is no longer a checkbox stemming from inclusivity.
Photos via Getty/Courtesy