Trans überdiva and NYC nightlife icon Amanda Lepore has been pushing the boundaries of fashion, femininity and pop culture for over three decades now. Ever-intertwined in culture's latest, she recently modeled for Travis Scott's Astroworld album cover, shot by her longtime collaborator David LaChapelle (though she was controversially removed from the final photo) and can always be spotted at premieres, parties and runway shows.
Her life is its own kind of performance art, but lately Lepore has turned her attention to distilling her singular essence into music. Lepore released her first album since 2007 in March, called LEPORE, a four-track theatrical dance EP, which she said was inspired by her travels. Today, PAPER shares a new music video for Lepore's track, "Buckle Up," a slow-burning, squelchy '70s-era disco groove all about "taking on the night," that can double as Lepore's artist statement: "The boys they call me a star/ I strut my stuff on the bar/ I know you wanna, you know, hard?/ It's time to get a bit vulgar." Put it on her tombstone.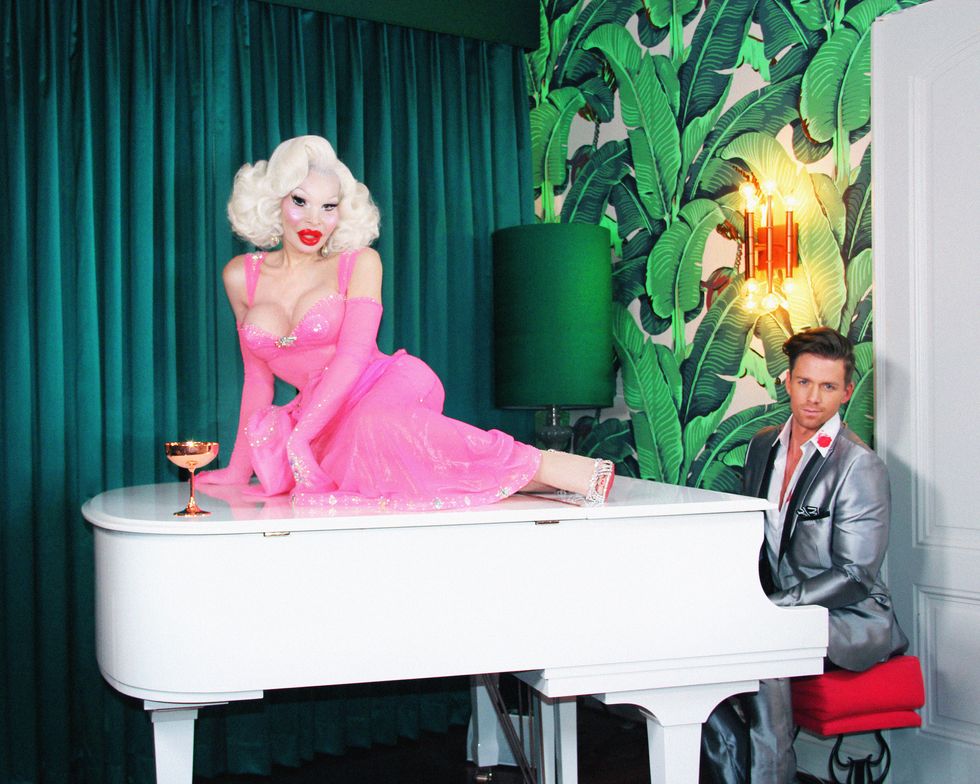 Directed by visual artist ZaeBear and photographer Josef Jasso, "Buckle Up" leans into all things Lepore. It's a gorgeous, comical pastiche of classic Hollywood and Vegas iconography, kicking up a technicolor tornado of diamonds, pearls, silk, mink and mesh. She talks dirty in the bath tub, poses in a white Cadillac, glides over Marilyn Monroe's sidewalk star, sings stretched out on a piano, shoots a porno with a Chippendale cowboy, and shows off "the most expensive body on Earth." Let your jaw drop when she steps out of a heart-shaped jacuzzi in only a pair of stilettos.
After an introduction by Armen Ra, Lepore performs a striptease to her own 2008 single "My Pussy," which she mashes up with "Buckle Up." She shimmies, drawling the iconic lyrics: "Pussy/ my pussy/ my pussy/ my pussy is famous/ my pussy is expensive/ my pussy is fine/ you can throw it in the air and call it sunshine." Diamond-encrusted thong after luxurious mink, "Buckle Up" is a joyful celebration of the carnivalesque, campy divahood that has defined Lepore's brand and life. "It's time to get a bit vulgar," she sings unapologetically, reclaiming the word others would use to smear her. The viewer has no choice but to give in, and worship Lepore as the self-made sex icon she is. The video's shameless audacity will feel classic to longtime fans, but for those less familiar, "Buckle Up" is a crash course in Amanda Lepore.
"Amanda Lepore truly is the epitome of glamour and her dedication to it is utterly astounding." says director Josef Jasso. "This film Zaebear and I created together, is a hyper stylized visual statement of the sensational life that she actually leads, over-the-top and wildly entertaining to watch. Collaborating with Zaebear was fantastic. He is an artist whose work I have admired for a long time. We have different aesthetics but our tastes are similar and I feel 'Buckle Up' is an excellent blend of those two signature styles to create one magical film."