In an ideal world, a performer like Ah Mer Ah Su (a derivative of her name, Amerasu, pronounced exactly as she spells her stage name), would be able to speak about her experiences however she pleased without any sort of prefacing. Instead, the Black transfemme singer, songwriter, and producer from Oakland sometimes has to traverse social ills in order to be heard.
Last year's debut EP Rebecca, found the artist opening up about coping with grief through substances (the deliriously catchy "Klonopin"), challenging white privilege (the conversational and equally catchy "Meg Ryan") and more. Now, in preparation for her debut full-length, Star, Ah Mer Ah Su is letting her light shine brighter than ever, and make no mistake: she's also not backing down.
Star dons the lyrical honesty that has become her calling card; also on exuberant display is her uncanny penchant for luscious electronic arrangements and pop songcraft, that, when blended, go down like a spoonful of the sweetest honey in the beehive. "Heartbreaker" is the album's first single, and it's a kiss-off that flips the script by positioning its narrator as the villain in question, to delightful, empowering results. "I was so bent on not getting heartbroken again, I have become a heartbreaker myself," she says. "The song is just bravado though: it acts as a warning for those who pursue me and a reminder to myself." For the back row! Who can't relate to that?
Ah Mer Ah Su is here for the party, and we're all here to celebrate her: The music speaks for itself, through the rich and glimmering Ah Mer Ah Su. The mega-talented artist chats with PAPER about the new single, the creation and themes of Star, thriving through pain, and making positive, motivating music for the girls.
Your music is so catchy and unique. It's like a hybrid of Nina Simone meets Anohni meets Britney, if she were Black. How do you create your songs? The melodies are like pure sugar, but then the lyrics often explore complex issues like mental health, drug use, coping with trauma, and overcoming loneliness.
I have a theater background and so I go to see performance art where you think it's going to be something cute and then you're totally blindsided by how powerful it is. I always think about that when I go to make a song. I come with these sweet melodies — "Klonopin" is almost like a lullaby — to go with material that's super hard to talk about. I would be remiss to make music that was sad and actually sounded really sad. If I did that, the sound would just fall flat, so I'm going to make sad girl music that you can kind of rage to. That's a mood: sad-girl rage.
I was surprised to hear "Heartbreaker." Your last EP, 2017's Rebecca, explored subjects ranging from activism to grief to challenging white privilege. "Heartbreaker" felt more upbeat, even considering that you add sugar to your music to make it digestible. How do you feel you've grown artistically sense your last release?
The new album, Star, is broken up in three sections. This summer, I was listening to [Solange's] A Seat at the Table and [SZA's] CTRL, and was inspired by how similar they were to albums from the '90s that had all these skits and interludes in the middle of them. So my album has those sections: "self-compassion," "expectations," and "men." "Men" is longer and more complicated because I was in an abusive relationship with this person and I wanted to talk about it in a way that felt real and important, so rather than talking about it directly, it's in the songs. My friend Saturn Rising does the interlude before the "men" section, so it's more like a coming-of-age thing. "Heartbreaker" is the first single because it is very light, happy, and dance-y. I think of it as my Forever 21 song. Like, you walk into the Forever 21, and it'll be playing. The whole album is really an exploration of what it means to be Black, trans, femme, and young, and having real problems. I think the problem is that so many people focus on us dying. Of course trans women are dying across the world, but I'm like, yes, we're dying, but while I'm afraid of that, I'm also having a real life, and going through changes and experiencing love and losing love and what that feels like. It's important to have those narratives, too. We're more than just our sexuality or gender identity. We are people who live life.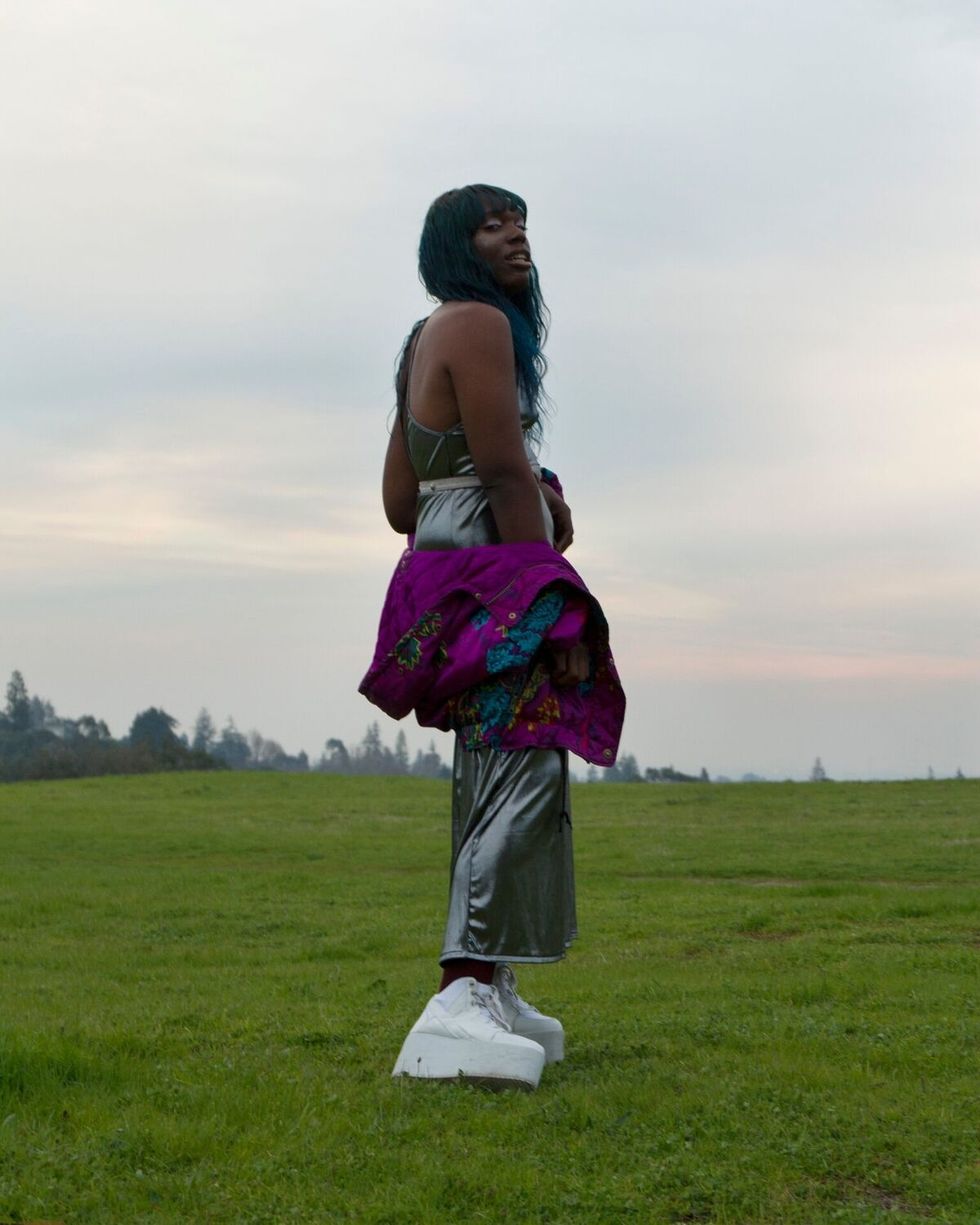 I read that Star is about navigating the fullness of your experience. It also seems to be about self-compassion and forgiveness. In writing this record, what helped shape this perspective? Did you start out with that intent, or is that what the record became?
When I started, I had a friend who connected me with Vice Cooler, who is the producer of my album and produced Peaches' last record [Rub]. I spent a week in LA and was only going to make one song, but one turned into five. I already had all these songs written, but we worked so well together so kept going. At first we thought we were just going to make an EP. Months went by, I went to Europe for the summer, I came back to the states and told Vice I wanted to make a full album because I felt like I had more to say. Star was born. It's a reflection of who I am at each moment I captured it. I think what's so important is I struggle with mental health; I was diagnosed as bipolar type two last year and I was thinking about how I'd been reading more about compassion online and how we can extend that to ourselves. I've been working on that since the diagnosis, and loving myself. It's so important to have this out there for me, because it combats other messages coming in that tell us we should hate ourselves. I'm really just trying to practice self-love.
I listened to "Heartbreaker" like 25 times in one sitting. Its lyrics seem to address forms of miscommunication in queer relationships to disguise baggage to appear strong. But on the other hand, it's empowering in how it ends, when you sing, "I wanna break your heart."
I address that on the "MEN" interlude on the album. We thought as transfemmes, that men would validate our femininity and comfort us, but like, men are shit, actually. There's no point in seeking that validation. "Heartbreaker" comes right after that, where it's like, I think I've had my heart broken too many times by men, to the point where I've become someone who ghosts people or runs away. It's my way of turning the tables, of running away from feeling too good, because I want to break your heart. I'm tired of being heartbroken; it has happened too many times. As a transfemme, it happens so much that we are with shitty dudes who don't care about us at all really. They view us as sexual objects and I've been devastated by that, so I wanted to totally change the narrative.
Work! I don't blame you. I read that you once said that you write music from your own experiences and for yourself; that you write stuff you'd actually love listening to. In a world where people love to say everything they do is "for their fans," owning that is a breath of fresh air. Do you still feel that that's true?
Yes! Originally, this album was going to be called These Ones Are For Me. And then I was like, yes, but what's the ideal. It's for Star. By opening myself up, it helps other people open themselves up. If everyone hated this record, I'd still be proud of it, because I know that I made it with the intent of healing myself. Everyone will probably like it, though, anyway. But it's really for the girls.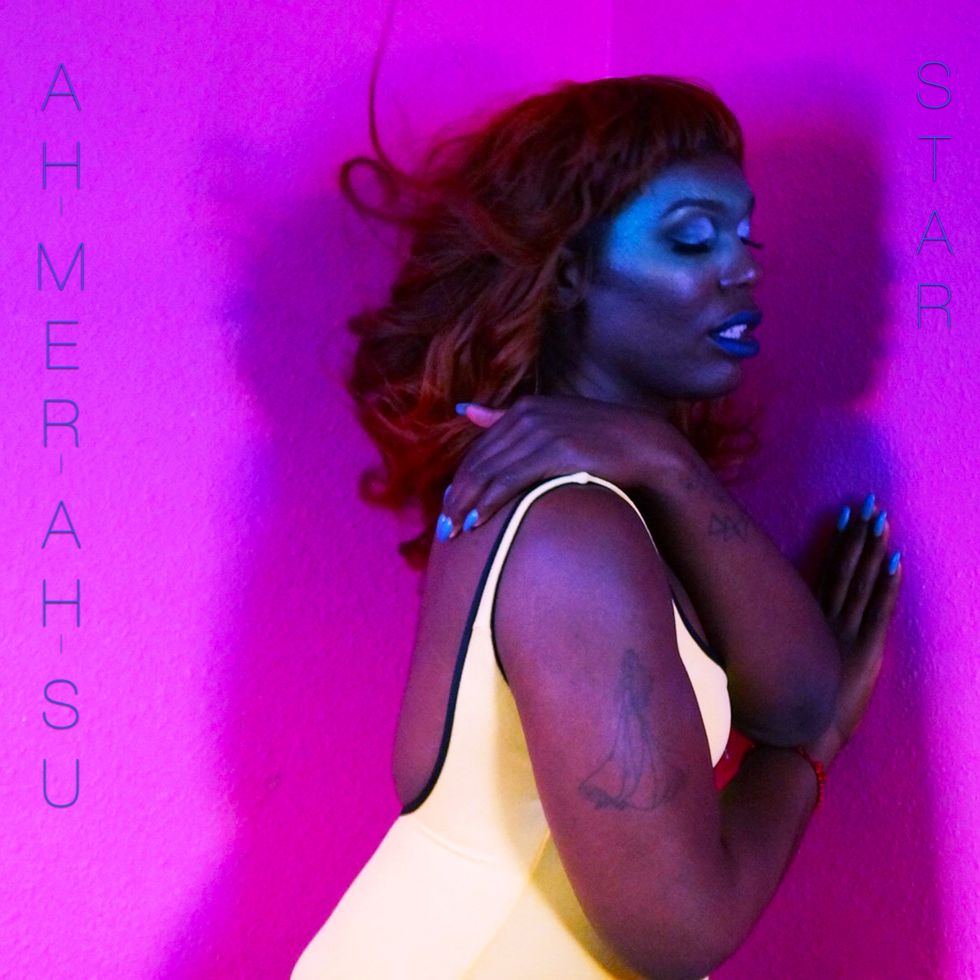 Star Tracklist:
Exercise in Self Compassion ft. Davia Spain
On
Be Free
Expectation ft. Maya Monés
7-15-13
Perfect
MEN ft. Saturn Rising
Heartbreaker
Boys
Stale Water
Need You, Need Me
Powerful
Bonus Track: Kids
Star comes out July 27 on Dero Arcade.