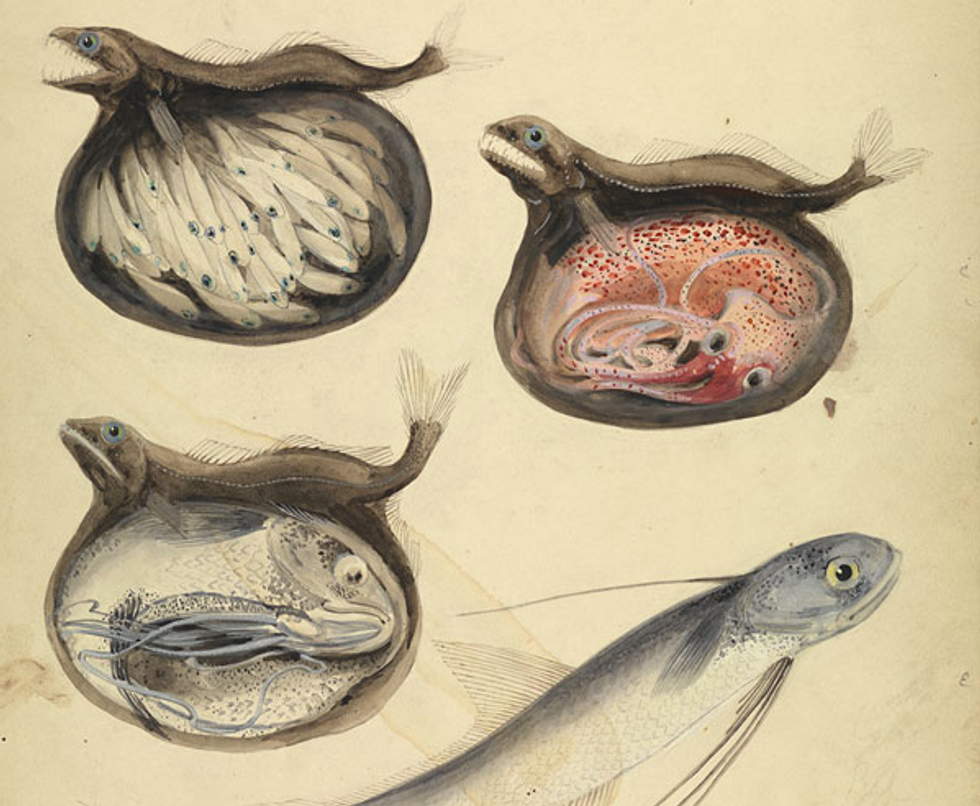 Via the Drawing Center
The Drawing Center (35 Wooster Street)) opens their spring exhibition, "Exploratory Works: Drawings from the Department of Tropical Research Field Expeditions," on Thursday, April 13, 6 to 8 p.m., and on view until July 16. The show includes over 60 drawings and archival materials from expeditions to South America and the Caribbean in the early 1900s. DTR was led by William Beebe, and the expeditions included several women artists and researchers including Ruth Rose, who later worked on the screenplay of the original King Kong (1933). Also check out two installations by Mark Dion that evoke typical field-station interiors including a jungle lab and an oceanographic workshop.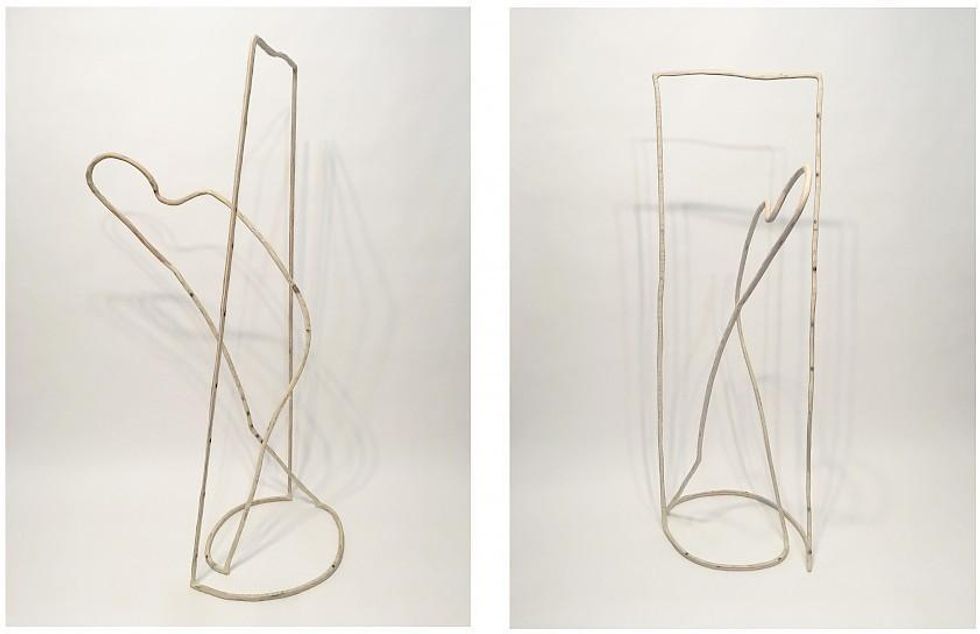 Lee Relvas, Thinking, 2017 (two views), via Callicoon Fine Arts
Callicoon Fine Arts (49 Delancey Street) presents "Some Phrases" -- the gallery's first exhibition by Lee Relvas -- opening on April 13th, 6 to 8 p.m. and up until May 21. The artist's new plywood and epoxy-putty sculptures "look for a language that speaks through bodies' movements, gestures and actions." Relvas has released six solo albums under the name Rind.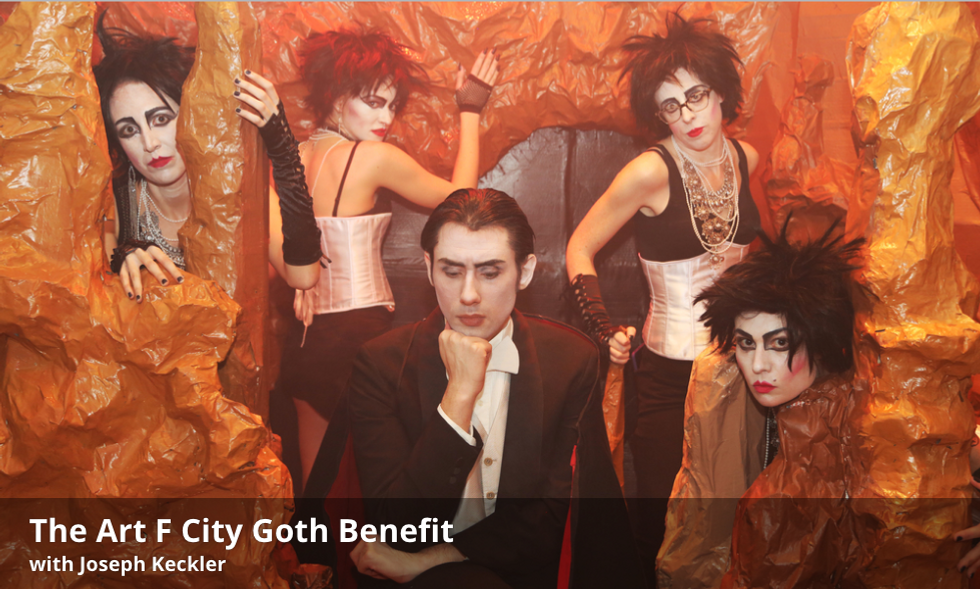 Art F City's Goth Benefit is Tuesday, April 18, 6 to 10 p.m., at Collapsable Hole (55 Bethune Street). Joseph Keckler will perform a set of "goth opera masterpieces" and Instagram-star Sean Fader will take your photo and give you a print. Advance tickets ($75 for artists/students/musicians) are HERE, but show up in full-goth garb and you'll get a discount.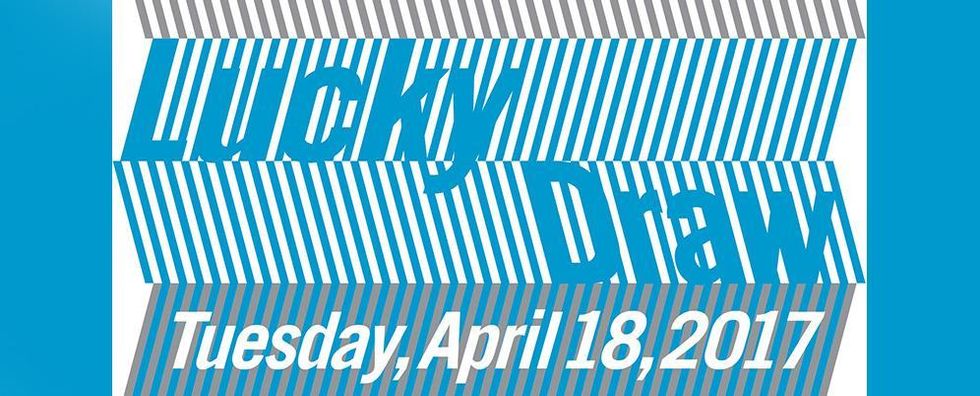 Sculpture Center's (44-19 Purves Street, Long Island City) Lucky Draw benefit is Tuesday, April 18, doors open 5 p.m., auction/draw at 7:30 p.m. Following a live auction, purchasers of a $750 draw ticket will receive an artwork, with the order of selection determined by random drawing. Check out the art and buy a ticket HERE. For a $75 donation (includes cocktails) you can also attend and not participate in the drawing. Lowell Pettit is the MC and Sara Friedlander is auctioneer.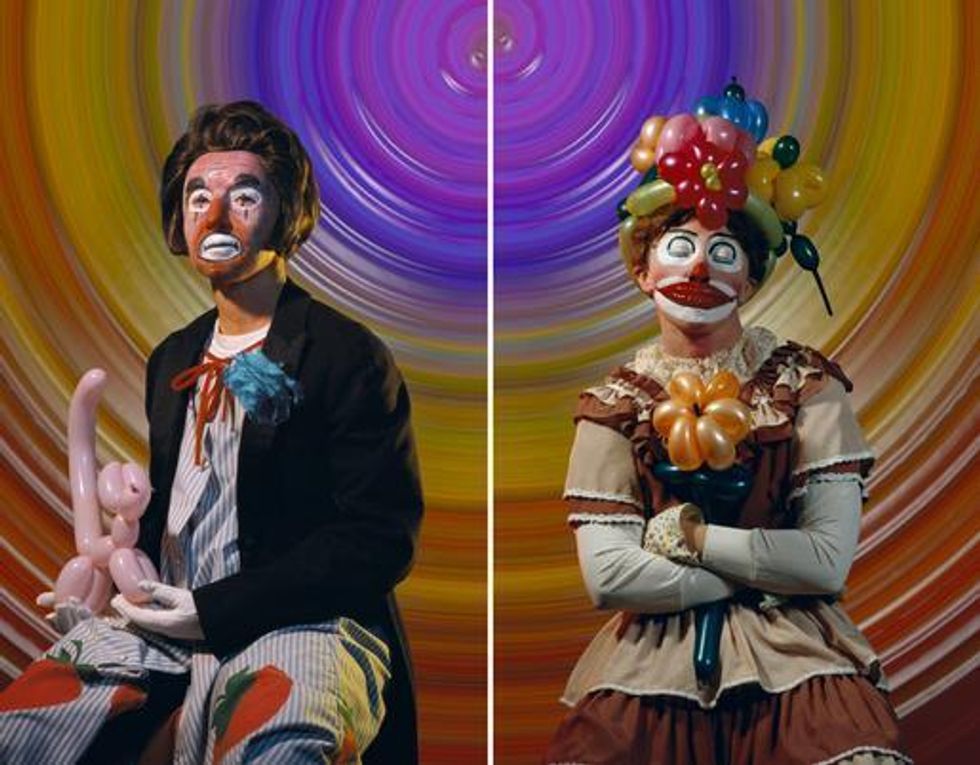 Cindy Sherman,Untitled #420, 2004 via Mnuchin Gallery, courtesy of the artist and Metro Pictures, New York
Mnuchin Gallery (45 East 78th Street) celebrates Cindy Sherman's take on the female gaze with a show called "Once Upon a Time: 1981 - 2011" opening on April 18, 6 to 8 p.m., and up until June 10. The exhibition, curated by Philippe Segalot and Sukanya Rajaratnam, focuses on three of her series: The Center Folds, The History Portraits and The Society Portraits.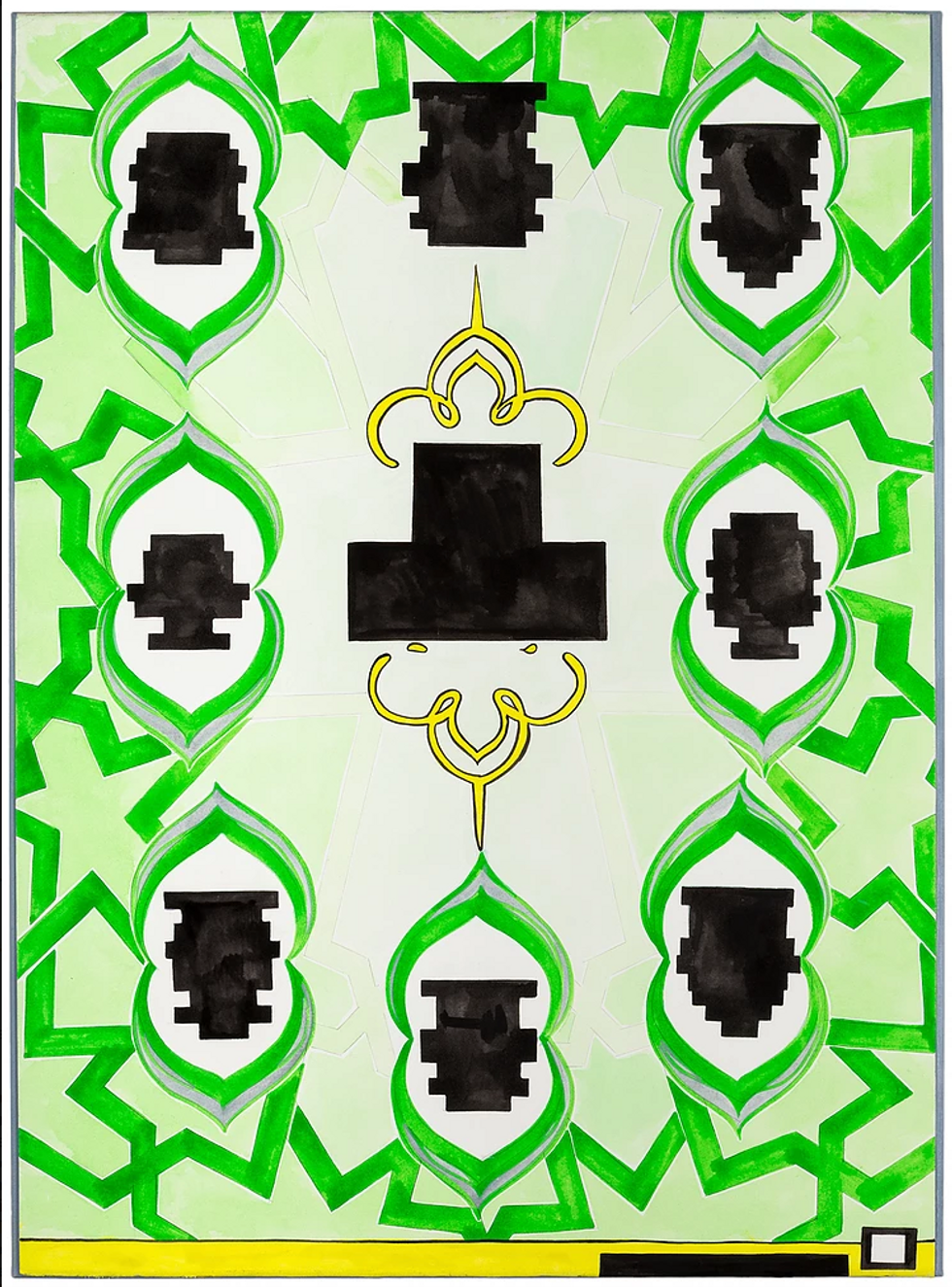 Navine G. Khan Dossos, Good Character, 2017
Fridman Gallery (287 Spring Street) opens their first solo exhibition, "INFOESQUE," by the British artist Navine G. Khan-Dossos on April 13, 6 to 9 p.m., The show includes a series of works on canvas that "explore the design strategies of Rumiyah magazine," plus thirty-six panel paintings that use issue 5 of the now-shuttered Dabiq magazine as source material. On the 13th, there's a conversation with the artist by James Bridle at 6 p.m.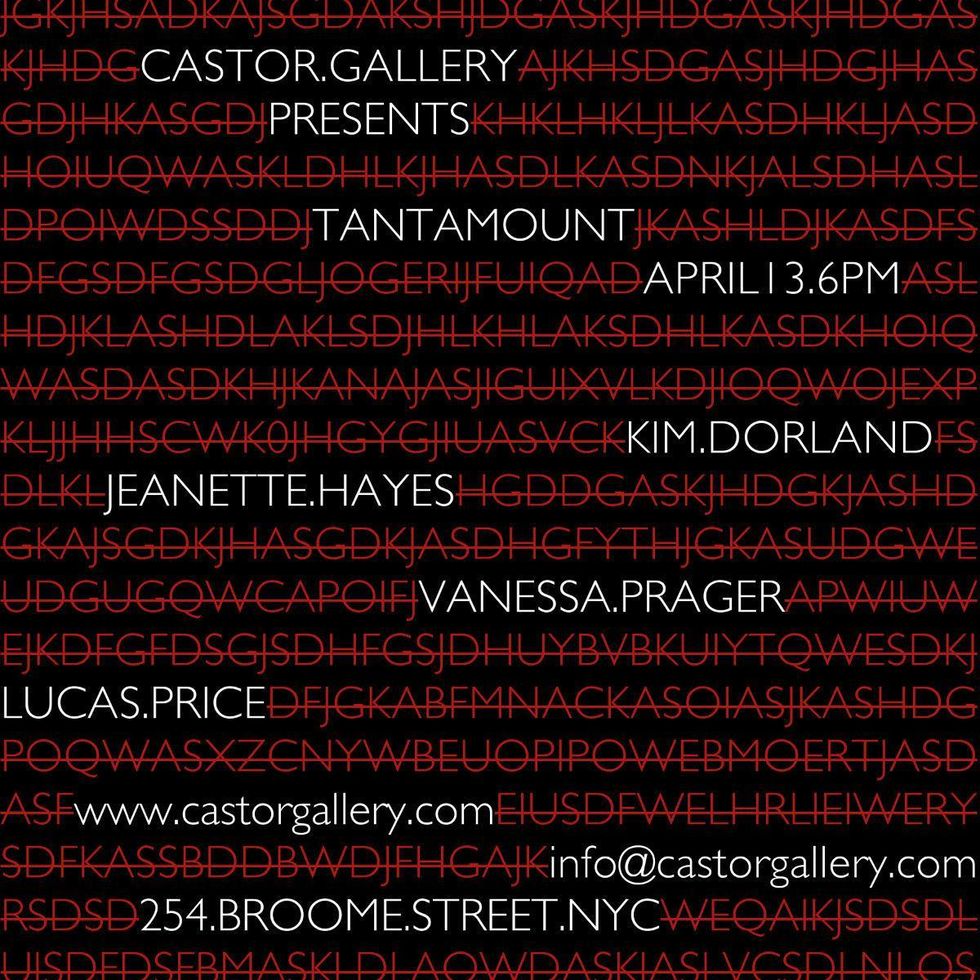 Castor Gallery (254 Broome Street) has a group show called "Tantamount" opening on April 13, 6 to 8 p.m., featuring new work from four artists: Kim Dorland, Jeanette Hayes, Lucas Price and Vanessa Prager. All use unique oil techniques. Up until May 14.
Splash image via Mnuchin Gallery: Cindy Sherman, Untitled #543, 2010/2012, courtesy of the artist and Metro Pictures New York