As children, most of us grew accustomed to a common daily routine known as bathtime. Somewhere along the messy road to adulthood, we stopped taking baths and that's a damn shame because they are way more fun than showers. To this day, I still regret the moment when I decided to make the switch. While it's important to practice good hygiene on the regular, there's so much more to feeling clean than just rubbing soap all over your body and then rinsing it off. Now that self-care is a trendy topic, baths are bubbling up to the mainstream again and adults are relapsing to their favorite childhood pastime — minus the rubber duckies.
I am one of the few New Yorkers who is fortunate enough to have a bathtub in my apartment so I always make time to indulge in this glorious, solitary activity. I also happen to live alone in a studio so the prospect of soaking my body in other peoples' filth never crosses my mind. (Yes, I know it's a privilege!) In honor of National Bubble Bath Day, I've selected 26 items that are guaranteed to provide you with the best bath of your entire life. Because nobody deserves to have the most outrageous and luxurious me time more than you. Remember, your body is a temple so worship it!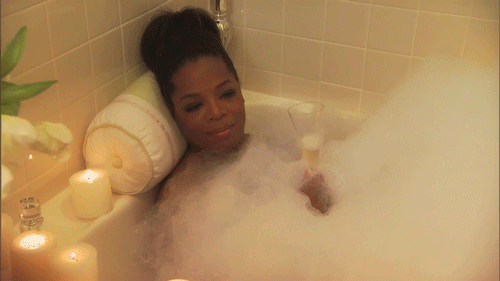 Umbra, Me Time Bamboo Bath Tray Caddy ($49, available at Urban Outfitters)

For the person who wants to partake in activities during their bath, this bamboo caddy is essential. In addition to holding drinks and snacks, this sturdy unit can support the weight of a book or tablet. (Please proceed with caution if you choose to bring electronics into the tub though).
SipCaddy, Bath & Shower Portable Suction Cupholder ($13.95, available at Amazon)

I may be doing a Dry January, but that doesn't mean that you have to follow my lead. This mini caddy is perfect for when you just want a glass of your favorite beverage and nothing else. (No more accidentally knocking things over on the edge!) Cheers to drinking responsibly — safety over everything!
Urban Outfitters, Bamboo Bath Mat ($35, available at Urban Outfitters)
Because you should only step out on the finest of mats! Bamboo is a better material for a mat because it's a natural, eco-friendly product that is immune to mold, bacteria and fungi. Plus, its decorative and makes your space look way more stylish. Keep it clean and cool.
Fresh, Rice Sake Bath ($82, available at Sephora)
The fact that this costs more than an actual bottle of sake has me giddy. Fresh states that this natural soak was inspired by the traditional Japanese Geisha bathing routine though, and I firmly believe that it's very important to know yourself and your worth so go ahead and spill those coins.
Antica Farmacista Prosecco Bubble Bath ($38, available at Nordstrom)
A little bubbly for your bubble bath! C'est la vie cherie.
Unbound, Bean vibrator ($29, available at Unbound)

This WATERPROOF vibrator will have you rub-a-dub-dubbing in all the right places if you catch my drift... If you really want to give yourself a BIG splash, consider opting for Squish. The rubber ducky retired for a reason, y'all.
Deluxe Comfort, Bath Luxury Full Body 3 Panel Bath Pillow ($35.99, available at Wayfair)
The fact that this pillow has the word luxury in its name is a sign that this is a product worth purchasing. Seriously though, it's important to be super comfortable when you take a dip in your tub so go buy a bath pillow ASAP.
Ultimate Ears, WONDERBOOM Waterproof Bluetooth Speaker ($100, available at Urban Outfitters)
A waterproof speaker is crucial for a bathroom anyway, so you might as well get one now. This bad boy can be hung from anywhere and last up to 10 hours before you have to hook up the USB charger. You'll want to create a special playlist for this occasion as well — I highly recommend sprinkling Rhye in the mix.
SHHHOWERCAP, The Minx ($43, available at SHHHOWERCAP)

Normally, I wouldn't suggest that anyone pay more than $5 for a plastic shower cap that can easily be purchased at any local convenience store, but this list is all about doing the most and treating yourself so why not invest in a chic cap that completely repels moisture? If you're not trying to get your hair wet, this cap really is a life saver.
Herbivore Botanicals, Coconut Soak ($18-32, available at Nordstrom)
All of your troubles will float away as you descend into paradise with this organic coconut milk powder. It's like bathing in a tub full of piña colada.
Sakara Life, Detox Tea ($20, available at Free People)

Let the unwinding begin with a piping hot cup of this delicious detox tea, a caffeine-free blend of herbal goodness. If you want to stock up on snacks, you can browse from Sakara Life's entire clean boutique too!
LEIF, Herbal Bath Tea Soak ($42, available at LEIF)
For those moments when you want to have your tea and spill it too ;-) You can choose from lavender rose and chamomile sage.
Cannabis Beauty Defined, Therapeutic Soak ($55, available at Medical Marijuana Inc.)
This cannabinoid-infused soak not only enhances the therapeutic experience that the average bath provides, but it's also good for your skin which is a bonus! According to Medical Marijuana Inc., bath products with hemp oil contain "essential nutrients that protect and rejuvenate the skin" including "vitamins, minerals, proteins, and fatty acids." Obviously, consult your doctor if interested in using this type of product.
Olverum, Original Bath Oil ($52, available at Follain)
Less is more when it comes to applying this bottle of essential oils. The moment it makes contact with your skin, your body will feel changed forever.
Diptyque, Baies Large Candle ($165, available at Nordstrom)
Nothing sets the mood quite like a burning wax candle with a heavenly scent of roses and blackcurrant leaves. This luxurious french perfumer is famous for its signature candles and is absolutely worth the splurge.
Province Apothecary, Lavender Essential Oil Incense ($16, available at Province Apothecary)
Because aromatherapy is cheaper than retail therapy all day every day. Don't forget the fancy incense holder!
Mullein & Sparrow, Rose Bath Salts ($44, available at Mullein & Sparrow)
You're going to feel like a million bucks after soaking in these salt crystals, rose petals and essential oils.
May Lindstrom, Honey Mud ($90, available at Follain)
I guarantee that you'll feel 100% better after you wipe this mask off your beautiful face.
Grown Alchemist, Body Cleanser in Chamomile, Bergamot & Rosewood ($28, available at Amazon)
This Australian brand knows a thing or two about how to take care of what's down under. Your skin will feel nourished to the bone after this cleansing.
Frank Body, All That Shimmers Gift Set ($49.95, available at Urban Outfitters)

Shine bright like a diamond, babe! This cute kit comes with a shimmer scrub, shimmer oil and illuminator that will make your skin even more radiant. Bomb cyclone, who?
Omorovicza, Gold Sugar Body Scrub ($99, available at Omorovicza)

Your body will be ready to glow all the way up after you scrub off all those dead skin cells with this fancy potion.
Baudelaire, Small Wool Sponge ($18, available at Anthropologie)
Toss out your loofah and upgrade to a sponge! In the tub, no one will shame you for being your baddest and bougiest self. While you're at it, don't forget to pick up a cedar and sisal bath brush.
Parachute, Classic Bathrobe ($99, available at Parachute)

The cozy vibes don't have to stop when you step out of the tub! Wrap yourself in this glorious robe made of 100% Turkish cotton and continue to wear nothing underneath for the rest of the day.
Pai, Head To Toe Hero Buriti Balm ($30, available at Pai)
Sensitive skin has met its match with this blend of buriti oil, kukuki and calendula. Apply it after you've finished drying off and let the moisturizing begin.
Palermo Body, Hydrating Body Oil ($36-56, available at Palermo Body)
The last thing you want to be post-bath is a prune, so massage this botanical oil into your skin for some much-needed deep hydration.
Tatcha, Gold Camellia Beauty Oil ($95, available at Sephora)

Once you're done with your first layer of post-bath moisturizing, slather on this 23-karat gold oil for an au naturel glow. Your body will thank you for the royal rehydration treatment.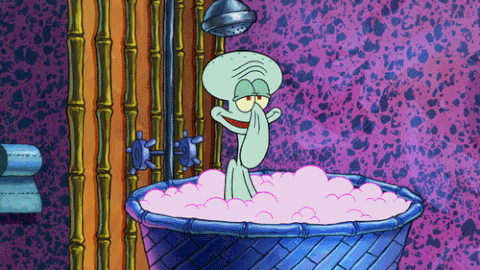 Splash Photo via Getty