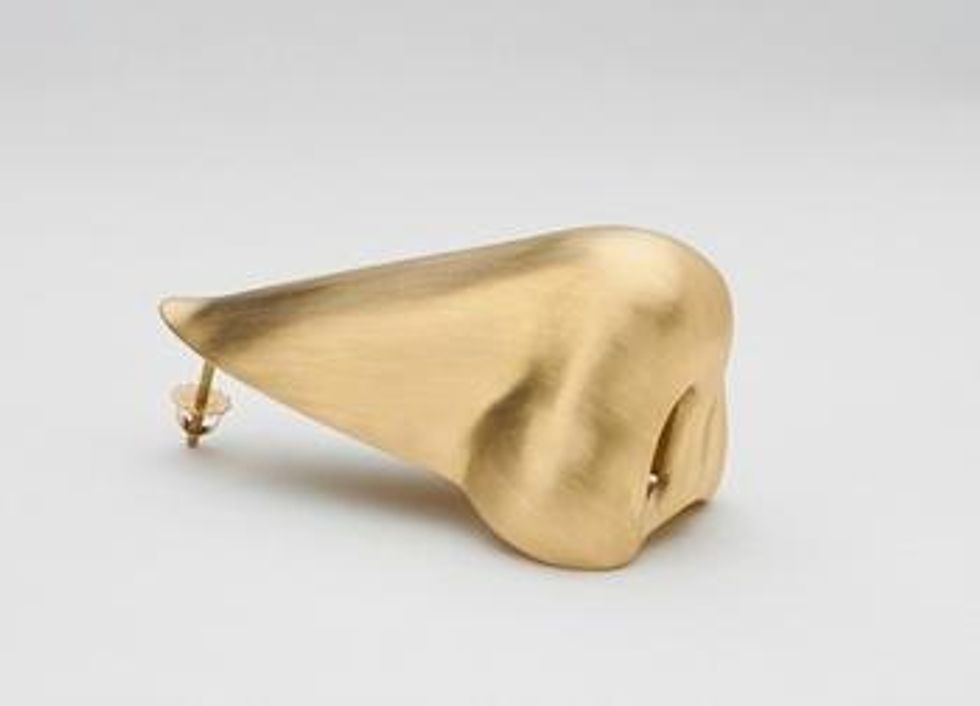 Nose Earring (Gold) — John Baldessari, 20161, Courtesy the artist, Marian Goodman Gallery and Hauser & Wirth, Photo: Alex Delfanne
Hauser & Wirth (32 East 69th Street) launches their "Portable Art Project" on Thursday, April 20, 6 to 8 p.m., featuring wearable works by fifteen artists. Organized by Celia Forner, the exhibition includes one-of-a-kind pieces and limited editions by artists including John Baldessari, Nate Lowman, Paul McCarthy, Pipilotti Rist and Michele Oka Doner. On view until June 17. Also on the night: H&W opens an exhibition of 40 large-scale works by the late German photographer August Sander.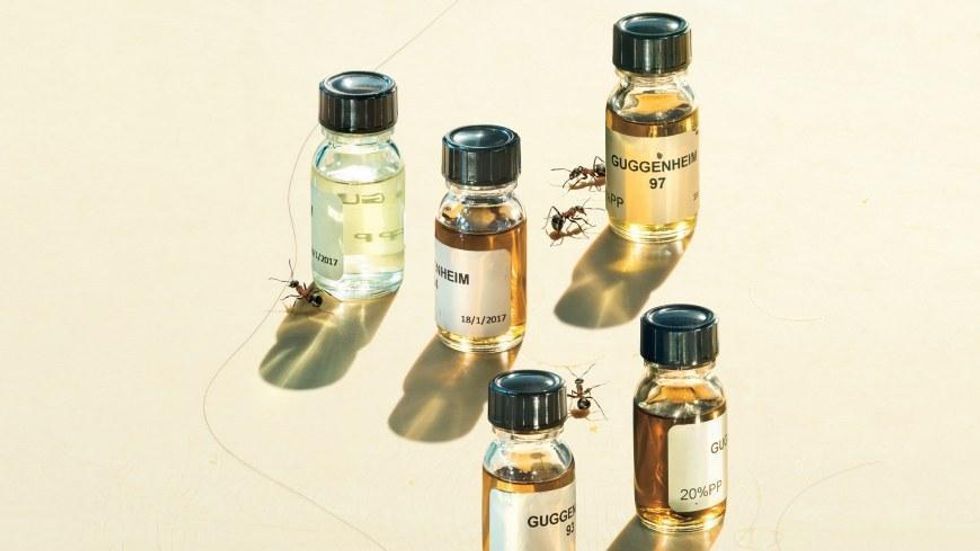 Via the Guggenheim
The Guggenheim (1071 5th Avenue) opens an exhibition called "Life Is Cheap" by 2016 Hugo Boss Prize winner Anicka Yi on Friday, April 21, and on view until July 25. The self-taught artist often works with scents, and the works here include several inflatable dioramas that combine samples of sweat from Asian-American women with the smell of carpenter ants. While you're in the museum, check out Doug Wheeler's "PSAD Synthetic Desert III" and Maurizio Cattelan's 18-karat-gold (functional) toilet, "America."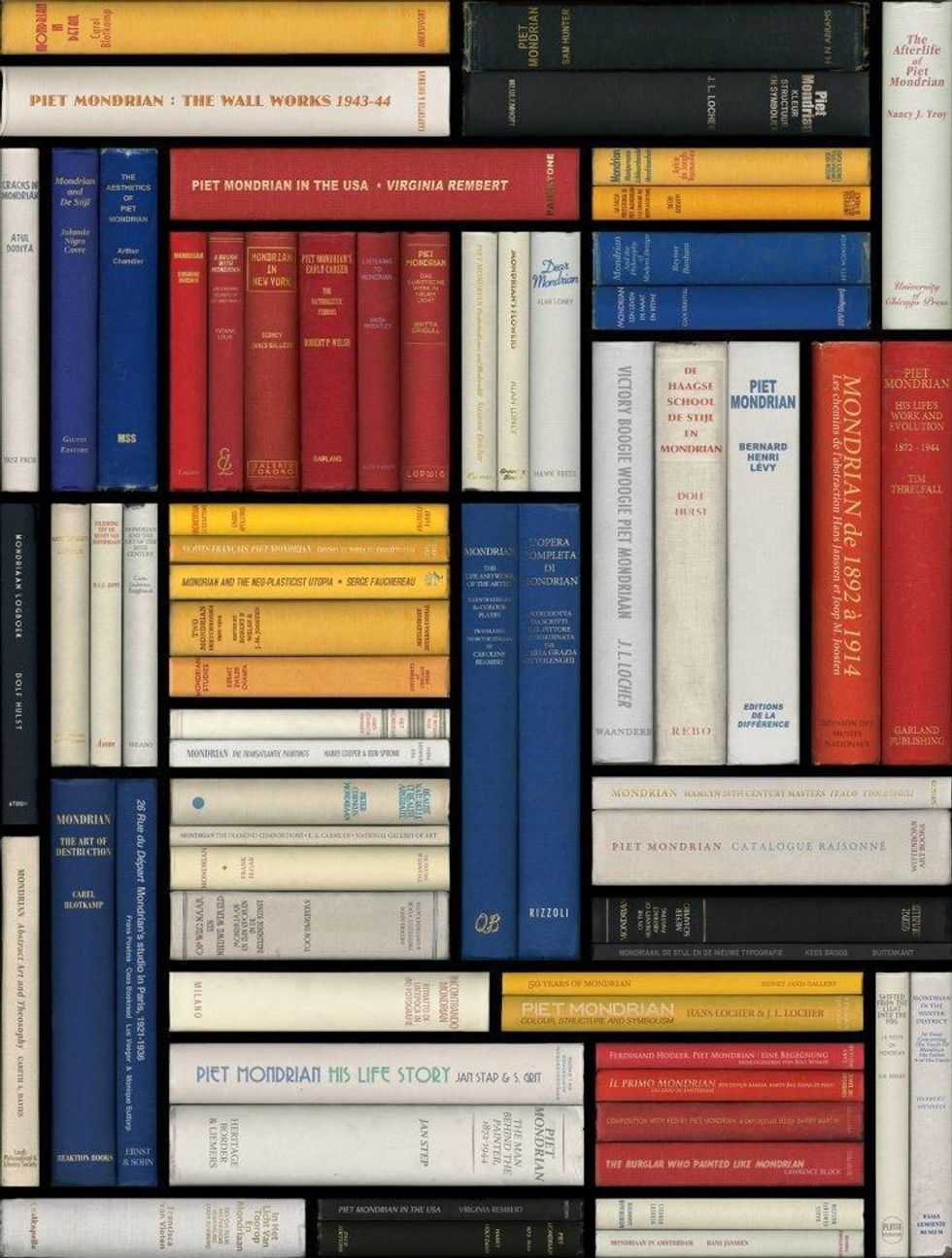 Via Center for Book Arts
Still arranging your books by spine color? Perhaps you"ll get some fresh ideas at The Center For Book Arts (28 West 27th Street, 3rd floor) latest exhibition, "En Masse: Books Orchestrated," opening on Friday, April 21, 6 to 9 p.m. The group show was organized by Osman Can Yerebakan and features works by over fifteen artists who "utilize book arrangement in their practice." Up until July 1.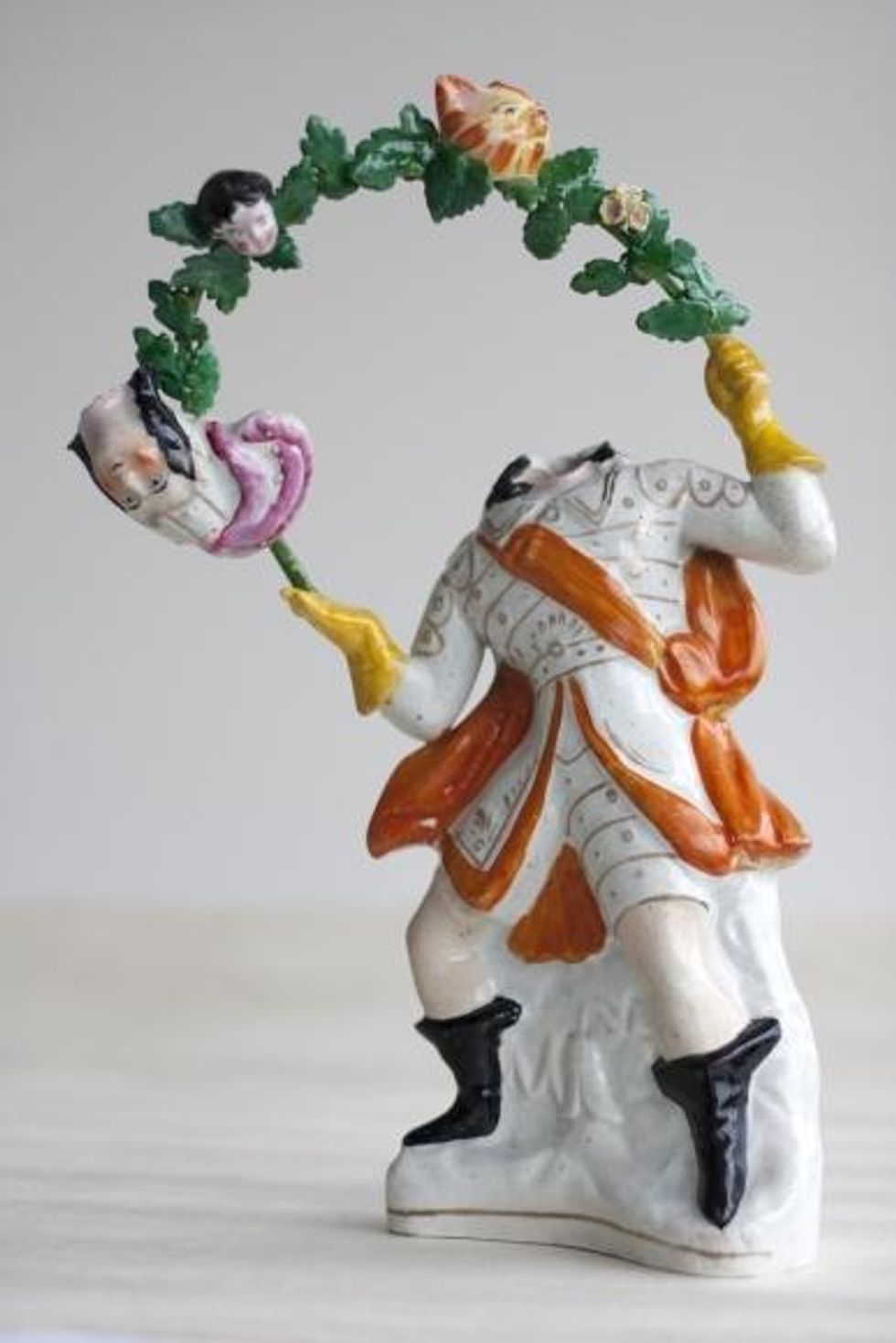 Amy Douglas, via Jack Hanley Gallery
Jack Hanley Gallery (327 Broome Street) opens "The Unfortunate Souvenirs of Our Time" featuring reconfigured pieces of broken Staffordshire ceramics by Amy Douglas on Friday, April 21, 6 to 8 p.m. The UK artist is a noted art restorer who also collects and, for this show, brings destroyed 19th century pieces back to life "with a surreal twist." On view until May 21.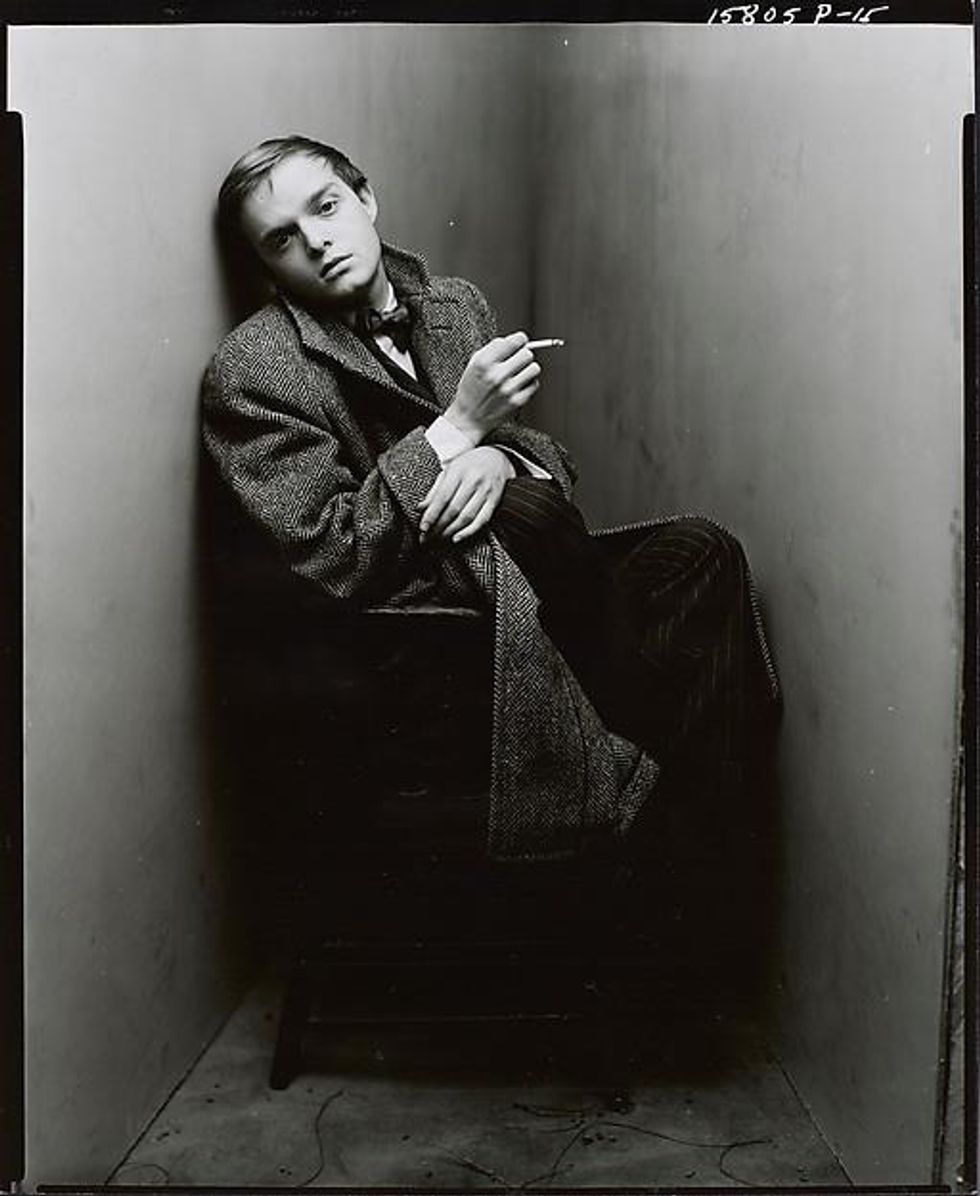 Truman Caopte, 1948 by Irving Penn, via the Metropolitan Museum
The Metropolitan Museum of Art celebrates the centennial of Irving Penn's birth with a big retrospective opening on April 24 and up until the end of July. Over 200 photos by the acclaimed American photographer are included. Look for portraits of Truman Capote, Picasso and Ingmar Bergman; as well as shots of tribesmen in New Guinea, flower studies and studies of his wife, Lisa Fonssagrives.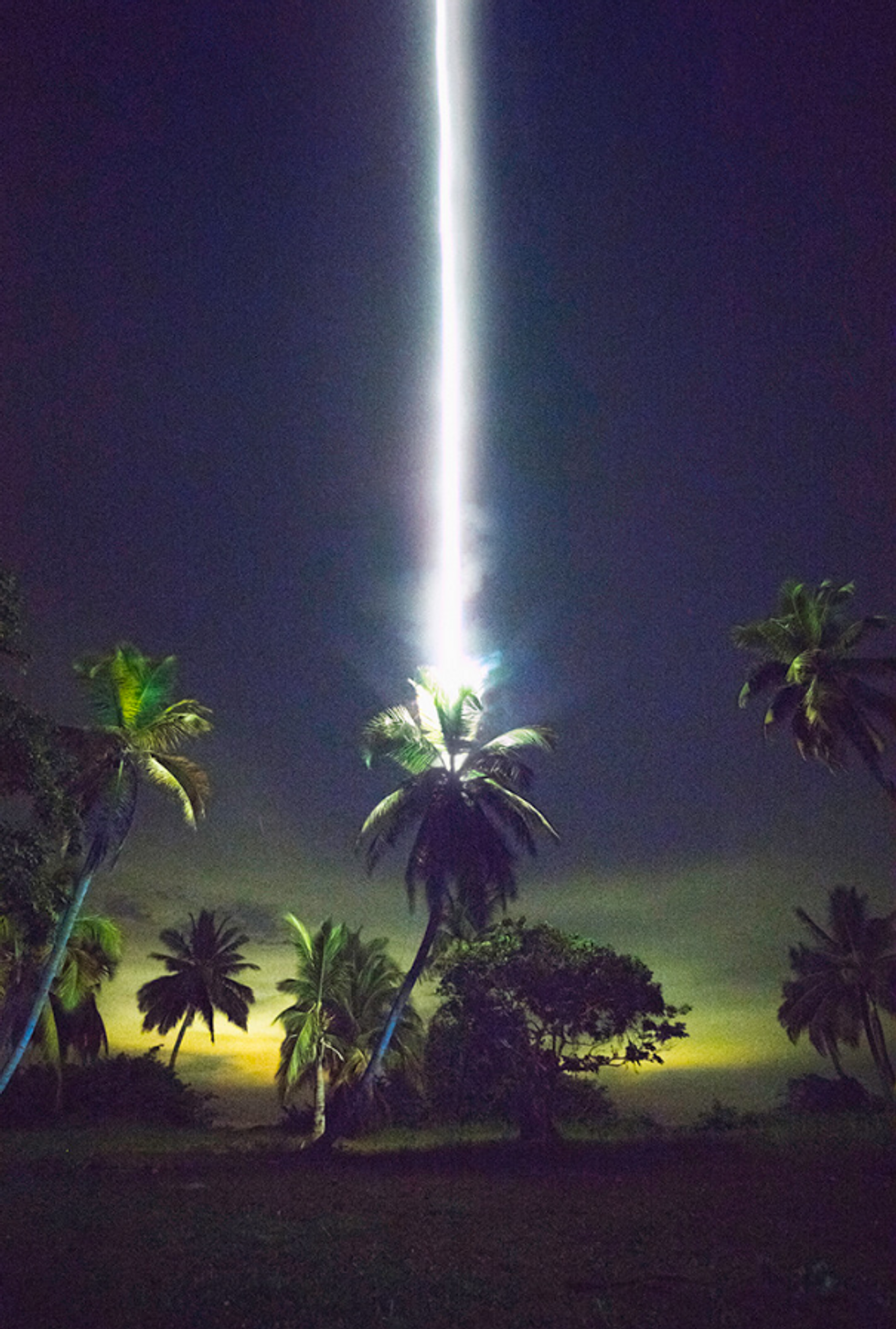 Julius von Bismarck via Marlborough Contemporary
Marlborough Contemporary (545 West 25th Street) opens three shows on April 19, 6 - 8 p.m.: Julius von Bismarck's "Good Weather," New York-based artist Lucas Ajemian's "A clean glitch..." and -- in their viewing room -- Betty Tompkins' "SMALL." All are up until May 20. Not sure what Tompkins is showing here, but she's known for her explicit imagery of "intimate acts."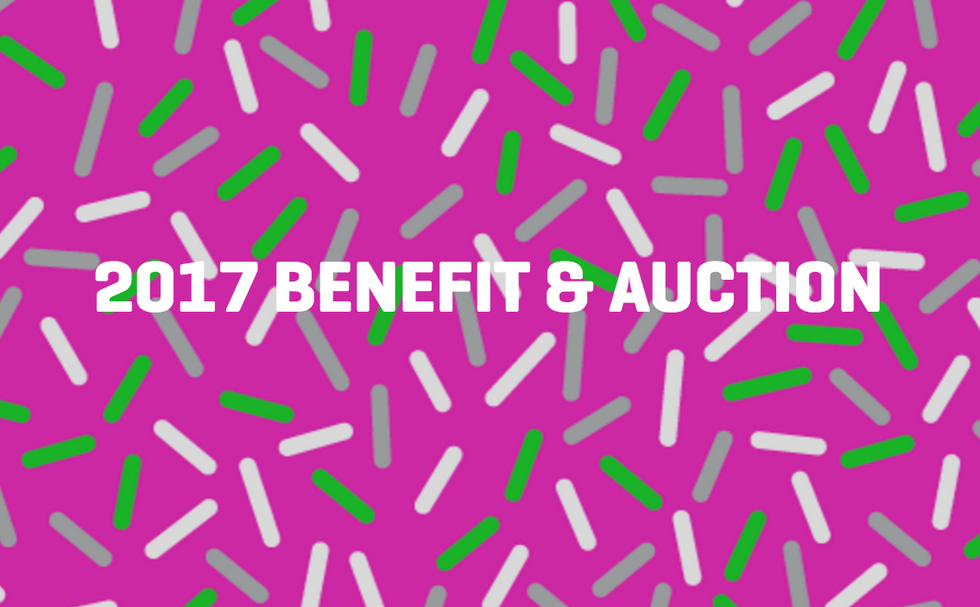 The Public Art Fund's 40th Anniversary Spring Benefit Auction is Thursday, April 20, 6:30 p.m., at Metropolitan West (639 West 46th Street). The night will raise funds to bring more works of art to NYC with cocktails, dinner, auction and (of course) an afterparty. Also check out artist projects by Jesse Hamerman, Oliver Herring, Anna K.E., Tabor Robak and B. Wurtz. Tickets are HERE.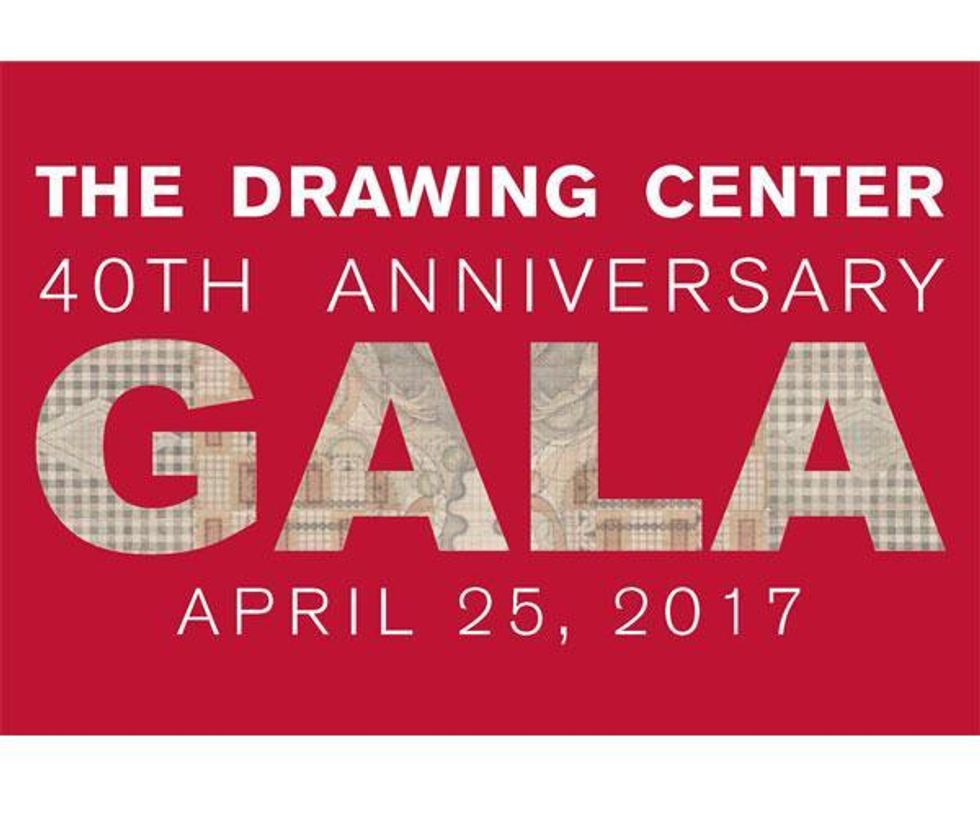 Also celebrating four decades supporting the arts in NYC, The Drawing Center's 40th Anniversary Spring Gala is Tuesday, April 25, 6:30 p.m., at Capitale (130 Bowery) They'll be honoring four artists: Marcel Dzama, Teresita Fernandez, Rashid Johnson and R.H. Quaytman; plus Billy Martin is the night's musical director. Tickets are HERE.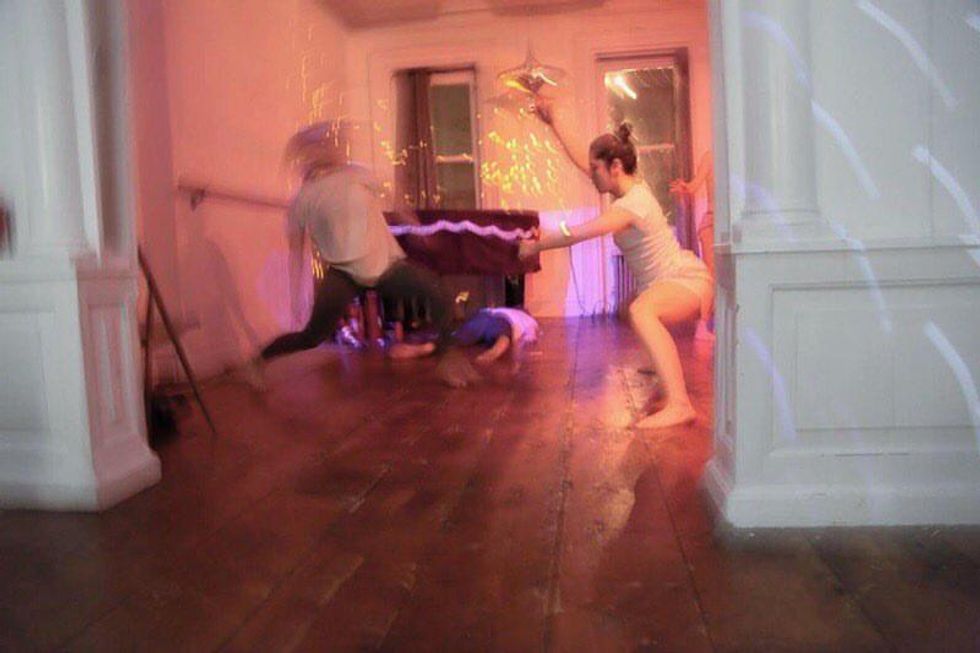 tedted via Facebook
The Hollows art space (151 Bedford Avenue, Brooklyn) continues their month-long performance/studio series with the tedted group's performance of "Pressing On" at 7 p.m. on Friday, April 21; followed by Ashley Robicheaux's dance-theater piece "Mattress" at 8 and 9:15 p.m. Space is limited, please rsvp to hello@hollows.info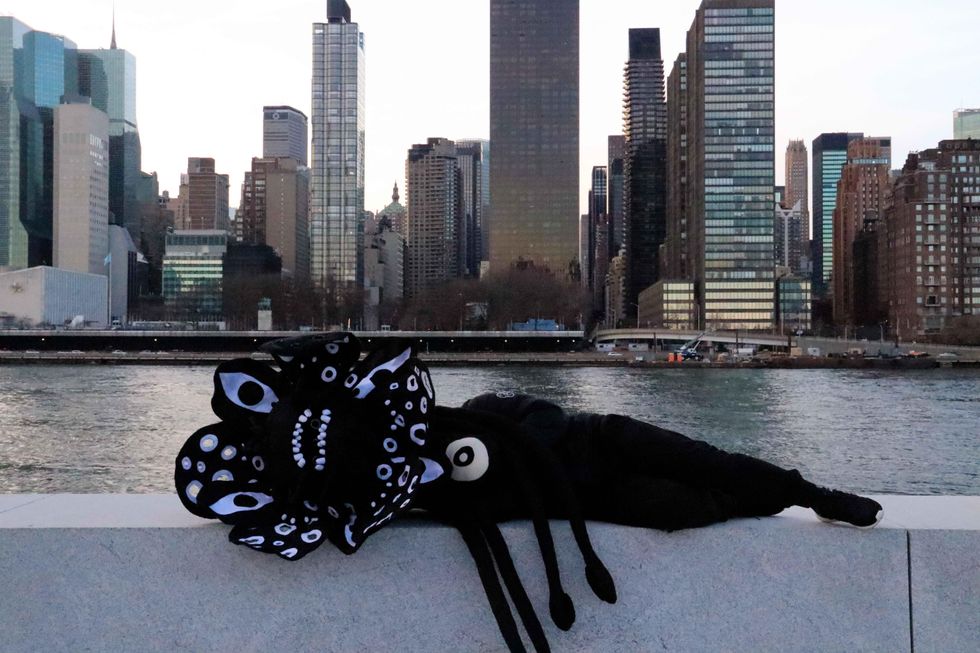 The Wanderer, 2016 by James Hsieh, via Parsons
The New York Academy of Art (111 Franklin Street) hosts their annual MFA Open Studios on April 21, 6 to 9 p.m. Check out over 100 artist studios. Parsons School of Design hosts their 2017 MFA Thesis Exhibition with an opening on Thursday, April 20, 6 to 8 p.m., at Westbeth (55 Bethune Street). The two-day International Studio & Curatorial Program (1040 Metropolitan Avenue, Brooklyn) Spring Open Studios starts on Friday, April 21, 6 to 9 p.m. And SVA's MFA Photography, Video and Related Media (214 East 21st Street) program opens a show of student work on April 21, 7 to 10 p.m.
Header image by Irving Penn via the Metropolitan Museum.