Wiz Khalifa is having a whirlwind summer. Last month Grammy-award winning rapper — who is currently touring around The U.S. — dropped his sixth album Rolling Papers 2. This week, along with releasing the music video for his track "Hopeless Romantic"featuring Swae Lee, Khalifa has unveiled a new collaboration with Swedish brand Happy Socks.
The whimsical capsule of underwear and socks features vivid patterns that reference the 30-year-old's music; a stylized pink, mustard, and navy paisley pattern against a red background, for example, nods to his 2014 song "House In The Hills." The tongue-in-cheek take on a classic men's tie print is an amusing expression of Khalifa's anthem about career-related progress and achievements. Chockfull of playful colors and prints, the optimistic limited-edition collection spotlights a quirkier side of Khalifa's personal style.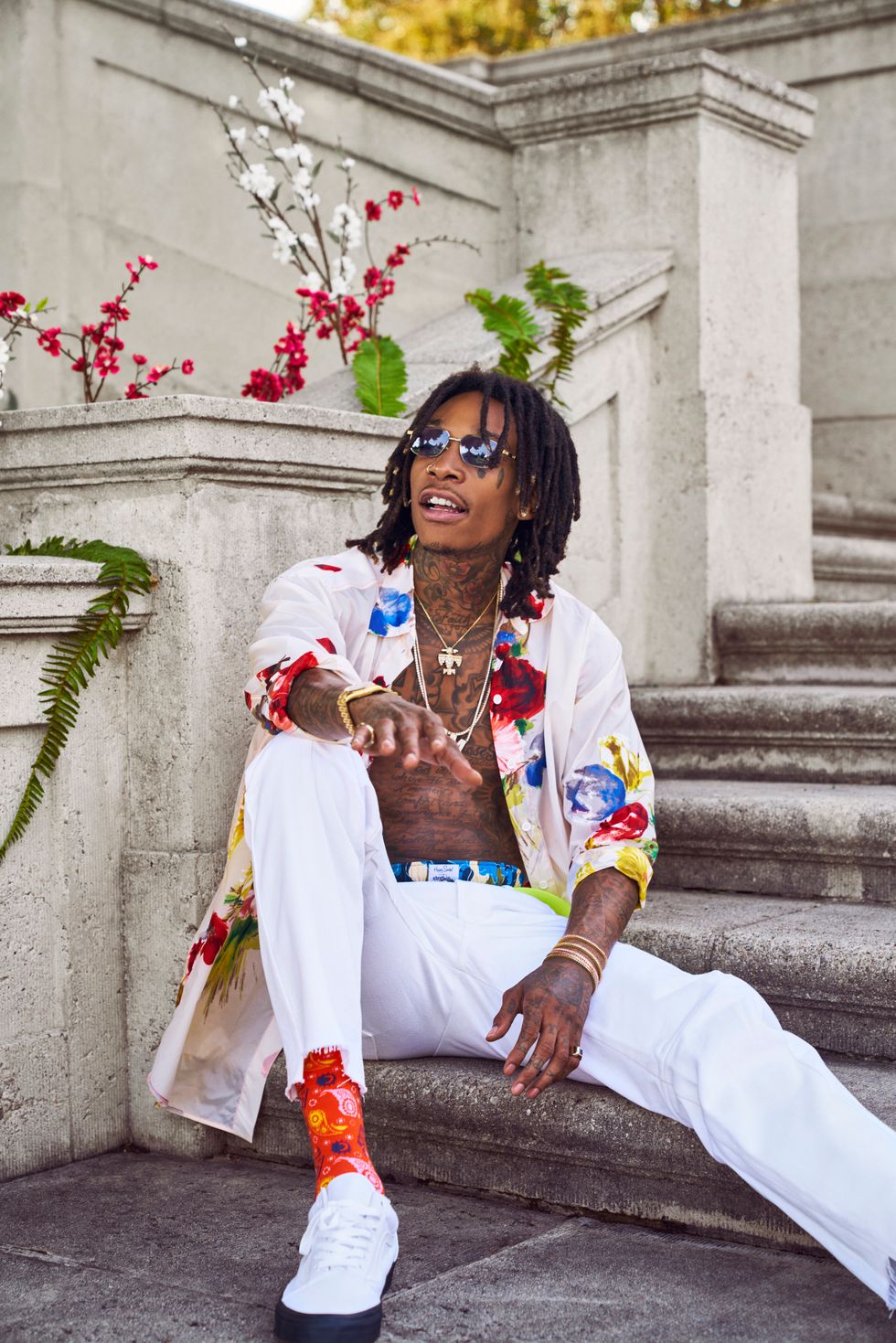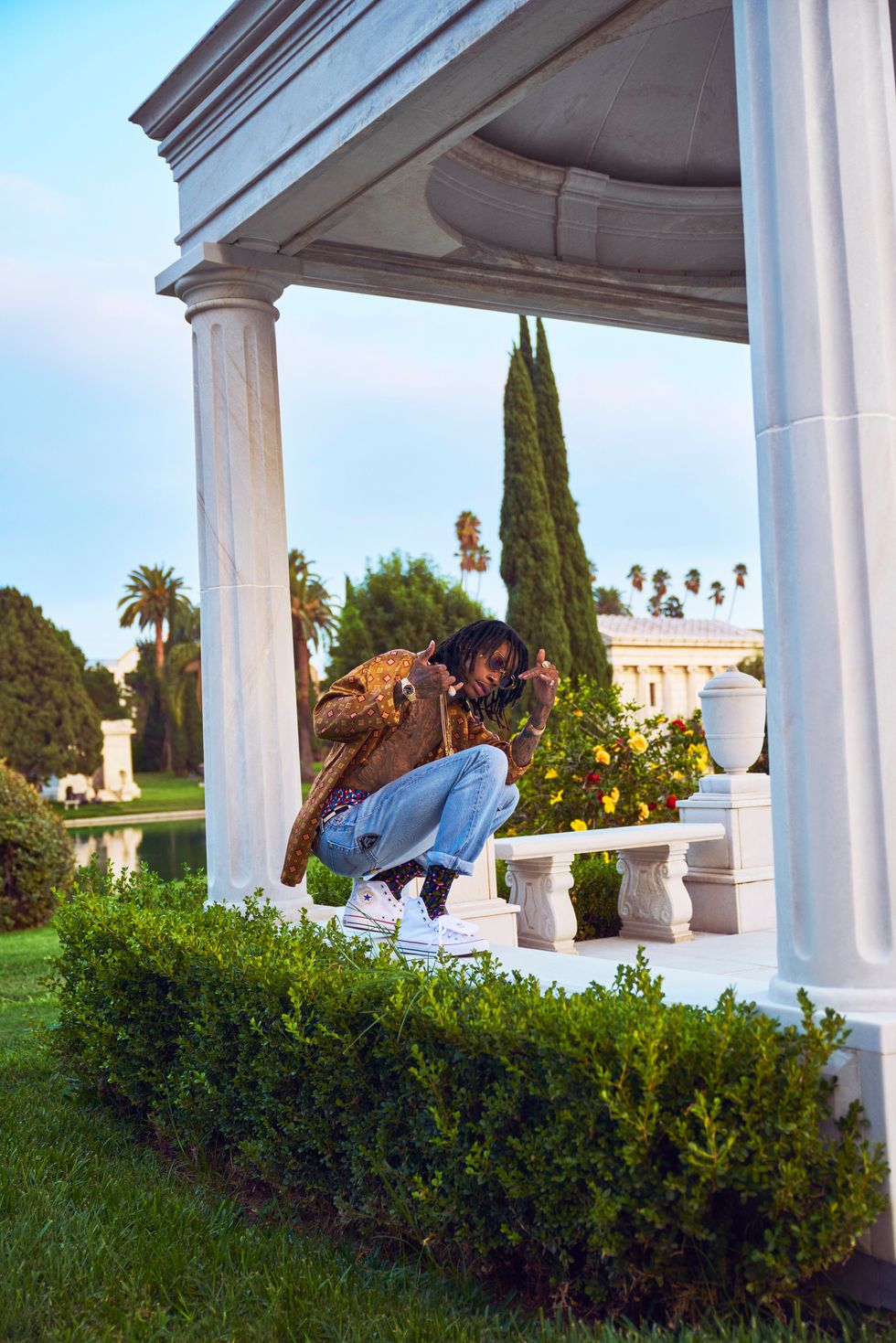 While the star opts for Saint Laurent jeans and bold, printed shirts on a day-to-day basis, immaculately tailored suits by likes of Thom Browne and Emporio Armani dominate his red-carpet appearances. Khalifa's conspicuous, experimental look has become a subject for conversation throughout his career. In 2016, the star's pants (and a few misunderstood tweets) famously sent Kanye West into a tizzy and propelled #WizWearsCoolPants to the top of Twitter's trending topics list. Commentary on the 30-year-old's sartorial sensibilities has only sparked in recent years, but his recognizable style sprouted early on in his childhood.
Related | Kanye West: In His Own Words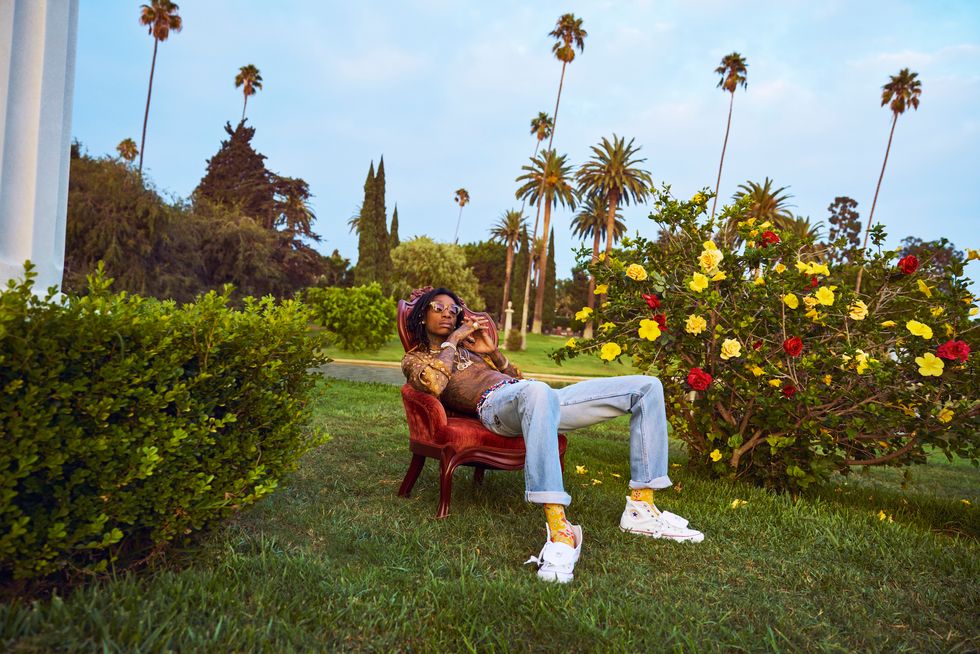 In a 2015 interview with The Hollywood Reporter, Khalifa referred to his dad as a personal style icon, noting that as a child, his dad encouraged him to pre-select outfits for the school week so that each was different. Now a father himself, Khalifa is imparting paternal style wisdom to his son Sebastian Taylor Thomaz. "I hope Bash is always confident and never feels he has to rock something just to fit in," Khalifa tells PAPER referring to the 5-year-old, who has already taken a keen interest in dressing up. "My son definitely has his own style which I'm super proud of." As an homage to Sebastian, the artist's collection with Happy Socks includes a range of charming mini socks.
Photography by Emma Holley / Product Images Courtesy of Happy Socks