Some people live their whole lives in fear of death, others laugh in the face of it. It turns out Will Smith is the latter. The actor took to the skies over the Grand Canyon today to bungee jump 1,000 feet out of a helicopter in honor of his 50th birthday.
While others are content with just a party or a little get together, Smith, ever the thrill-seeker, chose to stream the daredevil stunt after being challenged by Youtube Channel Yes Theory. Before boarding the helicopter Smith admitted that he was a little bit scared, recounting a visit to the Grand Canyon in his youth and being unable to muster up the courage to peer over the edge. "I've made it a point in my life to attack anything that I'm scared of," Smith said as his entire family and Fresh Prince of Bel-Air co-star, Alfonso Ribero, looked on.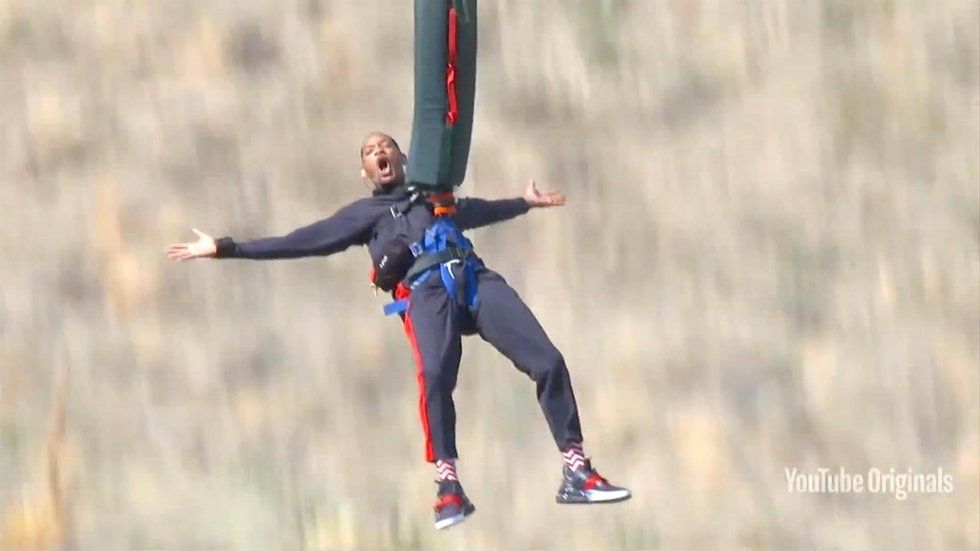 Photo via YouTube
Falling backwards out of the helicopter, Smith screamed and hollered in an adrenaline-fueled euphoria. After cementing both feet back on terra firma, the actor reflected on the jump, "nothing, nothing will ever be scarier than that. It goes from complete, absolute terror to the most magnificent bliss you've ever felt in your life."
In true Will Smith fashion, before leaving the actor offered some sage advice for those who were tuning in, "the commitment is real, the commitment is real. It's like you meet somebody, and you like her and she likes you and you hesitate. Don't hesitate! Commit!" We're just glad Smith didn't wind up like a certain Fresh Prince fiance...
Photo via Getty