Walking into RuPaul's DragCon NYC at the Jacob K. Javitz Convention Center in Hell's Kitchen is like entering a whole new world. Seated outside the building were all types of people: men, women, those who identify as non-binary—some came sporting their finest drag, others did not. Despite common belief, this wasn't an event specifically reserved for gay men (though there were many in attendance). Nope. Here, you could find anyone.
The list of visitors spanned from the universally recognizable (RuPaul and Isaac Mizrahi) to those that would only be recognizable for fans of the show (Michelle Visage, Kim Chi, Shea Coulee, Raja, etc). There were a few internet favorites thrown in for good measure: some comedic personalities (Joanne the Scammer, T.S. Madison, and Kid Fury) and a few well-known YouTubers (Manny MUA and Laura Lee). Then, there were the New York-specific visitors, like Big Apple nightlife icons Amanda Lepore and Michael Musto; and though this was definitely not planned this way deliberately, a few former PAPER cover stars like Jeffree Star and Nico Tortorella.
Vendors were similarly mixed. Of course, there were those you would expect to find at a convention designed for drag queens: Booths selling matching accessory sets (earrings, bracelets, brooches, etc.), wigs, makeup, and full head-to-toe looks were plentiful, while others, like one I saw selling different breastplates, were more niche, but no doubt just as practical in this setting. Naturally, merch was a big deal here too, with many Drag Race queens employing a team of workers to sell special edition t-shirts, tote bags, and sometimes even food (Venus D-Lite had shortbread cookies sporting her visage) on their behalf. Such sales would die down slightly during a queen's meet-and-greet hours, however, when hordes of fans would line up for autographs and photo-ops. But even so, it was near impossible to be a fan in this space and leave without buying anything.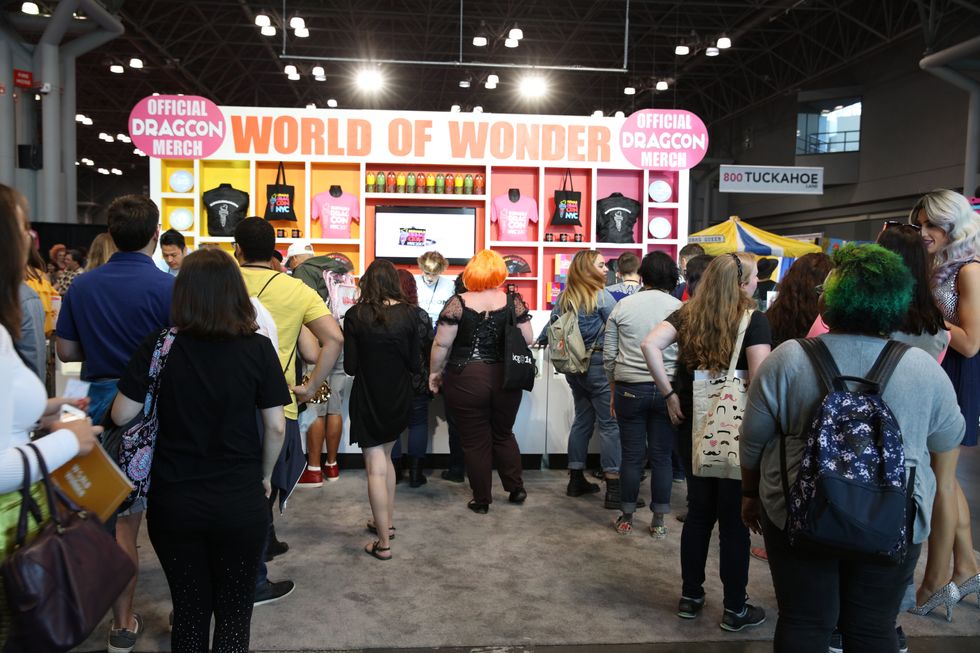 The World of Wonder merch booth at the front of the room
While the commotion on the main floor was endless during the hours the convention was open, something more thought-provoking (and much quieter) was happening in the rooms that lined the side walls: the panels. For the most part, in the past, these panels have functioned as opportunities for fans to hear their favorite queens talk about their favorite things (music, dance, nightlife, fashion, etc.). And this time, it was much the same, with many specifically responding to niche interests of the audience. Both Saturday's "Pushing Buttons" and "Pow! Boom! Zap!" panels come to mind, focusing on gayming (gay video gamers) and comic book fandom, respectively.
However, after the success of DragCon L.A.'s extremely informative panel on "What Is Drag In Trump's America?" (moderated by Teen Vogue's Sandra Song and featuring Bob the Drag Queen, Alaska Thunderfuck, and Eureka O'Hara), there was an equal importance placed on panels that dealt with less innocuous subjects. The closest panel to the aforementioned came early on Sunday afternoon. Moderated by Phillip Picardi, who is, perhaps not coincidentally, also of the very politically-minded Teen Vogue, "How to Fight Back: Activate Your Activism" was one of the rare panels that spotlighted the culture surrounding drag more so than drag itself. In fact, the only queen on the panel was the hilarious and opinionated Bob the Drag Queen, who also sat on Sandra's panel a few months ago. Instead of drag queens, a slew of activists rounded out the conversation, including YouTube star-cum-author Connor Franta, Gays Against Guns co-founder John Grauwiler, and Manhattan Community Service Center director Daryl Cochrane. While some may have scoffed at the decidedly un-dragness of the panel, it was clear that the activism Picardi and co. sought to "activate" went hand-in-hand with the culture drag facilitates. After all, as World of Wonder co-founder Randy Barbato told me in an interview leading up to this weekend's festivities, "For us, drag has always been political!"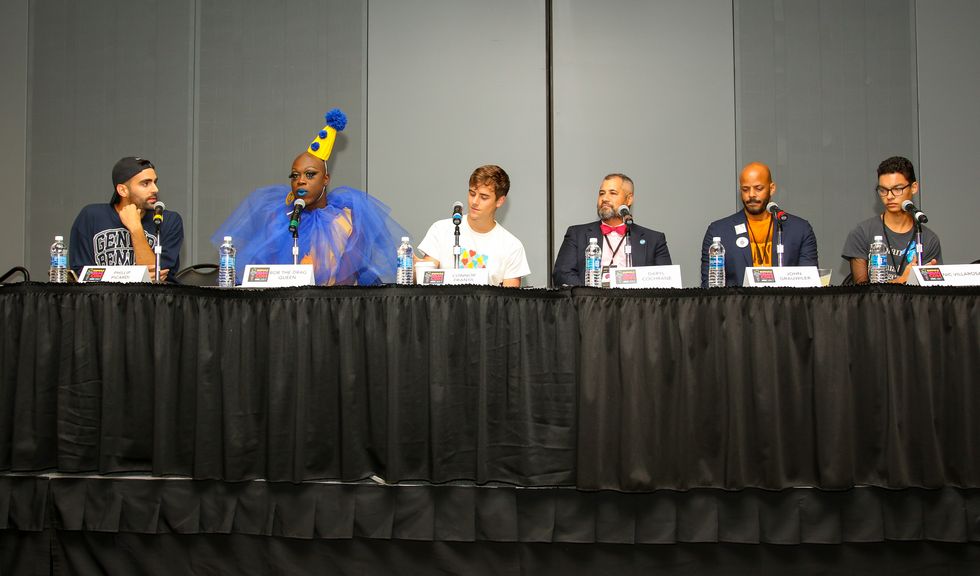 Phillip Picardi, Bob the Drag Queen, Connor Franta and more on an Activism panel
Overall, DragCon proved itself to be an event for everyone, but where it seemed to draw its power from most was in its treatment of (and catering to) the youth. As I walked down the aisles—each, cleverly named with some winking reference to the show that made this convention possible (think, 600 Backrolls Blvd. or 800 Tuckahoe Lane)—I was amazed at how many young children were in attendance.

Their presence was made apparent during the "Fangirls Run the World" panel, which was led by PAPER's own creative director Drew Elliott and focused on exploring the unique experience of queens that gain massive fanbases after appearing on Drag Race. After delving into a less-than-PG anecdote during a Sunday afternoon panel lead by PAPER Magazine's own Drew Elliott, Drag Race season 8 and 9 queen Cynthia Lee Fontaine asked for a show of hands of who in the room was a child. To her unfortunate shock, a sea of palms shot into the air. At "The Runway" (built to resemble the real one on the show), children also seemed to be the focus—even going as far as to instate an age limit that forbade anyone over the age of 15 from showing off their fierce struts.
Thinking about who I was as a person at that age (outgoing and social, sure, but definitely still closeted and very ashamed of some of my less-than-masculine interests), it was inspiring to see the way an event like this allowed these children to feel completely free—and, perhaps more importantly, safe. Building a space for these young people to embrace any and everything about themselves with no reservations—even if only for two days—is a huge, very important feat, and it elates me to think about how this powerful weekend could help them moving forward.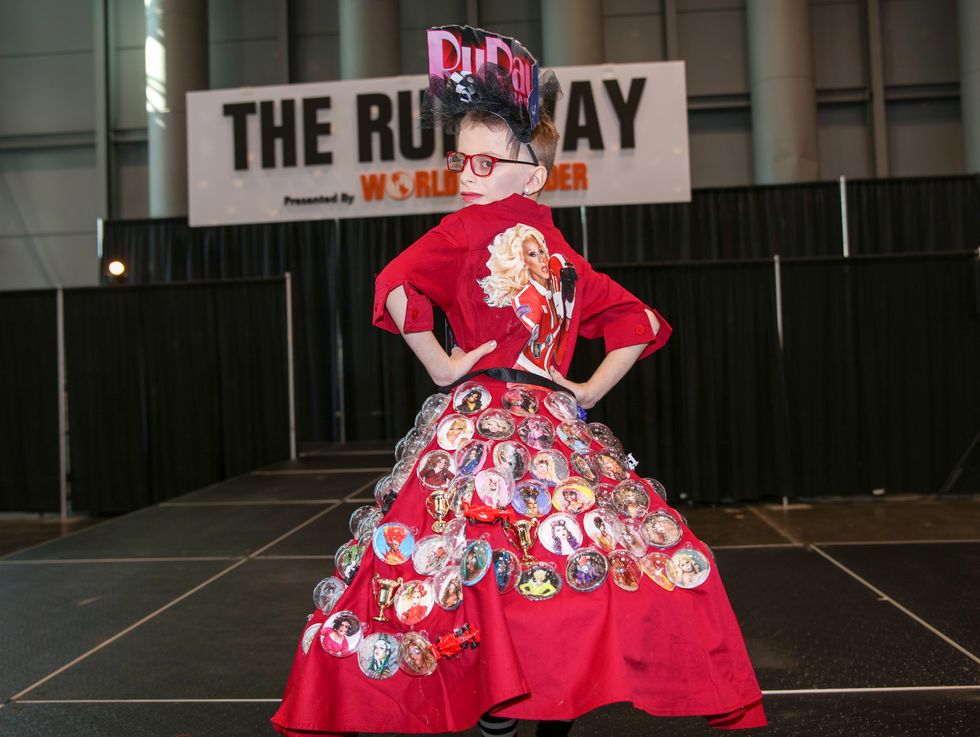 10-year-old Desmond Is Amazing, one of the young children in attendance
Over the course of the weekend, I never saw RuPaul himself. His fleeting appearances were a running gag at the event, with many staff and guests joking about the supposed "rare sightings" as if the drag legend was a literal unicorn instead of one of the most recognizable faces in show business. But what mattered about DragCon was less Ru's physical presence and, more, his aura, which was felt in every nook and cranny.
If you walked down any of those cleverly named aisles to the end, you would most likely end up in a carpeted area that doubled as a retrospective of some of RuPaul's most iconic looks on Drag Race. Stretched across the back wall and, though entry into the space was open to everyone, roped off with red velour stanchions, the area displayed a few key pieces from Ru's otherworldly wardrobe, including his polka-dotted pink suit, as well as the gorgeous painted Zaldy gown he wore in this season's episode with Kesha.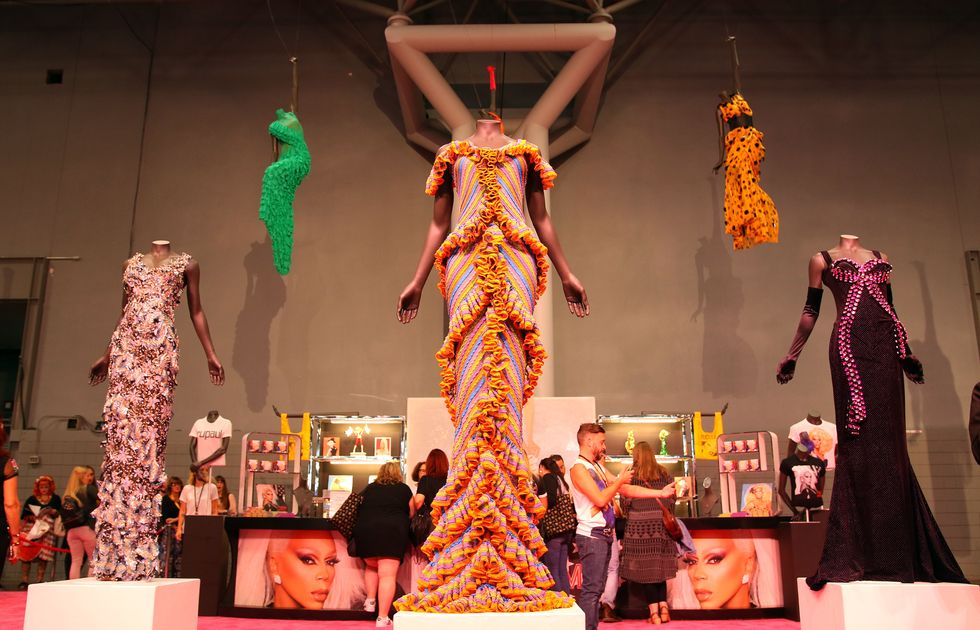 A retrospective of some of RuPaul's most iconic looks from the series
As I walked around this little museum of sorts, I tried to place each look—doing my best to remember when Ru wore it, and how she looked. It was hard (I think I managed to place maybe six or seven of the at least ten that were there), but I realized something as I did it. RuPaul's legacy transcends any singular element about his being—it's much more than his style, or even the charisma, uniqueness, nerve, and talent from which he's built an empire. The truth is, when all is said and done, we love RuPaul not as much for what he has done for himself, but for what he has done and continues to do for everyone else.
Even without RuPaul, DragCon—just like Drag Race itself—is carrying on that legacy.
There's really only one thing to say: Long live DragCon!
All photos via World of Wonder