Looking back at Water From Your Eyes' 2023, it's a better question to ask what the duo, composed of vocalist Rachel Brown and instrumentalist Nate Amos, hasn't done this year. The Brooklyn-based band released Everyone's Crushed, their first album under storied indie label Matador, enlisted their contemporaries like The Dare and Nourished By Time for remix album Crushed By Everyone, played over 100 shows around the globe — including tours with renowned labelmates Pavement, Interpol and Spoon and put on one of the most raved-about album release shows in New York City.
What led to the band having its most successful — and busiest — year started in December 2021, when Matador began courting the duo. "We met the A&R and one of the owners for coffee [that winter]. And they kept buying us coffee," says Brown while sitting at Bed Stuy coffee shop The Bureau, accompanied by Amos. Matador's flirtation with Water From Your Eyes lasted for seven months, until the band finally sealed the deal in July of 2022. "It's the longest talking phase I've ever experienced," quips Brown.
Matador is home to other bands that are just as offbeat as Water From Your Eyes, including slacker rock legends Pavement and Jersey giants Yo La Tengo, but the duo was still skeptical about whether the label would allow them to release music on their own terms. In previous meetings with other labels, they'd receive feedback asking for them to tone down the weirdness of their music.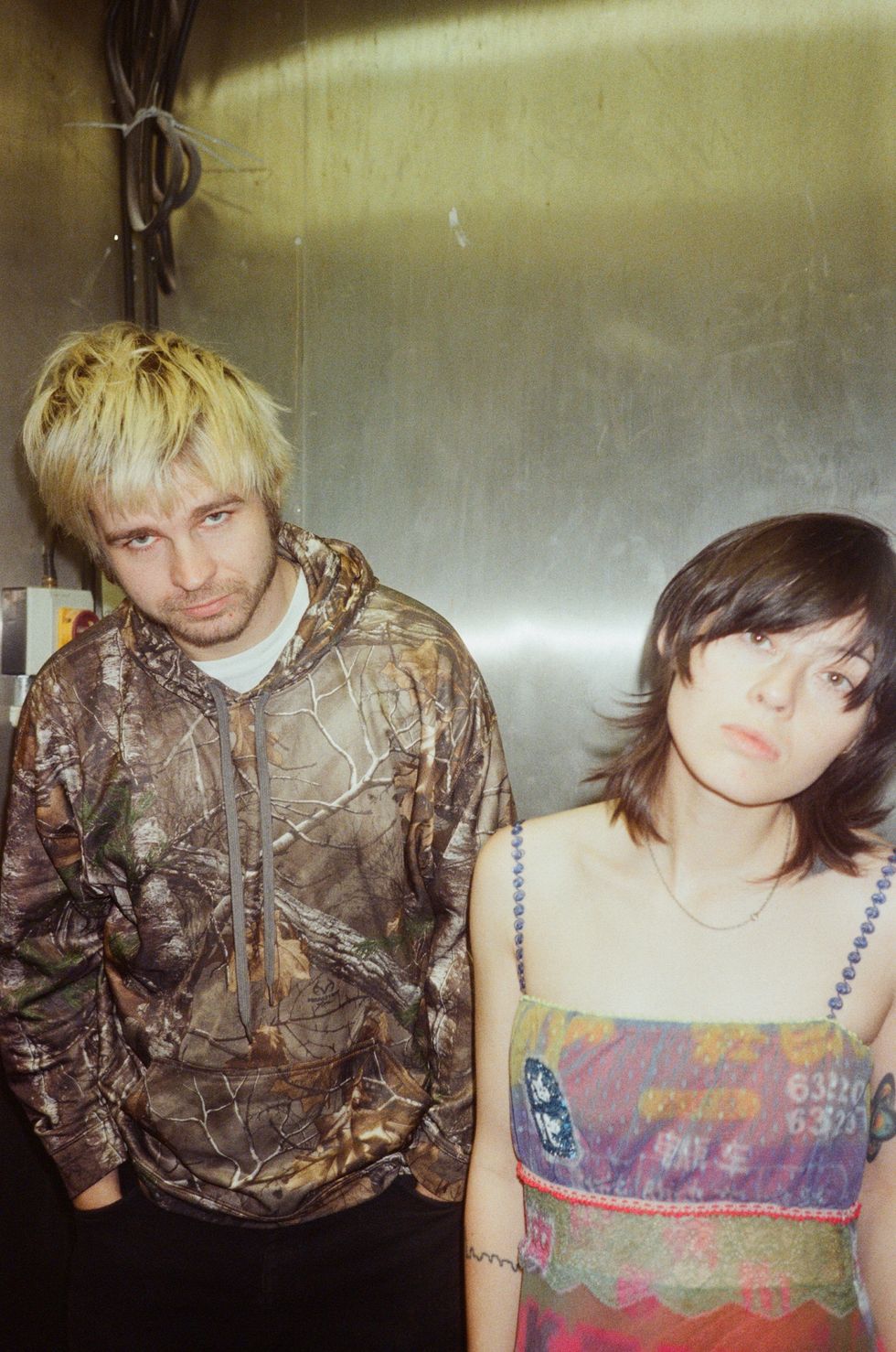 "I had all these little notes in my head of ways I could try to keep Matador from making us change anything," admits Amos. "We gave them the album and they were like, 'Alright, sick.' I was like, 'Wait, I was ready to fight.'"

Amos notes half-jokingly that the singles selected for Everyone's Crushed were "arguably some of the most unlistenable songs on the record." Lead single "Barley" is a gonzo dance-punk epic of escalating tension with layers of blissful synths pitted against eerie pitch-shifting melodies. It almost shouldn't work, but it does. In fact, the song was recently selected to be used in an upcoming Apple commercial promoting the latest iPhone.
"I think part of why [Matador] chose 'Barley' is because you could hear 10 seconds of it and get the song," he says, pointing out the looped sounds. But he was surprised that it was picked to represent the new era of the band, as he didn't envision it as a standalone piece. "I'd never imagined it as being a single. I'd never really imagined any of this [LP] as being a single — it's not really that kind of music."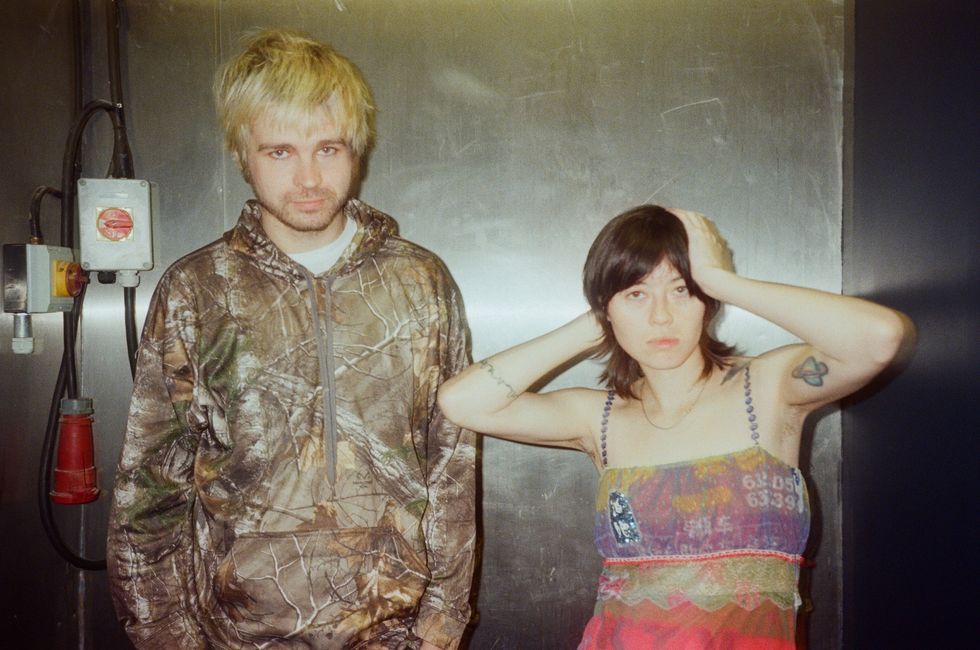 Brown jokes to Amos, "Music that you release on an album campaign?"
He explains, "It's just very much meant to be digested as a whole album. There wasn't really any particular piece on the album that was meant to function without context."
"I guess the exception kind of being "Out There," because that was almost like a joke playing with the idea of a single," adds Amos, referencing the most straightforward, danceable track on the album, which ironically wasn't selected as a single.
Signing to Matador also gave the band an opportunity to tour with the label's stalwarts, playing their biggest shows to date. But at this point, the band—who went from performing at bars and basements for the past six years to venues with a capacity of over 1,000—has gotten used to it.
"Honestly nothing makes me dissociate harder and faster than being in front of a big group of people," says Amos. "Yeah, it's become like weird noise that I don't register," Brown adds. "I can't count that quickly."
By this past summer, Water From Your Eyes' tour schedule had become so intensive that a proper release show couldn't be scheduled in tandem with the release of their record. They already had a hometown show with Iceage scheduled shortly after the LP's arrival date as part of Central Park Summerstage. The duo had vetoed the idea of having a listening party ("Why would we want to stand in a room where everybody's listening to the album?" notes Brown), so their manager Nikolas Soelter suggested an unconventional performance.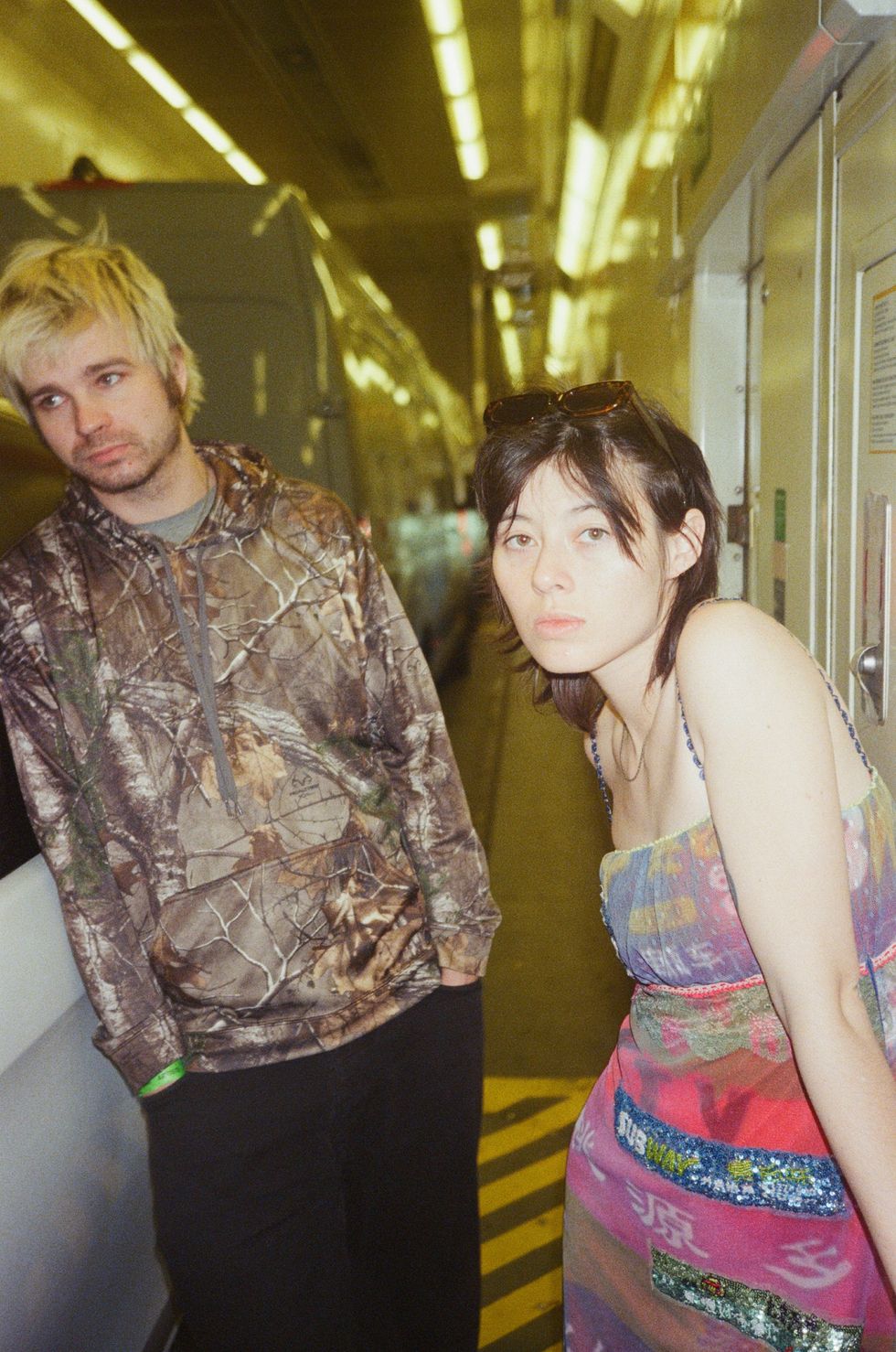 A few months later, during downtime between tours, the band organized a massive, sold-out release show on the Liberty Belle, a four-level vessel that set sail from New York City's Pier 36 on August 24. Water From Your Eyes included two other energetic bands on the bill: effervescent electro-pop punk duo Frost Children, frenetic Brooklyn newcomers YHWH Nailgun, and a DJ set by Momma. Despite it being a dreary, rainy day that spelled more doom and gloom than party vibes, over 400 passengers boarded the boat, spending four hours in the most intense booze cruise.
"I was really overstimulated," admits Amos. "This was never the intention, but I realized when I was on the boat and feeling overstimulated that we could not have chosen a more overwhelming three-band lineup to be stuck with on a boat. Like, that show just had no chill."
After putting out Everyone's Crushed, Amos and Brown also shared new music from their respective solo projects, This Is Lorelei and Thanks For Coming. The material couldn't be more different from Water From Your Eyes.
With This Is Lorelei, Amos has the freedom to find a creative outlet of his own, noting that he feels it's more of a "conscious project," whereas with Water From Your Eyes, he intends to create music serendipitously, capitalizing on "moments of randomness."
His latest release under This Is Lorelei is merely titled EP #33, showing how much music he's put out on his own besides Water From Your Eyes. His solo work is more melodic, recalling the music of legendary indie groups like The Postal Service and Rilo Kiley. If it had been released two decades earlier, it would feel at home on The O.C.'s soundtrack.
Meanwhile, Brown, who has a habit of deflecting in conversations with the use of humor, shows an unexpected, vulnerable side of themself in their solo work. As the title of their latest EP, What is My Capacity to Love, suggests, they process past relationships and question how those experiences shaped who they've become.
"I started doing Thanks For Coming purely as an emotional outlet because I'm quite bad at processing emotions," they explain. "It's like a crutch. I'm better at being vulnerable [now] but not by much."
Brown notes that compared to Water From Your Eyes, where they workshop lyrics with Amos and write from a more nuanced, less "self-serious" point of view, they express the part of themself in Thanks For Coming that only their close friends know.
Before becoming a musician, Brown aspired to be a TV comedy writer, which they studied for at NYU's Tisch program. They kept their songwriting a secret during their teenage years, hesitant to show their other artistic pursuits. Brown admits that even when they finally shared their music with people in college, they felt "so embarrassed by it." It felt easier to deflect by using comedy as a barrier to their emotions.
"I'm naturally very avoidant, it's weird because [I'm aware] I do it, so it's like I force myself to," they say. "I like being honest about how I feel but that's still unnatural to me. It's still quite embarrassing [to express my emotions]."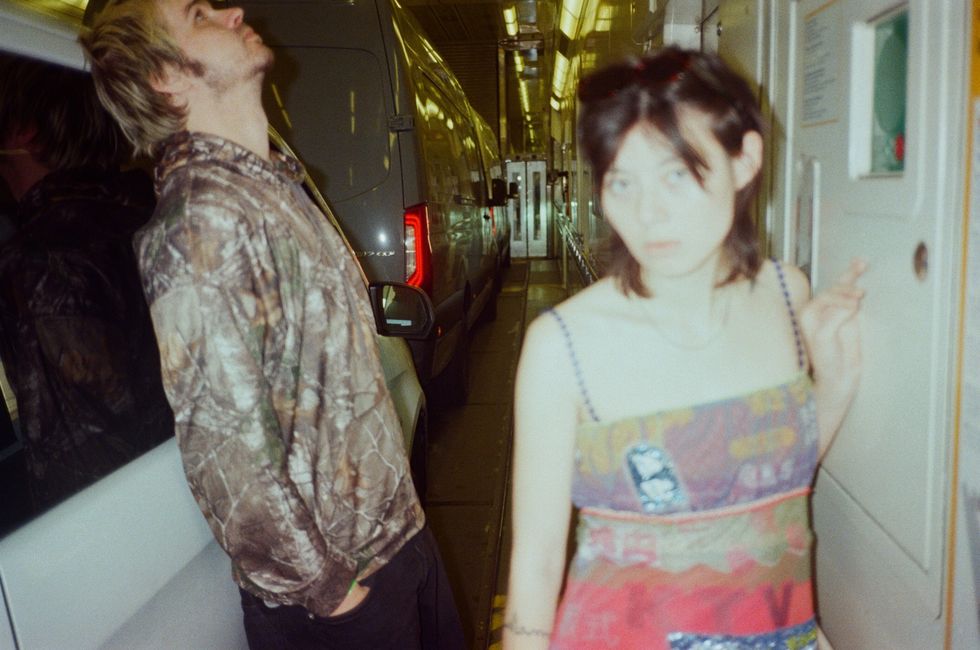 Amos can relate in his own musical journey. He recalls that in high school, he would keep his music a secret, but this mentality shifted in his mid-20s when he began feeling "really confident" about his own work. However, he still feels uneasy about the idea of people listening to his music. "It still freaks me out if I think about it too much. There's some sort of disconnect, it's like if I can't see people listening to things then they're not actually listening to things," he admits.
The different sides to Amos and Brown's interests are present in the duo's new remix album, Crushed By Everyone, which features some of their contemporaries and artists they admire. While some of the bigger names like The Dare may be the focus upon its release, one of the biggest gets for the band was Adam Kalmbach — who makes music under the moniker Jute Gyte — a mysterious, experimental black metal musician who has found a sizable following on Bandcamp despite never having performed live.
Amos, who came up with the idea of making the remix version of the duo's 2023 LP, had been following Kalmbach's music for years and decided to cold email him asking him to reimagine "14," one of the most avant-garde tracks on the record. "I got nervous emailing him," admits Amos. "I'd never talked to him before and spent a lot of time listening to his music. When he responded, I got butterflies."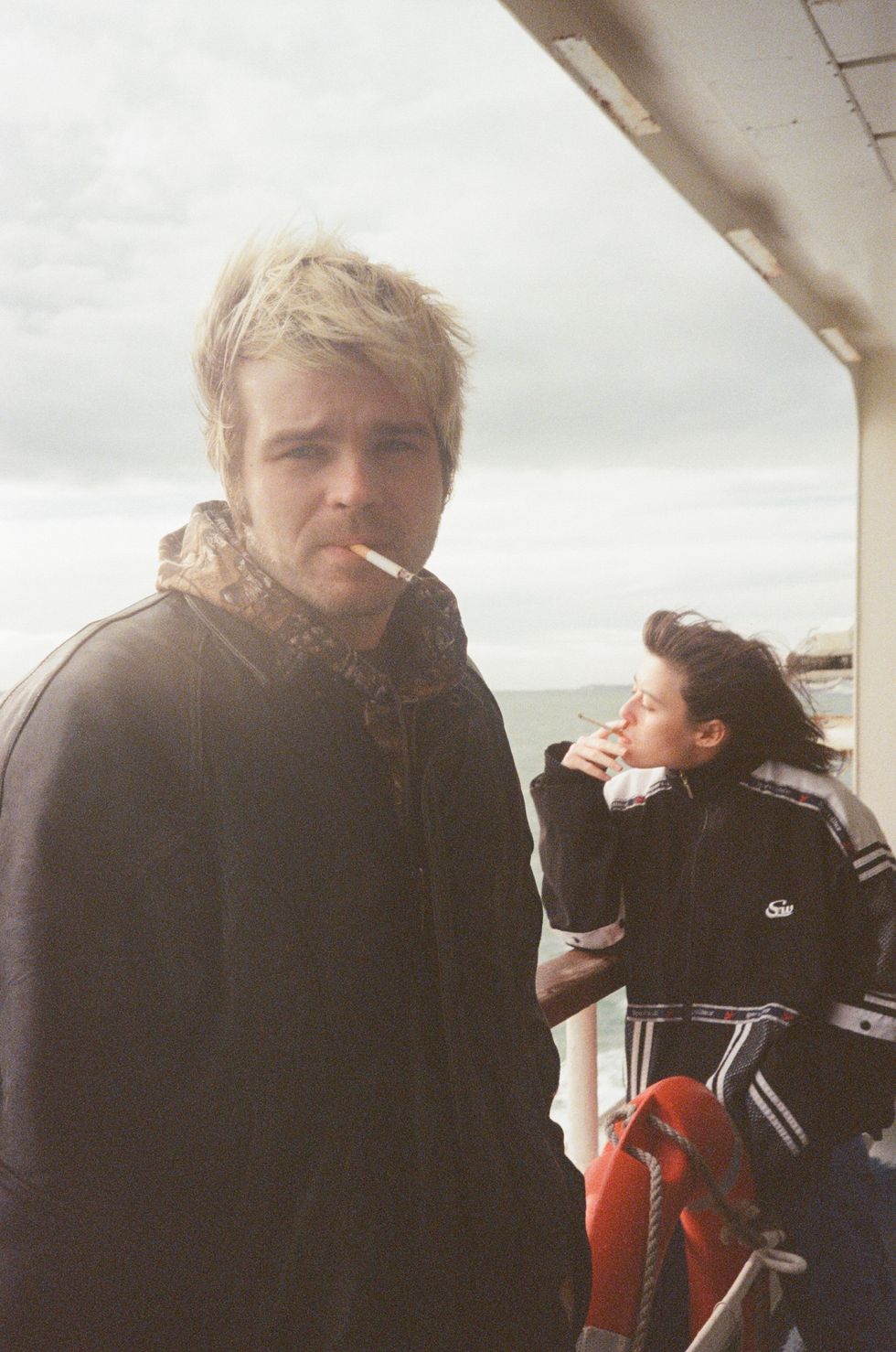 Today, the release date of Crushed By Everyone, Water From Your Eyes cap off their long year of touring — and biggest European tour to date — with their final set of 2023 at Spain's Primavera Weekender.
Coming up next, the band has big plans for 2024. Starting in February, they'll head on tour with UK post-punk band Squid, where they'll introduce a new addition to their lineup: drummer Bailey Wollowitz.
After welcoming second guitarist and Amos' partner Al Nardo to the band at the beginning of this year, Wollowitz — who made their debut in the band at the Central Park Summerstage performance — will become a permanent fixture of the group. "The goal is for the four piece set up to become the default by next year," Amos confirms.
Wollowitz has been attending Water From Your Eyes shows since 2018 and is close friends with Amos, Brown, and Nardo. They shared via text that it's been "a really trippy experience to step into an environment where you know what it's supposed to look and sound like but are adding an element that has never been there before."
With a bigger sound than ever, there's no stopping Water From Your Eyes from becoming as paramount as Matador's most recognizable acts.
Related Articles Around the Web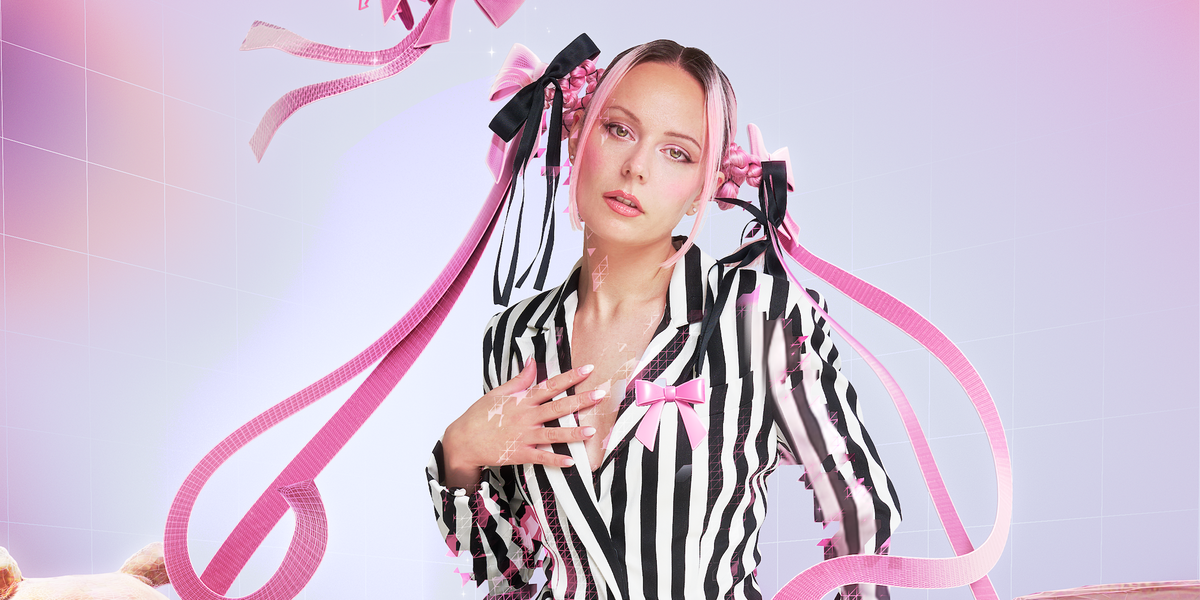 Music
Story by Harry Tafoya / Creative direction & VFX by Andy Rolfes / Photography by Nicholas Needham / Styling by Erik Ziemba / Hair by Davey Matthew / Makeup by Frostie Delite
Story by Harry Tafoya / Creative direction & VFX by Andy Rolfes / Photography by Nicholas Needham / Styling by Erik Ziemba / Hair by Davey Matthew / Makeup by Frostie Delite
07 November