What efficiency we can learn from the Brits. After four (and a half) fashion-packed days of shows (as opposed to New York's bleary eight and counting) #LFW is officially done and dusted. It was a stellar showing from stalwarts and upstarts alike, with a comforting feeling for the Home Counties and mumsy eiderdown and knits wrought to playful and quintessentially British effect from a few standout shows. As the fashion flock makes its own biannual Brexit to Milan, let's recount the brief, wondrous London fall season.
One To Watch
London has always been arguably the most robust fashion capital for emerging talent, with Central Saint Martins producing just about every significant European designer of note for the last three decades and its graduate show a perennial must-see. This London season, the designer (Michael) Halpern was perhaps the weeks most buzzed about new designer who, ironically, hails from upstate New York. After getting his MA at CSM last year, he did an apprenticeship with Donatella Versace, managed to dress Beyonce for her Soul Train-themed B-Day, and showed his fall collection of glittery, more-is-more jumpsuits and minis to the glamour-starved buyers and editors in London on Saturday. It will be easy to keep an eye on Halpern over next few seasons since it's almost impossible to look away.

Casting Coup
At the tender age of 30, Simone Rocha is a certified linchpin of London Fashion Week but her (relative) youth does not blind her to the power of having a variety of ages and experiences on her runways. In one of the most exciting casting moments of the week she managed to bring together modeling legends Benedetta Barzini, Cecilia Chancellor, Marie Sophie Wilson-Carr, Audrey Marnay and Jan de Villeneuve, among others. For model historians, especially those of the British stripe, it was the equivalent of a lunar eclipse, Halley's Comet and Leap Year in one show.
Big Time Sensuality
JW Anderson's clothes do well to defy category or expectation season after season but who would have thought they would be as sexy for fall? With barely-there camis and slinky minis, there were unexpected (and very welcome) hot flashes amidst the usual cerebral, so-wrong-it's-right mashup.
Handle With Care
Few designers can meld the glamorous with the deliciously strange in a cohesive fashion statement as well as Christopher Kane. This season the designer took to decorating his footwear with strips and bits of packing foam to ingenious effect. Whether it will be a hit at retail or street style, this little bit of clever detail is exactly what makes Kane the standard bearer of British quirk and cool.
Wait is that….?
London Fashion Week is overflowing with Brit It Girls that frankly no one beyond the Channel has really heard of (how many seasons of Big Brother do they have now?). So when the front row is graced with the likes of Vanessa Redgrave it is really…a moment. Such was the case at the Roksanda Ilinčić show this weekend when the 80-year-old screen legend took her seat, accompanied by her daughter Joely Richardson. If there is any question as to the actress's fashion bona fides remember that she starred in Michaelangelo Antonioni's masterpiece Blow Up, which affords her a front row seat at any show in perpetuity.
The Wiz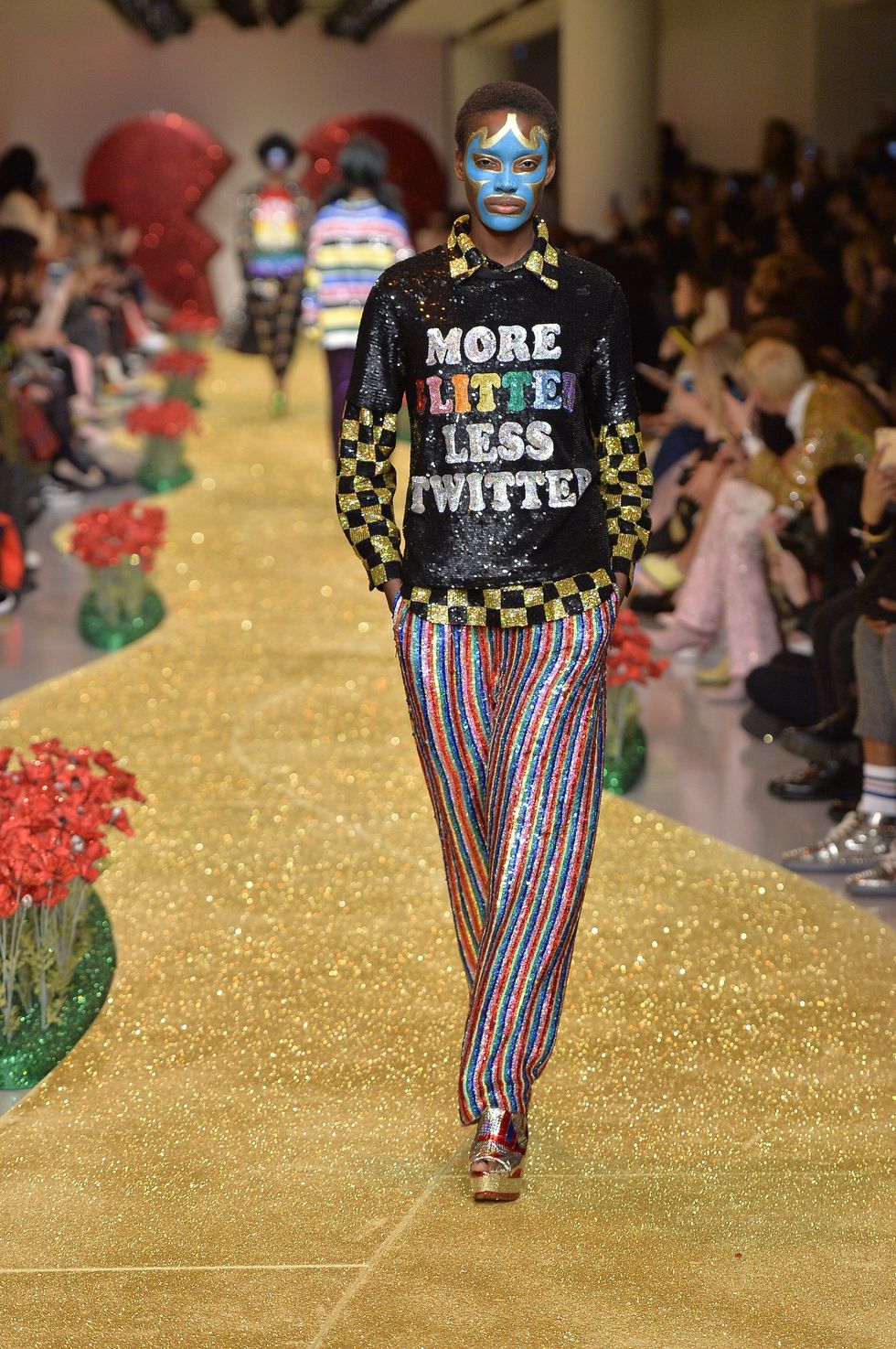 Courtesy of Ashish
The surreality of the current political moment in America is nothing short of a L. Frank Baum fever dream (ok, nightmare). So it was apt for Ashish Gupta to set his witty and glittery fall show on the yellow brick road we all know so well. The original Oz was an allegory for the politics and social movements of the 20s and 30s and Ashish mashed up those references with our current vocab: Nasty Woman and Pussy Grabs Back t-shirts. A recurring slogan throughout, one that we could all do well to remember in the daily barrage of breaking news and calamity: More Glitter, Less Twitter.
Dark Arts
If anyone in London could reflect and interpret the dark, foreboding mood of the moment it would be the gorgeously gothic mind of Gareth Pugh. In a subterranean space he paraded, with the help of legend Erin O'Conner making a rare appearance, his vision of glamorous gloom. From the Night Porter to Cabaret, the designer channeled similar moments when the world is on the verge of collapse. Not exactly what you would call a feel good collection, but honestly? Same.
Love To Love You
The Love Magazine party brought out the It-iest of the It in town for shows this week including Kendall Jenner, in a glorious white knit Burberry hoodie, and Hari Nef in fresh off the runway JW Anderson. It was a rare moment of hullaballoo and real partying during a week that is, relative to other cities, a bit more staid.
Moore is More at Burberry
Christopher Bailey is nothing if not thorough when he is mining a theme. This season he based his collection on the sculptures and spirit of British artist Henry Moore, whose work in the mid- and late-20th century dealt mostly with the curvature and composition of the human form, wrought usually in reclining, fluidly bulbous metal or stone. The Burberry show was the official opening of a free exhibit in central London of the artist's work and was an apt illustration of how Burberry is not just a British tastemaker but a great, civically-minded patron of the arts.
Sly Fox
British mega-brand Top Shop can always corral a star studded front row and pretty much any major model of the moment. But this low-key newcomer caught our attention: Sistine Stallone (yes that's Sylvester Stallone's daughter) made her LFW debut for the high street brand's fall collection with her mother, and model vet, Jennifer Flavin front row. The rookie model has been making a name for herself in the past couple of seasons stateside and this moment was a total KO.
Splash photo courtesy of Ashish

Music
Story by Payton Dunn / Photography by Nicholás Zambrano