In Vietnam's emergent pop music scene — shaped heavily by nearby K-Pop and Chinese-style ballads — Hanoi-born singer-songwriter tlinh is pioneering a much-needed post-internet sound, infusing genres like pop, rap, hip-hop and R&B with Vietnamese lyrics and sensibilities.
In a traditionally conservative country, the 22-year-old is also distinguishing herself from the establishment by pushing against outdated social views on women, unapologetically embracing her femininity and the sensuality that she says comes along with it.
"I want people who listen to my music to feel more feminine, to feel more confident," tlinh says. "There are feelings I believe we all have, but that people are not used to expressing in Vietnamese. I'm here to help people — women — get in touch with those emotions."
It's clearly resonated: last year, she was one of Spotify's most listened-to artists in Vietnam, and after making it onto the platform's Equal playlist, had her photo displayed on a Times Square billboard. The success has created opportunities beyond charts, like creating a jingle for Maybelline and appearing in a music video with 88Rising.
Born Nguyễn Thảo Linh, tlinh says she was always drawn to the stage — but she never thought that becoming a musician was a real possibility. She originally set out to become a doctor, like both of her parents. "I just wanted to prove to them that I could do anything," she tells PAPER. "But I always neglected my studies to go to the studio."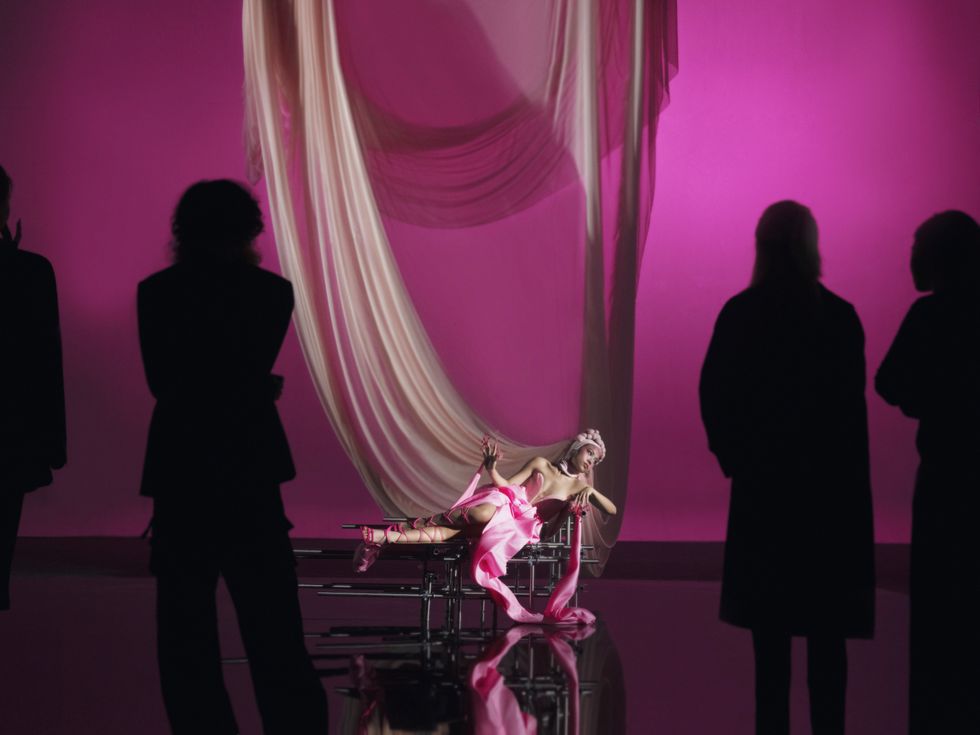 It was in 2020, during her sophomore year of college, that tlinh auditioned for Rap Việt, a national reality TV competition. Although she didn't win, she was the only female to crack the finals and had the chance to perform with Vietnam's reigning queen of hip hop, Suboi. She remembers going from 10,000 followers to 600,000 in a matter of months.
"It was crazy — people started messaging me to give me gifts and send me products," she says, reflecting on the experience of newfound fame. "They also started sending me hate messages for no reason. That's when I was like, 'Oh, it's getting real.'"
tlinh reveals that some of that drama had to do with her boyfriend at the time and public scrutiny of the newly famous young couple's personal lives. That relationship, though long over, would ultimately inspire her latest song, "nếu lúc đó" (which roughly translates to "If Only, At the Time"), which is the second single on her debut album set to drop later this year.
With today's release of "nếu lúc đó" — and its accompanying music video, which premieres below — we sat down with tlinh to chat about her musical inspiration, getting vulnerable with her emotions on camera and her hopes for the Vietnamese music industry.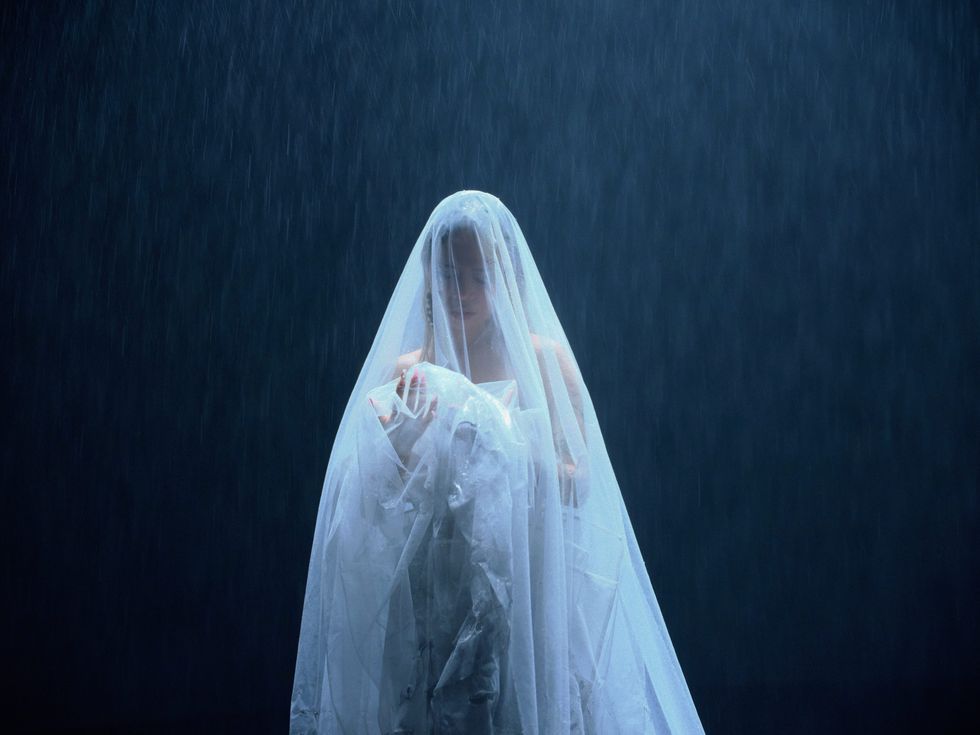 You've been called a rapper and a singer. How do you identify primarily as an artist?
I identify most as a songwriter. I write everything that I sing or rap. I put a lot of effort into that part. I just like making music.
Are there any artists that you would say have inspired your sound?
Of course, big names like Beyoncé, Rihanna, Lana Del Rey, Ariana Grande, Doja Cat, and Rosalía. I would say Kali Uchis is a huge inspiration for me right now, as well as SZA. I love how these artists have such a bold style but also with sensual touches. Powerful and feminine. In general, I'm inspired by women of color, who in history have always had to fight to express themselves freely.
Tell us about the experience of going on Rap Viet and getting your break in the industry.
Well, I didn't win, but I was the only girl to make it to the final stages. I didn't really even expect to, especially since this show is so male-dominated. So I think people found it interesting when I was in the finals.
Did you have much of a following before going on the show?
I had a small following before, mostly from just venting and ranting on Instagram [laughs]. I like telling stories. I would also sing a bit.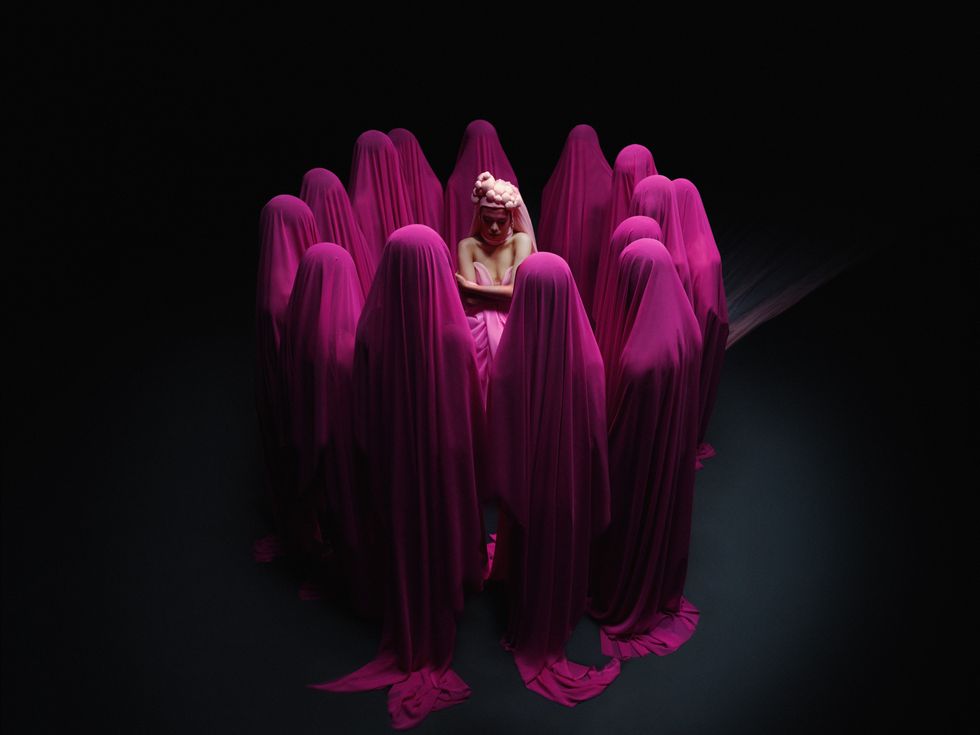 Let's talk about your latest video and song — what inspired it?
The song is about my feelings toward my ex-boyfriend. It's about repressed feelings because, at the time, I was young and naive. I felt like the world was bubbly and pink. I used to post everything about the relationship online. And that became messy and chaotic. So it forced me to repress my emotions.
So the song is looking back on that period in your life.
Yeah, the meaning of the song is sort of like, "If only at the time, I knew better." If I had known better, I would have been more private, so people wouldn't make so many assumptions. If I had known better, I would have not fed into this character people wanted me to play.
How did this feeling translate to the video, and how much input do you usually have on the visuals for your music?
I would say I have a lot of input. I really set the tone for the art team to work off of. I share what mood I want, what feelings I want to convey and what I want the audience to experience and feel. In the first half of the video, I'm wearing all pink. Everything is picture-perfect and pink. But if you look closely at the images being projected behind me, it's a representation of my chaotic mind. The second half of the video is pure raw emotions. I'm wearing what looks like a wedding dress, but with some burnt holes. It's a sort of eulogy to past relationships.
What was it like to release those emotions and be so vulnerable on camera the day of the shoot?
I think it was easy for me because I was expecting to feel a lot. Everyone on set really held space for me to share those emotions. I cried a lot. We had some of my fans there, and so I got to share that with them.
Your fans were on set?
Yes, we needed around 25 extras for the video, so we let people apply online and we picked some at random. They were all very kind to me that day. There was a moment where I screamed really loud — like I really screamed — and I just feel blessed to share those intimate moments with people.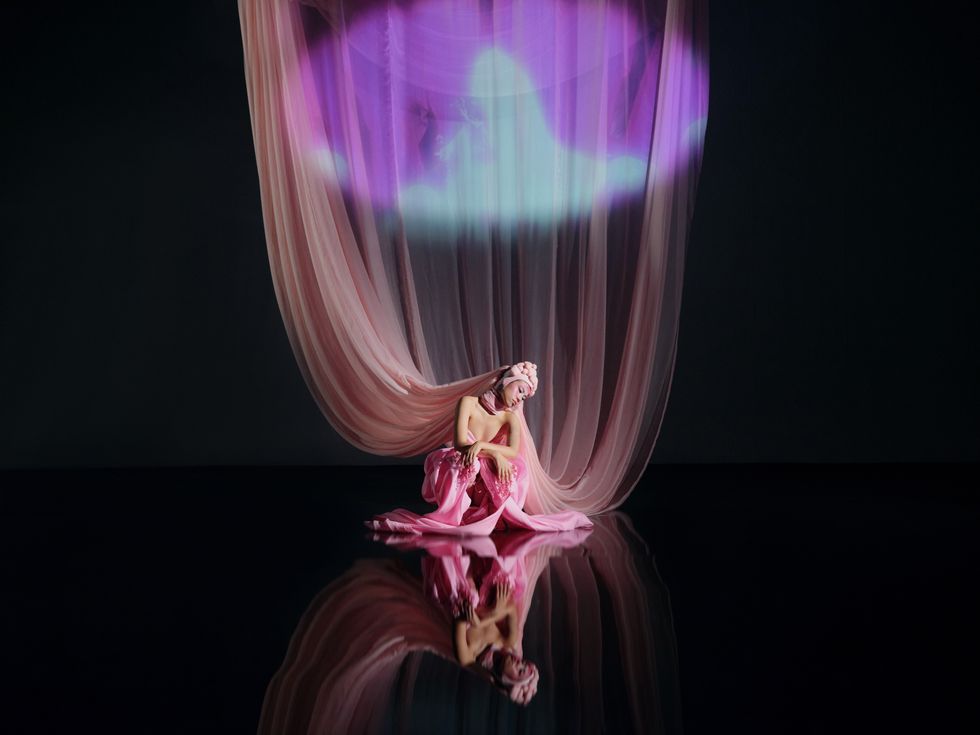 Speaking generally, what do you think is the state of the Vietnamese music industry right now?
I think the Vietnamese music scene is in a transition period where anything can happen. We have so much potential. With this new generation of artists, I feel like we are more likely to tell our stories. We are more unafraid to speak our minds. I feel that the upcoming year is gonna be very interesting in the Vietnamese music scene. So I hope that people pay more attention to us.
Of course, Vietnamese people have the same emotions as everyone else, but we're not used to expressing them. They don't know how to name it yet. And I am here to convey it in Vietnamese.
Would you ever want to crossover to a global market or even release a song in English one day?
Of course, as an artist, you want your music to touch as many people as possible. But I never want to have to change who I am to make that happen. And I feel like right now, I need to do it in Vietnamese. It's funny because when I first started writing, I used to write everything in English, but I want to talk about emotions in Vietnamese.
Do you think because Vietnam has been so conservative in the past, it's hard for people to find the words to talk about certain feelings?
Of course, Vietnamese people have the same emotions as everyone else, but we're not used to expressing them. They don't know how to name it yet. And I am here to convey it in Vietnamese. It's very easy to convey those messages in English, but I want all of my fellow Vietnamese to have this voice.
Do you ever face pushback for pushing the idea of being open and expressing sexuality? If so, how do you stay so confident?
Yes, my music is hyper-feminine and it can be too powerful for some people. A lot of Vietnam still has the idea of toxic masculinity. That's still very strong here. I used to repress my femininity because I was molested at a young age, and was always afraid of it happening to me. I always acted tough so that boys would not do anything to me. I got back my power and wanted to put it in my music so girls can feel that they have their power, too. Femininity doesn't mean weakness.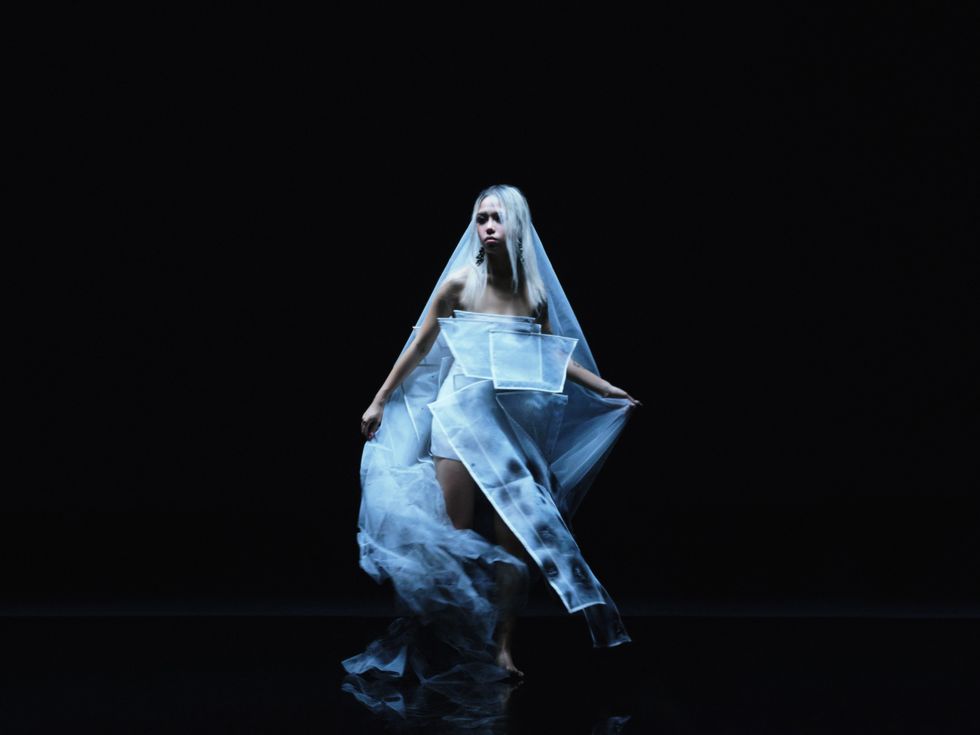 What's the most fun or exciting part of what you do?
Getting to meet and vibe with so many different people with mind-blowing stories.
Are there any Vietnamese artists you think we should know about?
My genius producers 2pillz and wokeup. Rising rapper Wxrdie, singer-songwriter Grey D, MCK, who's also dropping his debut album, Mono and Onionn., and of course Mỹ Anh and so many more talented young artists.
What's coming up for you besides the album this summer?
I'm performing at a concert for Billboard on International Women's Day, on March 8.
In your dream world, is there an international artist that you would want to work with?
The Weeknd.
Do you have any vision of your career in five years?
At this point, I'm just trying to be present and appreciate time with my loved ones. Healthy, wealthy, sexy and zen.
Photography: Dao Nhat Tan
Stylist: Tigrebia
Make-up: Xi Quan Le
Hair: Quan Le
Make-up assistant: Lam Minh Quan
Styling assistants: Nekohiee, Heyiman
Related Articles Around the Web
Sign Up for the Morning PAPER