Thom Browne's latest show took place inside the Ecole Nationale Superieure des Beaux-Arts, where the venue displayed a metal interior that resembled an office with various desks. Models walked through and around the space, sometimes in unison, sometimes not, sometimes typing, other times modeling wearing precision tailored pieces. It was a tribute to Browne's 2009, Florence Pitti Uomo performance at Istitituto di Scienze Militari Aeronautich — an exact replica, except staged this time for womenswear. Here's everything else you need to know about the show.
The first 11 looks were exact copies of each other, which had the audience audibly wondering if the entire collection would be the same. The irony of the office set-up and the playful copies made us think of the similarities and work culture and the way we dress.
Trompe L'oeil, a Thom Browne classic, was seen in this collection in the form of fake pockets, layers and cameos printed on the fronts and backs of garments. According to the show notes, every single outfit utilized the technique.
Beyond the optical illusions, there was also a heavy focus on layering. Jackets over vests, longer skirts under shorter coats, for example, were some of the most essential, defining elements of the collection.
Menswear Revamp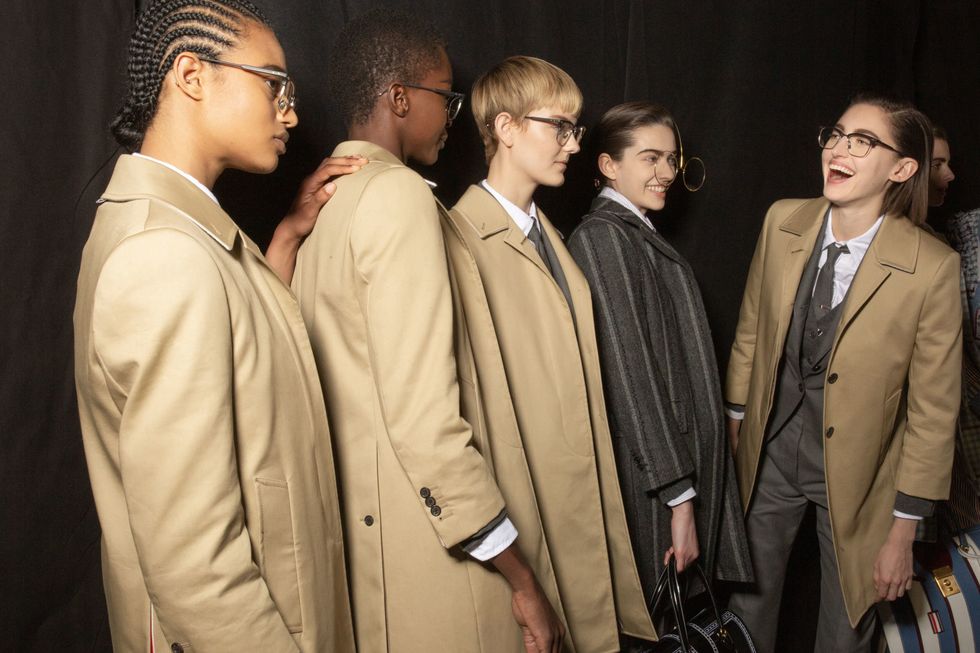 Taking inspiration from his aforementioned menswear debut 10 years ago, all garments were heavy on menswear aesthetics. "A masculine sensibility pervades it all, down to the socks, garters, briefcases and brogues," read the show notes.
Black, navy, gray and of course, the brand's signature grosgrain tape, were seen throughout the collection. Rather than experiment with bright colors, Browne stuck with traditional menswear fabric hues, aside from a lot of red.
Music
Story by George M. Johnson / Photography by Mason Poole / Styling by Shiona Turini / Hair by Nakia Rachon / Make-up by Rokael Lizama / Creative direction by Andrew Makadsi