Being in show biz requires such stamina that some of its participants end up living forever--or seem to, anyway. In a business centered on worship of the young, their refusal to go away is extra inspiring. A friend of mine, Michael Ellis, conspires with me to document the oldest surviving celebrities out there. (He does all the work, I just make occasional suggestions.) Who's still alive might surprise you, especially when you find out how outrageously old they are. Here is Michael Ellis's top 40 list:

1— CONNIE SAWYER, 104
A character actress known from When Harry Met Sally, Dumb and Dumber, and lots more. Connie won't quit.
2— NORMAN LLOYD, 102
An actor from Spellbound and a million other things--also a producer and director. (But compared to Connie, he's just a kid.)
3— PATRICIA MORISON, 102
A fabled musical actress, she starred in the original Kiss Me, Kate on Broadway.
4— OLIVIA DE HAVILLAND, 101
The two-time Oscar winner is currently having a feud with Feud. Olivia won her Oscars for To Each His Own and The Heiress, but she's extra immortal for having played Melanie in Gone With The Wind.
5— KIRK DOUGLAS, 100
With his chiseled face and emphatic acting, Kirk became one of the biggies, from Lust For Life to Spartacus. His son Michael ain't bad either.
6— VERA LYNN, 100

British singer popular during WWII.
7— DANIELLE DARRIEUX, 100
French actress who starred in The Earrings of Madame de…
8— MARSHA HUNT, 99
A Hollywood movie star who, sadly, was blacklisted.
9-- "BABY PEGGY" MONTGOMERY, 98
One of the best child stars ever. No diaper jokes.
10— NEHEMIAH PERSOFF, 98
He popped up in cult films like Some Like it Hot and Yentl.
11— MARGE CHAMPION, 98
A great dancer who, back in the day, was best paired with hubby Gower.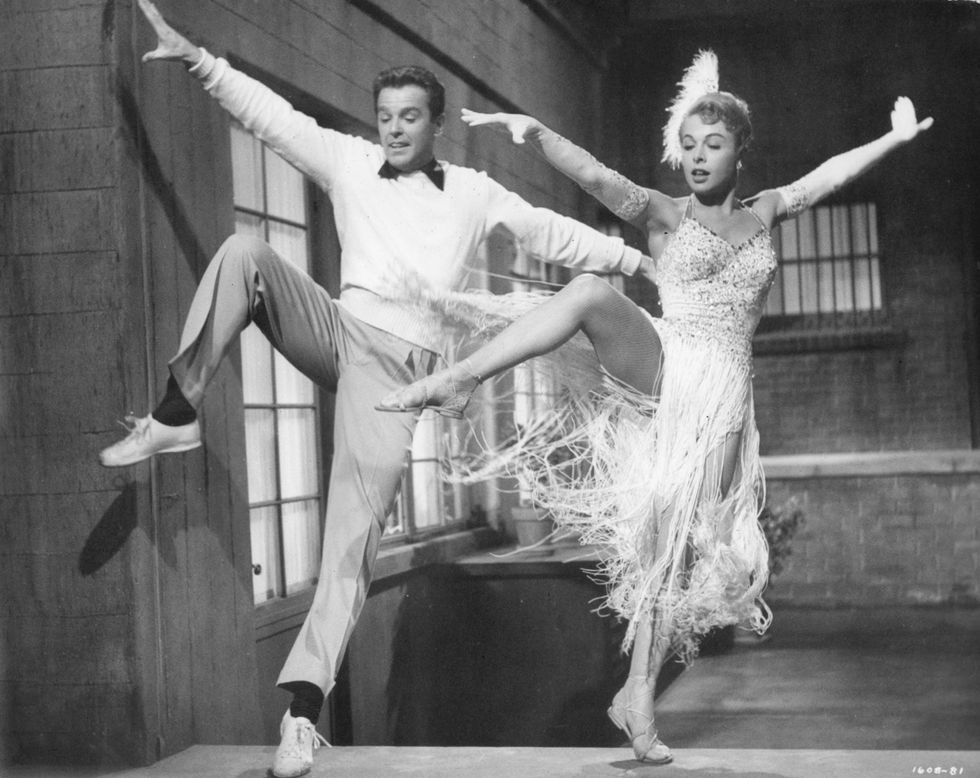 Gower and Marge Champion in "Give a Girl a Break"
12— ANITA ELLIS, 97
Larry Kert's sister, Anita was a top jazz singer with terrible stage fright. That made it perfect that she dubbed other stars' singing, like Rita Hayworth's.
13— NANETTE FABRAY, 96
A perky Broadway star who also made it on TV. ( The Mary Tyler More Show, One Day at a Time)
14— CAROL CHANNING, 96
The original, legendary Lorelei Lee in Gentlemen Prefer Blondes and Dolly Levi in Hello, Dolly!, Carol was Oscar nominated for Thoroughly Modern Millie ("Raspberries!") There's also that corn story.
15— HUGH DOWNS, 96
The cohost of Today from 1962-71, he exuded gravitas.
16— MONTY HALL, 96
Monty hosted the game show Let's Make a Deal and always seemed wickedly amused by the audience members' outfits. His daughter is Tony winning Joanna Gleason.
17— JACKIE STALLONE, 95
She's a psychic who gave birth to Sly and probably predicted his stardom.
18— BETTY WHITE, 95
The only surviving Golden Girl, Betty just keeps on shining, as Bea Arthur probably glowers from the afterlife.
19— CARL REINER, 95
As an actor/writer/director, Carl's always been a riot. Rob is his talented son.
20— MARTY ALLEN, 95
The bug-eyed half of the comedy team Allen and Rossi, who appeared constantly on the old Ed Sullivan Show.
21— DORIS DAY, 95
America's sweetheart, she scored in films from Love Me or Leave Me to Pillow Talk and as a blonde, virginal chanteuse.
22— BILL MACY, 95

Best known as Bea Arthur's crusty husband Walter in Maude. Again, she glowers.
23— JOAN COPELAND, 95
Arthur Miller's sister and a fine actress.
24— JANIS PAIGE, 94
Whether on Broadway or TV or in the movies, Janis has always been a delightful musical comedy star.
25— VALENTINA CORTESE, 94
Italian actress, Oscar nominated for Day for Night
26— LARRY STORCH, 94
A funny guy who scored on TV in the Western romp F Troop.
27— ANNE JEFFREYS, 94
She was "the ghostess with the mostess" in the TV show Topper.
28— LIZ SMITH, 94
Famed gossip columnist who actually likes celebrities
29— ROY DOTRICE, 94
He was Leopold Mozart in the movie Amadeus and won a Tony for A Moon for the Misbegotten.
30— RHONDA FLEMING, 94
A glamorous redhead who popped up in over 40 films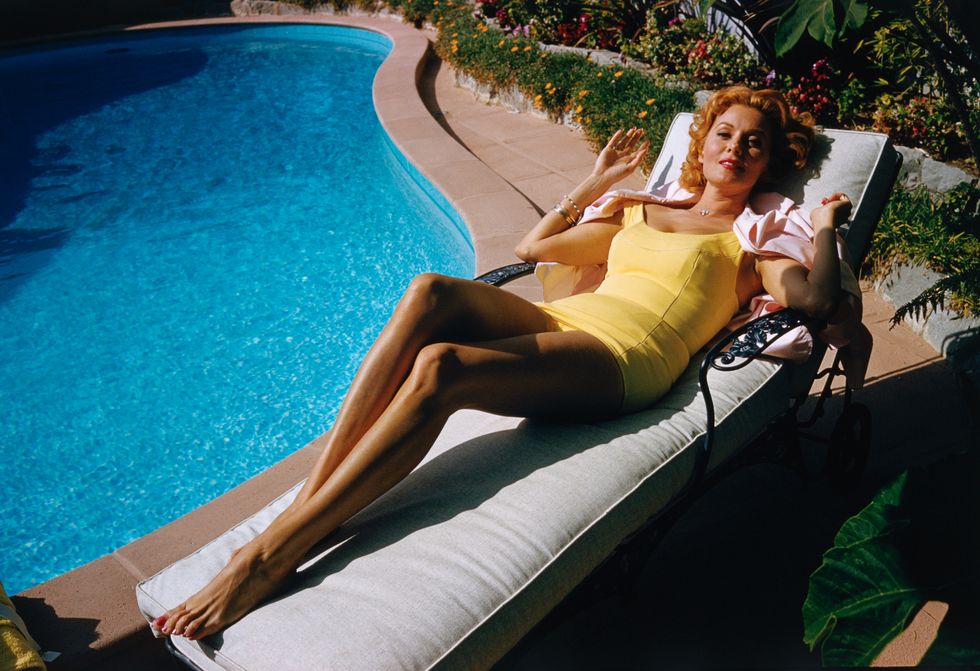 Rhonda Fleming
31— ROSE MARIE, 94

A child performer turned Dick Van Dyke Show star and Hollywood Square
32— GLYNIS JOHNS, 93
Glynis' crackly voice enchanted in films and on Broadway in A Little Night Music.
33— BOB BARKER, 93
Miss USA, The Price is Right…Bob always lived to host.
34— CAROLE COOK, 93
Wacky actress who was fun on The Lucy Show and Here's Lucy (and in the movie Summer Lovers)
35— LOUIS ZORICH, 93

A strong character actor ( Mad About You) who is married to another strong character actor, Olympia Dukakis.
36— STANLEY DONEN, 93
A dancer who became the director of glorious musicals like Singin' in the Rain and Funny Face. We don't include directors here unless they were also notable performers.
37— CHARLES AZNAVOUR, 93
French (later naturalized Armenian) singer/actor who's trilled many truths
38— EVA MARIE SAINT, 93

Oscar winner for On The Waterfront, she was also memorable in North By Northwest and other films.
39— JOYCE RANDOLPH, 92
Trixie on The Honeymooners! We love you, Joyce!
Images via Getty