All Introductions by: Know Your Rights Camp members Miabelle Bocicault, Dr. Ameer Hasan Loggins, Dr. Christopher Petrella
Many were introduced to Taraji P. Henson's concerns about the mental health crisis in the Black community when the actress spoke in front of the Congressional Black Caucus this past June. A year earlier, Henson had founded the Boris Lawrence Henson Foundation, a non-profit named after her late father, who struggled with mental illness in the wake of his service in the War in Vietnam. The organization's mission is to lend a healing hand in helping the Black community tackle mental health issues, including ending the stigma and raising awareness of how systemic oppression can lead to issues like anxiety and depression (and dealing with the damaging double-demonization of being both Black and struggling with mental illness).
Henson has identified several areas she hopes her non-profit will be able to effect change: better mental health resources in urban schools, programs that address recidivism rates within the prison system, and scholarship opportunities for Black students who are interested in working in mental health-related jobs. During the congressional hearing, bravery beamed from Henson's eyes as she confessed to the Black Caucus that she suffers from anxiety and depression, a triumphant moment of transparency in furtherance of her work advocating for the right to be healthy in mind, body and soul.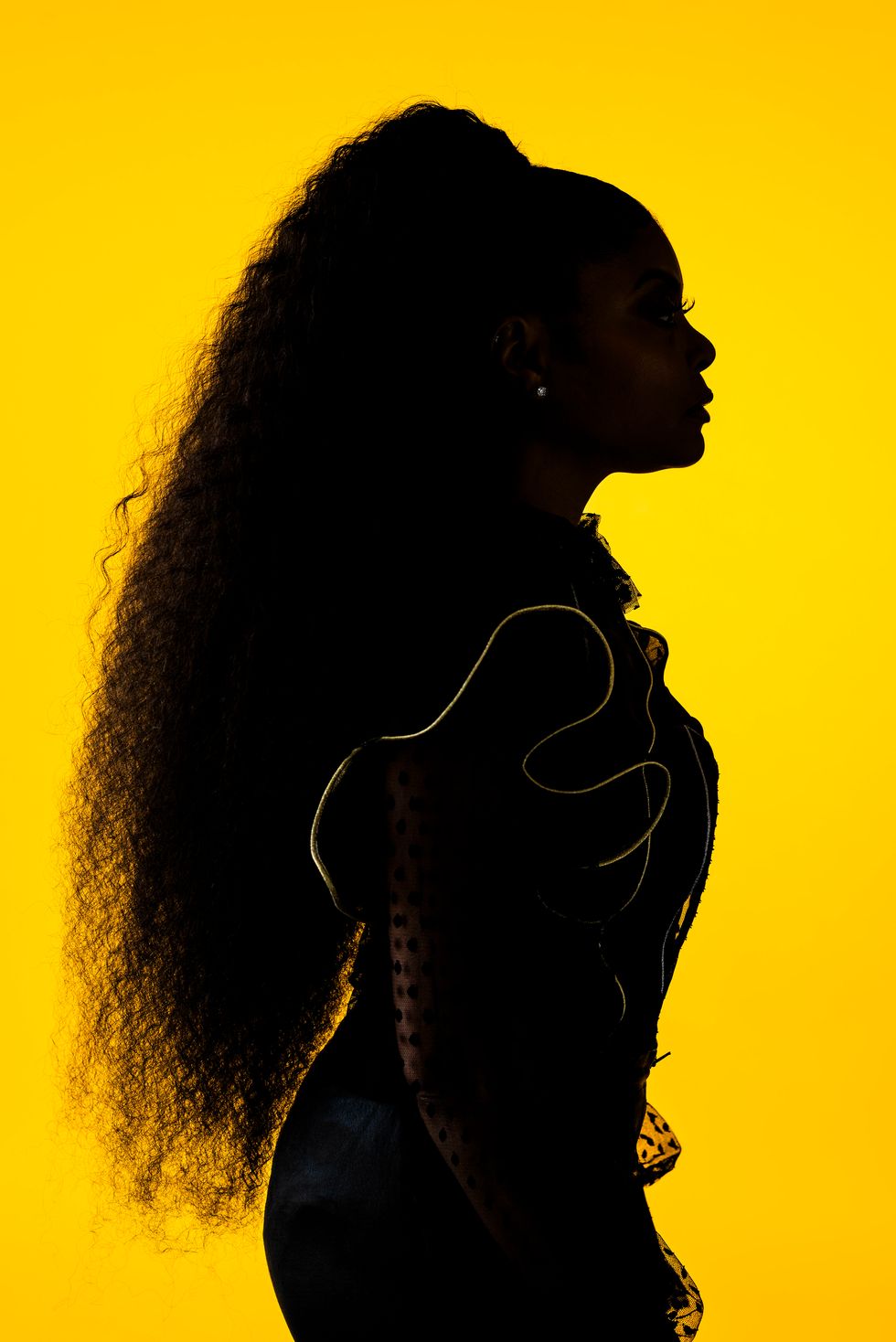 Top: Philosophy Di Lorenzo Serafini
How do the injustices Black and Brown people face contribute to mental health issues?
Taraji P. Henson: These microaggressions that we see minorities experience today, I know for me causes Post-Traumatic Stress syndrome. Just turning on the news, watching another child of color being gunned down, have their life taken for no reason at all — that's stress. That's anxiety. And it also causes depression, especially if you're a mother. And that's why we have to make these conversations about mental illness normal. We have to eradicate the stigma surrounding mental health in the minority community in order to save us.
What are some of the negative side effects of social media on mental health in the Black community?
TPH: Social media can change your mood because people tend not to show their true selves on social media. It's very rare that someone shows that they're struggling or that they're going through something. Most posts are filtered — filtered pictures and filtered lives — and I know for children, it can be difficult because you're constantly comparing yourself to these false lies that are posted on social media. Even as an adult, it affects me sometimes.
"We have to eradicate the stigma surrounding mental health in the minority community in order to save us."
What's the biggest contributing factor to the mental health issues of Black and Brown people?
TPH: I think one of the biggest contributing factors to the crisis in mental health in the Black and Brown community is that we never dealt with 400 years of oppression. We never really dealt with all of the trauma. We have to start there. Once we embrace the past, really embrace it, I think we can begin to heal.
What advice would you share with a young person who is afraid to express themselves to their parents, friends, teachers? What should they do to seek help?
TPH: For kids who are reluctant to share anything they may be going through with their parents or teachers, find someone you trust and release it. You can't keep things in because that can create problems, so it's important to find someone.
Artist's Statement by Shawn Theodore:
My style of silhouette photography is a direct acknowledgement of philosopher Alain Locke, the "Dean" of the Harlem Renaissance. His intellectual contributions to the artists and scholars of the Black Arts revolution gave a new sense of pride and advocated dignity in African American culture. His writings impacted painter Aaron Douglas, who created works in stylized silhouettes, which connected the aesthetics of the Motherland to the newly minted agency of the "New Negro." These depictions of Black life and spirituality are at the root of my pride, process and practice, and are evident in this portfolio.