If you've not yet heard the name Nora Vasconcellos, you're about to. Watching adidas Skateboarding' first-ever female sponsored skater is like watching a shark slice through water, a sparrow somersault through the air. Skating to Vasconellos is like breathing to any of us mortals — the sport appears to come so naturally to her that there seems to be next-to-no effort involved.
But don't let me tell you, let any one of pro or former-pro skaters in her new adidas Skateboarding-produced "Nora" documentary, Nora , let you know the extent of Vasconcellos' talent — or better yet, watch her twist and turn on the board in the trailer. Relocating from her East Coast hometown of Pembroke to California five years ago, Vasconcellos quickly garnered the attention of some of the biggest names in skating and is now considered one of the best in the game. She has multiple sponsorship deals, a wild online following (read: fan art), and she's not even close to done.
We caught up with skating's sweetheart to chat about making it in a male-saturated sport, the allure of skate culture and why social media matters.
You're in this hugely male-dominated field. Did you have to fight to get taken seriously in the early days?
Totally, being taken serious was the biggest issue I had when I was trying to become a professional skateboarder. It was hard to explain to sponsors my goals and I felt like I always had to prove that I was capable of taking photos, filming tricks, and just being one of the guys. It never felt inaccessible but I always knew that it was going to take time.
Have you noticed the track to success has been faster for the male skaters around you?
Yes and no. I think there are pros and cons to being a female skater. First of all you stand out no matter what which is helpful honestly. I know so many guys who are incredible skaters, but maybe they aren't marketable or missed opportunities that would have allowed them to go pro. The skateboard industry is so saturated with talented skaters, it is really hard to make a name for yourself and to have longevity.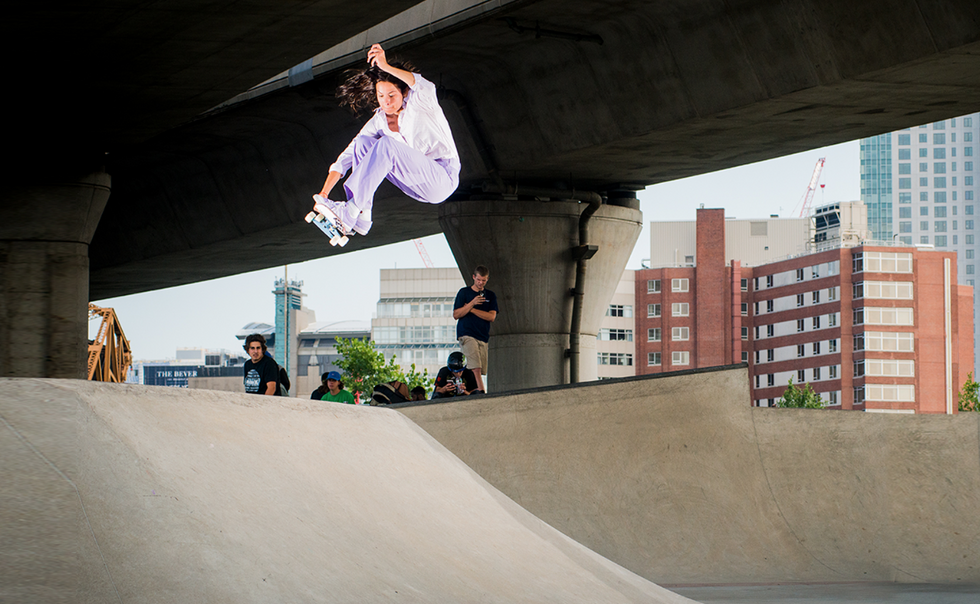 Do you think the landscape is opening up for female skaters?
I think it really is. Girls skateboarding is trending! I just hope the right girls get the proper support. Its easy for people to jump on the bandwagon and use skateboarding as a platform to fame or Insta stardom. I know many women who have sacrificed many things to pursue their passion, many of them started skating before it was cool and have had to really persevere. I do love that skateboarding is in such an open and accepting place. There's really something for everyone.
How has social media aided you? Obviously YouTube has provided such a massive platform for amateur skaters to get noticed.
I think social media, especially Youtube and Instagram have made a profound impact on my career. When I first moved to California I met my friend Lisa Whitaker who runs The Girls Skate Network. Her blog style skate videos really helped me branch out and meet people. Then when Instagram added video, that was another way to put my skateboarding out there for anyone to see. I just love the rawness of being able to post whatever you want. It has completely changed the skateboarding industry.
Tell me about a particularly memorable moment in your career. Was there a trick you landed or maybe a connection you felt changed the game for you?
I think signing with Adidas this past year was life changing. It opened up a whole new world to me and it has given me the foundation I always dreamed of to be the best skater I could be. I love that they have embraced everything I do, including my art. To be able to travel with the guys I have always looked up to has been so rewarding and I am learning so much. Going pro this past August for Welcome skateboards was another huge moment. We went to Disneyland afterwards…that was the cherry on top.
What kind of freedom has an adidas sponsorship allowed you?
It has completely changed my life! Now everyday all I need to worry about is creating artwork, skateboarding, and staying healthy. It's more then I could ever ask for.
Could it lead you into a collaborative role skate wear-wise?
Yes, I have already started working with them on a few things. I hope to offer women more high quality clothing that they could skate and go out in. I also really love the idea of unisex clothing and the versatility that comes with it. To have the three stripes included is unreal.
It's interesting to see how skate culture, along with skate-wear staples like Dickies, vans, Thrasher tees and all of Supreme have been co-opted by non-skaters for fashion — is that frustrating for you?
I think it is amazing. I love how skaters have created their own aesthetic and how it has crossed over into the mainstream. adidas skaters like Mark Gonzales, Nakel Smith, and Blondey McCoy all have their own look and appeal and you don't have to skate to know its cool and intriguing. More power them and the skate world. Giovanni Reda says this all the time, "Skateboarders rule the world".
You've already blown up to the point your this icon in female skating, where does Nora Vasconcellos go next? What do you want from the sport?
I don't want anything from skateboarding. It has given me so much, I couldn't be happier. I can only hope that I can continue to encourage people to enjoy themselves and be the best that they can be. If they want to use a skateboard to do that, then that is wonderful.
Check out the trailer for Nora, directed by Webby Award-winner Giovanni Reda, below and get ready for the digital short out December 21.
Photos Courtesy of Giovanni Reda