In talking to talented teens who've found real success online and through social media, there's almost always one thing that connects them: They built audiences on their platform of choice before pursing their professional dreams. More conventional fields like acting, modeling or singing benefit from popularity—with the engagement there, why not take advantage of it? That's not the case with Los Angeles-based 17-year-old Cailee Rae. Since childhood in St. Louis, Missouri, she's loved music and just recently realized its potential as a career. Her social media stardom reflects that kind authenticity—she joined Instagram hoping to express herself and within two years was one of the most popular musical voices on the site, boasting almost six hundred thousand followers with each post racking up thousands of likes.
We called Cailee Rae to talk about wanting to be bigger than just her social presence, getting shouted out by Teen Vogue, and, of course, what she's listening to these days.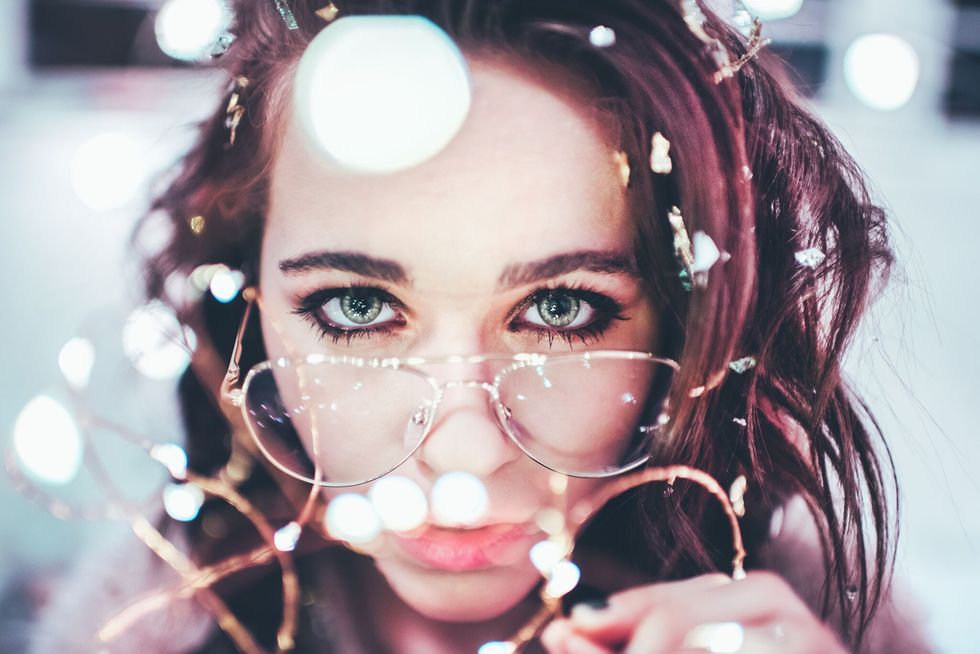 Your fame originates on Instagram. Have you always been interested in social media?
Originally, I started with just music and I didn't touch any of that because I was so young. Social media was just starting and I always saw some type of outlet within it. I started using it as a tool. I wasn't thinking I was going to jump in and be social media savvy, by any means. When I started posting, it was to express myself and share what I was doing. I wasn't doing it for followers. People were going online just to share their lives. Eventually it spread, and that's the fun part of social media—to see what it can grow into.
Was Instagram the first platform you signed up for?
Instagram was definitely the first place I started posting things, and then it switched over to Vine, which isn't a thing anymore. At the time I used it pretty heavily, around 2015. That's when my social media really started. Then Vine went away and Instagram extended their videos and it went from there.
Social media is so important to me—I want mine to look so specific because I want to be known for more than what I am on social media. The hardest transition for me as an artist has been trying to identify myself without people [deciding who I am] just from seeing me on social media. It's a blessing and a curse. It's something I'm learning because I don't even know who I am yet. I was just posting covers because people were watching me and I didn't know what else to do.
You said you started with music and then found your way to social media. When did your interest in the art form begin?
I've always sang. I was constantly running around the house singing and my mom would tell me to turn off. I never thought it could be a career. I got my first guitar when I was in second grade. I begged my mom for it, and it had a printed Taylor Swift signature on it. I loved it so much. Music became my obsession: I started learning all these random songs. At first my parents were like, "She'll grow out of it," but obsession grew into passion and here I am.
Did you use your Instagram account as a career device from the get-go or did it start out just for fun?
Just for fun. The first video I ever posted was me in the studio singing Ingrid Michaelson's "The Way I Am." I kept doing them because it was fun and I wanted to see how people would react. At the time I didn't even know if I wanted to be an artist. I just knew that I wanted to write and be involved with music in some way. I wasn't making originals at that time.
When did you start noticing that people were paying attention to your Instagram?
It came in clumps. There are some videos that outshine others and have the views. I covered Taylor Swift's "Blank Space" -- that was a really big one for me. I wish people would understand that social media is analytics. It's a database. Kids these days try so hard to get noticed and stay relevant but they have to understand that social media comes in waves—one day you'll have 60,000 likes and then you'll have a bad day, and there are so many factors. Kids beat themselves up over trying to get followers. They'll ask me, "How did you get followers?" and I'll say, "Honestly, I was just me. I posted what I wanted, what I thought represented me the best and people responded to it."
That's what I love about social media—getting to share me. At the end of the day, though, I'm a musician first and an artist first.
Your first original solo single, "Anchor," premiered last year andTeen Vogue called you one of Instagram's Biggest Stars. How do you feel about that?

It was the coolest thing. I could barely speak!
It's an interesting title because not too long ago being called "Vine's biggest music star" could lead to real commercial success—Shawn Mendes being the obvious example. Do you see real potential in crossing over that way?
It can be difficult because it's a very fine line. There's a side that does touring, music and stuff and then there's the Instagram side. If people look to much to one side, it can get difficult for people to determine what you do. If people see you just posting covers, then that's how they'll know you. I think you can do both and you can do one or the other if you even out the attention.
Your latest video is for the track "Bye You." What can you tell me about it?
I have a few other songs on my Overthinking EP but "Bye You" is the next song. It's a really fun, empowering anthem. "Anchor" was about overcoming something and saying "I don't care how much you hurt me, I have to let you go." "Bye You" is the fun way of saying "I'm not going to deal with this, I know how it's going to end." It's pretty chill, pretty vibe-y.
What's in store for the future? Are you hoping to release another EP soon?
I just finished press for the EP; I filmed a bunch of videos for YouTube. No covers--I did acoustic versions of my songs. Now I'm going to get into writing sessions for the other stuff. I already have ideas for it. I was thinking of hopefully joining a tour of some sort, opening for someone, towards the end of the year. Nothing for sure yet. I'd love to get some performance stuff in while doing all that writing and recording.
I gotta ask—what are you listening to these days?
There have been so many amazing songs that have come out recently. "Malibu" by Miley Cyrus is really great. I really like Hailee Steinfeld's new song, ["Most Girls."] Justin Bieber's [remix of] "Despacito," that's my song. I love AJR, they're a really great band. They just released a song called "Drama" and it's really good. They are really talented; I love their stuff. I'm actually taking my boyfriend to go see them for his birthday.
All photos by Brandon Woelfel.